If you forgot the password to your password-protected ZIP file, you won't be able to access the content of it without the password. You must feel frustrated. The good news is that there are some workable solutions you can use to find back the password and get access to a password protected ZIP file again. If you are a technical expert or you prefer to crack ZIP password manually, then you can crack a ZIP file password with CMD. This article describes how to crack ZIP file password using CMD as well as shows some other simpler solutions. Now, let's get started.
Part 1: How to Crack ZIP File Password Using CMD
To perform the password cracking with CMD, you need a CMD line tool called John the Ripper. It is an open-source tool which is available for Windows, MacOSx and Linux. To use this tool follow these steps:
To begin with, you need to dowonload John the Ripper CMD line tool on your computer. Now unZIP the ZIP file you downloaded and save it in a fold with a unique name that you will remember, let's say "John".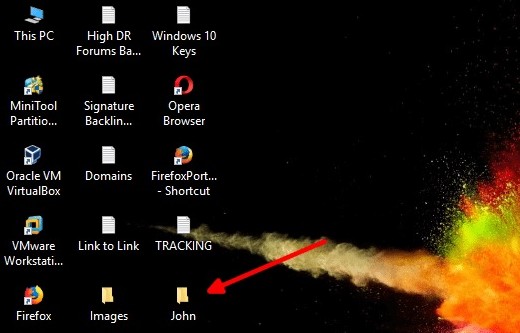 Step 1: Now open the folder you just saved (John) and then click on the "run" folder. Then create a new folder and name it "crack" inside the "Run" folder. Here you can use the "Ctrl+Shift+N" key to create the new folder.
Step 2: Copy the password-protected file that you want to crack and paste it in the newly created "crack" folder.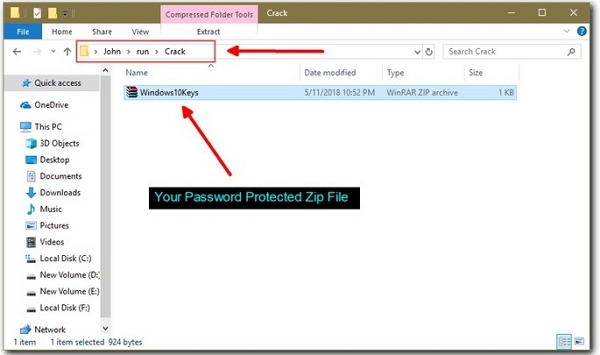 Step 3: Now, close the folders opened and then on the screen of your computer open the command prompt. In the command prompt key in the command "cd desktop/john/run" then click "Enter".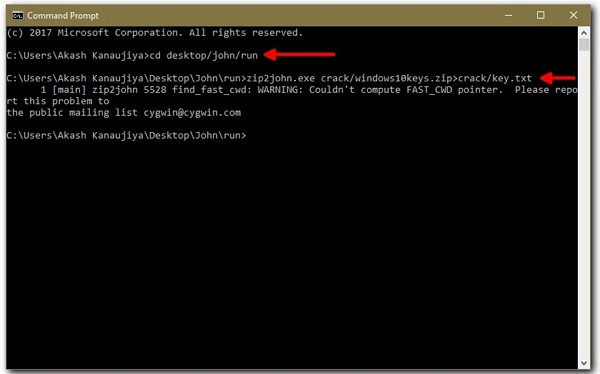 Step 4: In the command prompt type "ZIP2john.execrack/YourFileName.ZIP>crack/Key.txt" then click "Enter" to create a  ZIP file password hashes to be used to crack your ZIP file password. Remember to replace the phrase "yourfilename" in the command with the actual name for the file you want to crack.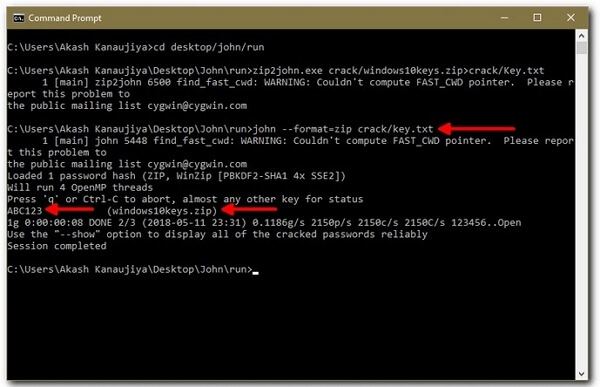 Step 5: Using the password hash file, crack the ZIP file password by typing in the command "john–format=ZIP crack/key.txt" then click "Enter". The ZIP password will be cracked. You can now use the password to open the ZIP file.
Cons and Risks of Using CMD Line Tools
Despite CMD line tools is a free way to help you crack the password protected ZIP file, it as well comes with its fair share of disadvantages. The following are some of the well-analyzed cons of using CMD line tools:
Low Recovery Rate.This method doesn't work for every case. Its password cracking rate is about 20%.

Time-consuming. Cracking password of a ZIP file with CMD is really time-consuming. It took more than 40 minutes to crack my simple password which is 445.

Data loss or damaged. By using CMD, you need to enter some command lines. Your data will be damaged or lost if you made any mistake when you type the command.
Part 2: Crack ZIP File Password with Professional ZIP Password Cracker
As we have mentioned before, cracking ZIP password with CMD does not work all the time. Therefore, you need a professional ZIP password cracker - Passper for ZIP.
Crack ZIP File Password with Passper for ZIP
Passper for ZIP is a reliable and effective ZIP password cracker that is highly rated by many users. It can crack password of a ZIP file that is created by WinZIP, 7ZIP, PKZIP and etc. Additionally, it can crack ZIP password in Windows 10/8.1/8/7/Vista. It is also quite easy to use and guarantees the security of your information every time you use it.
4 Powerful Attack Modes: It provides 4 powerful attack modes to ensure the highest recovery rate.

Ultrafast Recovery Speed: It used the advanced algorithm and GPU&CPU acceleration to ensure the recovery speed to be the fastest among competitors.

Save Recovery State: You can pause the cracking process at any time, and the process will be saved so you can resume from that point.

Lightweight: Passper for ZIP software is less 3MB making it lightweight.
To use Passper for ZIP tool follow these easy steps:
Firstly, we need to visit the Passper for ZIP webpage and download, install and launch the tool on your computer.
Step 1: Now hit the "Add " button to upload the password-protected ZIP file that you want to open. Once you have uploaded the right file click to select one attack mode from 4 options provide, then hit the "Recover" button on the app to start the process.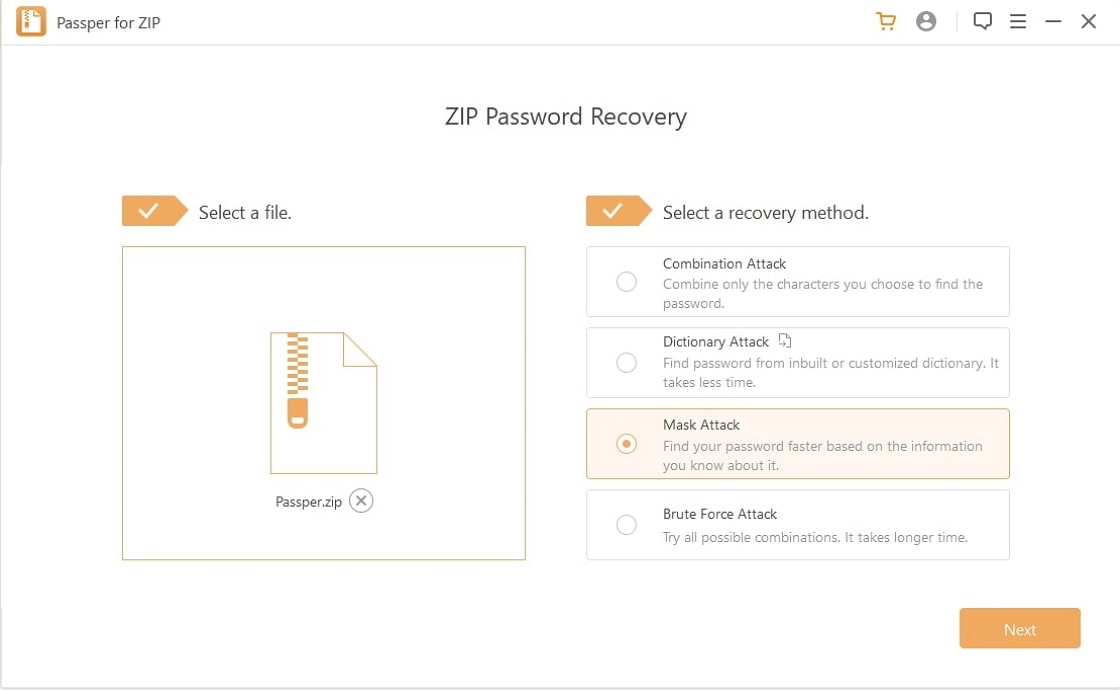 Note
To learn more details and differences among 4 attack modes, please check the guide here.
Step 2: The tool will start to crack the password. This can take quite some time depending on the complexity of the password and the attack mode you chose. Once the process is done a pop-up window will open displaying the right password for your particular file. Now you can copy the password and use it to open your ZIP file.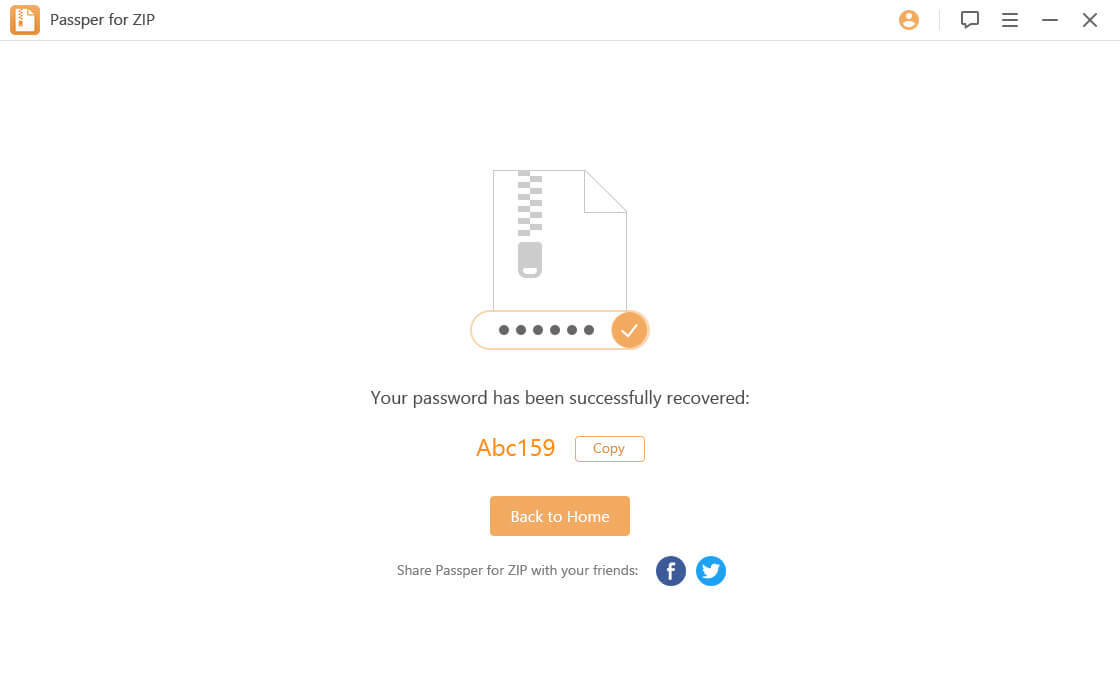 Also, you can check the video guide below to learn how to use Passper for ZIP.
Part 3: How to Crack ZIP File Password Online (Not Recommended)
If you hesitate to download a ZIP password cracker, then don't worry. There are a lot of options that you can use to crack your ZIP file easily online without the need to download an application to do the task. You only need to upload the password protected ZIP file and the tool will do the rest for you. To use an online tool, follow these steps:

Note
Experts warn that using online methods to crack ZIP file passwords may lead to your private data leakage.
Step 1: Go to Online Hash Crack using your browser.
Step 2: Click "Browse" to upload the locked archived file. Then enter a valid email address and press "Submit" button to continue.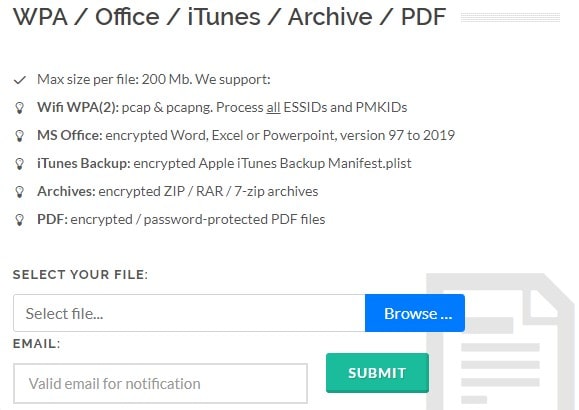 Step 3: A new page will appear. The tool will begin to crack the password automatically. Once finished, the password will be displayed on the same page.
Warning: While there are quite a number of free tools online you can use to crack your zip file, many of the best tools present a security threat especially if you want to unzip a file that contains important private data, as you need to upload your file over the Internet to their servers, this will put your data at risk of being leaked out and hacked. Therefore, for data security, we don't recommend you to try online tools.
Conclusion
Having a password-protected ZIP file increases the security of your sensitive information as no unauthorized person can access the file. However, in case you forgot the password, then you won't be able to access the content of the ZIP file. After reading this article, you have learned how to crack ZIP file password with CMD, with third-party program and with online tool. If your problem has been solved by any of them, you can leave a message to help other users make a better decision.