ZIP files are created and used to archive multiple files and save space on your computer. For data security, they are mostly password protected. And you need to provide the right password to extract files.
What if you've unfortunately lost or forgotten the password you set before? How to open the password protected ZIP file in this case? Just read this post. Here, we provide some workable ways on how to open ZIP files without password.
Part 1: Open ZIP File without Password Using Passper for ZIP
The most effective and easy-to-use method to unlock a ZIP file without password is using a password unlocker. Among a vast number of utilities available on the internet, Passper for ZIP is the most reliable and dependable utility. It is a robust program with a user-friendly interface enabling every user to unlock the encrypted ZIP file even if he cannot recall the right password within 2 simple steps. What's more, the program supports all ZIP archives created using PKZIP/7-ZIP/WinZip, etc.
The following are some other outstanding features of Passper for ZIP:
4 Powerful Attack Modes: It provides 4 powerful attack mode which greatly reduce the candidate passwords and ensure the highest recovery rate.

Ultrafast Unlocking Speed: Integrated with an advanced algorithm and NVIDIA/AMD/GPU acceleration, it becomes the fastest password unlocking tool among competitors.

100% Data Security: It doesn't require any Internet connection during the unlocking process, so all your data are only saved on your local system and won't be uploaded to its server.

Save Recovery State: In case of any interruption, you can stop the process and resume later from that point of interruption.

Lightweight: Passper for ZIP is less than 3MB making it lightweight and powerful that won't slow down your PC.
Passper is the sub-brand of iMyFone, which is widely recognized and recommended by some reputable media sites like makeuseof.com, macworld, cultofmac.com,.etc.

After learning the key features of this amazing ZIP password unlocker, now let's take a look at how it works:
To begin with, head over to Passper for ZIP official website, download, install and launch it on your computer.
Step 1 Click on "Add" icon to import the locked ZIP file to the program. Then, you need to choose one attack mode that you want to use from 4 options based on your situation.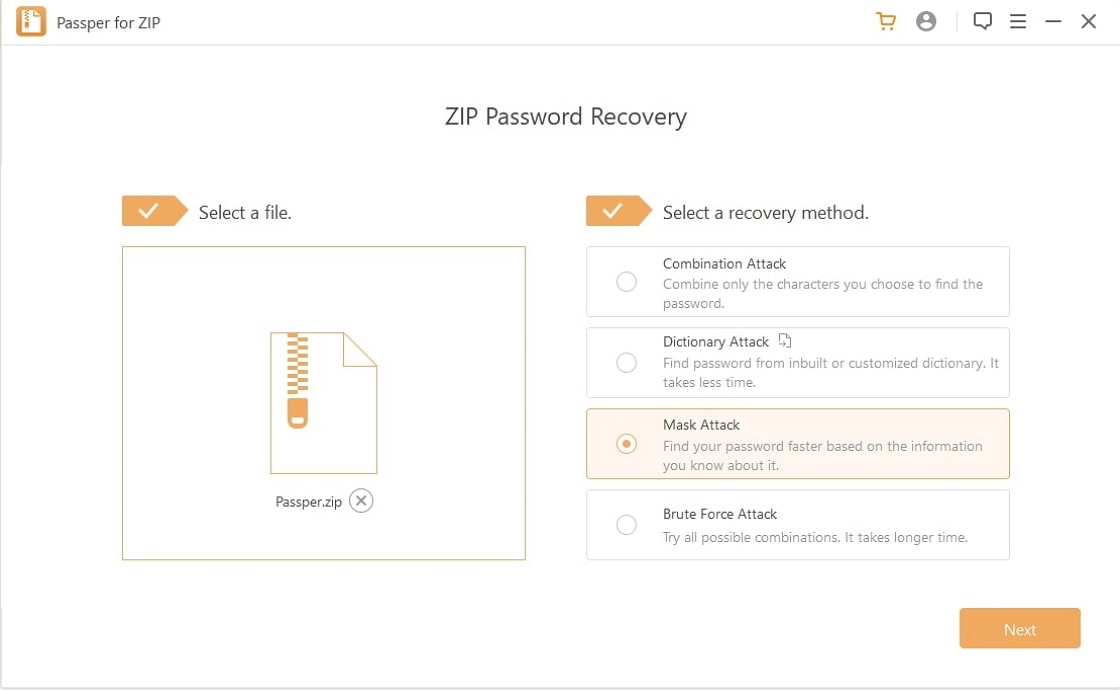 Step 2 Once you have chosen the attack mode, just clicks on the "Recover" button to start password recovery. Passper for ZIP will then start unlocking the locked ZIP file immediately. The time it takes often depends on the length and complexity of the password. Once completed, it will display it on a pop up window. You can copy the password and use it to open your password protected ZIP file.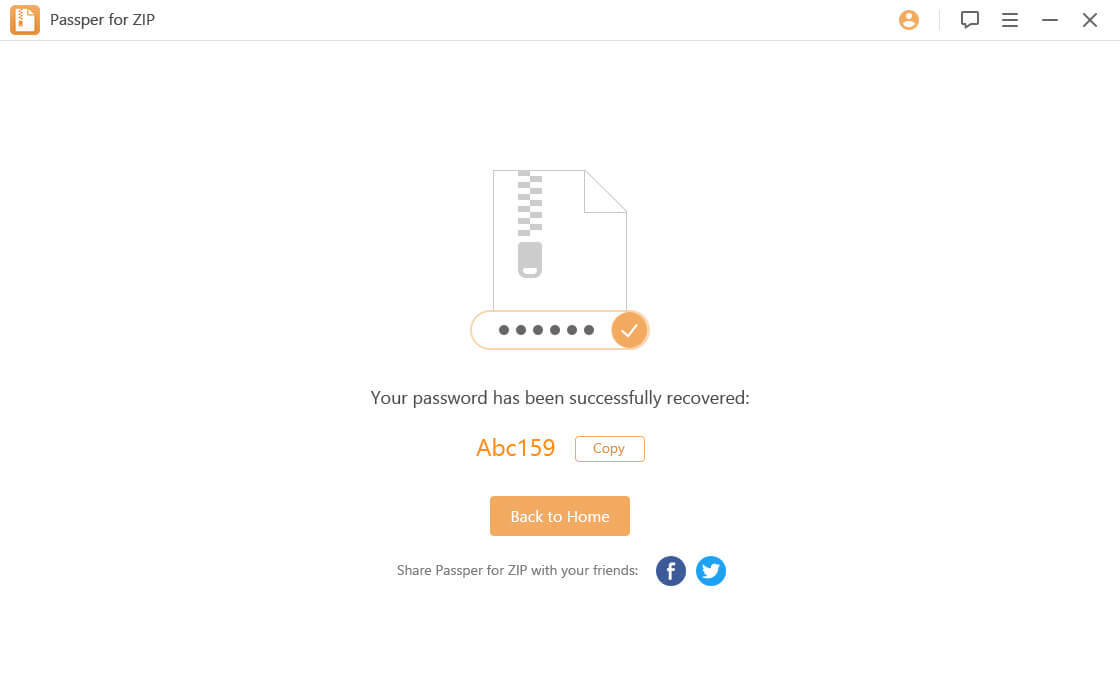 Also, you can check the video guide of Passper for ZIP here:
Part 2: Open Encrypted ZIP File without Password with NSIS
This is another viable way to open ZIP file without password. NSIS which stands for Nullsoft Scriptable Install System is a typical script-driven installer for Windows. It decrypts ZIP files by converting the file to the exclusive "exe" file. Then you download and install back the said file back to ZIP and it is unlocked. This is a tricky and cumbersome way but effective. If you want to learn more about it follow the steps below:
Step 1: Download and install NSIS on your computer. Then click on its icon to run it.
Step 2: Select "Installer based on ZIP file" from the left column of the screen.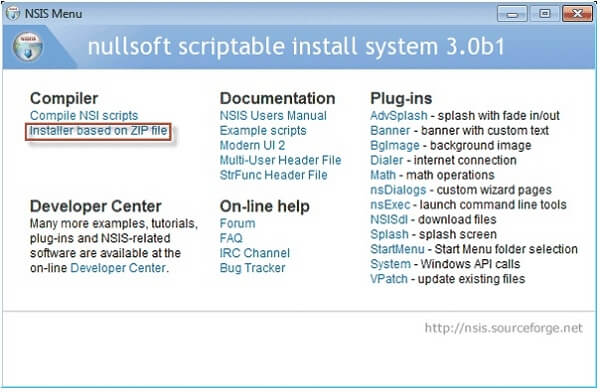 Step 3: Import the locked ZIP file you want to open without password. Click"Open" and navigate through the hard drive and upload the locked ZIP file onto the program.
Step 4: Once the ZIP file is on the program, it's almost to be regenerated. First, click "Browse" and provide accessible save path for the exe file. Then click"Generate".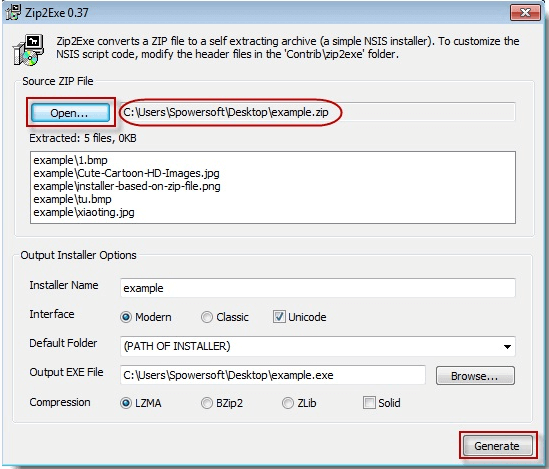 Step 5: Don't interrupt the generate process and wait for it to complete. Once completed, find the exe file on the specified save location.
Step 6: Finally, run the exe file. After installation is complete, you'll be able to extract the ZIP file which you can open without the password.

Note
The above steps have been verified by some bloggers or Youtube channels. I downloaded and installed the tool on my computer when I organized this post, however, it said that the "Encrypted ZIP file is not supported". Then, I found some users reflected that this method works, but some users met the same problem as I did.
Part 3: Open Password Protected ZIP File without Password Online
If you do not want to download or install any program on your devices, you can open encrypted ZIP file without passsword online. In addition to the simple operations, some online tools also offer free service. In this part, we'll guide you how to unlock a ZIP file without password by using an online tool called passwordrecovery.io.
This free tool is truly easy to use. You only need to click on the "Select Password Protected File" button to upload your encrypted ZIP file. Once done, the tool will begin to look for the password. Whether the password has been found or not, a notification will be displayed under the button.

Cons and Risks of Using Online Tools
Despite the simplicity and free service of online tools, they as well come with some disadvantages and risks.
The following are some of the well-analyzed cons and risks of using online tools:
Data Leakage. These online password recovery tools are purely based online and you are required to upload your file over the Internet to their servers, this will puts your data at risk of being leaked out and hacked. Some tools like passwordrecovery.io also reminds you not to upload confidential or sensitive ZIP files.

Weak Password Recovery. Due to the restrictions of the platform and technology, some online tools can only recover a weak password.

File Size Limit. Most online tools subject users to limited file size to be uploaded or even a limited number of files to be unlocked in a day.

Network Connection Needed. Online tools work only when there is a stable and powerful network connection.
Tip: How to Open Password Protected ZIP File without Password in Andriod
We have spent much time searching online but we didn't find any application that can be used to open password protected ZIP file without password in Andriod. Thus the best method is to use an online serive or transfer your locked ZIP file to a computer and unlock the ZIP file with above-mentioned methods.
Conclusion
Well, by the end of this article we can conclude that it is undoubtedly possible to open ZIP files even if you've lost or forgotten the correct password of your own. It's upon you to choose the preferred option. If the methods above can help you fix your problem, please leave a message in the comment section to help other users.