Passper for ZIP is a professional password unlocker which is capable of unlocking the forgotten or lost password for ZIP archives effortlessly. Now follow the below instructions to use Passper for ZIP.
Firstly, download and install the tool on your PC.
Step 1Now, import the password protected ZIP archive to the program by clicking on the "+" button.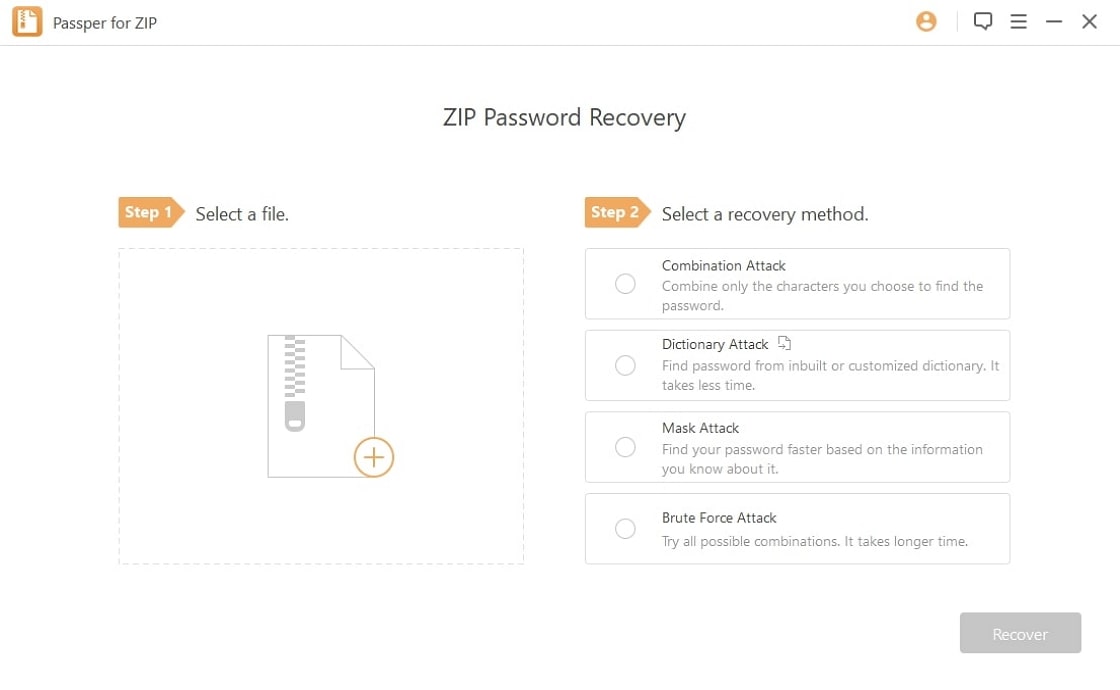 Step 2Once done, you may have to select an appropriate mode of decryption from 4 options.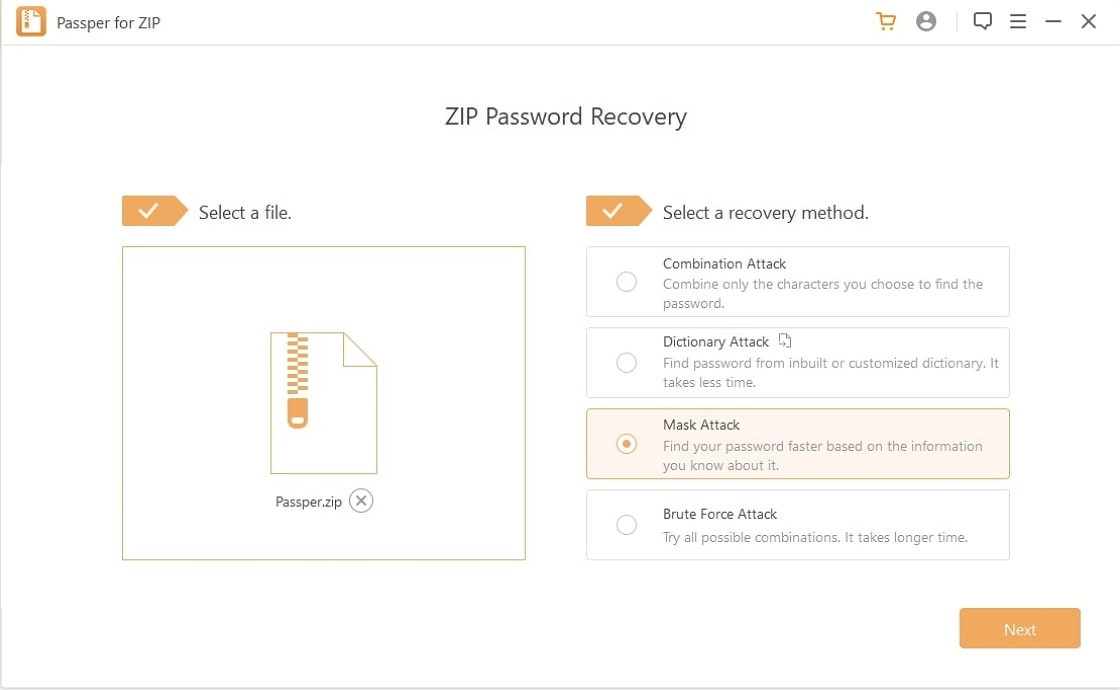 Note: The 4 modes of attack are listed as below. If you are still not sure which mode to use after reading the explanations, please contact us through passper.support@imyfone.com.
Dictionary Attack: It's a method that tries to guess the password by attempting the prepared passwords on a list. You can import a password list or use the built-in list that contains millions of common passwords used by humans. This is the fastest method compared to other attack modes.
Combination Attack: You can specify any numbers, symbols and letters that may be included in the password. Then it will create various combinations of characters to search for the correct password based on the password length you set.
For example: You think that your password is about 6-8 characters, and it may contain your name "Adam" and some numbers and symbols. Then you can set the information as follows:
Password Length: 6 - 8 characters
Lowercase Letters: d, a, m
Uppercase Letters: A
Numbers: Select All
Symbols: Select All
Then, the program will randomly combine those information to generate passwords in 6 or 8 characters until the correct one has been recovered.
Mask Attack: This mode can be used when you can only recall some parts of your password. By using this method, you need to enter some certain characters or combinations of characters.
For example: You always create a password in 6 to 8 characters with your name Toby. And you are sure that there is no symbols in the password. So, you can set the information as follows:
Password Length: 6 - 8 characters
Character Types Not Included: Symbols
Characters or Combinations of Characters Included in the Password: Toby
Note: The combinations of characters you entered here will be considered as a fixed entirety. For instance, if the name "Toby" doesn't appear as an entirety, you need to type the 4 characters seperately, and one character in a line.
Then, the program will combine other characters including numbers, lowercase letters, uppercase letters and your name Toby to search for the correct password.
Brute Force Attack: It works by guessing all possible passwords until the correct one has been recovered. The longer the password, the more combinations will be tried. Therefore, the recovery time will increase correspondingly.
Step 3After selecting a suitable mode of attack, click on the "Recover" button to initiate the recovery process. The recovered password will be available after the retrieval process is complete. Then, you can copy the password to decrypt the locked ZIP file.