Unlock Excel Files From Various Scenarios
Forgot the password to open Excel files

Can't copy the worksheet or workbook

Can't edit the content in password protected Excel files

Can't print the worksheet or workbook

Excel worksheet or workbook is protected with VBA code
4 Attack Modes Higher Chance of Recovery
Passper for Excel provides 4 intelligent password attack methods which enable you to recover Excel opening passwords easily regardless of the password length and complexity.

Dictionary Attack
Automatically find the correct password from built-in or self-imported dictionary.

Combination Attack
Randomly combine the characters you choose to recover your password.

Mask Attack
Search for the password based on the customized information you set.

Brute Force Attack
Try all possible password combinations to find the correct password.
1 Simple Click All Restrictions Removed
Your MS Excel file can only be opened in Read-only mode? Your Excel worksheet/workbook is protected with VBA code? Want to unlock and edit password-protected Excel cells/worksheet/workbook? Passper for Excel can instantly remove all editing and formatting restrictions on worksheet or workbook for you.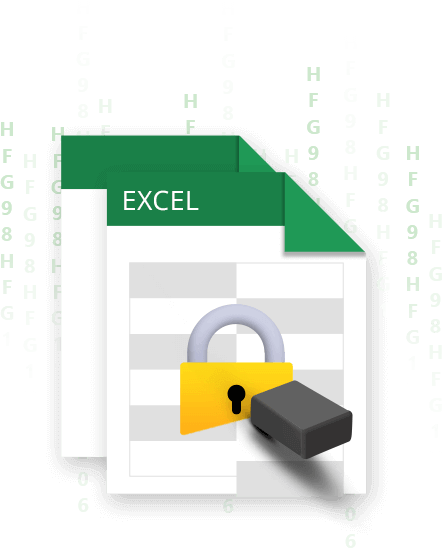 More Features Than You Can Expect
Passper for Excel adopts high-tech technology to break Excel password at full speed. Based on that, although no program can guarantee a 100% recovery rate, Passper ensures you the highest recovery rate for opening password on the market. Regarding the removal of the editing and formatting restrictions, Passper guarantees a 100% success rate.
10X

Faster Recovery Speed

Significantly improve recovery speed with GPU acceleration technology.

95%

Decryption Rate is Guaranteed

Our exclusive algorithm promises high recovery rate.

1s

to Remove Restrictions

Remove restrictions on workbook and worksheet in one click.

SAVE

Recovery Progress

You can stop the recovery progress at any time and the progress will be saved.
3 Simple Steps to Unlock Excel Password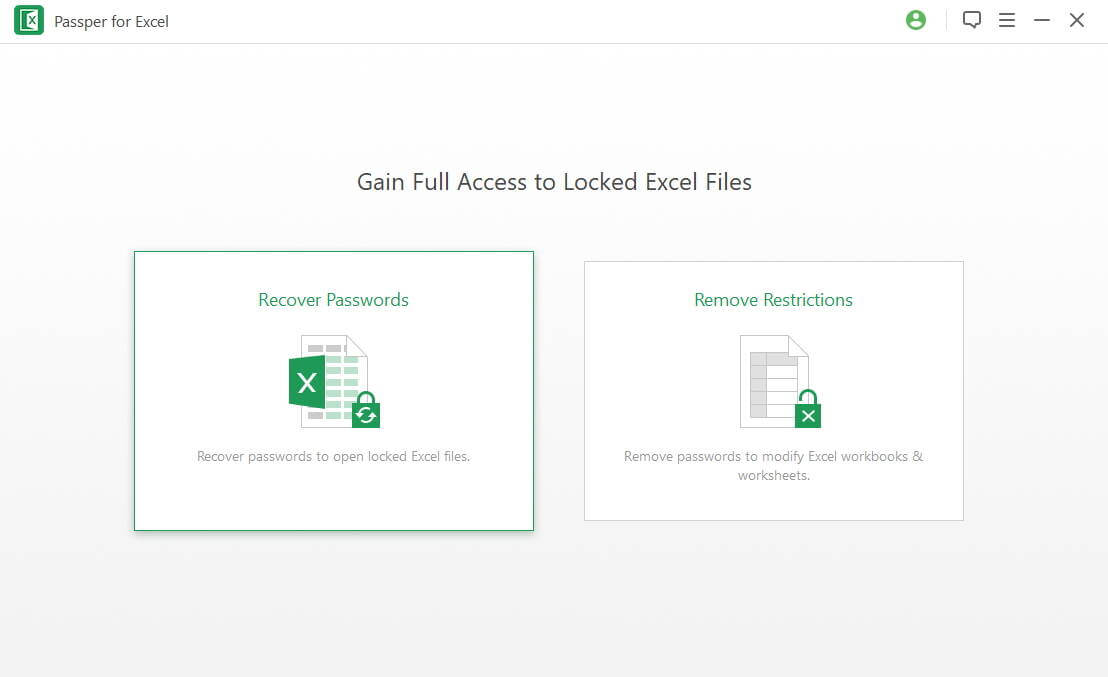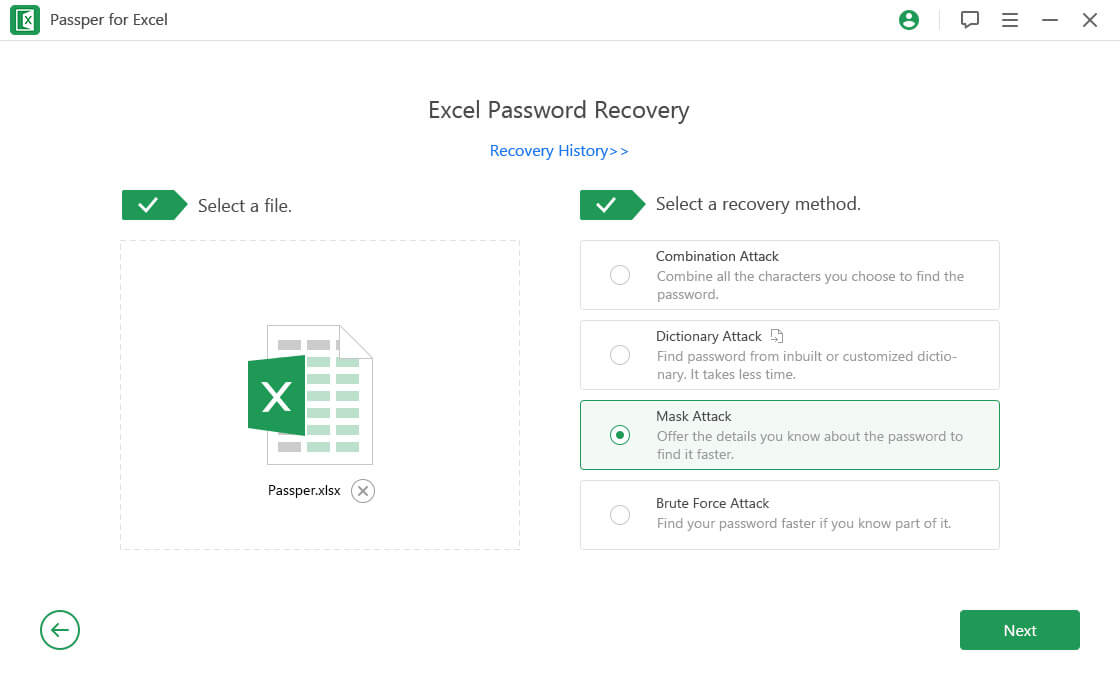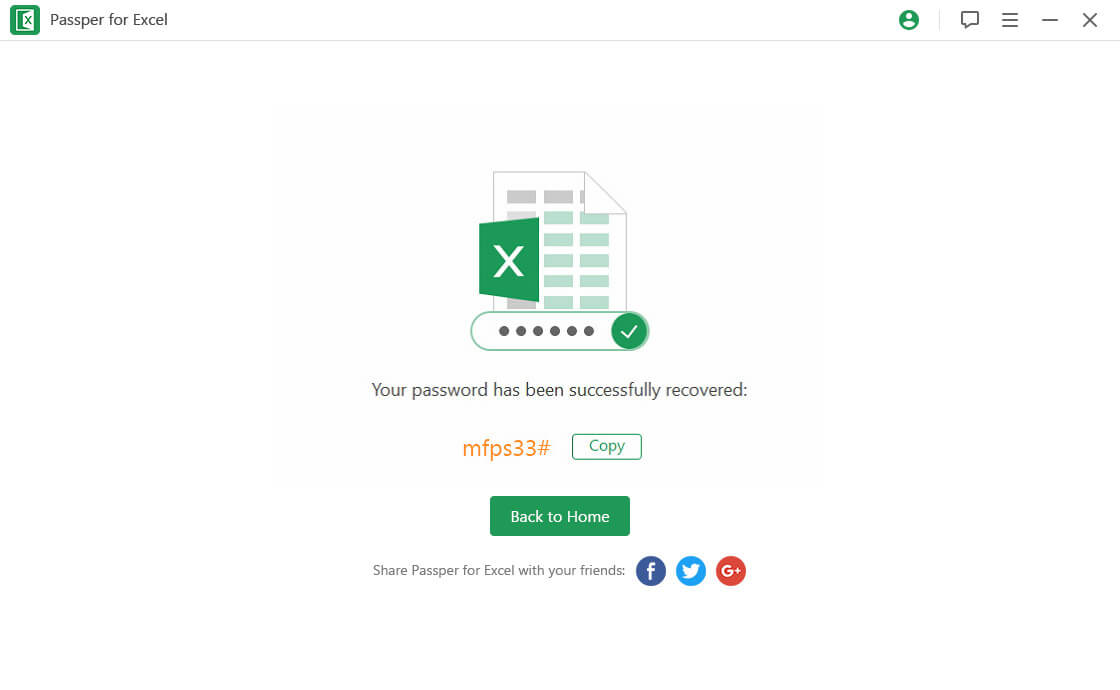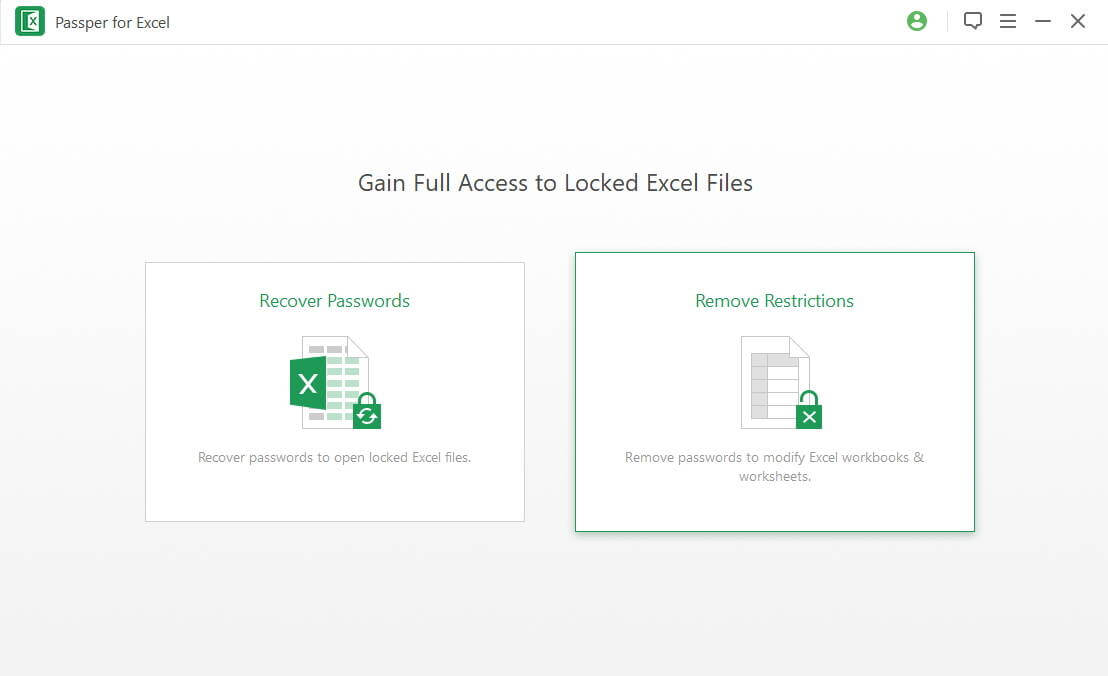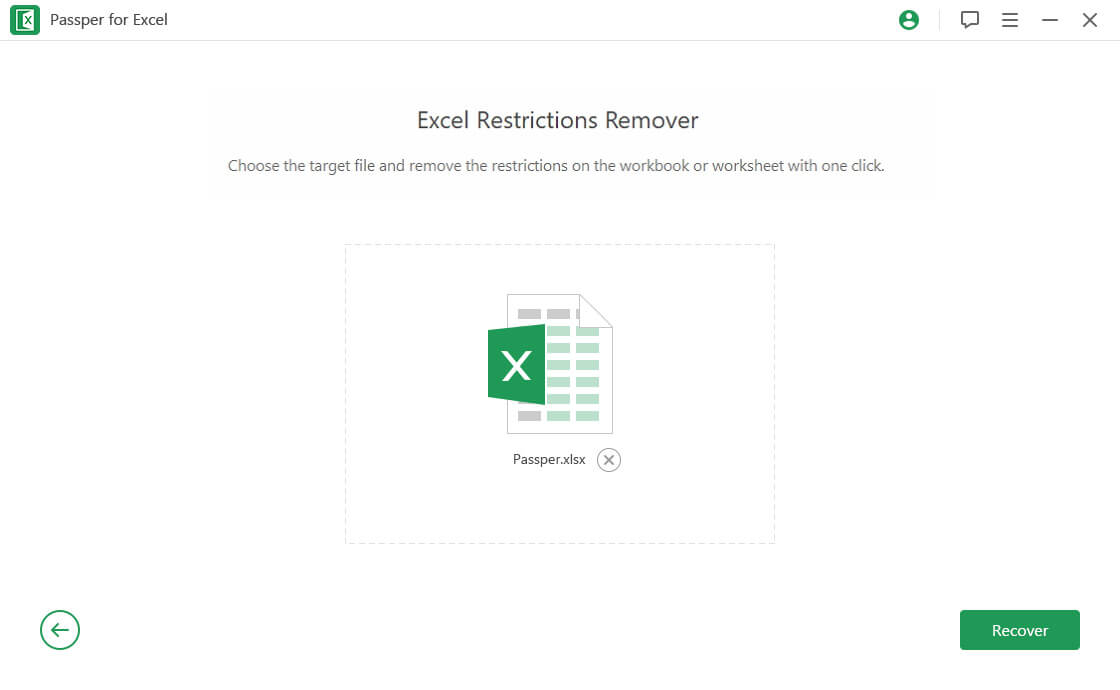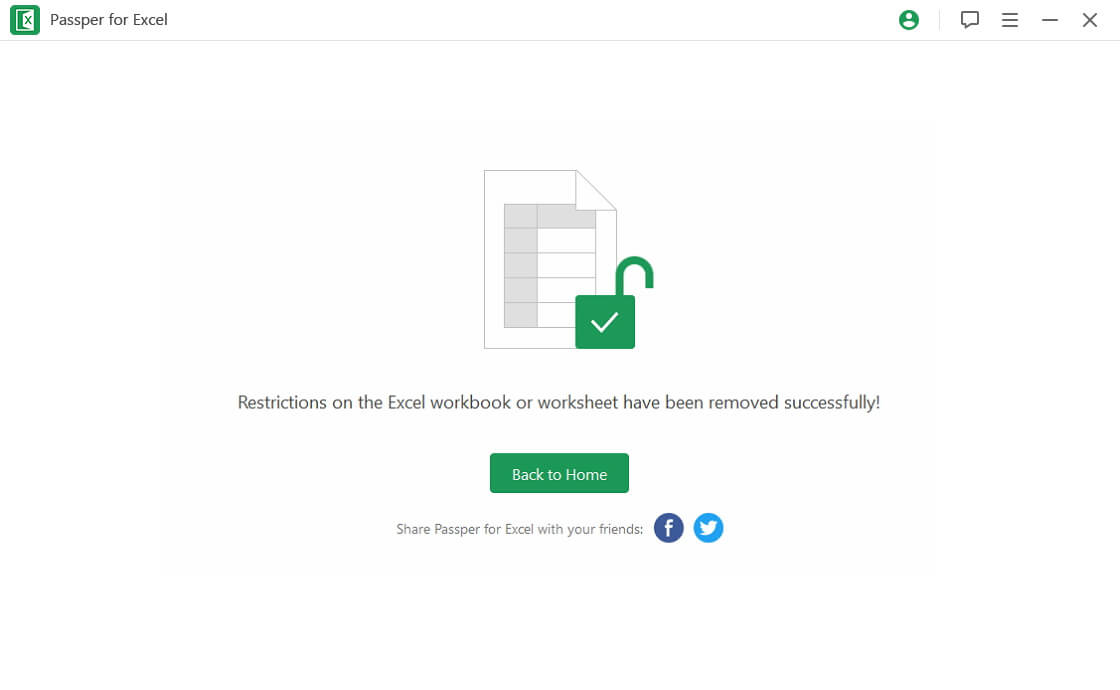 Complete Guide
Tech Specs
OS Requirements:

Windows

11/10/8.1/8/7/XP/Vista

Mac

macOS 10.9-13

Excel:

Support *.xls, *.xlsx, *.xlsm,*.xlsb, *.xltx, *.xltm file and etc created by Microsoft Excel 2019, 2016, 2013, 2010, 2007, 2003, 2000 and 97

RAM:

512 MB or more

Hard Disk Space:

200 MB free space and above

CPU:

1GHz or more

GPU:

NVIDIA G80+ (GT8600 to GTX1080 TI)
What Our Users Say
Everett
Actually, I am not familiar with MS Excel. I received an Excel file from my client. It kept asking me to enter a password when I tried to edit the cells. I tried some free online tools like LostMyPass, but they didn't remove the password protection. I decided to use a paid program and put all my hope on Passper for Excel. Luckily, I didn't waste my money on it. It removed the protection just within seconds. Thank you very much.
Alexander
I have a .xlsm file which is not commonly used. What's worse, it is protected with a password. I cannot open and read it. I found some programs promising to recover Excel passwords. But it seems that they only support .xls and .xlsx. I almost cried when I found this information. The good news is that I found Passper for Excel which solved the dilemma. LOVE IT!
Tina Didomenico
I downloaded the trial version to check whether it can unlock my Excel file, but it seemed that I'd need the full version to trigger the recovery function. I was hesitant at first, but seeing no other better choice I went for it. And it worked. So if you guys prefer to use an offline tool, try Passper for Excel.
Kathryn F. Young
I think that Passper for Excel deserves 5 stars. I purchased the Passper for Excel 1 month plan. I received the serial key in my inbox immediately after payment. I have used the tool 9 or 10 times. One thing I have to say is that the removal process is really fast. Just within seconds. But the recovery speed depends. If you remember some characters of the password, it can find your correct password within minutes. Nevertheless, it's definitely worth trying.
Antonia
I was stupid enough to use a new password and not write it down. The free website didn't work, but Passper for Excel did. I spent almost 3 hours looking for a solution and Passper helped me solve this problem within an hour. It saved my day. I will use it again for sure.
More Reviews >>
FAQ
1. Can your program help me recover the opening password for sure?
We won't promise a 100% success rate as no program can guarantee that. Password recovery results are different due to the different computer environments of different users, different versions of Microsoft Office, file formats, and so on. However, Passper for Excel offers about a 95% success rate of recovery. This is based on users' feedback and refund requests.
2. How long will it take to recover my Excel password?
It depends on which attack mode you choose, how much information you know about the correct password and your PC performance. Basically, Dictionary Attack is the fastest mode, while Brute-Force Attack will take relatively longer to recover the password. At the same time, The more GPU cores your PC owns, the higher password recovery speed you will get. For more info about password attack modes, please refer to: user guide of Passper for Excel.
3. Can Passper for Excel run on MAC OS?
Yes. Passper for Excel supports Windows and Mac.
4. I can't edit my Excel spreadsheet. How do you unlock it for editing?
Regarding your situation, you need to select "Remove Restrictions" option which will get rid of any restriction from Excel 2019/2017/2016/2013/2010/2007/2003 in seconds.
5. Does Passper for Excel collect my password or document information?
Definitely not. Passper is dedicated to protecting the privacy and security of your data. Since it is a desktop application, all the process will be running on your computer. Your password or Excel document won't be sent to anywhere else, like our server. They will be saved in your local file system. Your privacy is absolutely guaranteed.
6. Is there any data loss when unlocking Excel with Passper for Excel?
No, no data loss will occur during or after the password recovery or restrictions removed. The format and content of your Excel files won't be affected, including VBA macro content.