Losing RAR password is nothing strange amidst your busy work schedule. The first question which arises in your mind is how to find a better solution to recover the password. If you are looking for a RAR password recovery tool to help you with it, then please read through this article. We have made a full review of the top 6 RAR password recovery tools, and now let's begin the trip.
1. Passper for RAR Password Recovery
When it comes to RAR password recovery program, we highly recommend Passper for RAR to you. The program is specially designed by iMyFone team, aiming at easily recover RAR password. Whether you are a computer expert or newbie, you can simply recover your RAR password within 3 steps. What's important, it provides you with the highest success rate in the market.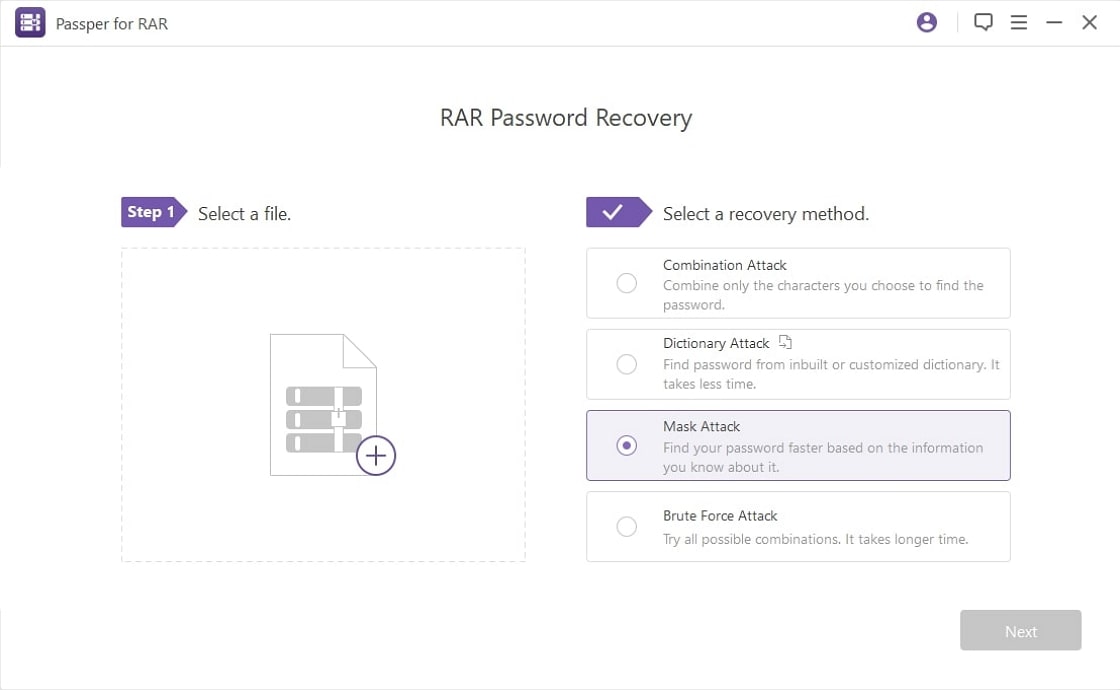 Incredible features of Passper for RAR:
Make use of 4 effective methodologies to recover RAR password. Whether you have password hint or not, you can find one suitable recovery method.

Based on the advanced algorithm and multicore CPU acceleration, the recovery process is really fast.

You can pause the recovery process at anytime. The recovery process will be saved and you can resume it later.

It ensures no data loss or data leakage during/after the recovery process.

The program has a full compatibility. You can install the program on Windows XP/7/8/8.1/10, and all RAR/WinRAR versions are supported.
Cons:
The Mac version has not been released yet.
2. KRyLack RAR Password Recovery
KRyLack RAR Password Recovery is an advanced software to recover lost RAR password. It supports all archives created by various software packages. This program also offers a free version, however, the free version can only recover RAR password with brute force attack. In addition to being an password recovery tool, KRyLack RAR Password Recovery is also an extract tool for RAR, ZIP and ACE archives.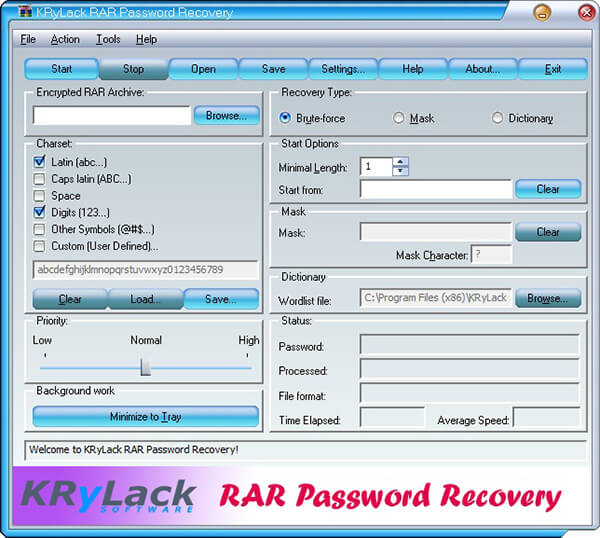 Take a quick look at its features below:
The tool adopts 3 attack methods, namely Brute Force attack, Mask attack and Dictionary attack.

It can recover password for multi-volume RAR archives.

There is no limitation for maximum password length.

It will autosave the password search state so that you can resume after a stop.
Cons:
It's not easy for a computer newbie to use since all the options are given on one screen without instructions.

The program has not been updated since 2017.
3. Amazing RAR Password Recovery
This tool is a prestigious product from Amazing Share firm. It can recover password for RAR archives that created with WinRAR, RAR and any RAR-compatible software. With the intuitive interface, the tool is easy to operate. As its name indicates it is an amazing software that brings amazing results without any issues.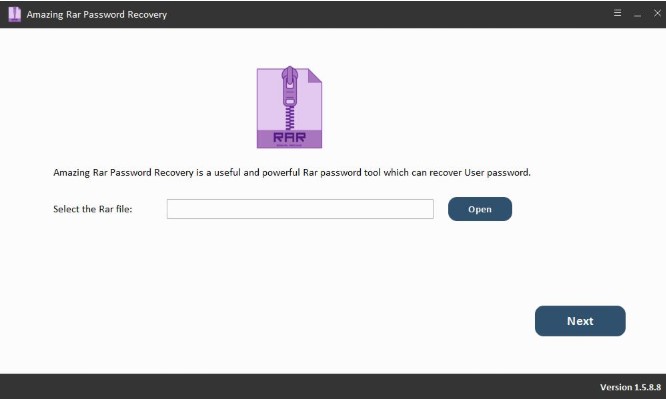 Key features of Amazing RAR Password Recovery:
It implements 3 types of recovery method: brute force attack, brute force with mask attack and dictionary attack.

It supports multiple languages, like English, French, Japanese, Italian and so on.
Cons:
The recovery speed is relatively slow if the password is longer than 6 characters.

You can pause the recovery process at anytime and save the recovery state, but there is no way to find the recovery history.
4. Stellar Phoenix RAR Password Recovery
This RAR password recovery program was launched in the year 2011 by the renowned firm Stellar. This data recovery platform introduced this tool to restore the lost passwords of RAR files. The success rates seem to be astonishing in this platform. The interactive user interface allows exploring the built-in features of this tool effectively.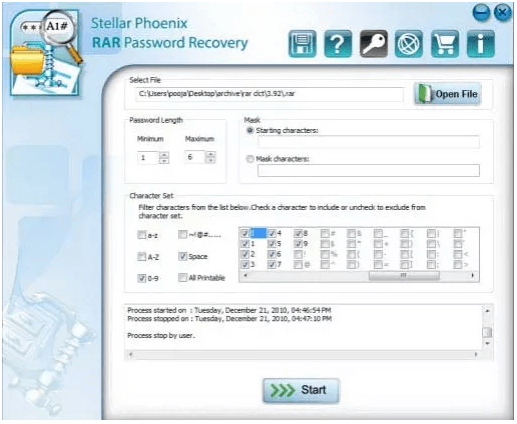 Core features of Stellar Phoenix RAR Password Recovery:
It utilizes brute force with mask attack method to recover RAR password.

You can expect accurate results using this software.

This program is compatible with WinRAR 3.x to 4.x.
Cons:
The program can only works on Windows 7.

It's unable to download the official version from it's website.
5. Password-Online Recovery
It is an online password recovery service, so you do not have to download any third-party program in your system. By using this online tool, you only need to upload your encrypted RAR file and activate the recovery process. Once done, it will start the recovery process. According to its official information, you only need to wait several hours to get your correct password back.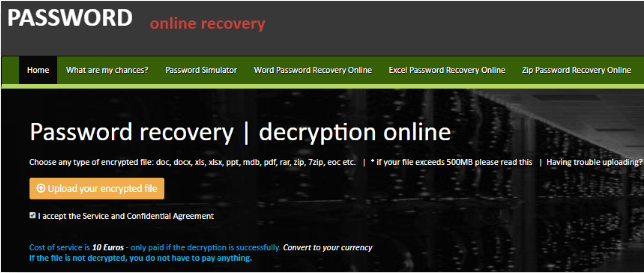 Main features of Password-Online Recovery:
It is really easy to use.

You only need to pay for the successful recovery.

It ensures a 100% recovery rate for 40bit encryption.
Cons:
A powerful and stable internet connection is necessary during the recovery process.

Your data security is not guaranteed.

There is a limitation on the file size you can upload.
6. Command Prompt
Command Prompt is a totally free tool for RAR password recovery. This tool requires coding skills and it is highly advisable to make use of this method only if you are confident with the command lines. A wrong entry will ruin the data and your system. Please think twice before adopting this method in password recovery.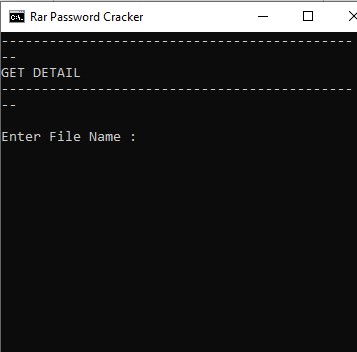 Main features of this method:
There is no need to download or install any software on your computer.

This method works both on Windows and Mac computer.
Cons:
This tool can only recover numerical password.

There is a possibility that your data will be damaged because of wrong code.
Comparison of the Top 6 RAR Password Recovery Tools
Have you made a decision on which tool to use after checking the detailed review of each RAR password recovery tool? If not, you can check the comparison table below. You will have a clear and better impression of each tool.
| | | | | | |
| --- | --- | --- | --- | --- | --- |
| | Recovery Methods | Data Security | Data Loss | Easy to Use | Compatible OS |
| Passper for RAR Password Recovery | 4 | | | | All Windows OS |
| KRyLack RAR Password Recovery | 3 | | | | All Windows OS |
| Amazing RAR Password Recovery | 3 | | | | All Windows OS |
| Stellar Phoenix RAR Password Recovery | 1 | | | | Windows 7 |
| Password-Online Recovery | 1 | | | | All Windows OS |
| Command Prompt | / | | | | All Windows OS and MacOS |