I did encrypt RAR files some time back for usual reasons but, I am now confused trying to extract the files because I cannot recall its password. I have tried with common passwords I have been using over time. But I have ended up in vain. Is there a way I can recover the password? Especially the solution to unlock RAR password online?
Recovering a lost or forgotten RAR password online is possible and easy. It is a good option especially you don't want to install any software on your computer. Most online RAR password recovery tools are easy to use and some of them offer free service for weak decryption. In this article, we've selected 3 most popular online tools in the market to help you unlock RAR password online. Now, let's check them out.
Part 1: How to Unlock RAR Password Online
1. Online Hash Crack
Online Hash Crack is a cloud-based password unlocking service. It supports more than 85 algorithm and you can even add a new algorithm by contacting the support center. According to its official website, the weak password can be unlocked and displayed instantly. However, according to our test, it took hours to unlock a password like "123456" but still failed. Although it offers attack methods like custom wordlist or brute force, you need to pay $10 per hour. It remains to be seen whether it is worth the money.
If your RAR file is protected with a simple password like "123", maybe you can try this tool. Following is a detailed guide for you.
Step 1: Go to the official website of Online Hash Crack. You will see 2 sections on the home page: Password/Hashes and WPA/Office/iTunes/Archive/PDF.
Step 2: Click "Browse" to upload your encrypted RAR file under WPA/Office/iTunes/Archive/PDF section.
Step 3: Enter a valid email address and click on the "Submit" button to continue. Now, you only need to wait patiently for the tool to recover the password for you.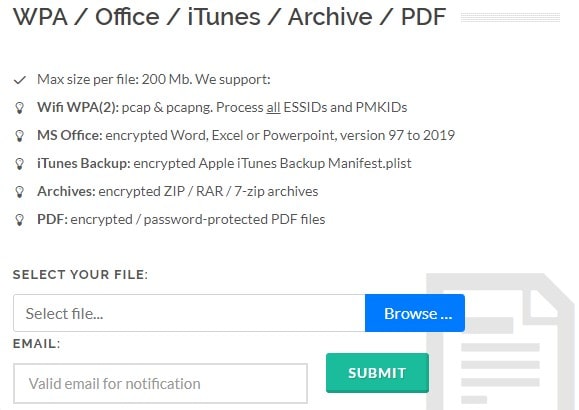 2. Password Online Recovery
Password Online Recovery is the second tool you can try to unlock RAR password online. For RAR archives, it will take a couple of minutes or a couple of days to unlock the password. But good news is that you only need to pay for successful decryption. Additionally, it is worth mentioning that this online tool doesn't suggest you upload files just to test the service since it will waste precious server time and resources.
Check out how to use this online tool:
Step 1: Click here Password Online Recovery to visit the official webpage of the suite with any browser.
Step 2: Click "Upload your encrypted file" to upload the RAR file to be decrypted. Once the upload is complete, provide a valid email address for receiving notice. Click "Send".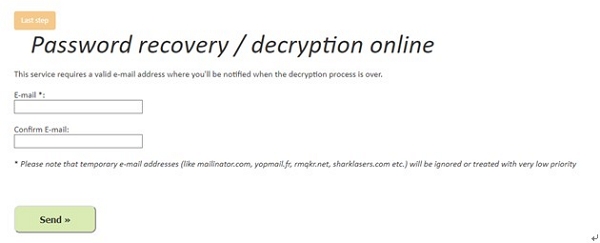 Step 3: Go to the email you've just provided and activate it. After which you'll wait for the process to complete and a notification will automatically be sent via the email.
3. LostMyPass
LostMyPass is the easiest and most popular online service to unlock RAR password. It provides you with 3 ways to unlock RAR password online, including weak password recovery, strong password recovery and brute force with a mask. When you upload your encrypted RAR file to this online service, it will unlock the password for you automatically with weak password recovery. If your password can not be recovered with this method, it will remind you to change to another 2 methods. Please note that for strong password recovery and brute force with a mask, you need to pay for the service. Here is how to use LostMyPass:
Step 1: Head to LostMyPass website using your browser. Click on the "File Types" on the menu tab and select "Archive Files" to select WinRAR.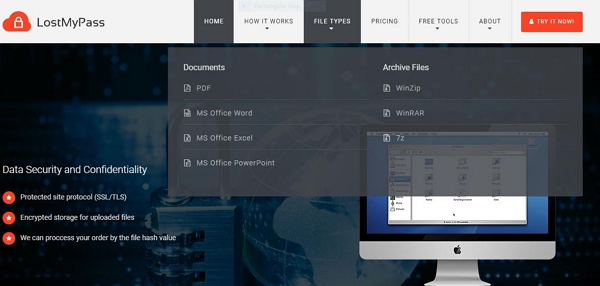 Step 2: Click "or click here" to open a file explorer. Scroll over the file explorer and upload the RAR file to be decrypted. Alternatively, you can drag the said RAR file and drop on the program.

Step 3: Once the file has completed uploading, the unlocking process will start immediately. Be patient and wait for LostMyPass program to finish the job for you. The password will be displayed on the screen once the RAR file has been decrypted successfully.
These 3 online tools seem pretty easy to use. But password can hardly be recovered with them. Also, there are several safety concerns existed to unlock RAR/WinRAR password online. Let's take a closer look at the risks of unlocking RAR password online in the following part.
Part 2: Risks and Cons of Unlocking RAR Password Online
There are several different risks and cons to unlock RAR online, the following are what you may face:
Security & Reliability. Unlocking RAR password online involves uploading your important and personal files online which is vulnerable to hackers and your data possibly being leaked out.

Efficiency. The online password cracking speed mostly depends on the Internet connection. If there is weak network connection, you need to wait a long time for the password to be unlocked.

Damage the data. Some cases have been experienced where the data you had compressed to the RAR file is getting damaged after they have been unlocked using online suites.

Latest RAR version. Those online programs which claim to unlock RAR files fail to unlock RAR files archived with the latest RAR version.

Upload file size. You are restricted to a limited RAR file size to upload and decrypt with an online RAR password cracker.
Part 3: Best and Safest Solution: Unlock RAR Password Offline
After checking the shortcomings of online RAR password unlocker, you may want to find a better solution. Considering your data security, we recommend you to unlock RAR password with software. There are a vast number of utilities you can use to unlock RAR password offline. The most-recommended one is Passper for RAR. It is the most reliable, and secure program of recovering password from RAR/WinRAR files without any data loss or data leakage. It has proven to be effective no matter how strong the lost password was set. Below are some of the key features of Passper for RAR that you must know:
Key Features of Passper for RAR:
High Recovery Rate: The program provides you with 4 powerful attack modes, which ensure a high success rate.

Ultrafast Recovery Speed: Adopted the GPU& CPU acceleration, it will greatly accelerate the password checking speed and find the password in a very short time.

No Data Loss or Leakage: You can unlock RAR/WinRAR password on your own computer, therefore, it will not cause data loss or data leakage.

Broad Compatibility: The program supports all RAR/WinRAR versions.

No Limitation: The program doesn't limit the file size you can upload. Additionally, the program can be launched on Windows operating systems from Windows Vista to Windows 10.

Lightweight Software: This software takes up less than 3MB of your space on your computer hence it is worth installing it.

Trustworthy and Safe to Use: Passper is the sub-brand of iMyFone, which is widely recognized by makeuseof.com, macworld, cultofmac.com. etc. Therefore, it is safe to use.

Step 1 Launch Passper for RAR on your PC. Then click on the "Add" option and navigate through the folders to import the RAR file you intend to unlock its password. Select appropriate recovery mode for the RAR file you have uploaded. Click "Next".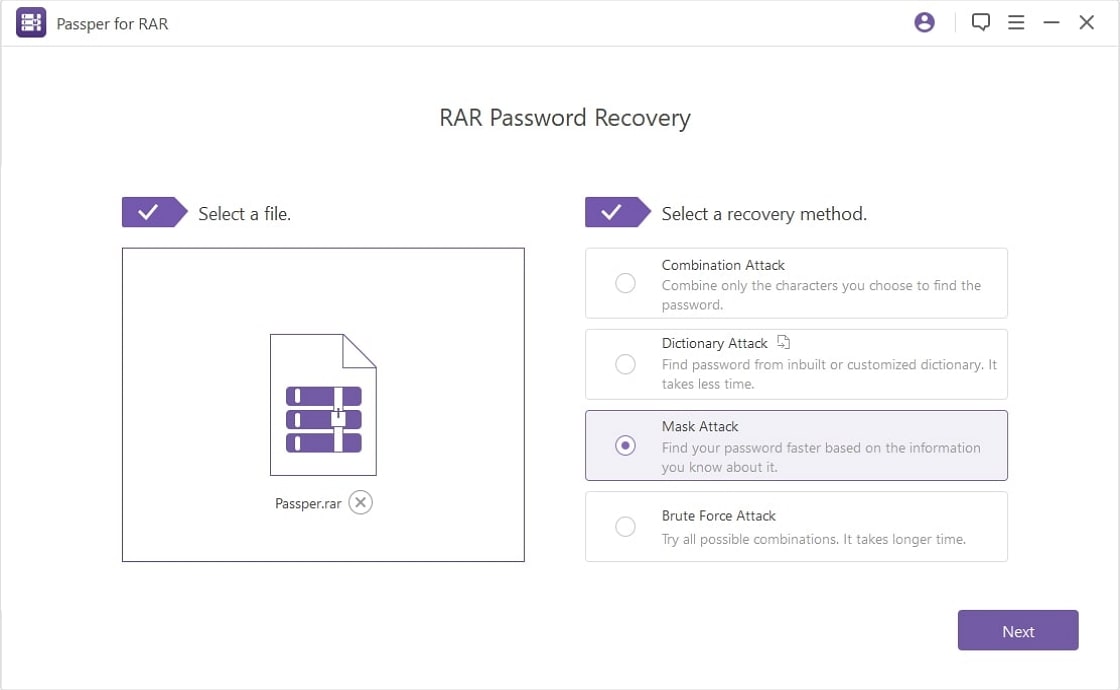 Step 2 Next, start cracking the RAR password by clicking on the "Recover" button. Be patient to wait several minutes and once the process is complete, find the retrieved password from the password tab.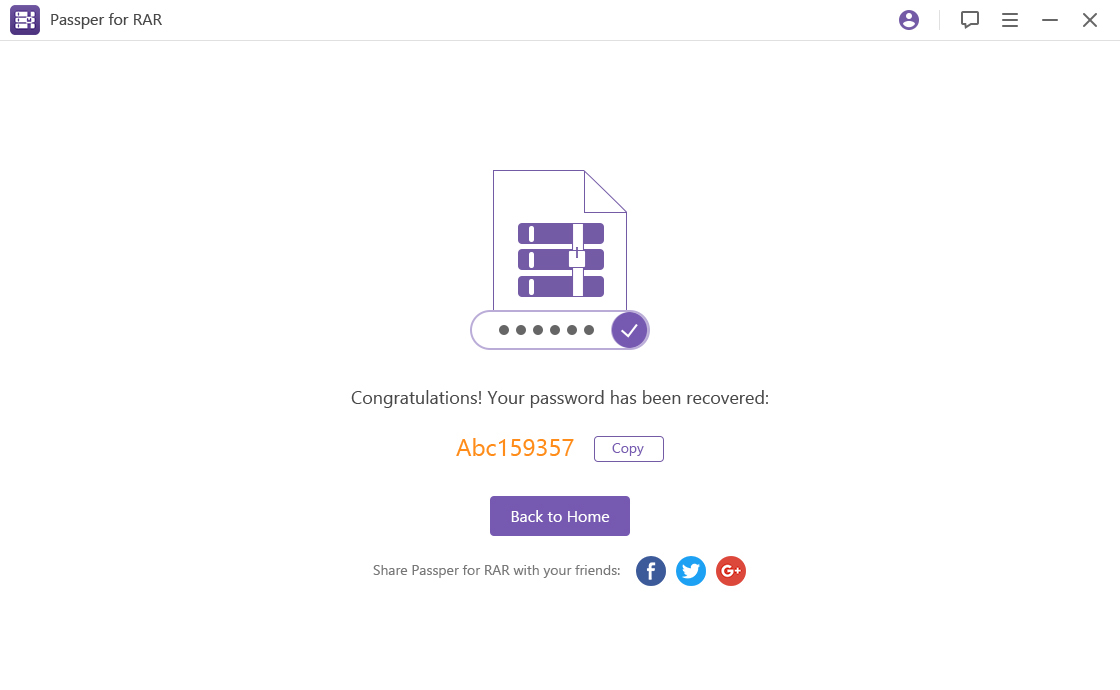 Conclusion
It can be seen that it is possible to retrieve any kind of lost RAR password either online or offline. Bur for data security, we still recommend you to try the offline option Passper for RAR, we believe you won't uninstall it any more.