When you happen to forget passwords for RAR files, it turns out to be a headache. You have to decrypt the file to access your data. There are different ways of recovering the password without much struggle. In this article, we will go through 5 most workable ones aiming to open password protected RAR file with/without software, let's check them out!
Part 1: How to Open Password Protected RAR File without Software - 4 Ways
When searching online, you will find so many methods which claim to unlock password protected RAR file. If you prefer to open a password protected RAR file without using any software, please read through this section and you will learn 4 free methods to achieve it.
Method 1. Guess RAR Password with Your Frequently-used Ones
The most commonly used method is guessing and has no planned procedure to follow. Guessing a password fully relies on the password creators since it's only them that have the ability to know which passwords they commonly use. Try using passwords that you can remember or have used before considering the tips that you used to set your passwords.
For example, you can use your birth date and first name initials or full name to set a password. That way you will be able to make guesses and probably can make the right guess.
Method 2. Recover RAR Password Online
If you have tried guessing password and it failed, you can opt for using an online RAR password unlocker such as Online Hash Crack. This online unlocker allows you to recover weak passwords of files that aren't larger than 200MB. Therefore, if your RAR file is small and your password is something simple, Online Hash Crack is worth trying. Below is a guide on how to open a password protected RAR file without software by using Online Hash Crack.
Step 1: Visit Online Hash Crack and upload your files to the website by clicking the "Browse" button.
Step 2: Then, enter a valid email address and click "Submit".
Step 3: Once finish uploading, it will start password recovery.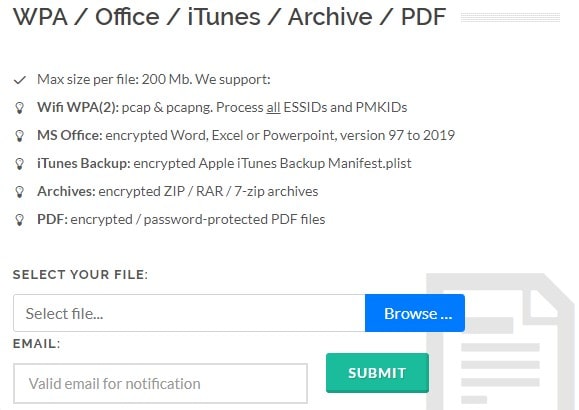 Although this way seems pretty easy to use, password can hardly be recovered with a free check. And you won't have any idea how many passwords have been checked and how long you will need to wait. Also, there are several safety issues arising with this way. The biggest issue is the data security. You are required to upload your file over the Internet to its server when you unlock RAR password online, this will puts your data at risk of being leaked out and hacked.
Method 3. Unlock WinRAR Archive Password with Notepad
Using Notepad is another method to open a password protected RAR file without software. Using Notepad is a method that has already been tested by some users. It is workable in some cases, but not always successful. Just follow the steps below:
Step 1: Start by opening your locked RAR file using Notepad application.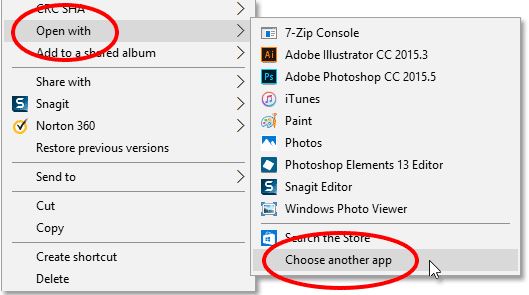 Step 2: After that press CTRL+F and input Ûtà to search of which you will replace with 5³tà'. Next, search for'IžC0 and replace it with IžC_0.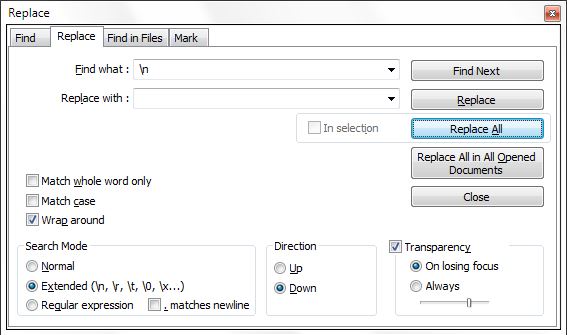 Step 3: When done, save the file with the changes made. Now you may proceed to open your RAR file with your usual application and it will not ask for a password.
Method 4. Open Password Protected RAR File with CMD
Using CMD is another free solution to open password protected RAR file. You just need to type in several command lines and create a batch script. However, it is important to note that this method only works for numeric passwords. And to tell the truth, we do not recommend you to use this method due to the fact that a mistake on the command line will damage your operating system or data.
Now check the following steps:
Step 1: Open your Notepad. Enter the code for batch script. You can easily find the code on Internet.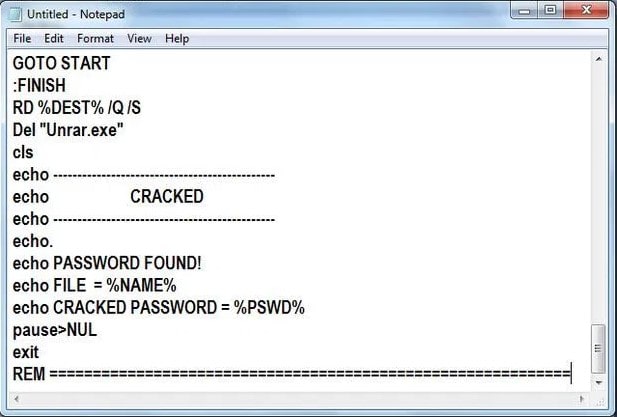 Step 2: Save the file as "Cracker.bat". Please make sure the file extension is .bat.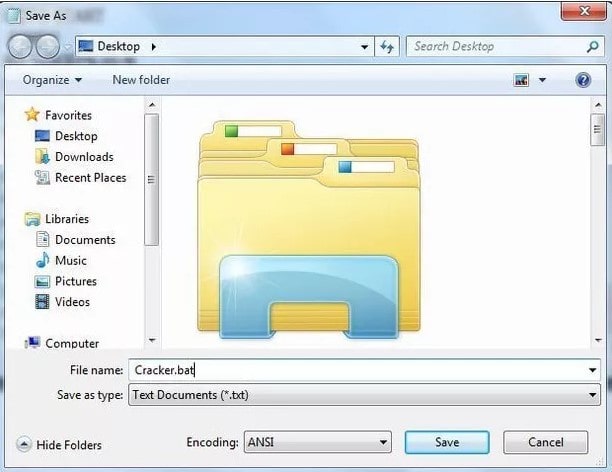 Step 3: After saving, locate the .bat file and open it. It will open the command prompt.
Step 4: You need to type in the name and location of the locked RAR file. Press "Enter".
Step 5: After some time, the password will be cracked and displayed on the screen.
Part 2: What If You Are Unable to Open Password Protected RAR File without Software
The above 4 methods may sound good to open password protected RAR file without using any software, but they are not always workable. Thus, you need to find a tool which can guarantee a high success rate. To efficiently and easily open the password protected RAR archive, I highly recommend you to try third-party software.
Passper for RAR is a reliable and easy-to-use tool to recover a forgotten RAR password without knowing the correct password. It adopts 4 powerful cracking strategies and advanced algorithms, which can greatly shorten the recovery time and ensure a higher success rate. And with the intuitive interface, you can easily find back your password within 2 steps whether you are a novice user or an expert. What's more, Passper for RAR concerns your data security. You can launch and operate the software on your personal computer, therefore, there will be no data loss or data leakage.
Now follow the steps below to unlock RAR password with Passper for RAR.
Step 1 Start by running Passper for RAR to access the window where to add files. Locate the file and click open to load the file to the program. Choose the most appropriate method for your situation among the given attack means.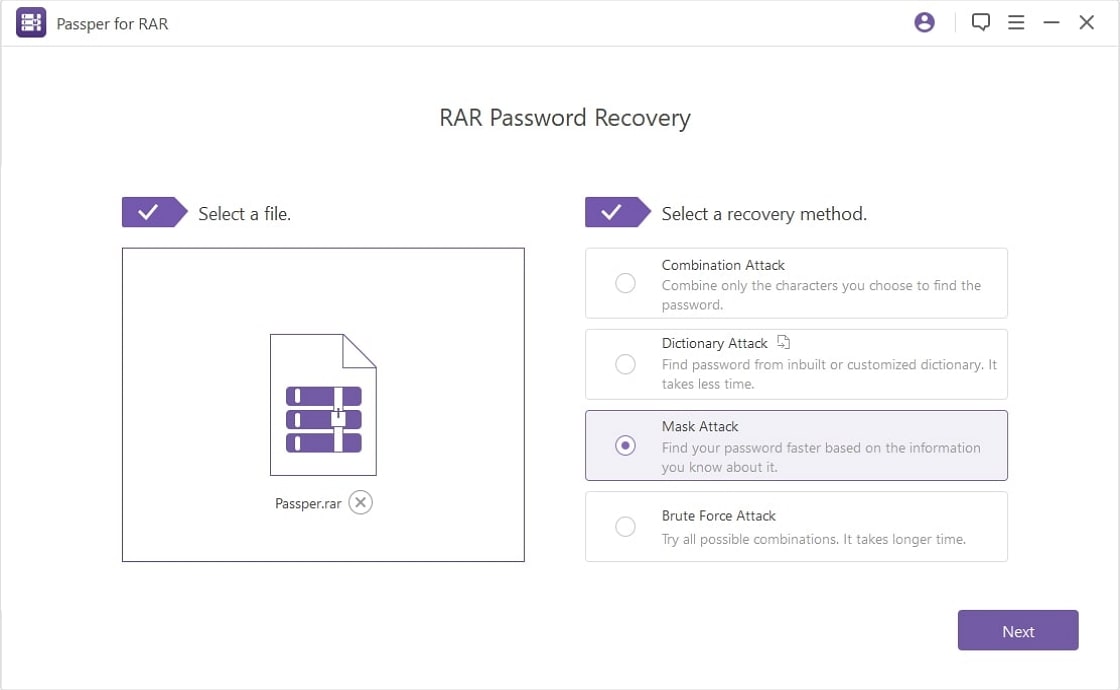 Step 2 After selection click "Recover" to start the recovery process. It will take the minimum time possible considering the complexity of the password you had set. The password will be displayed on the screen once finished.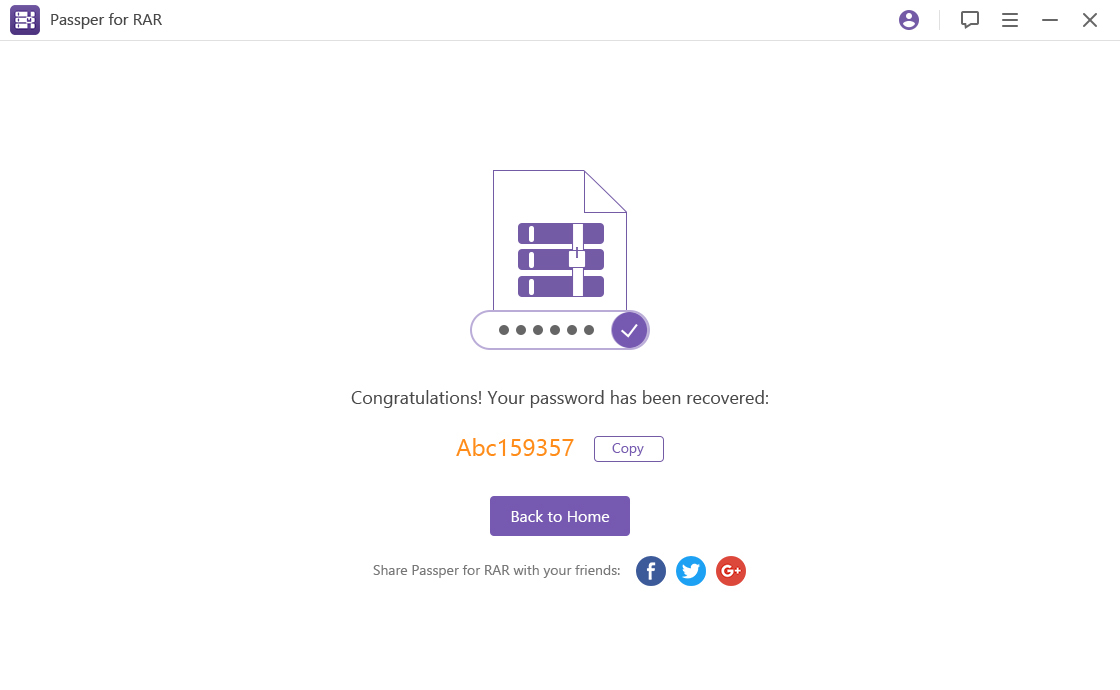 Tip: How to Open Password Protected RAR File without Software on Mac
Actually, there are few methods that can be used to open password protected RAR file, not to mention the methods without using any software. According to our test, the above-mentioned methods like guessing RAR password and using online service can also work on macOS. But if you are finding an effective method, we suggest you transfer your password protected RAR file to one Windows computer and open it with software like Passper for RAR.
Conclusion
Finally, these are the proven ways to open a password protected RAR file with or without software. You can choose one method suitable for your situation. If you have any other workable methods to unlock a protected RAR archive, you are welcome to leave a comment below.