A file that is in RAR format is easy to share online and to protect this kind of file, you need to encrypt it with a password. Therefore, you might end up having different locked RAR files and you forget the password. Now in such a situation how do you unlock password protected RAR files? In this article, we gathered 5 100% working ways to help you unlock RAR/WinRAR password. Please keep reading.

Note
If you know password of the locked RAR file, you can directly go to Part 3. If not, click on the method you prefer in Part 2.
Part 1: What's the Chance of Unlocking RAR Password
Before we discuss the methods to unlock RAR password, we want to share with you the concept of password unlocking and the chance of unlocking RAR password.
Password unlocking is the process to recover password for your encrypted file by using common passwords or powerful algorithm. It adopts several techniques to achieve this goal. The frequently-used ones are dictionary attack and brute force attack. However, even with the powerful algorithm and smart strategies, there is no program can guarantee a 100% success rate on the market. But an excellent password unlocker can greatly shorten the unlocking time and increase the chance of success.
In the following parts, we will introduce several methods to you, including excellent RAR password unlockers. If you want to unlock RAR password easily and effectively, we highly recommend you to try one password unlocker!
Part 2: How to Unlock RAR without Password
Method 1. Unlock RAR Password Using Passper for RAR
The most efficient and fastest way to unlock RAR password when you don't know the password is using an excellent password unlocker known as Passper for RAR. This software is solely built to unlock protected RAR files and enable you to access locked files. It uses 4 powerful attack modes that are tailored for each situation like when you cannot remember the password, when you can partially remember the character or you only know the length of your password. Below are more features of it you can enjoy:
Key Features of Passper for RAR:
Highest Recovery Rate: The smart cracking strategies and algorithm makes its recovery rate the highest in the industry.

Fastest Recovery Speed: Adopted the GPU& CPU acceleration, it will greatly reduce the candidate passwords and then shorten the recovery time.

Easy to Use: The unlocking process is as simple as 1-2-3. Even if you aren't a technical guy, you can unlock your RAR password within several clicks.

No Data Loss or Data Leakage: Passper values your data security, it will not keep any files you import and your files will not be leaked out during/after password recovery.

100% Trustworthy: Passper is the sub-brand of iMyFone, which is widely recognized by makeuseof.com, macworld, cultofmac.com and etc.

Now head to Passper for RAR website and get it downloaded and install it before following the steps below.
How to Unlock RAR password using Passper for RAR
Step 1 Open the installed Passper for RAR software and click on "Add" icon to select and import the lockd RAR archive at the homepage. After that, you need to select the recovery mode from the 4 options based on your situation.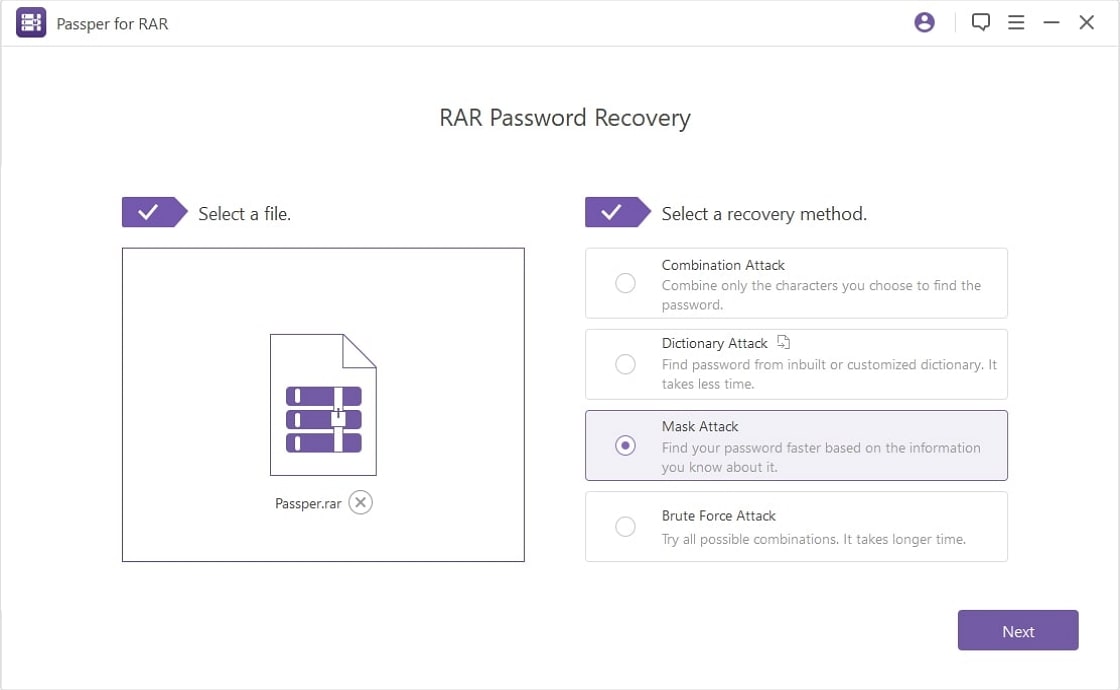 Step 2 After selecting the recovery mode, now click on "Recover" and the program will begin to scan the RAR password. Once it is recovered, the password will be displayed on the screen. You can now copy it and use it unlock encrypted RAR file on your computer.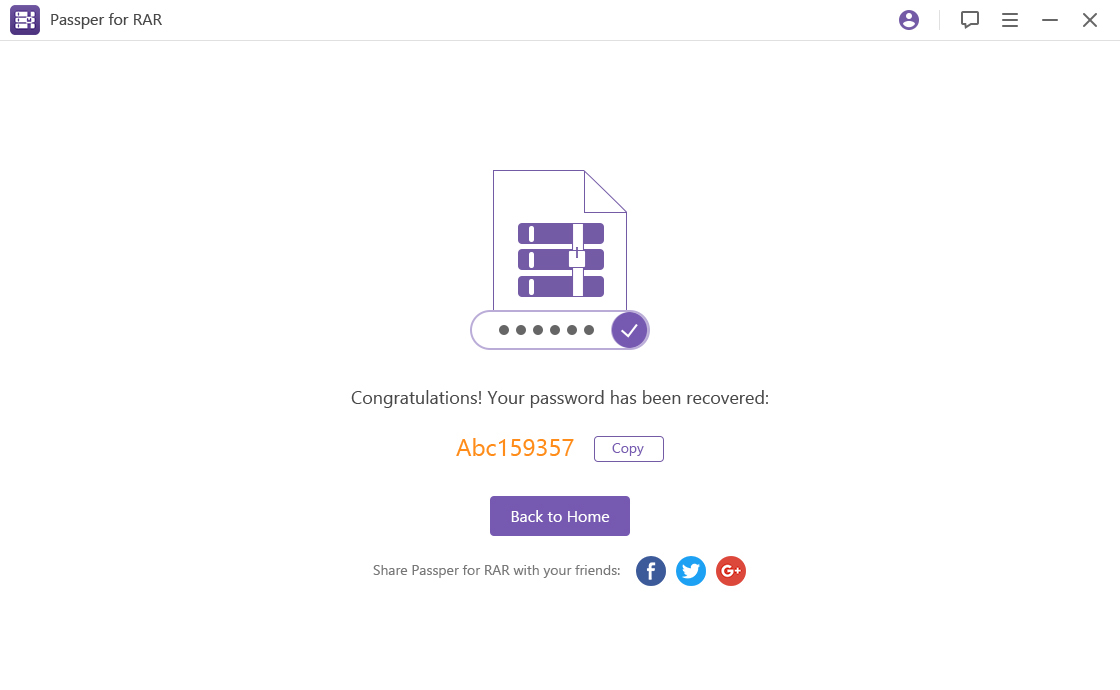 It is that easy. Only 2 steps, you can unlock password protected RAR file without password.
Method 2. Unlock RAR Password with CMD
The next option that you can try to unlock RAR password is using CMD. By using this method, you need to create a batch file. If you are a technical expert, you can try this method. Following is a detail guide on how to unlock RAR password by using CMD. Please check and follow each step carefully, otherwise, error can occur.
Step 1: Copy the following command line to your Notepad application and save it as .bat file. Close the .bat file.
@echo off
 title WinRar Password Retriever
 copy "C:\Program Files\WinRAR\Unrar.exe"
 SET PASS=0
 SET TMP=TempFold
 MD %TMP%
 :RAR
 cls
 echo.
 SET/P "NAME=File Name  : "
 IF "%NAME%"=="" goto ProblemDetected
 goto GPATH
 :ProblemDetected
 echo You can't leave this blank.
 pause
 goto RAR
 :GPATH
 SET/P "PATH=Enter Full Path (eg: C:\Users\Admin\Desktop) : "
 IF "%PATH%"=="" goto PERROR
 goto NEXT
 :PERROR
 echo You can't leave this blank.
 pause
 goto RAR
 :NEXT
 IF EXIST "%PATH%\%NAME%" GOTO SP
 goto PATH
 :PATH
 cls
 echo File couldn't be found. Make sure you include the (.RAR) extension at the end of the file's name.
 pause
 goto RAR
 :SP
 echo.
 echo Breaking Password...
 echo.
 :START
 title Processing...
 SET /A PASS=%PASS%+1
 UNRAR E -INUL -P%PASS% "%PATH%\%NAME%" "%TMP%"
 IF /I %ERRORLEVEL% EQU 0 GOTO FINISH
 GOTO START
 :FINISH
 RD %TMP% /Q /S
 Del "Unrar.exe"
 cls
 title 1 Password Found
 echo.
 echo File = %NAME%
 echo Stable Password= %PASS%
 echo.
 echo Press any key to exit.
 pause>NUL
exit
Step 2: Double-click to open the .bat file. Then the command prompt window will appear.
Step 3: Enter the name and location of your encrypted RAR file. After doing this, press "Enter" key to continue.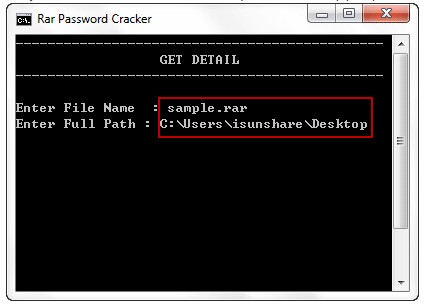 Step 4: Just wait a while. The password of your encrypted RAR file will be displayed on the command prompt screen.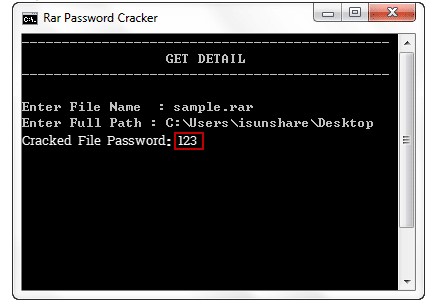 Note
This method can only unlock numeric password. If your password contains letters or symbols, please try other solutions.
Here is a video guide on how to unlock RAR password with Passper for RAR and CMD.
Method 3. Unlock RAR Password Online
Another way to unlock RAR password is using an online RAR password unlocker. One of the ideal platforms that can unlock RAR password is Remove-Password.com. With this online service, you only need to pay for it once the password has been successfully unlocked. Here is a guide on how to use this online tool to do it:
Step 1: Visit the official webpage of Remove-Password. Upload your password protected RAR file and click "I agree" to continue.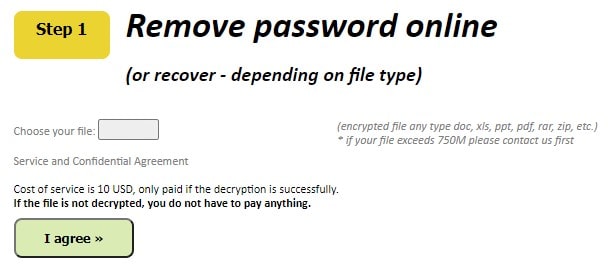 Step 2: In this step, you can write down some information of the correct password if you have. If not, just click on "Next step".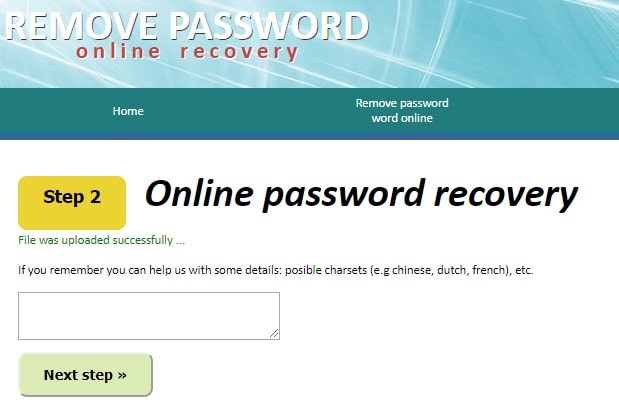 Step 3: The program will require you to enter a valid email address. After you have confirmed it, click "Send".
Step 4: Go to your email address to activate the unlocking process. The unlocking process depends on the password complexity and length. Now, what you need to do is only wait.
And that is it. However, please remember that there are several safety concerns to unlock RAR password online. The biggest one with unlocking RAR file password online is data privacy since they are purely online-based tools. When you upload your file over the Internet to their servers, this will greatly increase the risk of data being leaked out and hacked.
Method 4. Unlock WinRAR Archive Password with Notepad
Also, you can use the Notepad on your computer to unlock RAR password. Although this method might not work for every RAR file, it is worth trying since it is free and it only involves short steps.
Step 1: First, open the RAR file on your computer with NotePad Application.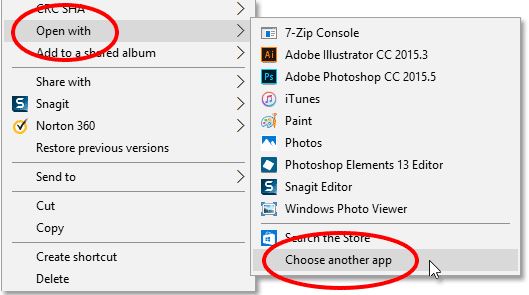 Step 2: Next, click on CTRL+F and find for the string Ûtà then replace it with 5³tà'. Again, find 'IžC0 and replace it with IžC0.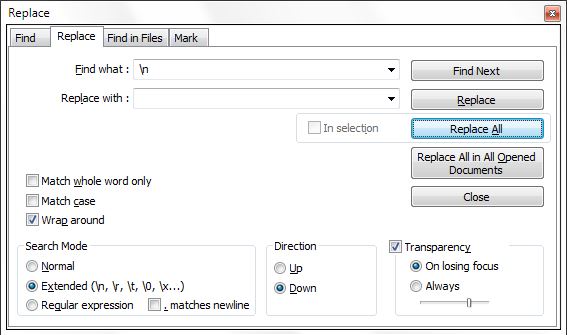 Step 3: After the two replacements, you can now save your file. Once you reopen the RAR file it will open without asking you to provide a password.
Part 3. How to Unlock Password Protected RAR with Known Password
Compared to unlock RAR file without password, it's truly easy to unlock your RAR file when you know the correct password. Here is the step to follow:
Step 1: Open the password protected RAR file with the RAR decompression utility.
Step 2: From there, you can now right-click on the locked file and select "Extract to" and you will choose the location to extract the files.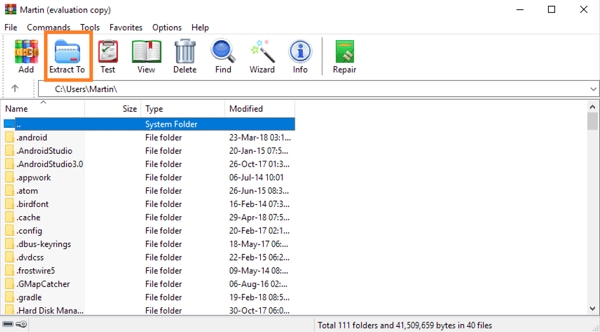 Step 3: Next, the program will prompt you to enter the password of the RAR file. You can now enter the password of RAR file and then click on the "OK" button.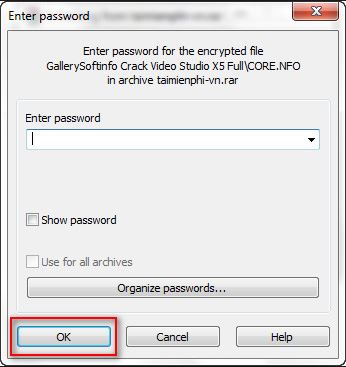 From there, you will be able to extract files to the folder.
Conclusion
To conclude, we see that there are 5 different ways on how to unlock RAR password on the computer but not all the methods are effective as compared to use Passper for RAR software. With its four powerful recovery modes, you are assured to unlock RAR password easily.