Are you tired of using the desktop version to unrar files? Or do you feel like you need to unzip rar online? If you are the one, you just landed on the right article. In here, you are going to learn about the top 7 online RAR extractors to unzip RAR online together with their pros and cons. The beauty of online tools is that they readily available and saves you time and space of downloading RAR extractors.
Anyone who at one point has to unrar files online can attest that B1 Online Archiver is the best choice because it features a clean and simple to use interface which is free of ads or annoying popups. What is more important is its straightforward functionality. Just click on the "Select archive" button to RAR file, and within no time this tool will upload and extract. Then, unpack only RAR files which are of interest.
After youve unrar files, either delete from the site immediately by using the link below or leave it and the software will get rid after a few minutes.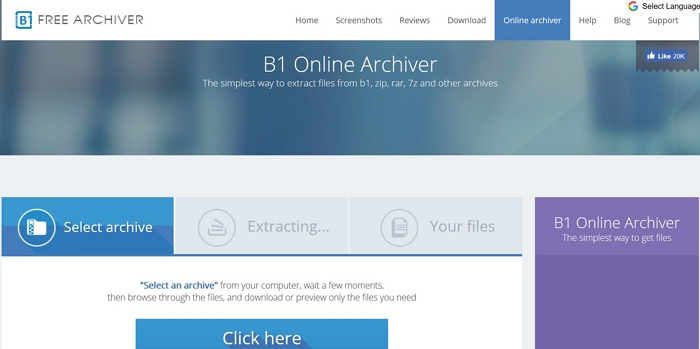 Pros:
No ads.

Feature clear and an intuitive interface.

Supports dozens of archive formats.

Has the ability to download some files from the whole RAR file.

Fast rate of upload and extraction process.
Cons:
Requires fast network connection to function in its optimum level.
Unzip-Online platform allows you to decompress file formats like ZIP, RAR, 7Z, and TAR formats. To successfully unrar the file it should not exceed 200MB. Moreover, this platform is easy to use and once you log in you will be able to see the upload button. Furthermore, this website assures erasing the uploaded file within 24 hours.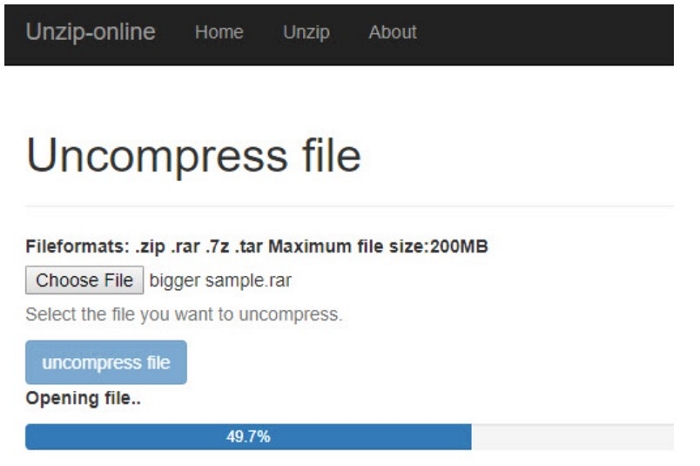 Pros:
Clear and intuitive interface.

Supports only download of target files.
Cons:
200MB maximum file limit.

Sites privacy policy and informations havent seen any update in years.
The primary objective of Convert.Files is to unrar files online and convert these RAR files to different formats which include ZIP, TAR, and 7Z. Although these are great utilities, Convert.Files have several shortcomings such as a lot of ads and slower conversion rate when contrasted with Archive Extractor.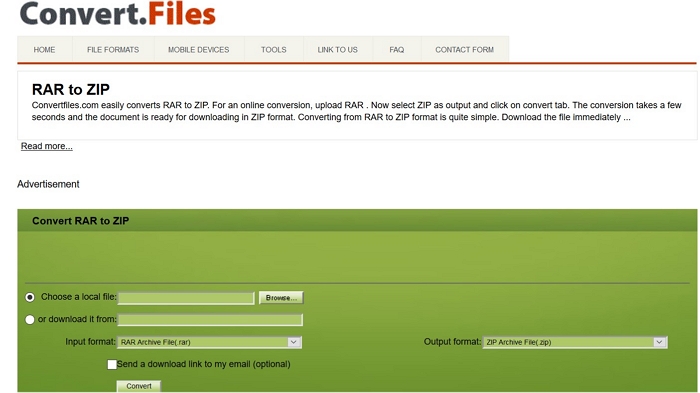 Pros
Has file conversion utility.

Allows you to download files online.

Allows you to send the converted file to your email.
Cons
The site is loads with ads.

Latency is experienced during file upload or conversion.
This web-based software is far much similar to B1 Online Archiver described above. It supports a wide range of compressed files. Hence its of more importance than to unrar files online. Also, it goes beyond uploading archived files from the PCs hard drive to importing from URL, Google Drive or Dropbox. Moreover, Archive Extractor allows you to save the RAR documents to the common archive formats such as ZIP.
This software assures that the uploaded file will be erased from the site after not more than 12 hours starting from the time the file was imported.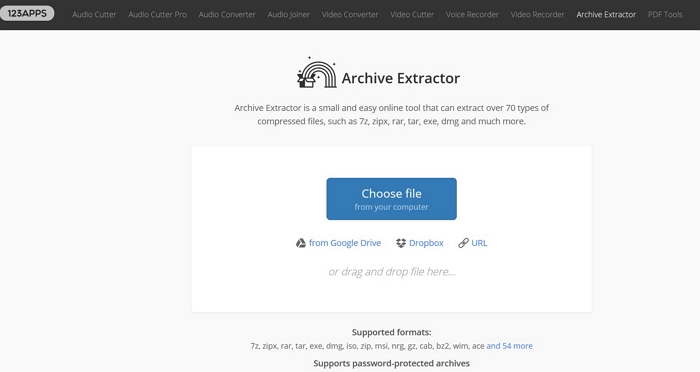 Pros
Supports vast Archive formats.

Allows conversion of archive formats without corrupting the files.

Has utilities to import file from URL, Google or Dropbox account.

Allows download of files of interest.
Cons
The upload button from computer might be irresponsive at times
If you are that guy who enjoys carrying out the task in a fun manner, Funzip is the right program for you to unzip files online. The services you get is free with no registration required and works well with the computer, smartphone or tablet. To upload the file, you intend to unrar online use Funzip tools and browse for it or efficiently use the drag-and-drop technique.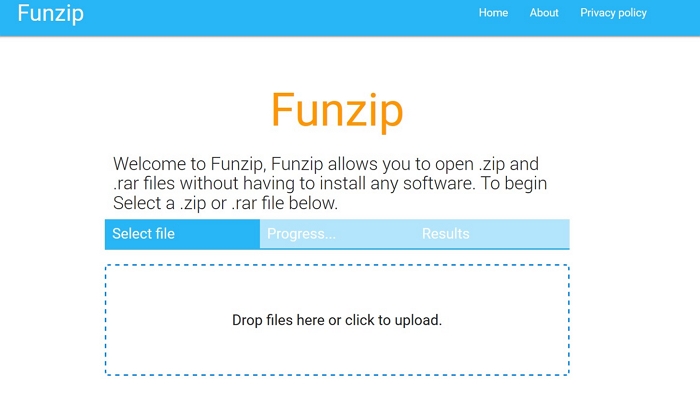 Pros
Upload and extraction are almost instant.

Presents a list of files.

It is fast and safe platform.
Cons
File maximum limit of 400MB.

Limited to ZIP and RAR files.
Coming sixth is CloudConvert. Apart from being software to unzip online, it has some utilities which can extract and convert RAR to 7Z, TAR, and ZIP. Moreover, CloudConvert allows you to import files from from Cloud storage, local computer or download them online. Furthermore, converted files can be sent directly to cloud storage, and you can enable notifications.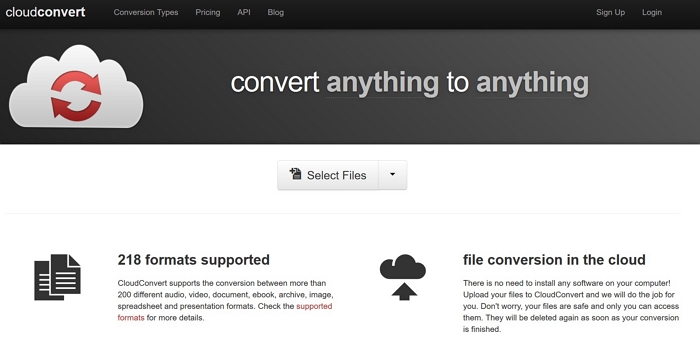 Pros
It supports up to 218 file formats.

Automatically deletes the file after 24 hours.

It has no ads
Cons
A limited amount of usage per day

Only supports downloading of the file in ZIP format
7. WOBZIP
WOBZIP is among the softwares to use to unrar files online. You can upload the file RAR file by downloading it online or by browsing files from your computer. Also, this platform also supports decompression of password protected files. Unlike other platforms Wobzip platforms informs of all the total files that you have ever uploaded.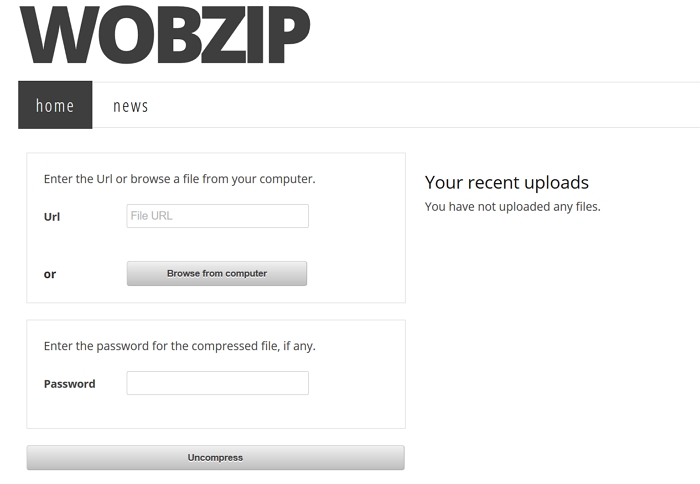 Pros
It is easy to use

It supports RAR encrypted files
Cons
The file limit size is 200MB
How to Unlock Password Protected RAR Files without Password
Not knowing the password for your encrypted files will expose you to a rough experience trying to recover. Due to this fact, Passper for RAR was explicitly designed to free you from this experience, which can crack all versions of password protected RAR, Winrar files in no time by using the CPU acceleration & GPU acceleration. Most impotrantly. It provides 4 attack modes so that ensured the chance of password recovery to be  98%, which far surpassed its similar products in the market. Now use the following guide to unlock the encrypted files easily. To get started, please download and install Passper for RAR to your computer:
Step 1 Launch Passper for RAR on your PC and hit the "Add" icon to import the encrypted file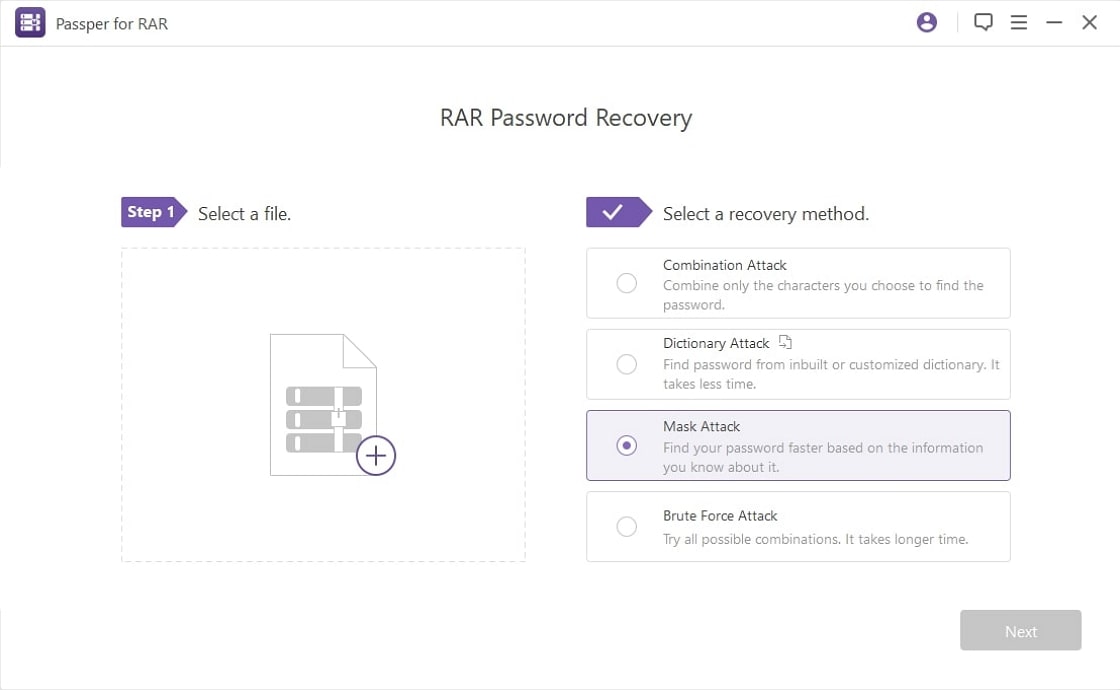 Step 2 Select the preferred attack modes from 4 options provided by this program and define its settings to use to decrypt password protected file. For the detailed introduction of these 4 attack modes, check the guide here.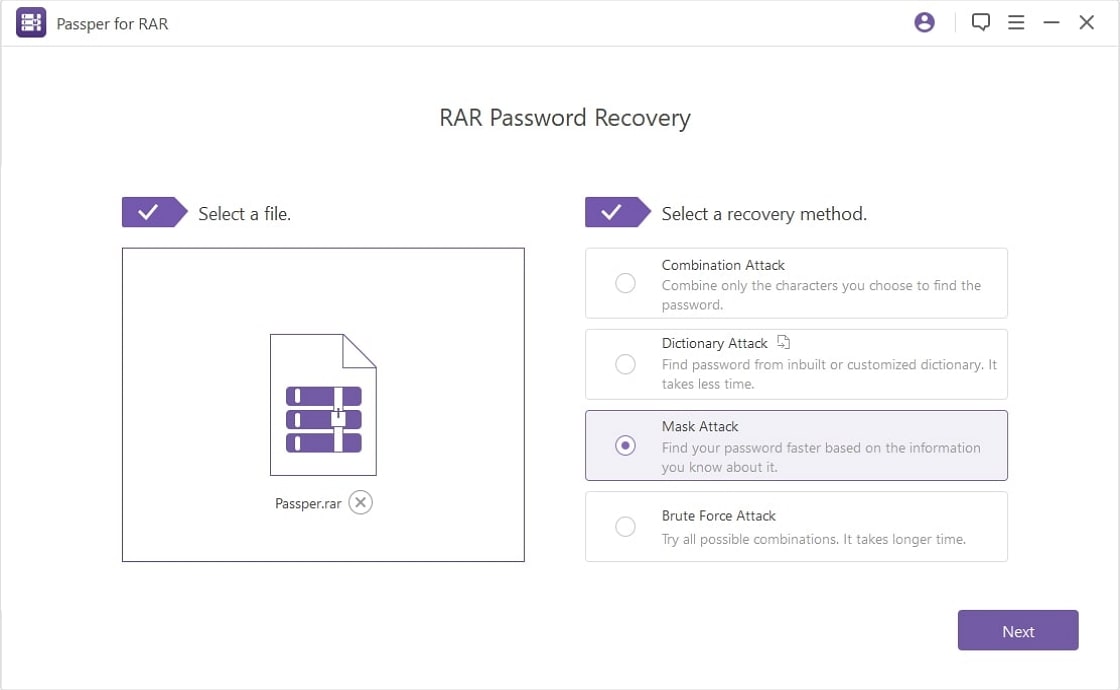 Step 3Once you are set and ready, click on the "Start" button. Wait for a few minutes to complete decrypting. Youll see a message notifying you that the process was a success.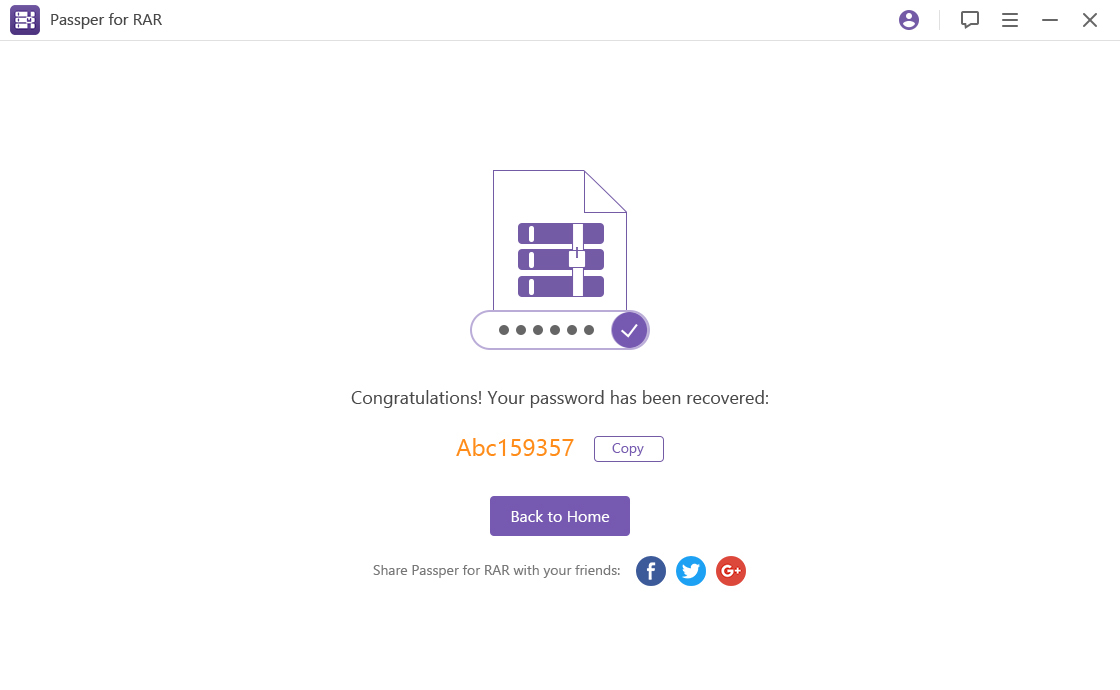 Here is a video about how to unlock password encrypted RAR archive with Passper for RAR step by step.
Conclusion
The entire process of how to unpack RAR online is a straightforward one. The resources to use is not limited and covers everyone interests. All of the online softwares are cool, but B1 Online Archiver and Archive Extractor have stood tall and majorly focuses on delivering the best experience. But when the need to decrypt password protected files, seek asylum in Passper for RAR.