Passper for RAR is designed to unlock all encrypted RAR/WinRAR archives in seconds. You can follow the steps listed below to use Passper for RAR.
To get started, download Passper for RAR to your computer and install it according to the instructions on the screen.
Step 1Click the "Add" button on the RAR Password Recovery screen. Search through the folders and locate the RAR file for which you wish to recover the password.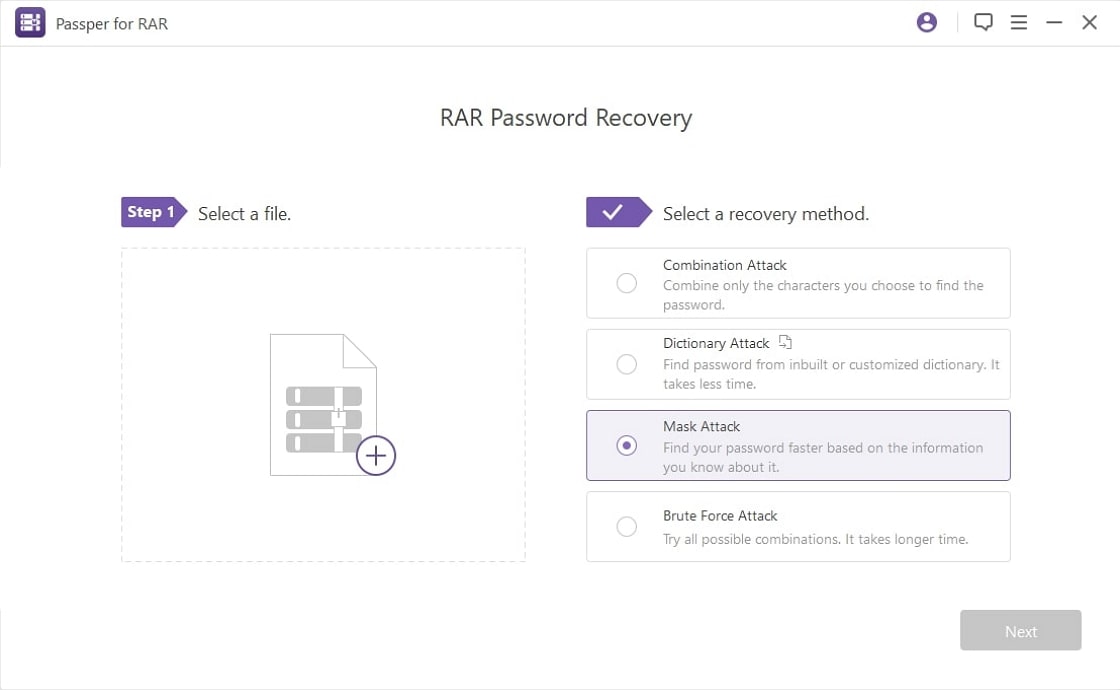 Step 2Select an appropriate recovery mode after selecting the file for recovery.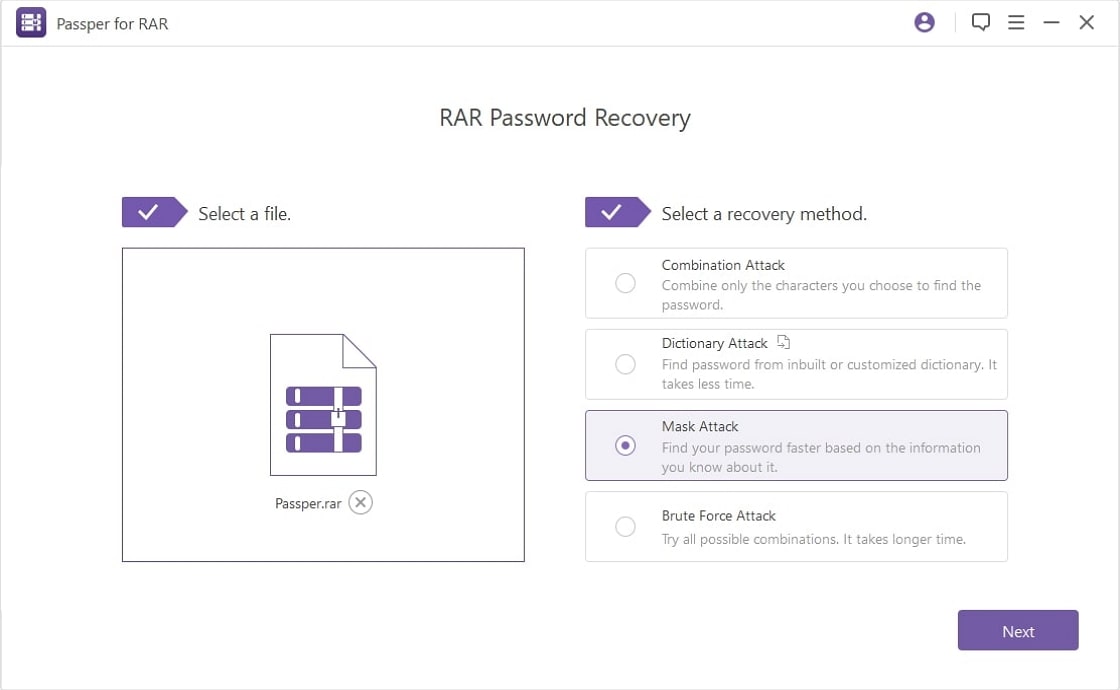 Note: Following is a detailed introduction to 4 attack modes. If you are still not sure which attack mode to choose after reading it, you can send us an e-mail to passper.support@imyfone.com.
Dictionary Attack: This mode will recover lost or forgotten RAR passwords by trying all the strings in the built-in or customized dictionary. This method is often used since it contains millions of ordinary passwords. Due to the large database this attack mode has a high success rate and fast recovery process.
Combination Attack : This method enables you to set numbers, symbols and other characters you want the program to combine to recover your password. If you vaguely recall the components of your password, you can choose this method.
For example, if you always create a password of 6-8 characters by using your name (Rose) and some numbers, you can customize the information as follows:
Password Length: 6-8 characters
Uppercase Letters: R
Lowercase Letters: o,s,e
Numbers: Select All
The program will randomly combine the characters you choose and try all the combinations. The fewer characters you choose, the less time it will take to find your password.
Mask Attack: This mode will search for the correct password according to the password hint you partially remember. By using this method, you need to remember the certain characters type that not included in the password.
For example, you are sure that there is not any symbol in your password. And you usually set a password in 6-8 characters with your name (Paul). Then, you can customize the settings as below:
Password Length: 6-8 characters
Characters not included: Symbols
Characters or combination: Paul
The program will combine all the other characters (all uppercase letters, lowercase letters and numbers) with "Paul" to find your correct password. If your name "Paul" doesn't appear as an entirety in the password, write the letters separately.
Brute Force Attack: This mode is your best choice if you can't recall anything about the password. In this mode the program will try all possible combinations to recover the password.
Step 3Press the "Recover" button to begin the password recovery process. When it is completed, the correct password will be displayed on the screen. You can then copy it to open your encrypted RAR file.