If you often use PDF file then you know the benefits of the security that comes with having your files protected with a password. This makes sure that no person can access your confidential information without your authorization. But, you also know of the frustrations that come when someone sends you a file to work on urgently but the file has restrictions yet sender is not available to give you the owner password so that you can remove the restrictions and modify the file. Luckily for us, there are several PDF password unlockers that you can use to unlock any PDF file in time so that you can use the way you intended to. Here, we gathered top 3 PDF password remover programs that you can use online.
1. Sejda Online
Sadja is a wonderful online tool that you can use to remove the PDF restrictions on your PDF files. It is a powerful tool dedicated to working on PDFs and thus offers several other services that relate to handling PDF files such as merging files, splitting files, extracting pages and even deleting files from a given folder among others. If you forgot your password all you need is to upload the file to the site and the tool will employ smart algorithm to remove your password and unlock the PDF files for you hence giving you access to your information instantly. It is fast and has a pretty good success rate. It has a simple interface which makes it easy to use. It is also available in different languages which make it perfect for people who do not speak English.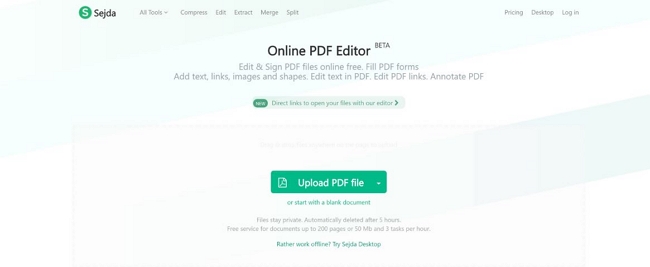 Pros:
It is easy to use.

Uses smart algorithms to remove any password.

It is available in many languages.
Cons:
Have security concerns for sensitive information.

If your PDF file is locked with password to open, it will require you to enter the password.
My test:
The speed to access the official site is quick. But it is not easy to find the function of unlock in the homepage. It will be better if the searching bar is displayed in the homepage. The speed to upload a PDF file is fast. And it offers several options for you to save the unprotected document. But if you upload a PDF file locked with user password, you will be asked to enter the correct possword. I do not recommend that you choose this tool if you forgot the password to open the document.
2. Smallpdf Unlock PDF
The Smallpdf online PDF password cracker in another great tool that you can use to remove passwords on your PDF files online. The tool is designed with security features to keep your files safe. It is also very easy to use as all you have to do is drag your files and drop on the site and it will do the rest. It also supports files in Google Drive and Dropbox which makes working online quite easy. It not only unlocks PDF files but can also merge, convert and split your PDF files. It is fast and has a downloadable version which is perfect for anyone who wants to work with it offline. All processed files are deleted within an hour after processing to ensure the security of your files.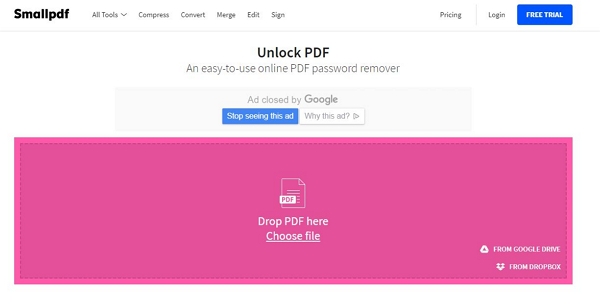 Pros:
Allows for secure connections which offer security for your files at all times.

Supports PDF files from a number of online storage sources.

It is quite powerful and fast. It can remove the password in a few minutes.

It is easy to use as you can easily upload and download your files.

Works completely online which eliminated the need to download and install the software on your computer.
Cons:
May not unlock highly encrypted files.

If your PDF file is thoroughly encrypted, you can only unlock the file by providing the correct password.
My test:
It really has an easy-to-use interface. In the beginning, I uploaded a PDF file protected with user password. It requires me to enter the correct password. So it is not workable when you lost or forgot the password. The second time, I want to upload a PDF file protected with owner password. But it asks me to start a free trial and pops up a window to creat an account. After that, it pops up the purchase page. In a word, it is not a good experience.
3. ThePDF.com
ThePDF.com is another great online PDF password unlocker that gives great results at all times. The tool uses powerful algorithms to remove passwords and restrictions on PDF files so that you can use them easily. It is a free tool that also offers other services such as creating PDF files, converting PDF files to other formats, splitting PDF files and merging PDF files among others. The tool uses a powerful engine to recover password and this gives it a high success rate than most of its peers. It also uses multiple methods to recover the passwords and this helps it recover passwords with different levels of encryption. The tool is quite secure as files are processed through an SSL secured connection and then deleted once the process is over.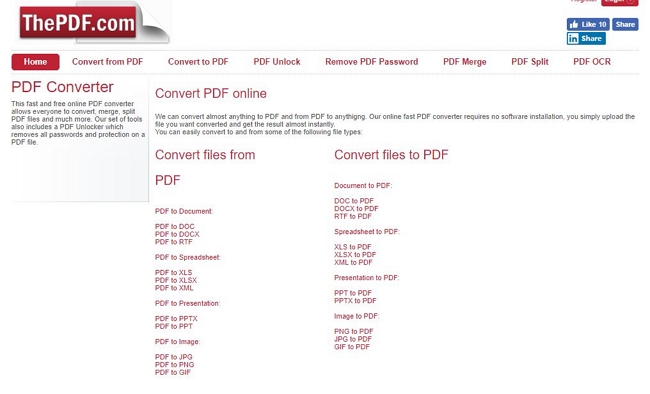 Pros:
It is completely free.

It has a powerful engine.

It uses a secure connection.
Cons:
Can be slow with highly encrypted passwords.
My test:
After selecting the PDF file to upload, it will validate your document. The process finished in the blink of an eye. The problem appears when you click Unlock button. It keeps uploading the file and about one minute later, it reminds you that an error occurred duiring the uploading. I tried many times with different PDF document, it still shows me the same note.
Tips: How to Unlock PDF without Data Leakage
Using an online PDF password cracker is easy but comes with a number of its downsides. What happens when the online tool you use is not compatible with your PDF file since a lot of them haven't updated for a long time. In addition, most these kind tools will need you to upload your files online, this will greatly increase the chance of data leakage. I will recommend you to try a third-party PDF password unlocker programs on your computer.
One of the best third-party PDF password breakers that you should try is the Passper for PDF. This application is designed with an extremely powerful engine that can unlock password protected PDF file shortly and safely. This powerful PDF password unlocker contains 4 different methods in order to recover PDF document open password. Adopted the smart algorithm and the fastest checking speed of paswords, it always provide positive results and therefore has highest success rate. And this tool reveives good feedback from our users.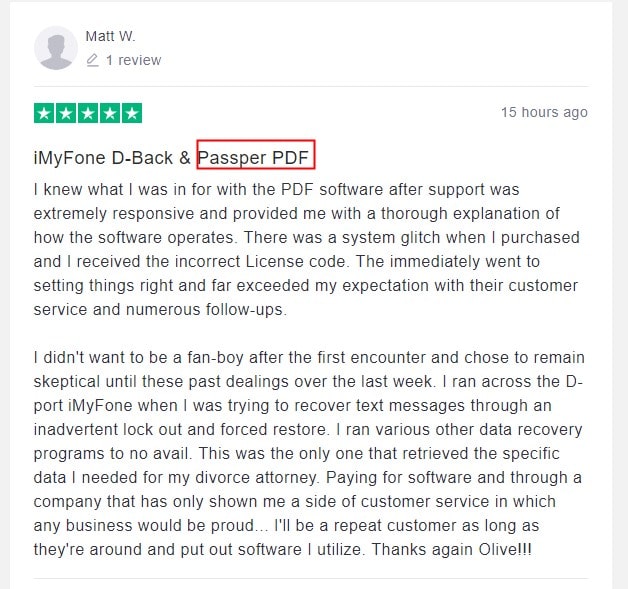 To use the Passper for PDF follow these steps:
First of all, download, install and launch the Passper for PDF application on your personal computer
Free DownloadFor Win 10/8/7/XP/Vista
Step 1: On the user interface, select the action you want to take. You can select "Recover Passwords" to recover your forgotten passwords or you can select "Remove Restrictions"to remove restrictions on a given PDF file so that you can alter, copy or print it.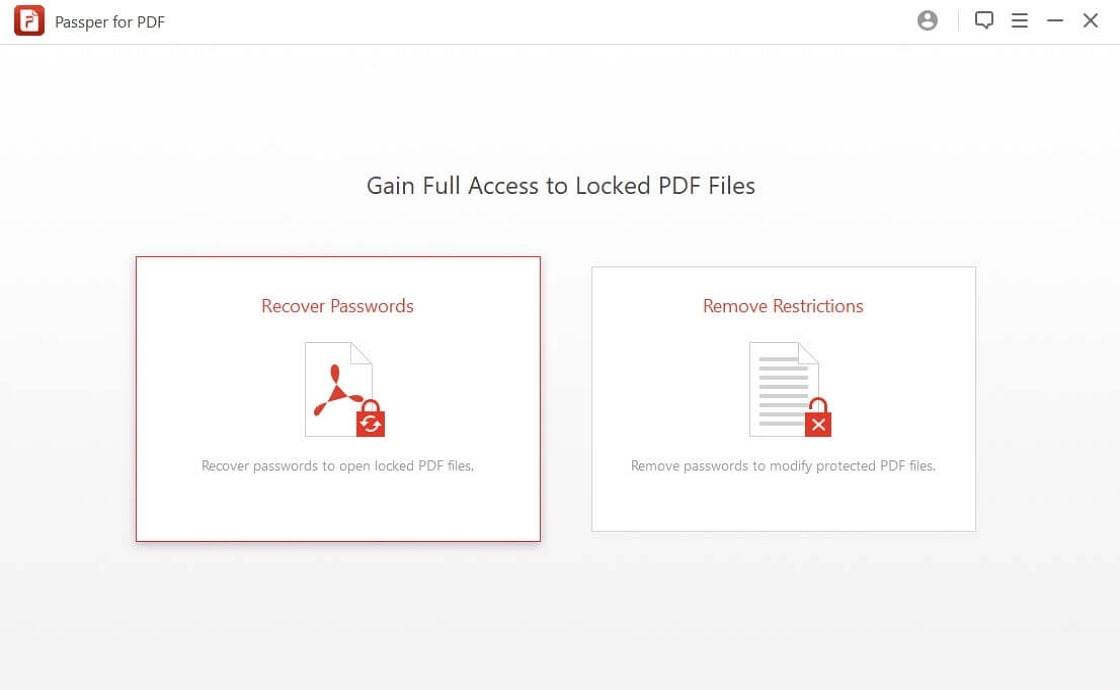 Step 2: Browse the interface and click on the "add" button to import the particular file that you want to unlock to the application, and choose the attack method from the 4 options provided based on your situation.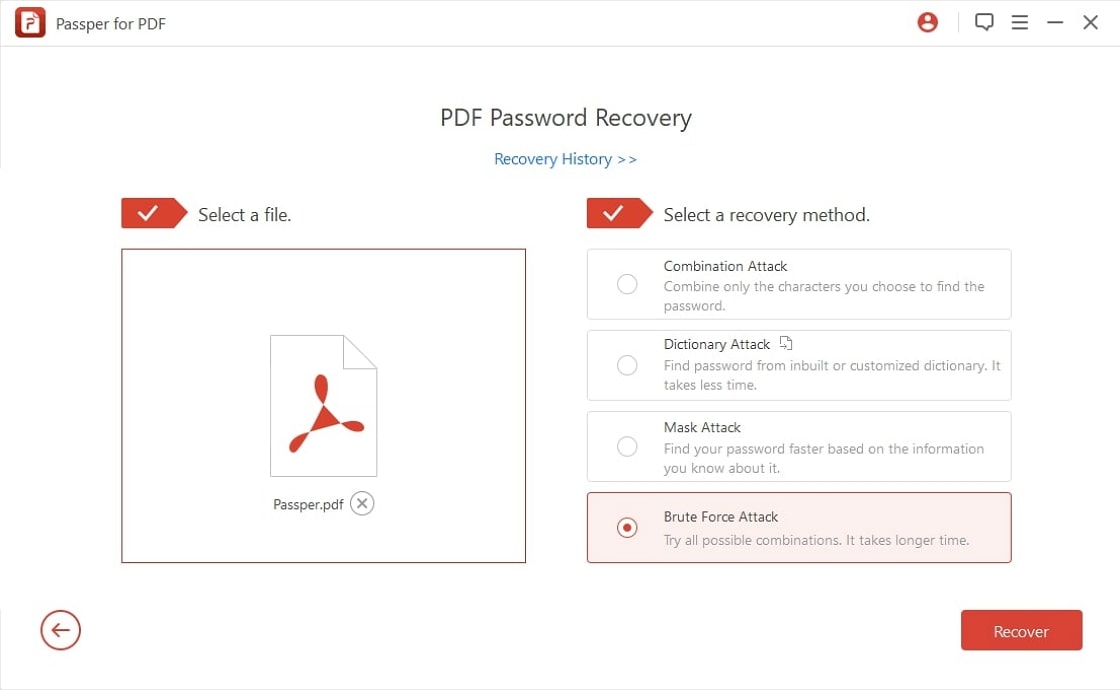 Step 3: Once you have selected the method you can now click on the "Recover" button to start the process of recovering your password. This should take a few minutes or a few hours depending on the method you are using. Once the process is done you can access your PDF file and use it as you deem fit.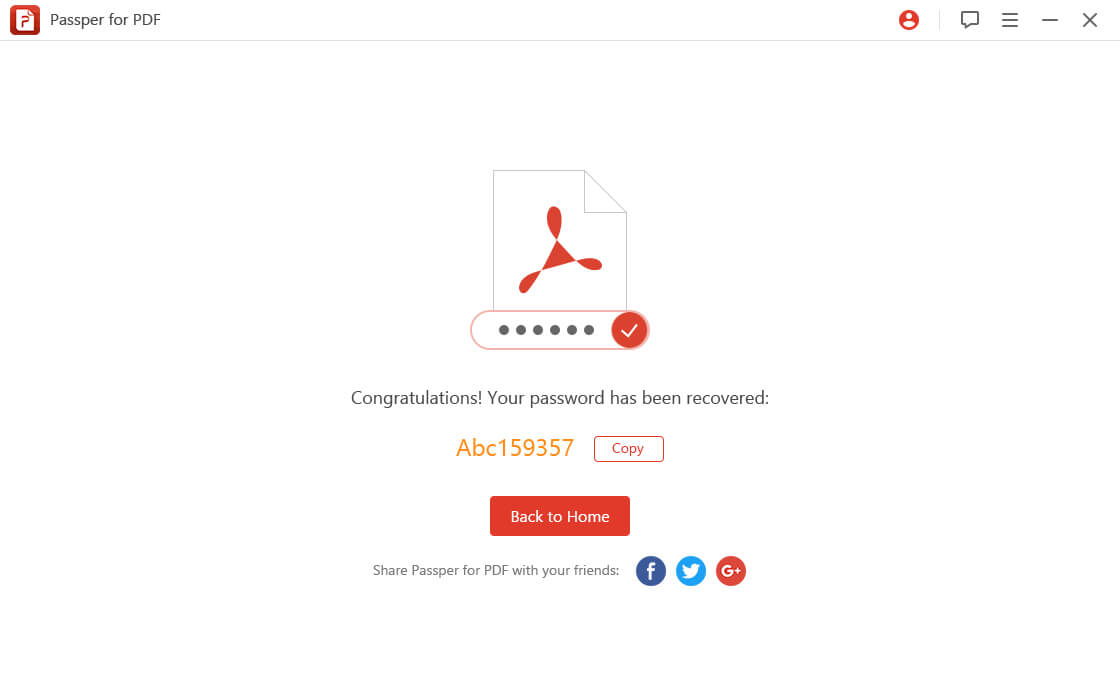 Besides, you can also remove restritions or security from PDF with another featute "Remove Restrictions" of Passper for PDF.
Comparison of Online and Offline Password Unlocker
| | | |
| --- | --- | --- |
| | Passper for PDF | Online PDF Password Unlocker |
| Remove Restrictions | | |
| Unlock Opening Password | | |
| Data Loss | no data loss | data loss |
| Safe or Not | very safe | not safe |
| Complexity | easy to use | easy to use |
Conclusion:
Unlocking PDF files online is one of the easiest ways to get access to your PDF files in case you forgot your password. There are quite a number of tools you can use for this purpose. Some of the tools available online are great while many others are quite awful and will expose your personal information to security threats. The top three services we will recommend for unlocking your PDF files are Sejda Online, Smallpdf Unlock PDF and ThePDF.com. In case you have a bad internet connection or you work with confidential documents than using online services may not be the best option. In this case, we recommend using the Passper PDF password unlocker application. This is a powerful tool that not only recovers all forms of passwords for you but can remove restrictions without bothering with the password. You download the tool and install on your computer allowing you to do all your work on your computer without any of your document being uploaded anywhere else.