There are times when you get in a situation where you cannot find access to a PDF because you forgot the password or you partially remember it. This is when you can opt for PDF password recovery tools to recover your password. So, below-mentioned are some of the best software and online tools that you can opt for.
Part 1: PDF Password Recovery Software
Well, then one option that looks the most reliable is any software tool that could just blow a magic wand and recover your password. Especially if you are a person who has zillions of files and folders to manage, you will fall in a situation like this. With this, let's see what are some of those password recovery software.
1.1. Passper For PDF Password Recovery
We put Passper for PDF Password Recovery in NO.1 section since it can help you quickly recover password and remove restrictions on PDF file, and get you access or edit your file.
Check main features of Passper for PDF:
It can recover document open password and remove all restrictions on PDF file.

The tool has 4 attack types to recover password on most encryped PDF files including combination attack, dictionary attack, mask attack and brute force attack.

Based on the advanced CPU acceleration technology, Passper for PDF recover password in a faster speed.

It has a user-friendly interface and the whole process only needs 3 steps.

This tool is safe to use. It is trusted by world-famous tech sites, such as Macworld, Makeuseof, PC World, etc.
Here are the steps to recover password from your PDF files.
Step 1 Select Recovery Mode
Once you run the program, choose the option of Recover Passwords.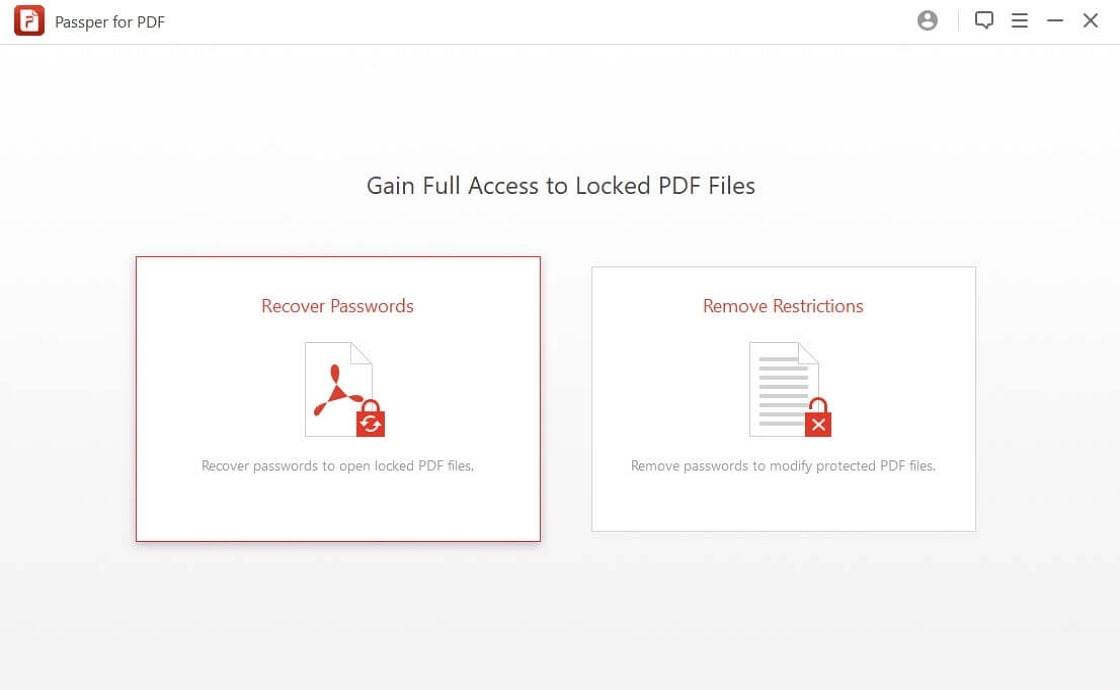 Step 2 Select a Recovery Type
Add the PDF file and choose the most appropriate type of password attack according to the type of password information you have.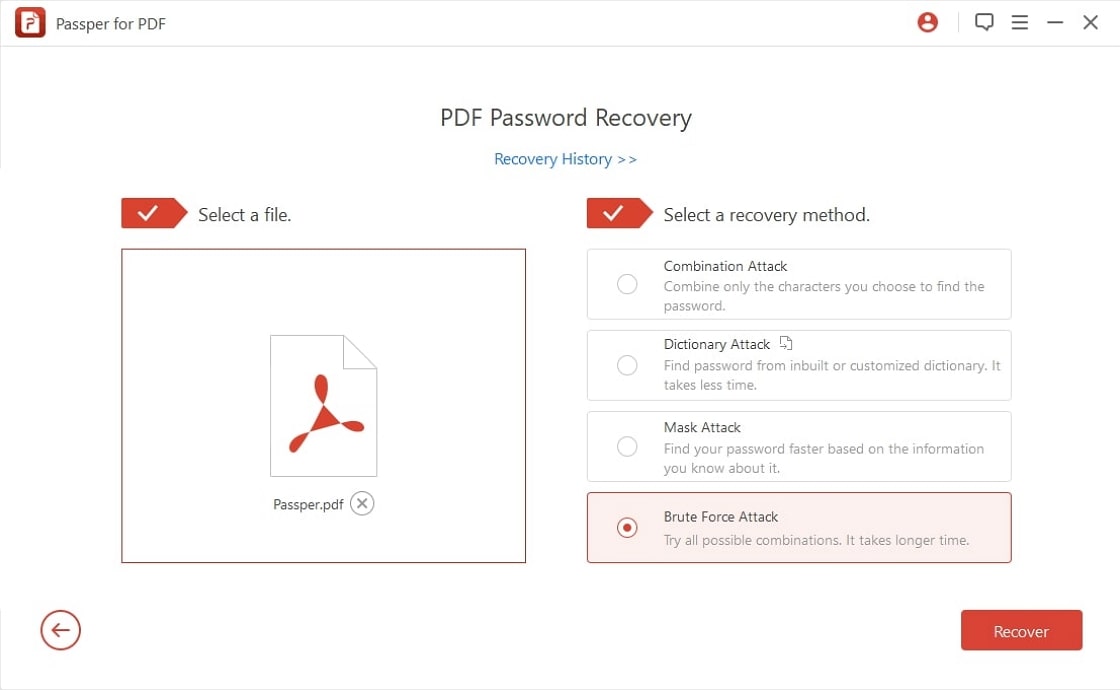 Step 3 Start to Recover
Take the final step by clicking on Recover option to start the recovery process. In no time, it will display the password you have been looking for.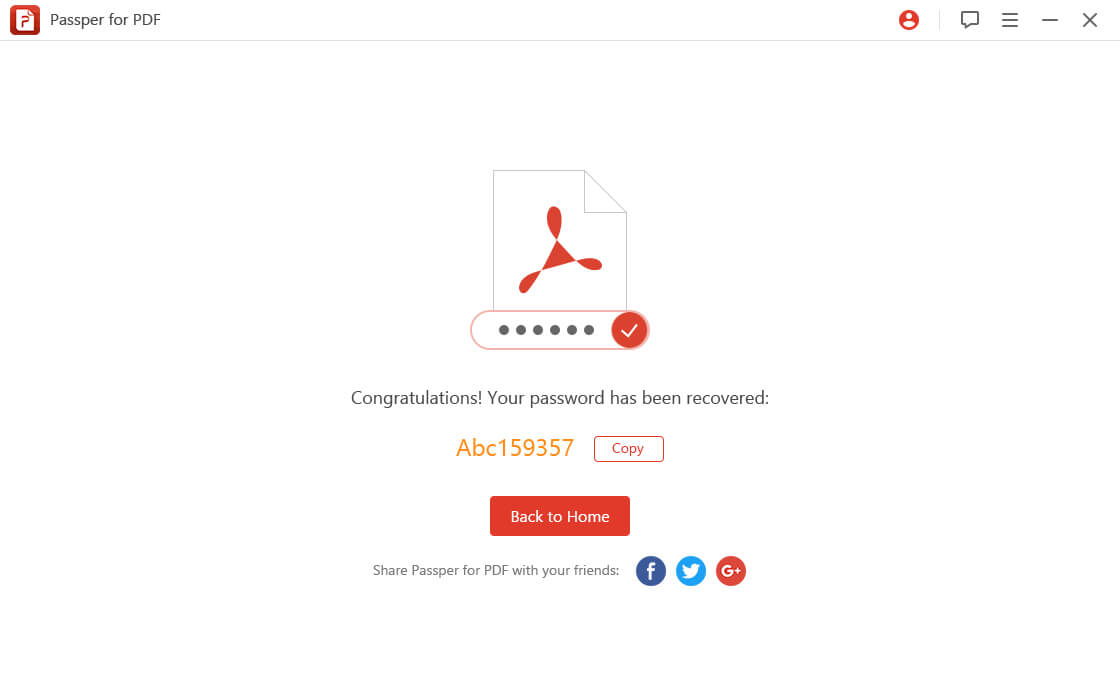 Tips
Passper for PDF can also remove all the restrictions on PDF file with one simple click, including edit, copy, comment, and print.
1.2. iSeePassword Dr.PDF
This PDF password recovery software helps in recovering passwords and removing restrictions of PDF. They instantly remove restriction and allows you to edit, copy and print the PDF file. They also have a free trial for you to check if you are compatible and find the service feasible enough. However, there are certain disadvantages of using this tool. Take a look at those disadvantages that I can across while using it.
Disadvantages of using iSeePassword Dr.PDF tool:
iSeePassword Dr.PDF was comparatively slower than other software versions that are available on the desktop.

The tool will be closed suddenly and automatically after clicking start button.

It is much more expensive than other software.
Follow the steps below to use iSeePassword:
Step 1: Install and run the program
First of all, download and install the iSeePassword Dr. PDF on your system. Right after chose the option of Recover Open Password from PDF.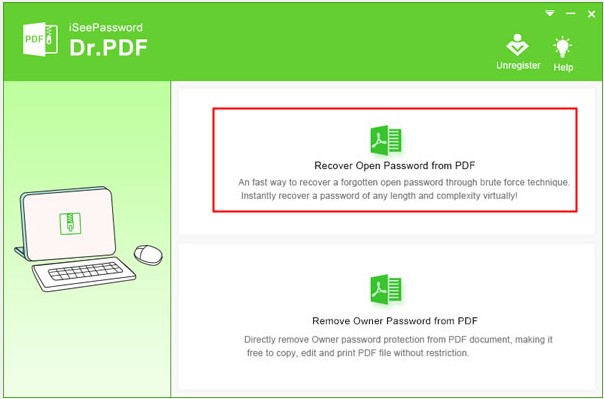 Step 2: Import PDF file
Import the PDF file you wish to recover the password. Also select one suitable attack type out of the three.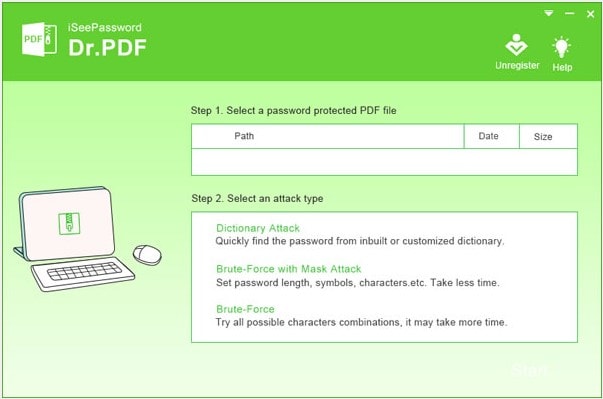 Step 3: Start the recovering
After you are done choosing the attack type, click the Start button to initiate password recovery.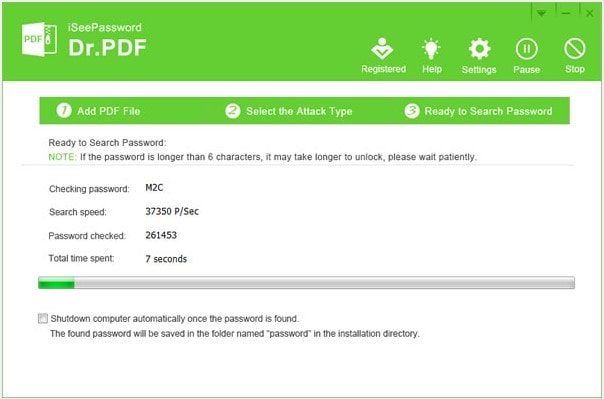 Part 2: PDF Password Recovery Online Tool
Online PDF password recovery tools are easily accessible. There are ample of such tools available online.
2.1. LostMyPass
With this tool, you do not require installation of any type of software or app. This tool is accessible online. LostMyPass offers 3 types of password recovery: weak, strong and brute force with a mask. It is free for weak password recovery and you need to pay for the other 2 types of password recovery.
Disadvantages of LostMyPass:
The online tools need access to the Internet for usage which makes them unreliable at times when you have no Internet connectivity.

It saves your files on the online server or cloud that makes it less secure and more prone to risks and data breaches.

It can not remove restrictions on the PDF file.

The maximum file size you can upload is 100MB.
Take a look at the listed steps:
Step 1: Navigate to the official site of LostMyPass. And click the checkbox to agree the Terms and Conditions.
Step 2: Click or directly drop your file to upload it.

Step 3: After unloading, the recovery process will start automatically. It will display the recovered password and you can download the unlocked PDF file now.
2.2 Password-Online
Password-online is an online password recovery tool, which you can use when you forget or lost your password. Apart from PDF documents, it can be used to unlock a wide range of passwords such as EOC, Doc, Docx, Rar, Zip, Powerpoint, Mdb and many more.
Disadvantages of Using Password-Online:
You need to pay 10 Euros after recovery is successful.

The recovery process is too slow. Even with simple password protection, it will take about half an hour to recover the password.

It can not be used to remove restrictions on PDF file.
Password-online presents a simple way of recovering your PDF password online. Use the simple steps listed below:
Step 1: Upload the password-protected PDF document to the site and then click on Unlock.

Step 2: You will get an email notification when the process is complete. Please enter and confirm your email address.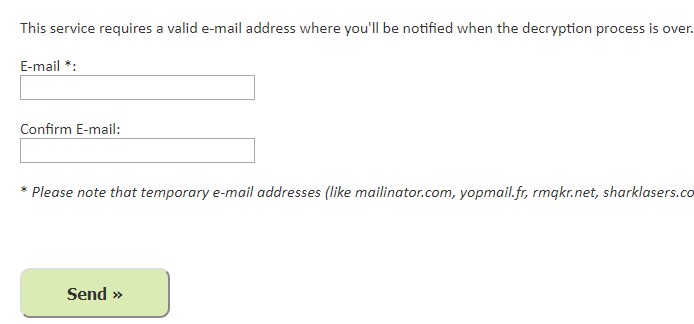 Step 3: If the process is successful, pay the fee of 10 Euros and proceed to download the unlocked document.