Passper for PDF is a great tool that helps you recover the password of a locked PDF so that you can view it freely or remove restrictions so that you can edit, copy, and print it without any hassle.
Below is a full guide of this premium tool.
Part 1: How to Recover Document Open Password
Firstly download and install Passper for PDF on your PC. Afterwards, you can follow the steps here to decrypt a locked PDF file:
Step 1
Choose an Option to Unlock PDF
Launch the software and select "Recover Passwords" option.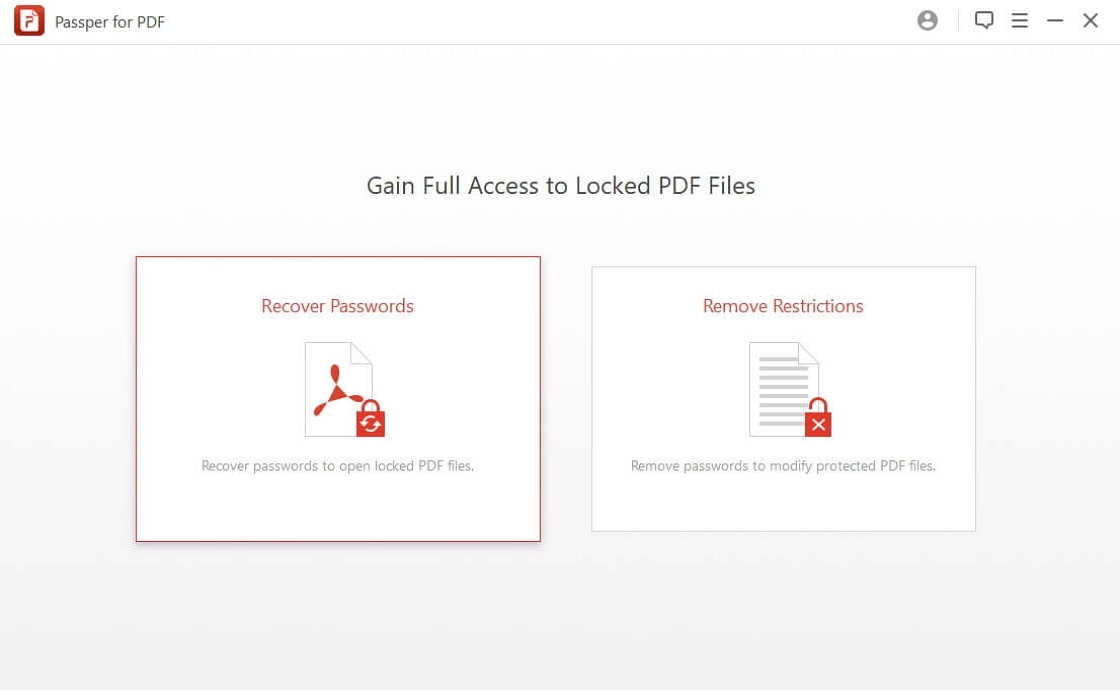 Step 2
Select a Recovery Method
Add the password-protected PDF file to the software by clicking "Add". Next select an appropriate recovery method out of the four.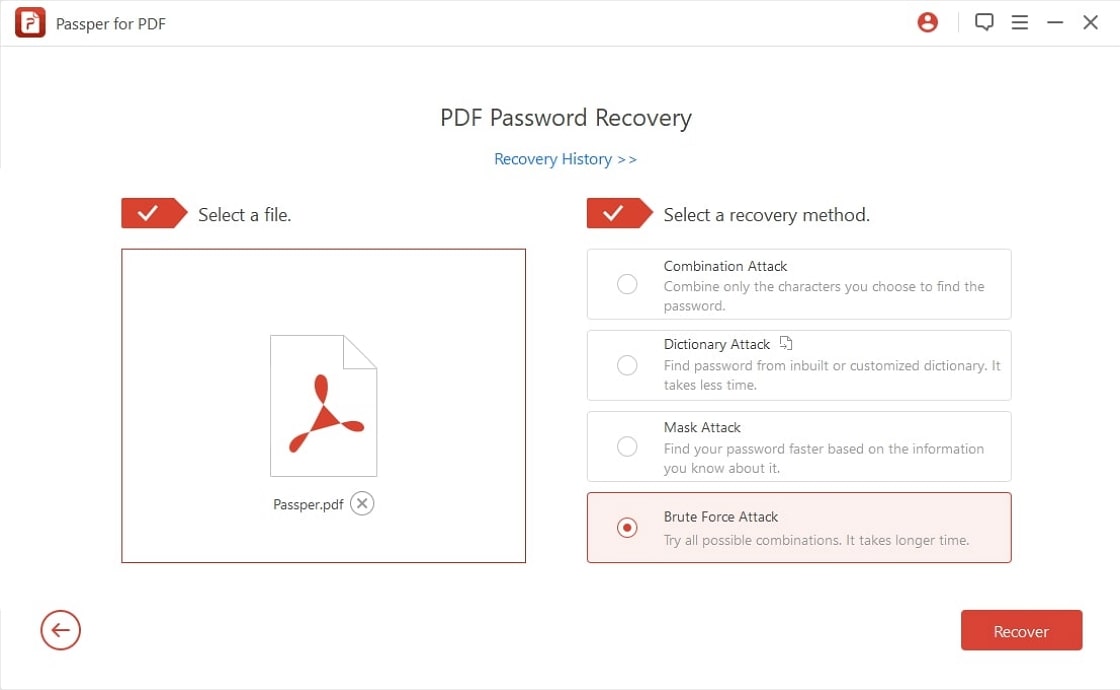 Note: Here, we'll explain the four methods in detail and offer some examples. If you are still unsure which method to choose after reading it, please feel free to contact us via passper.support@imyfone.com. We will provide some excellent suggestions.
Dictionary Attack – It makes use of a default dictionary which contains a large number of passwords. You can even use a customized dictionary and add it to the software. By trying all the strings, dictionary attack often succeeds since many common passwords are covered by the available lists, created by various password generation techniques.
Combination Attack – It works by only combining a set of letters, numbers and symbols you choose to arrive at your password. When you remember some parts about the password, you can choose this method.
Suppose you remember that the password includes the letters "P", "a", "s" and the number "13" but cannot recall the way they are combined, you can submit the information like this:
Uppercase Letters: P
Lowercase Letters: a, s
Numbers: 1, 3
Surely you can make the information more complete if you know other parts like password length, suffix, symbols, etc. After you have initiated the process, Passper will randomly combine the characters to get the right password.
Mask Attack – It is used to set "rules" for the software to work more efficiently. This attack type will be a good option if you are certain about some parameters of the password.
You'll be required to fill in: password length, character types not included, prefix & suffix, characters and combinations of characters that may be included.
If you always create a password of 8-10 letters and never set numbers but always include your birth month "June", then the information you supply should be as follows:
Password Length: 8-10 characters
Characters not included: numbers
Characters or combinations of characters may be included: June
As for other details, you can choose "I don't know" to continue the process. Under the conditions that you set, Passper will combine all other characters (uppercase letters, lowercase letters, symbols except numbers) with "June" to recover the password for you.
Brute-Force Attack – It does not need any specific settings or configuration on your part. You can opt for this method if you have no clue at all about the password. However, since Passper needs to try out all the possible password combinations, it will definitely take longer to complete the recovery process. Therefore, you need to be patient enough.
Step 3
Recover PDF Password
After you have configured all your settings and chosen an appropriate attack type, click on "Recover" to start the recovery process. Affected by various factors like the attack mode you choose and the complexity of the password, the time to be comsumed is not consistent.
Once the password is found, the software will detect and display it on the interface. Then you can use the password to decrypt your PDF file.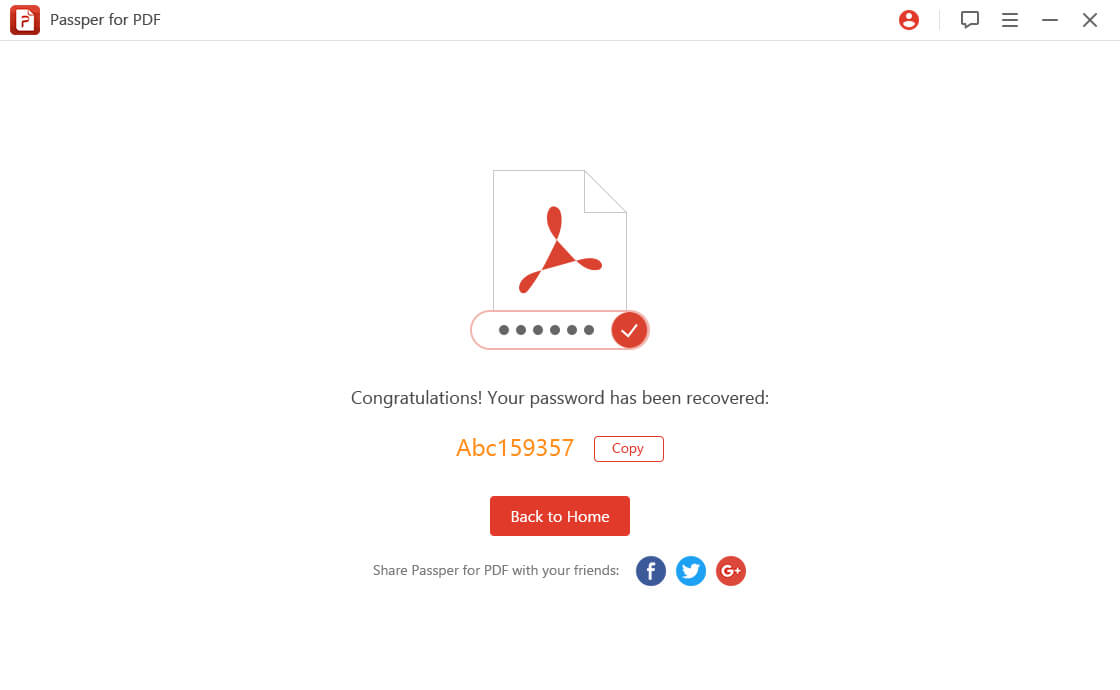 Part 2: How to Remove Restrictions Using Passper for PDF
Furthermore, Passper for PDF can also remove the restrictions imposed on PDF files in just a blink of an eye.
Step 1Launch Passper for PDF, and then choose "Remove Restrictions" on the main interface.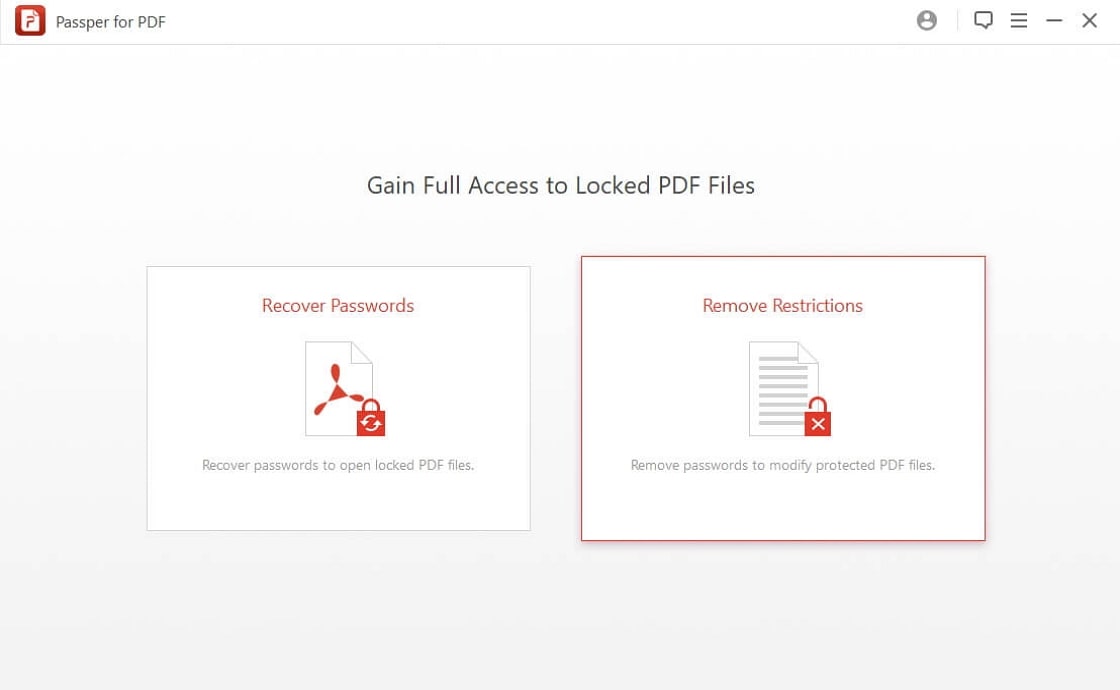 Step 2Click "Select a File" and import the secured PDF file. Next, hit the "Remove" button to run the process.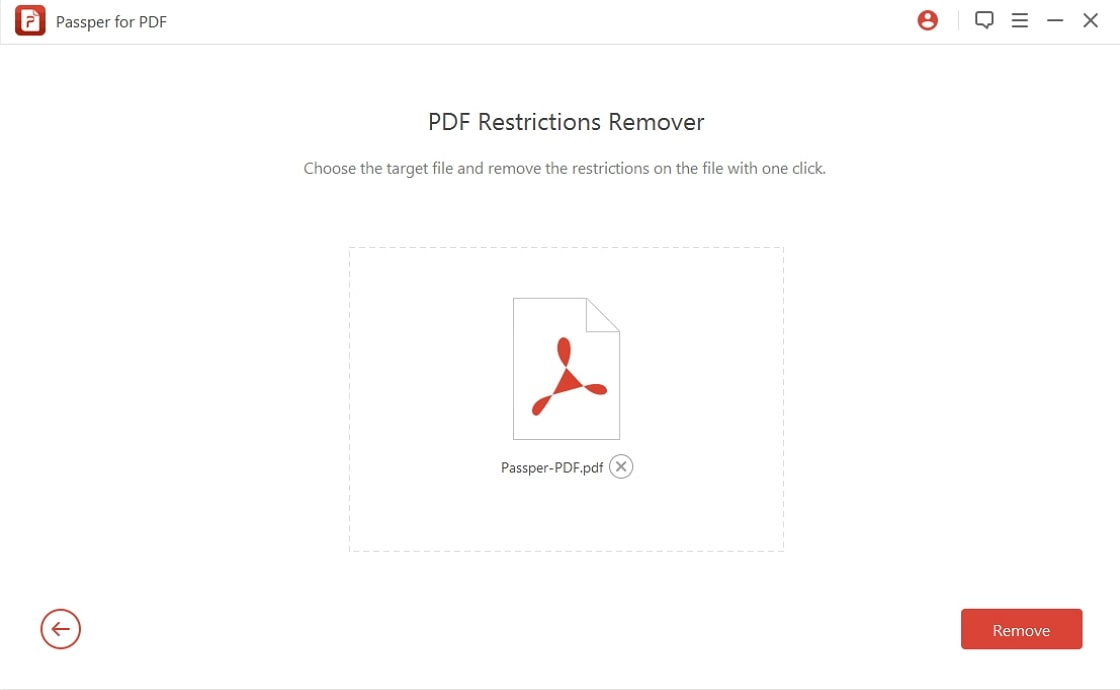 Step 3In just 1 or 2 seconds, you'll get a "new" unsecured PDF document which you can edit, copy and print freely as you like.