Passwords are very important, especially when it is about your personal information or content that needs to be protected. PDF files can also be protected by putting password on them. But it is truly troublesome when you lost or forgot your password to access or edit your PDF file. This article will introduce the top 4 PDF password crackers to you.
Part 1: Break Protection in PDF Files-Is It That Easy
There are two types of password on PDF files. One is document open password and the other is permissions password. Document open password restricts the opening and viewing of a PDF file. And a permissions password restricts the user from copying, printing and editing of file.
Technology has made almost everything possible in this world. Then is it easy to crack PDF password or break password protection on PDF file? Actually, it is almost depends on a password's strength including length, complexity, predictability and etc. A long, complicated and unpredictable password will make it difficult to crack.
However, a powerful PDF password cracker can make it possible. This article will explain the top 4 crackers that can be used to crack PDF password.
Part 2: Best PDF Password Cracker
1. Passper for PDF Password Cracker
It is very often that we forget our passwords and for recovering those passwords we search for different software or tool that can solve our problem. Passper for PDF Password Cracker has sorted the issue of recovering password of PDF document. Passper for PDF also provides access to the restricted files by removing all restrictions and helps in printing and editing the PDF file.
What we like of this password cracker:
There are 4 methods which Passper for PDF offers to recover your PDF document: Dictionary Attack, Combination Attack, Mask Attack and Brute Force Attack.

When you are unable to open, edit, copy or print PDF file, it is an effective tool can be used.

This cracker is easy to use, and it only needs 3 steps to finish the whole process.

It is a fast tool and all restrictions on PDF file can be removed within several seconds.

It can be used on Windows operating system from Vista to Win 10. And it supports all versions of Adobe Acrobat or other PDF applications.

Passper for PDF has a free trial version, so you can check whether your file is supported or not.
What we don't like of this password cracker:
It is not available on Mac operating system yet.
Free DownloadFor Win 10/8/7/XP/Vista
Crack Document Open Password
Follow these step to crack your PDF document open password:
Step 1 After installation is done, launch the software and click on Recover Password option.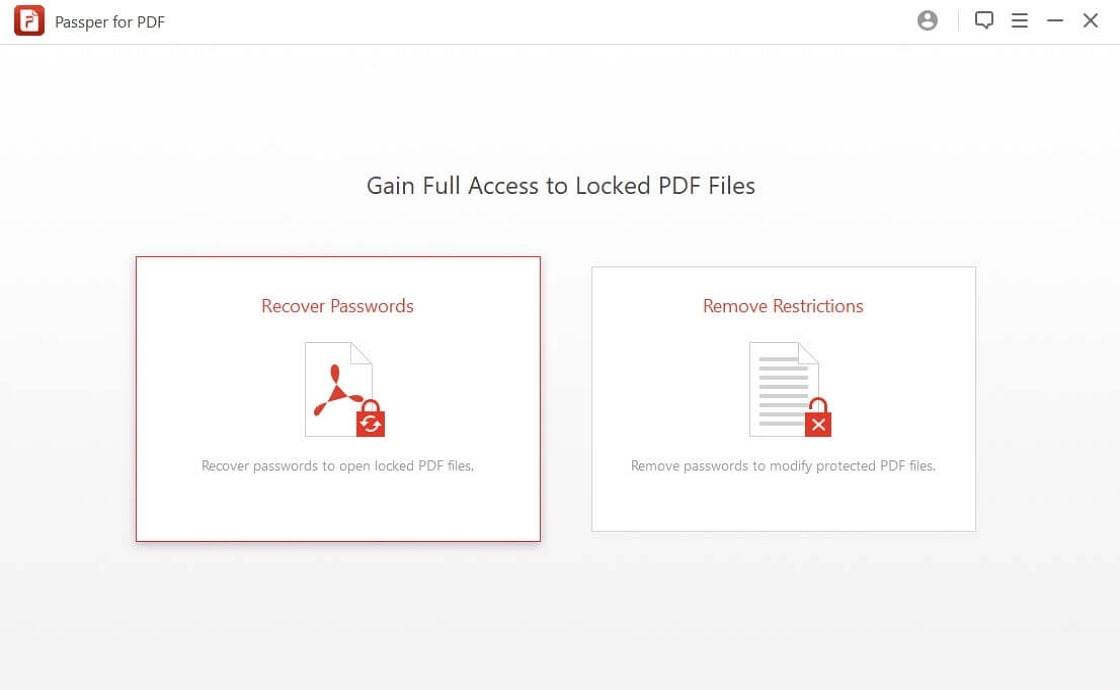 Step 2 Add your PDF file in the software by selecting Add and browsing the location of your PDF document. Choose the type of attack you want to use on your document.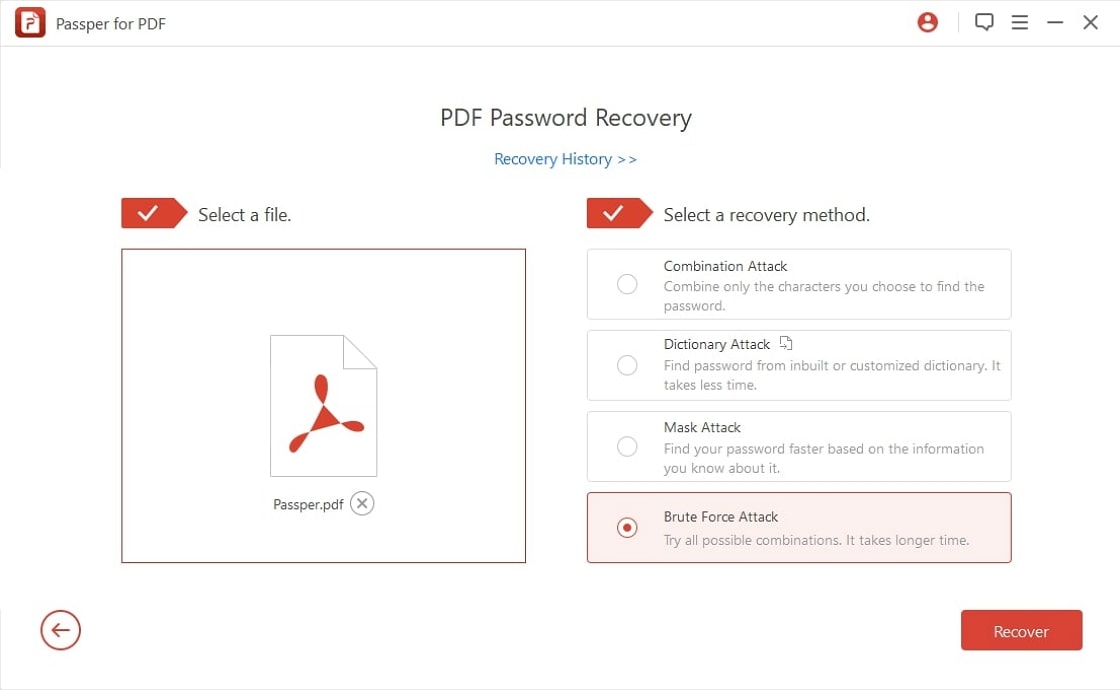 Step 3 After doing all these just click on Recover button to continue. It will take few minutes according to the type of your selection for recovering the password. When your password is detected, Passper for PDF will show it to you and then you can use it on your document to open it.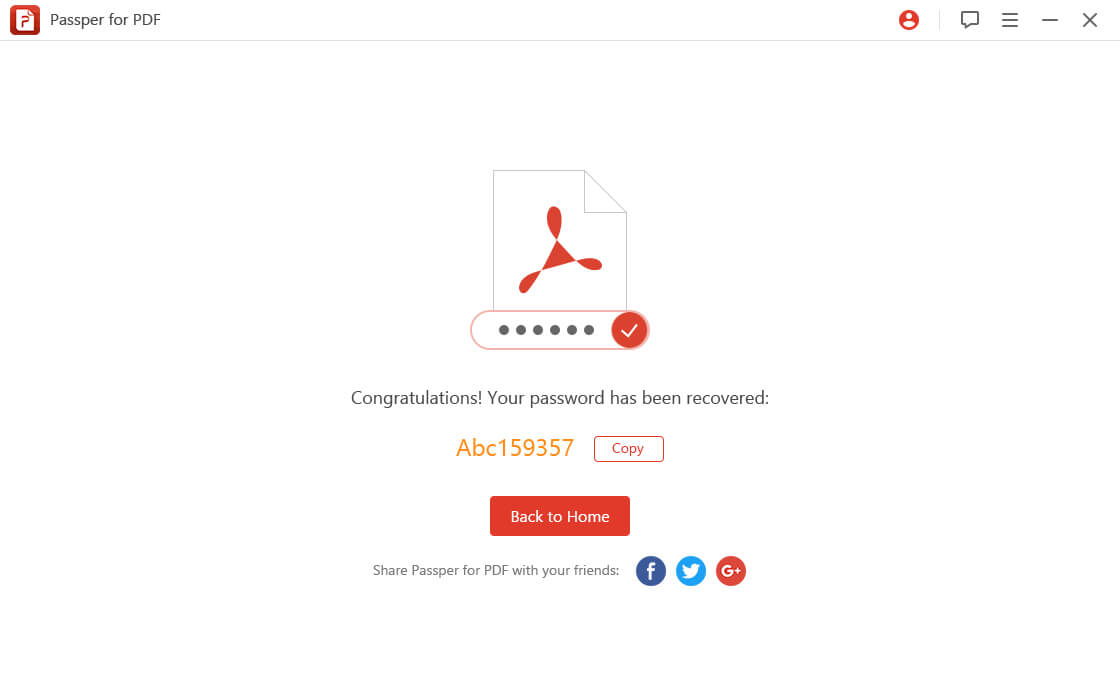 Crack Permissions Password
Step 1 Open Passper for PDf , then select Remove Restrictions on the main page.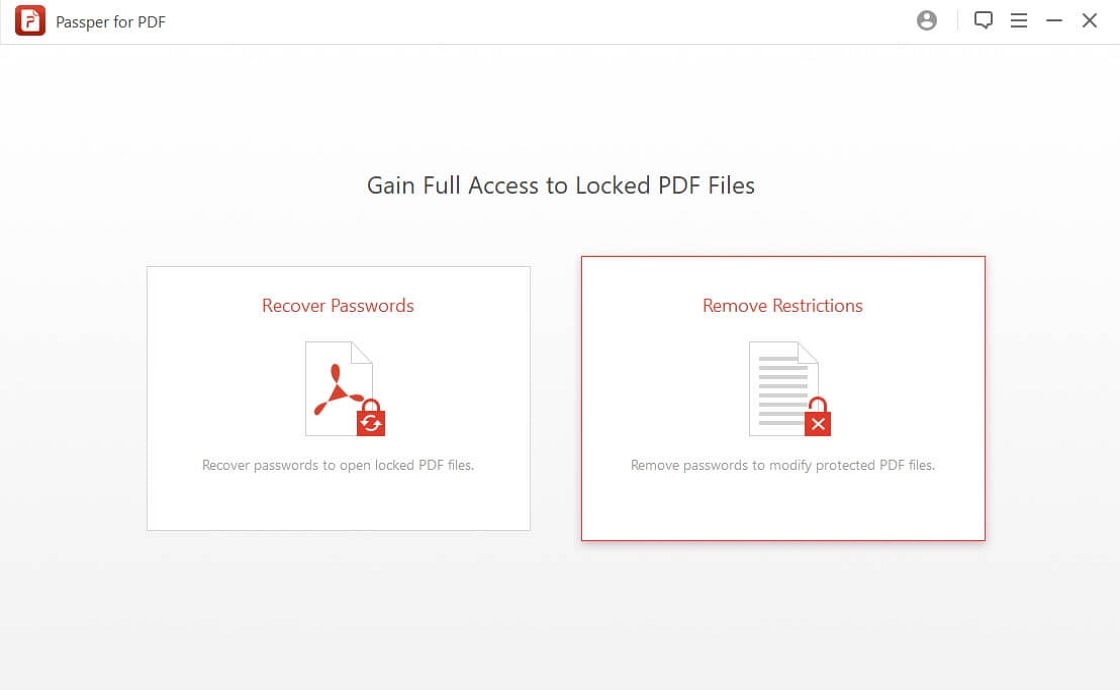 Step 2 Once you have uploaded the encrypted document, click on Remove button.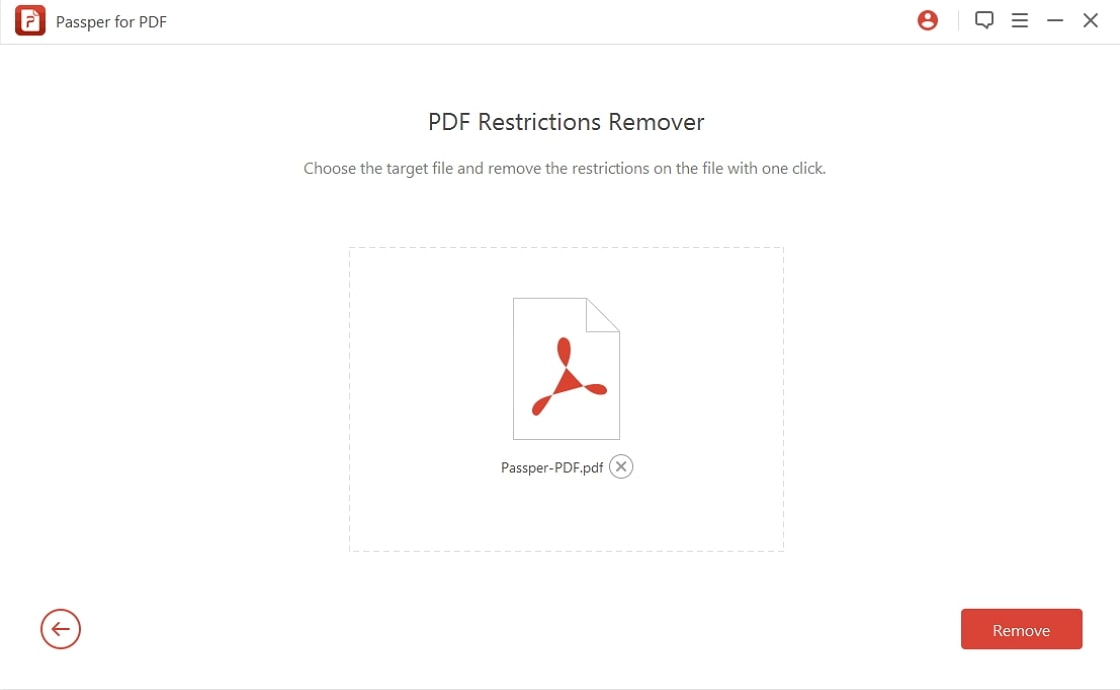 Step 3 It will take only about 3 seconds to remove the restriction on your PDF document.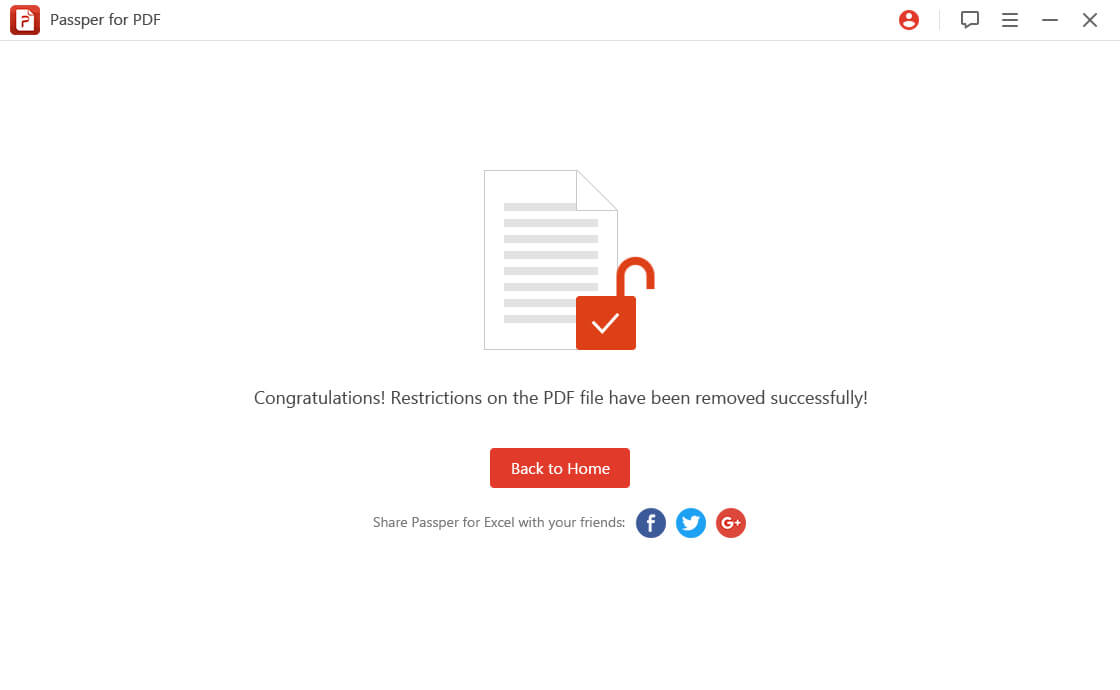 2. PassFab for PDF
Passfab for PDF is an easy-to-use password cracker that allows you to unlock your PDF file and get access to it with ease. With three attack methods, PassFab helps you to simply recover lost original PDF password back with only several simple steps.
What we like of this tool:
It can crack PDF file with 40/128/256-bit encryption.

PassFab has a high-speed recovery based on the GPU acceleration.

It is simple to use and only 3 steps to recover document open password.
What we don't like of this tool:
It can not remove restrictions on PDF file.

Even though it has a free trial, but it didn't work during testing.

It is not workable on Mac operating system.
Please check the following steps to use PassFab:
Step 1: Launch the software and click Add button to import your encrypted PDF file.
Step 2: Choose one attack methods out of the three.
Step 3: Click Start to begin the whole process.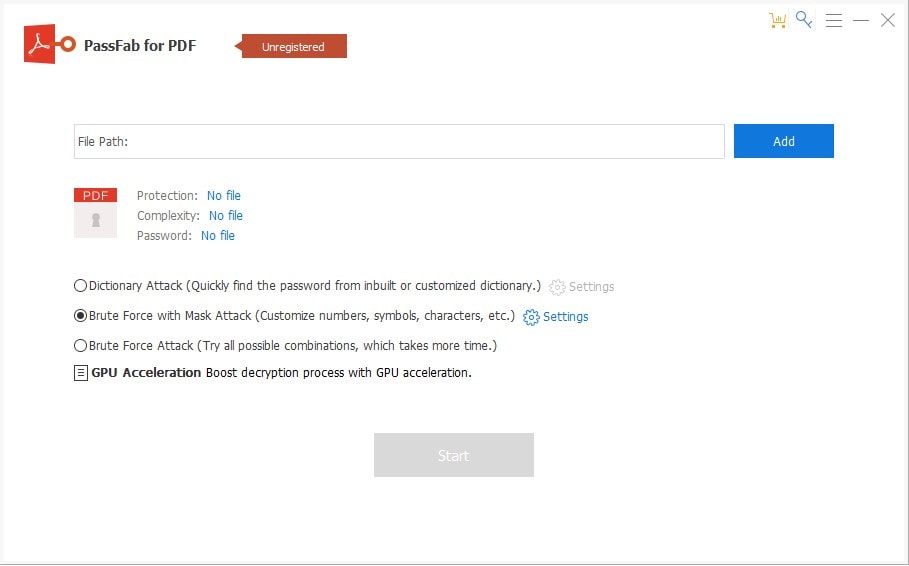 3. Guaranteed PDF Decrypter
GuaPDF is a tool that can be used to crack document open password and remove restrictions as well. It comes with a simple interface and even a computer novice can operate it.
What we like of this tool:
It is the first and unique software with GPU acceleration of document open password removal.

It has a simple interface and is also easy to use.

It has a free trial and you can use the testing document in the zip folder to test this PDF password cracker.
What we don't like of this tool:
For the removal of document open password, it only support 40-bit encryption.

The whole process will take 1-2 days on one modern desktop computer.
Following are the simple steps to use GuaPDF:
Step 1: Run GuaPDF. Click Open option in the File menu.
Step 2: Import the encrypted PDF file to the tool and it will show you whether the document is protected with document open password or permissions password. Then click OK to continue.
Step 3: The crack process will begin. Once the password has been successfully cracked, it will produce a new decrypted file and you can save the file now.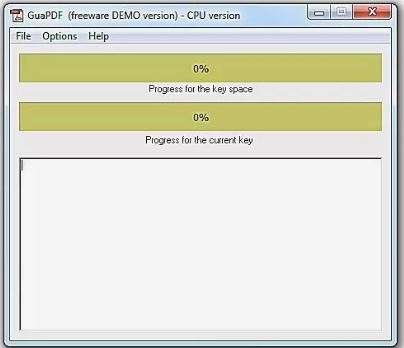 4. iLovePDF
iLovePDF is a superb online tool that is used to manage PDF documents. The web application is very easy to use and is available in 25 languages. The application allows you to merge, split, compress, convert and crack PDF password online.
What we like of iLovePDF:
It is available in 25 languages. Even if you are not an English speaker, you can use it to manage your PDF file.

It has mobile application, so it is a portable online PDF password cracker.
What we don't like of iLovePDF:
It is necessary to upload PDF document, so it is not completely safe for personal and sensitive information.

In the very beginning, it can be used to crack document open password, but it requires you to enter correct password now.

A strong Internet connection is necessary, otherwise, the crack speed will be slow.
How it works:
Step 1: Upload the PDF file protected with permissions password.
Step 2: Click on the Unlock PDF option.
Step 3: After the cracking process is finished, iLovePDF will automatically download the file for you. Then, you can use the PDF file as you want.

Conclusion
This article briefly explain 4 types of cracker that can be used. Every cracker has its own qualities, advantages, and disadvantages. It depends on you how you want to use the software and which software is appropriate for your solution.