Are you looking for a way to access your password protected ZIP file? You may have spending times searching online and then find Passper for ZIP. Would you like to unlock the full features of Passper for ZIP? Hence, you need an official registration code of Passper for ZIP. In this article, we will tell you everything you should know about Passper for ZIP registration code before you use it.
Part 1: Can You Get Free Passper for ZIP?
The answer is no, Passper for ZIP is not free to use. People always look for a free application or program to use. But please keep in mind that there is no such a tool which can offer free usage with strong functions in today's market. After you checking the main features of Passper for ZIP, you may find that Passper for ZIP is reasonably priced for the benefits you'll receive.
Even though Passper for ZIP is not free to use, Passper team provides you with a free download version that you can use to test whether the program can satisfy your needs or not.
Part 2: Why You Need an Official Passper for ZIP Registration Code
Passper for ZIP requires an official registration code so as to fully access all the features of the program. Listed below are the basic features of Passper for ZIP which makes it outstanding amongst other password recovery software:
User-Friendly: Passper for ZIP is user-friendly as it has an intuitive interface which makes it easy to operate by both novice and professionals to use.

Safety Provision: The computer system which Passper for ZIP is being utilized on is free of malware and there is no loss of data or interference with data.

Customized Password Attack Mode: There are four attack modes offered by this password recovery tool. Anyone of these four modes of attack can be used by end-users to gain access to their lost or forgotten password.

High Efficiency: With the help of CPU and GPU acceleration, the password recovery rate for Passper for ZIP is highly efficient. The recovery rate is indeed very fast.

Broad Compatibility: Passper for ZIP software is compatible with all versions of Windows OS. And it supports all ZIP files created by using WinZIP, PKZIP, 7-ZIP and etc.
Part 3: Types of Passper for ZIP Registration Code
Since Passper for ZIP is a program with a variety of subscription plans made flexible for its users, a brief description of the types of the plan would be of great help in decision making.
Passper for ZIP offers three different types of license plan namely:
1-Month Plan: This type of subscription offers one month of the license to end-users. Within the time frame, users can recover passwords for unlimited ZIP files.
1-Year Plan: This subscription type is similar to the monthly subscription but you can use the license for twelve months.
Lifetime Plan: As the name suggest, this plan offers a lifetime license with access to unlock unlimited ZIP files.
Part 4: What You Can Enjoy After Getting Passper for ZIP Registration Code
The benefits of getting Passper for ZIP registration code are listed below:
Full Version: The access to the full version of Passper for ZIP is guaranteed after getting a code. This full version gives you the opportunity to recover your password easily.
Unlock Unlimited ZIP Files: Regardless of the type of license plan you subscribe to, the amount of ZIP files to unlock is unlimited.
Cashback Guarantee: Once there is an issue with the software, you can contact the customer center within 30 days and request for a cashback and this would be granted without any delay.
Free Lifetime Update: The software is subjected to regular update. After purchasing the registration code, you can enjoy the update without requiring you to pay extra penny for it.
Technical Support Service: The technical support team of Passper for ZIP is always available to respond to any question or queries end users have about the software. You can count on them in case of issue or query.
Part 5: How to Get Passper for ZIP Registration Code with Coupon Code
You can purchase a Passper for ZIP license code at a discount of 25% using the coupon code we provide. The steps taken to purchase Passper for ZIP software with a coupon code are listed below but before that, we have a coupon code for you:
25% off Coupon Code: PP-25OFF
Step 1: Choose the purchase plan and click the purchase link under below: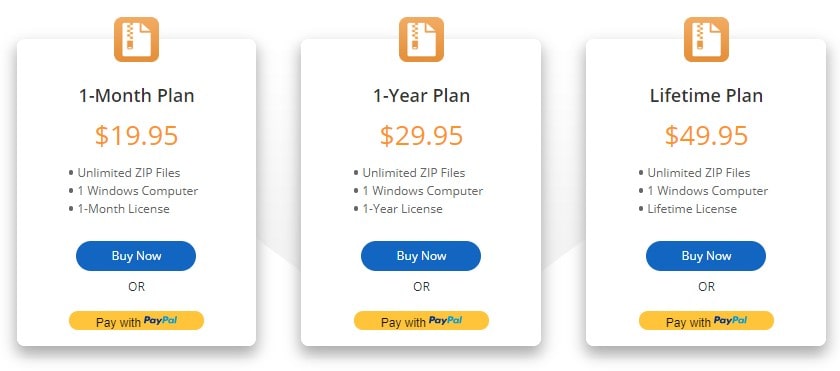 Step 2: The order page will automatically provide you with a discounted price. Next, fill in the details of the payment and billing option to complete the purchase.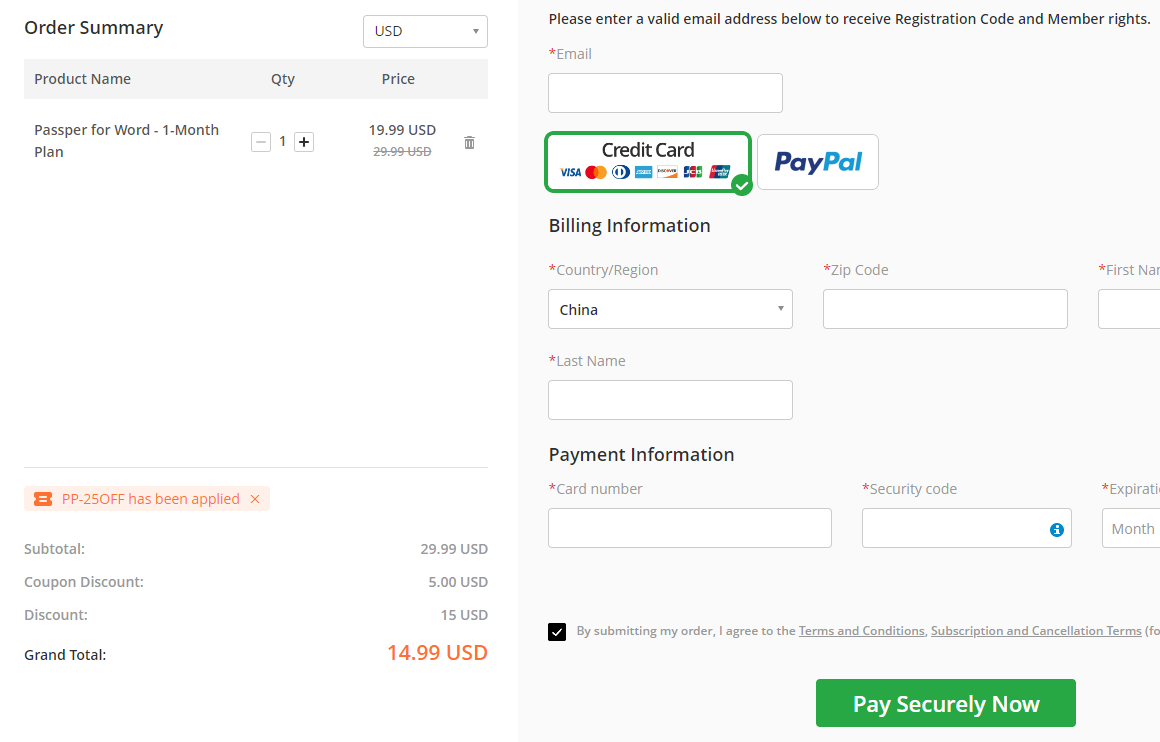 Step 3: If the coupon code doesn't come to effect, you can enter the coupon code manually. Click on "I have a discount coupon" then enter the coupon code 'PP-25OFF' displayed above. Click 'Apply' to take effect.

Step 4:
The next thing is to choose a billing method then you provide your billing information accurately. Make sure all information provided is accurate before completing the order by cross-checking them.
After checking all the information above, are you interested in using Passper for ZIP? Don't hesitate to download Passper for ZIP and test it out. If you want to know much more information about Passper for ZIP, please just leave a comment to us!