ZIP files helps reduce the space requirements of your files and folders and are also a great way to organize your documents. And you can protect your documents from unauthorized access using an encrypted password. However if you forget the password or someone sends a password protect ZIP file but neglect to send the password then you won't access the documents contained in the file. This can be very frustrating. To help you there are a number of ways you can use to solve the problem when you forgot ZIP file password.
Part 1: Is a ZIP File Easy to Break?
There has been quite a debate on whether it is easy to break the ZIP file over the past decade. The truth the early versions of the ZIP files password protection were flowed in many ways and it was quite easy to break the password. However, the creators of the program have been able to overcome the early challenges and today the ZIP file password protection is not so easy to break unbreakable. The latest versions of ZIP file support a number of strong stock encryption algorithms password protection such as the AES which has no known hacking system. But there are still some way can break the ZIP file when you forgot the password. We will show you them in the following part ranked by success rate.
Part 2: 3 Way to Recover ZIP File When You Forgot ZIP Password
1. Recover ZIP File Password Using NotePad
Success Rate:
Ease of use:
Recovery Speed:
Using the Notepad to unlock ZIP when you forgot ZIP file password is totally free. Many people don't know this, but you can actually use the notepad on your windows 7 all the way up to windows 10 to open a password protected ZIP file. To use Notepad to open your Password protected ZIP file that you don't have a password to, follow these steps:
Step 1: Locate the password protected ZIP file on your computer. Right-click on the file and then select open with Notepad to open the file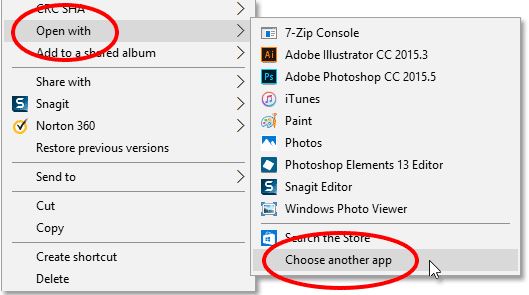 Step 2: In the second line of the opened file find the keyword Ûtà and replace it with 5³tà' and save the changes you made to the file.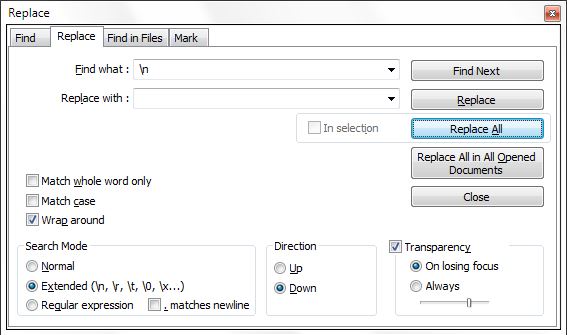 Step 3: Now you can open the ZIP file without the need of a password

Note
This way can only be used to recover the numeric password. And the recovery rate is relatively low.
2. Recover ZIP File Password Online
Success Rate:
Ease of use:
Recovery Speed:
If you do not want to download and install software on your computer to recover your ZIP password, then you should consider recovering your password online. There are quite a number of sites that provide ZIP file password recover services. One such site is the http://archive.online-convert.com/convert-to-ZIPwebsite. To use this site to recover your password, follow these steps:
Step 1: Click the link above and head straight to the website. Once on the site find the "Browse" button and click on it to upload your locked ZIP file.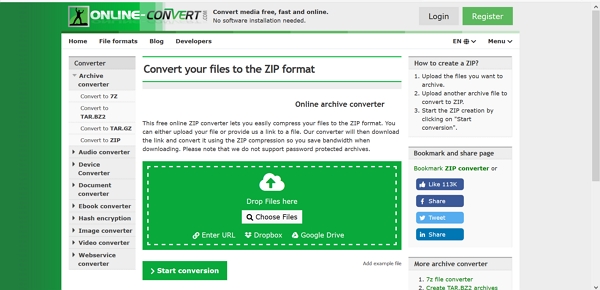 Step 2: In the pop-up window select the ZIP file you want to crack and then click "convert file" button.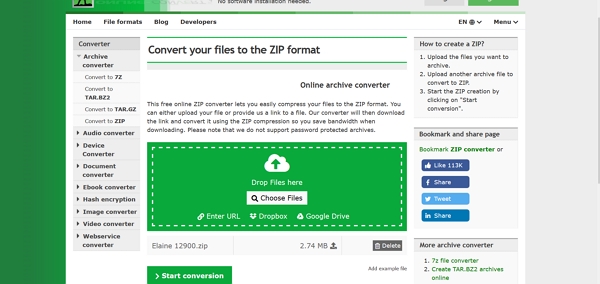 Step 3: The file will be uploaded and then the site will remove the password from the ZIP file.
Step 4: Now you can download the file and open it without the use of a password.
However, it is important to remember that recovering your password online means that you have to upload your file online. What this means is that you expose your file to both security and privacy risks. Therefore if the ZIP file contains confidential document you should think twice before using an online tool to recover its password.
3. Recover ZIP File Password with a Professional Password Recovery Tool
Success Rate:
Ease of use:
Recovery Speed:
The easiest and most efficient way to recover forgotten ZIP file password is to use a professional password recovery tool. One of the best password recovery tools in the market today is the Passper for ZIP. This ZIP password recovery tool is quite powerful and can break into all versions of popular archivers including WinZIP/7 ZIP/PK ZIP files. It has a friendly user interface which makes it quite easy to understand and simple to use. Within only 2 steps, you can recover the forgotten ZIP password.
Some of the important key features of Passper for ZIP tool are:
4 attack modes provided: Passper for ZIP provides 4 attack modes to attempt the password, which could greatly shorten the recovery time.

Fast Checking Speed: It can check about 1000 password per seconds and guarantees unlocking of archives created with WinZip 8.0 and earlier in under 1 hour.

Broad compability: Supporting a wide range of compression and encryption algorithms.

Ease of Use: It is pretty easy to use, you can unlock the password protected ZIP file with only 2 steps.
To use Passper for ZIP tool to recover the password to your ZIP file follow these steps:
Head to the Passper for ZIP page and download the tool. Once the tool is downloaded click the "run" button to install it on your windows computer and then launch it.
Now on the Passper for ZIP window click "Add" and then select and upload the ZIP file you want to recover the password for. Once this is done, select the attack mode to be used and then click "Recover" to start the password recovery process.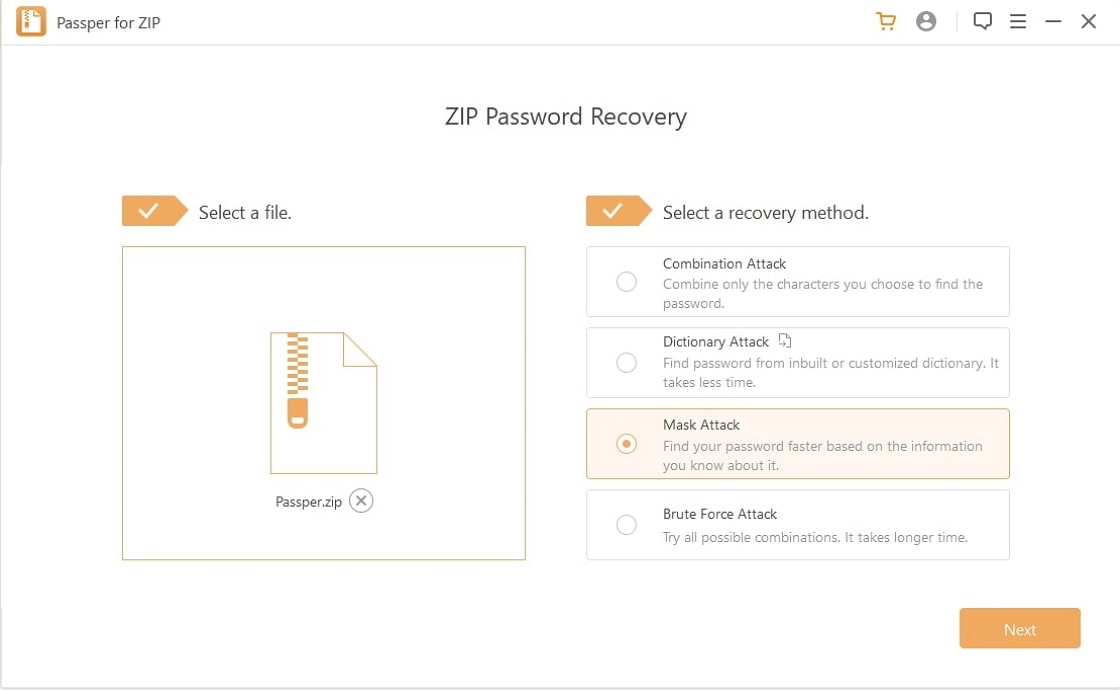 If you have a clue about the password, it is highly recommended to choose the Mask Attack, you can type in some frequently used info to narrow down the result and accelerate the recovery speed.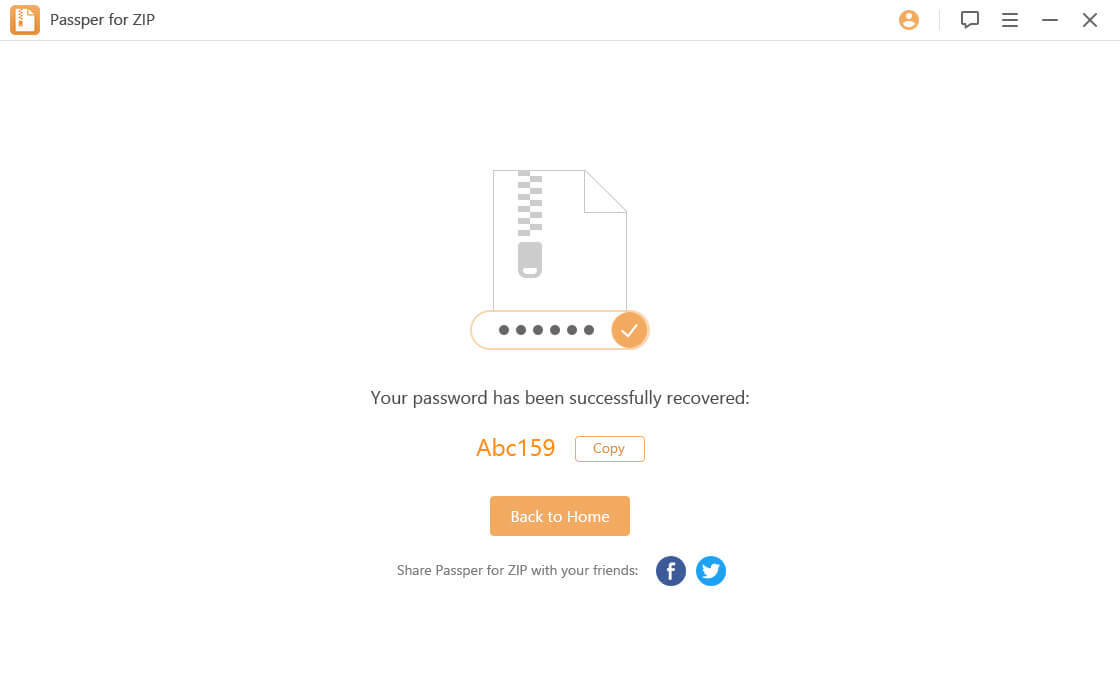 Give the tool time to compete the recovery process. Once the password has been recovered a pop-up window will open displaying the password. Now you can copy the password and use it to open the locked ZIP file.
You can also check the video guide below to learn how to use Passper for ZIP step by step.
Part 3: Comparison of These 3 Solutions
| | | | |
| --- | --- | --- | --- |
| | Notepad | Online Tools | Passper for ZIP |
| Recovery Speed | Slow | Medium | Fast |
| Recovery Time | A few hours | A few hours | Less than an hour |
| Security Risks | No security risk | Very risky | Security of files 100% guaranteed |
| Ease of Use | Complicated | Not easy to use | Very easy to use |
| Support all RAR Version | Yes | No | Yes |
Conclusion
In this article we have discussed 3 important ways you can recover your forgotten ZIP file password. All the 3 methods work but some may not be the best for you. Using a notepad is limited in application and may not work in all cases. Using online tools exposes your sensitive files to risks. We therefore recommend using Passper ZIP password unlocker tool because it guarantees the security and privacy of your data, it is quite reliable and can crack any ZIP file when you forgot the ZIP file password and it is pretty fast especially if you want to crack several files.