When you have received a compressed zip file, the first thing that comes to mind is looking for a ZIP extractor to help you access the file's content. But there are a lot of extracting software available on the market to help you unzip files. If you have no idea which one to choose, then this article is helpful to you. In this article,you will learn about the best options and how each option's advantages and disadvantages.
This Zip extractor is an open source thus it does not require you to pay in order to use it. 7-Zip is highly reliable as it can pack and unpack any type of file no matter the encryption used. The sleek design of 7Zip provides a unique interface that makes it easy to use. Its 7z format is built to support huge compressions and can be used with a huge number of archiving tools. In addition, you can create self-extracting 7z archives. For security purposes, you can create passwords to the archived files. And for easy retrieval, you can split the archived files to volumes.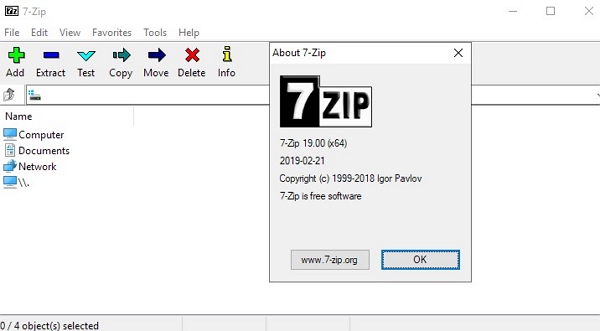 Pros
Small size of 1 MB

Can be used for personal and commercial purposes

Can compress and extract any encrypted file

User-friendly interface

Can extract huge volumes of compressed files
Cons
Does not have the option to repair damaged files
PeaZip is another open source Zip opening tool that comes in a larger package compared to 7-Zip. A standard installation of PeaZip will automatically add context menu options. However, you can use the 'custom' option to decide how you would like the menu to look like. This Zip opener can be used with any type of compressed file format. Its format is more focused on security than compression. The security features include integrity checks and authenticated encryption. Amazingly, PeaZip can repair damaged archives. However, PeaZip cannot compress batch files or add watermarks to your files.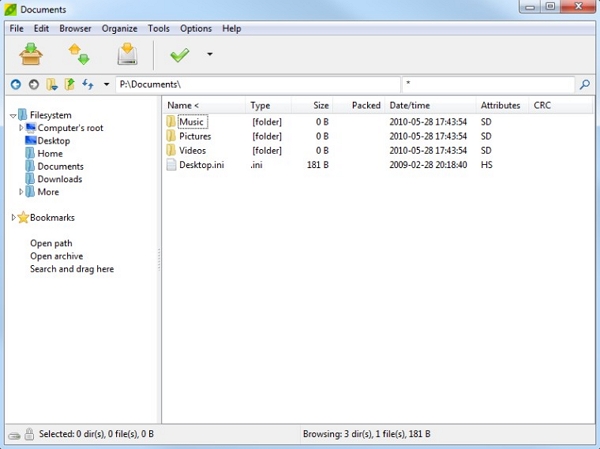 Pros
Advanced security features

Ability to repair damaged archives

Can be used with any format encryption

Can convert archive formats
Cons
Cannot compress files to create volumes
Unlike other Zip file unpacking software that hide their features behind complex interfaces, Ashampoo Zip is straight to the point. It is easy to use and comes with clearly defined options for easy adaptability. On the main screen, you will find links to paid services like dedicated encryption and decryption services. However, this should not be a reason for you to shun this software. Just like the other free Zip software, Ashampoo Zip also provides the basic tools that allow you to create archives, extract files, repair damaged archives and writing numerous volumes. Before you obtain a file, Ashampoo Zip provides you with a preview of the file. This preview is handy in ensuring that you are sure about the type of file you want to extract. Also, it has the most important features so you need not to worry about being overwhelmed by numerous options.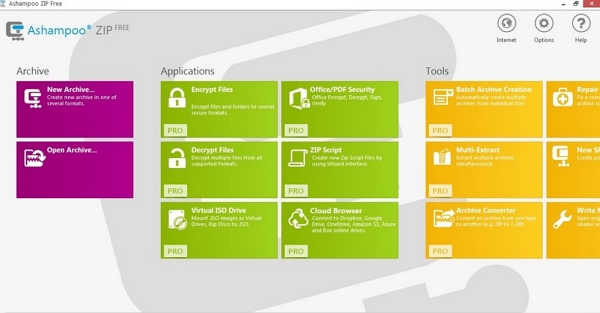 Pros
Well defined features

Easy to maneuver

Archive repair option
Cons
Less advanced options for compressing and security
ZipWare is no doubt one of the easiest Zip opener to use. To use this software, you simply need to: choose 'new' or 'open', select the file or archive and change a few settings. This Zip extractor offers the basic features thus allowing you to open any compressed format. However, one feature that makes ZipWare unique is the fact that it has a virus scanning feature. The VirusTotal scanning option is ideal for files under 32GB to check for any threats on your files. With this virus scanner, you do not have to worry about opening downloaded files or those that you are not sure about their source.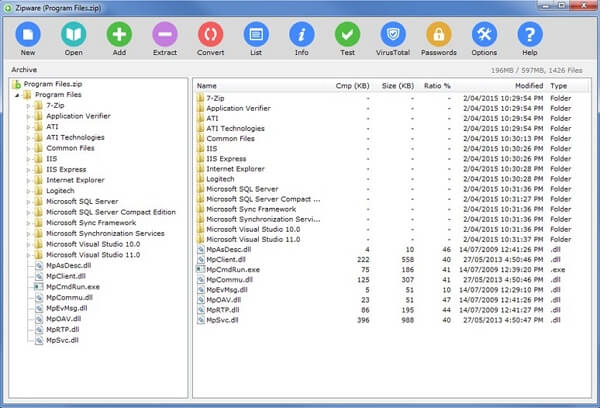 Pros
Easy to use interface

Comes with a virus scanner
Cons
Does not have the archive repair feature
Hamster Zip comes in a great design that befits those of paid for Zip extractors. Navigating this software is easy as it offers simple options like simple sliders for adjusting compression levels and uploading archives to cloud services. Even as you enjoy this fantastic interface, there are features that you may not enjoy. Although Hamster Zip archiver can open a wide array of compressed files, it has fewer options when it comes to creating archives. The primary installer language used in Hamster Zip Archiver is English. However, if you decide to conduct manual updates on the software, it may change the language to Russian which is the developer's native language. Therefore, ensure that you are extra careful to ensure you do not install additional plugins or software that might end up being problematic.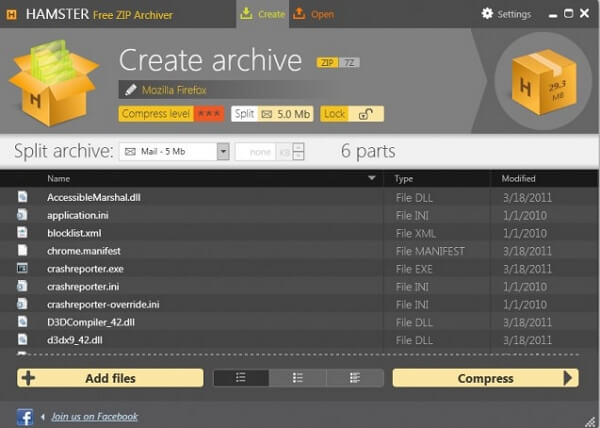 Pros
Appealing design

Easy to navigate
Cons
May present navigation options in Russian

Can only create 7z and ZIP files
Extra Tip: How to Unlock the Encrypted ZIP File
What if the file is encrypted, how to unlock the encrypted file before extracting it? Here I highly recommend you to try a third-party unlocking ZIP file. Passper for ZIP is a great option which can instantly unlock the password protected ZIP/7ZIP/WinZIP archives on Windows 10/8.1/8/7. It is fully compatible with all version of ZIP. Here is how it works:
To get started, please download and install Passper for ZIP on your computer.
Once installed, you need to follow the following steps to recover your password.
Step 1 Launch the software so as to import your encrypted file. A pop-up window showing the upgrading of the dictionary library will show and the process may take some time.
Step 2 Click on the "Add" icon to import the password encrypted ZIP file.
Step 3 Select an attack type from the 4 options and define your settings to recover your password.
For detailed explanation of these 4 attack method, please click here.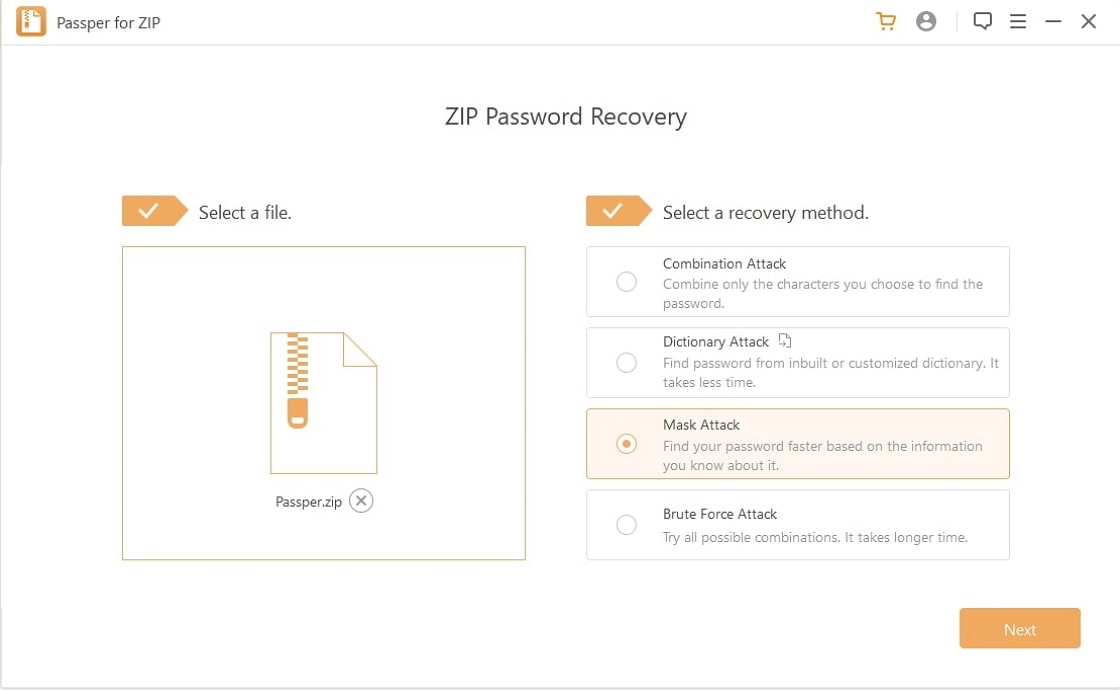 Step 4 Hit the Recover button to start recovering your password. Once done, your password will be displayed. Simply click on the Copy button to copy it. Close and exit the program and locate your file. Right click on the file and enter your recovered password to regain access to your ZIP file.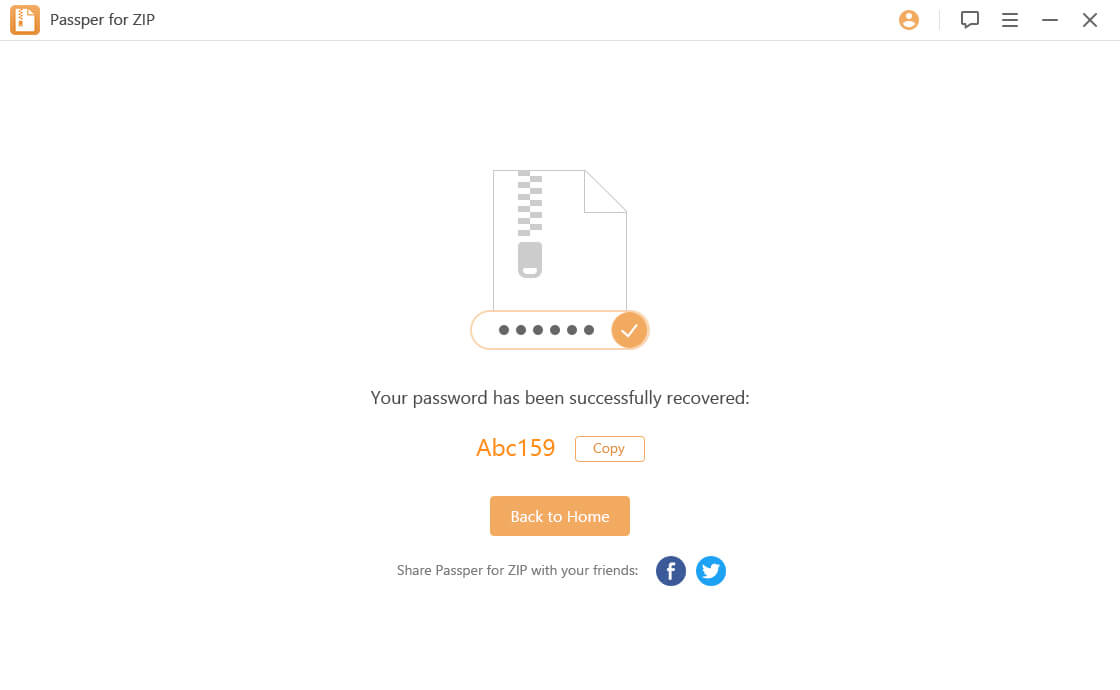 Conclusion:
This post seeks to provide credible information about the best ZIP file openers to choose from. Amazingly, the software is free and can be used both at home and in your workplace. Moreover, these Zip file extractors can open a wide array of compressed files. Be sure to read the post to determine the type of file extractor that meets your requirements and suits your needs.