Forgetting the ZIP files password can turn your day quite hectic especially if you don't know how to remedy. If you are caught in this plight, the only way out is to find an appropriate ZIP password recovery tool. In case you are looking for a free tool, then KRyLack Free ZIP Password Recovery is a good choice for you. Just as everything has two sides, this free tool has its shortcomings which can not be neglected. Therefore, in this article, we will also recommend you an alternative to this free ZIP password recovery tool.
Part 1: Full Review of KRyLack Free ZIP Password Recovery
KRyLack is a popular free ZIP password recovery program with an array of excellent features that makes the recovery process seamless and efficient. The program supports decryption on a variety of files like AES encrypted WinZIP archives, ZIPX WinZIP files, and archives created via different software packages. Besides being a password recovery tool, it helps users to extract files like ZIP, RAR, and ACE archives with ease.
Before you decide to use this recovery tool, you should also pay close attention to the advantages and disadvantages of it. Then you can ensure whether this tool can satisfy your needs or not.
Pros:
This program is absolutely free and therefore you will save lots of cash.

Unexpectedly, the free program does not impose a maximum limit on the length of passwords that can be retrieved.

KRyLack can retrieve passwords for WinZIP archives that have been encrypted using AES.

The ability to support more than 11 languages is amazing for free software.
Cons:
It only uses the brute-force attack mode which still requires that you fed more information in order to accurately retrieve the password.

Although it has a good number of features, its success rate is still very low compared to some software for same purpose.

Although there are a couple of allowed customizable features, you are unable to adjust the characters you want.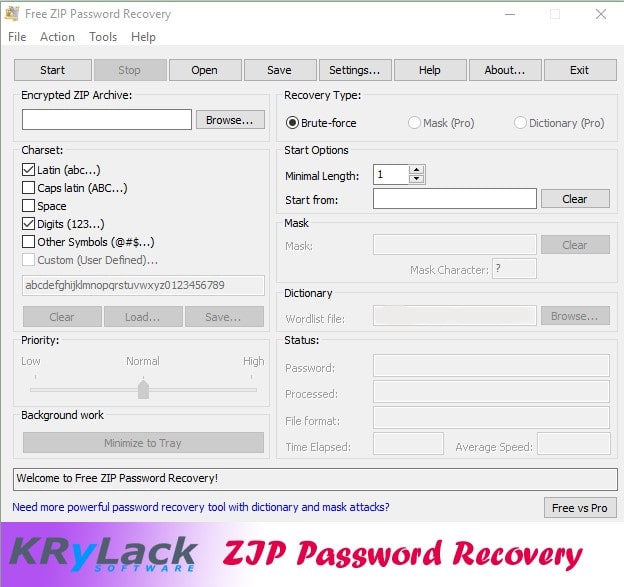 After checking all the features of KRyLack Free ZIP Password Recovery tool, are you ready to use it now? Following are the steps to recover ZIP password by using KRyLack.
Step 1: After installation of the program, run it to open the primary window. On the program interface, click the "Browse" tab and search for the ZIP file to decrypt. Click "Open" to upload.

Step 2: Once the ZIP file is successfully uploaded, customize settings as per your need like Charset, minimum password length, and start options among others.

Step 3: Hit "Start" to trigger the password recovery process. Once the password has been found successfully, it will pop up a new window to notify you.
Although KRyLack free ZIP password recovery has a couple of good features, it has major drawbacks which make it unreliable especially when dealing with complicated ZIP password cases. To avert this, we would like to recommend a better alternative to KRyLack Free ZIP Password Recovery tool here.
Part 2: Best Alternative to Free ZIP Password Recovery - Passper for ZIP
Passper for ZIP is a powerful tool that has helped scores of people across the globe to retrieve lost password on ZIP files with ease. Its massive usage is a testimony of the amazing capabilities offered by Passper for ZIP. Ranging from incredible retrieval speed to success rates, there is surely nothing that can hold you back from choosing this wonderful tool. So, if you have any ZIP/WinZIP/7ZIP archives created by different software packages, just download Passper for ZIP and forget about your problems for good.
Free Download for Win 10/8.1/8/7/XP
2.1 Why You Should Choose Passper for ZIP
High Success Rate: Passper for ZIP offers up to four methods of retrieving the password, which ensure a high recovery rate of 95%.

Fast Recovery Speed: This program has a relatively fast recovery speed due to advanced algorithm and NVIDIA/AMD/GPU acceleration technique.

Easy to Use: It has an intuitive and easy-to-use interface and users can retrieve their ZIP file passwords in 3 simple steps.

Broad Compatibility: Supports all ZIP archives created by using WinZIP, PKZIP, 7ZIP and etc.

Free Download Version: Passper for ZIP provides you with a free download version, hence, you can evaluate the program.
2.2 Comparison Between KRyLack Free ZIP Password Recovery and Passper for ZIP
| | | |
| --- | --- | --- |
| | Free ZIP Password Recovery | Passper for ZIP |
| Recover Password | | |
| Attack methods | 1 | 4 |
| Recovery rate | Low | High |
| Recovery speed | Slow | Fast |
| Complexity | easy to use | easy to use |
2.3 How to Use Passper for ZIP to Recover Password from ZIP/WinZIP/7ZIP Archives
Passper for ZIP is a straightforward application. No expertise is required at all. To recover the password from ZIP/WinZIP/7ZIP Archives, follow the steps below.
Step 1 Once the installation process is complete, click on the program icon to lunch it. Click the "+" icon on the interface to upload your encrypted ZIP file.
Step 2 Once the ZIP file is uploaded, select the desired password attack mode. You can choose one method according to the information you still remember of the correct password. When done, click "Next" to proceed.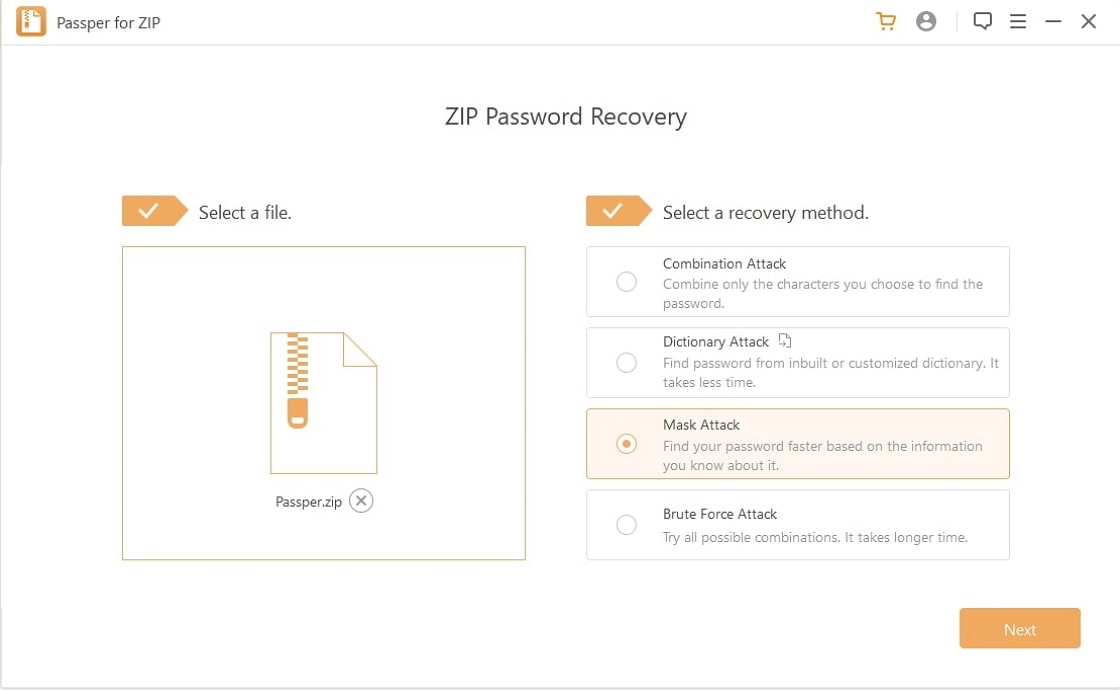 Step 3 After filling in the information of the correct password, hit "Recover" button to begin the recovery process. When it is complete, a notification bearing the decrypted password will be displayed on the program's interface.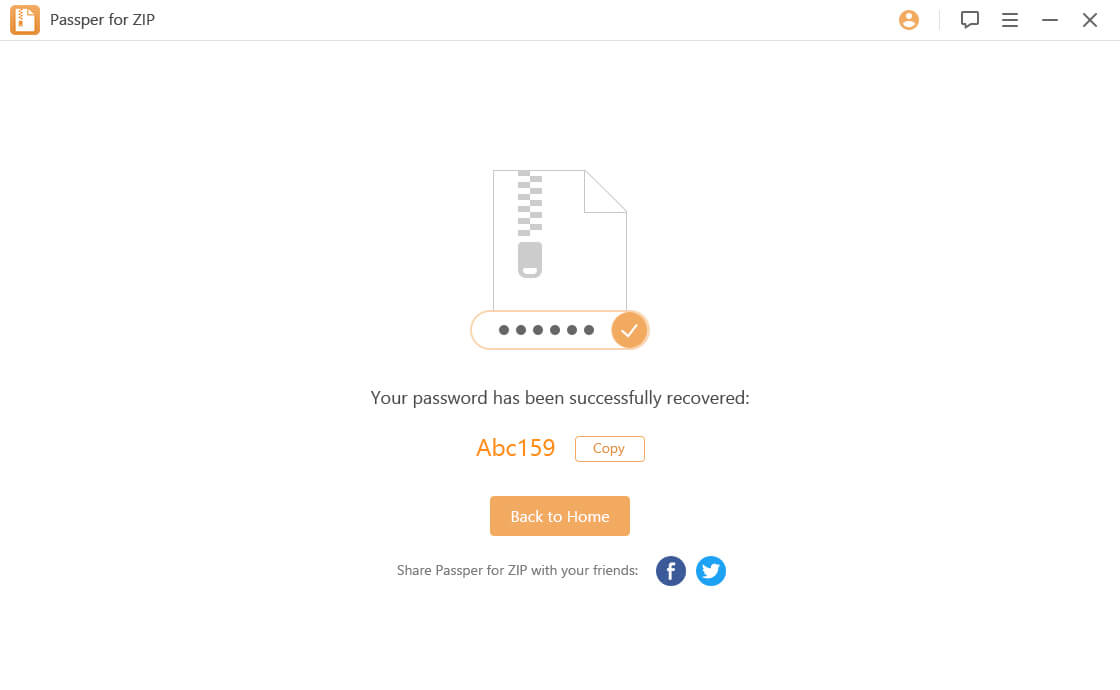 Now, you can use the recovered password to access your ZIP archive.
Conclusion
After reading through this article, you may have made up your own mind which one to choose. No matter you choose KRyLack Free ZIP Password Recovery tool or Passper for ZIP, we sincerely wish that your problem can be solved quickly and efficiently. If your ZIP password has been successfully recovered by using above methods, you are welcomed to leave a comment below to share with us.