ZIP files, being a kind of popular file format for documents, has helped transform the way we exchange information across different institutions and levels. While creating ZIP files, we can choose to encrypt them with passwords to protect our private data from being accessed by unauthorized persons. However, in the event that we've unfortunately forgotten the password, we cannot access the files. But don't worry, there are plenty of functional and easy-to-use solutions out there.
Here we will focus on 4 ways to recover ZIP password effectively. To get started, you can check this comparison table of these 4 methods, which could help you to quickly and better make your decision.
| | | | | |
| --- | --- | --- | --- | --- |
| | John the Ripper | Freeware | Passper for ZIP | Online Service |
| Can Password Be Recovered | Possibly | Possibly | Yes | Possibly |
| Attack Types | 2 | / | 4 | / |
| Recovery Speed | Slow | Slow | Fast | Medium |
| Ease of Use | Complicated | Easy to use | Easy to use | Easy to use |
| Data Leakage | No data leakage | No data leakage | No data leakage | Severe data leakage |
| File Size Limit | No limit | No limit | No limit | Large file is not supported |
Way 1. Recover ZIP Password with John the Ripper
John the Ripper is an open source command line tool available for many operating systems like Windows, Linux, and MacOS. It offers 2 attack types including Dictionary Attack and Brute Force Attack. Follow the steps below to recover ZIP file password with John the Ripper:
Step 1: Download John the Ripper on your PC and unzip it once the download process is completed. Now save it with a suitable name in an easily accessible folder.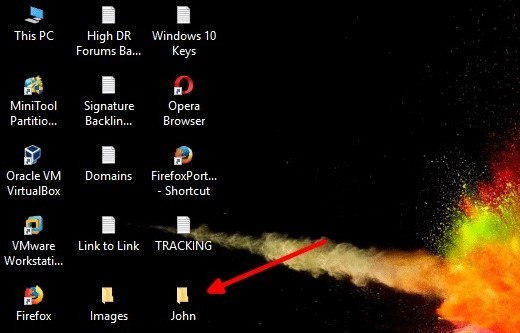 Step 2: Open John the Ripper folder and hit on the "run" folder. Copy and paste the password protected ZIP file to the "run" folder.
Step 3: Locate the cmd.exe under this path: C:\Windows\System32. And copy it to the "run" folder.
Step 4: Now run the cmd.exe to open the command prompt window. Type the command "zip2john filename.zip > hashes" and press the "Enter" key. (Please remember to replace filename.zip with the real name of your encrypted ZIP archive.)
Step 5: Again, enter the command "john hashes" then click "Enter".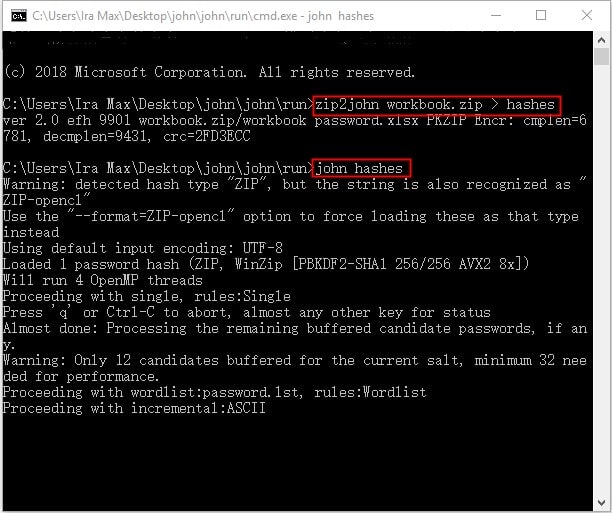 The tool will begin to recover the password. Once done, the password will be displayed on the command prompt screen.

Note
This method is really time-consuming. I created a ZIP archive with a password "445" to test this method. It took more than 40 minutes to successfully recover the password. It will take longer time if your ZIP archive is protected with a long and complex password.
Way 2. Recover ZIP Password with Freeware
In addition to John the Ripper, you can still recover ZIP file password with a freeware named Nullsoft Scriptable Install System. It is a professional open source system to create Windows installers which can be used to open encrypted ZIP files. It recovers the ZIP file password by converting it to an "exe" file. Then you download and install the "exe" file. Your ZIP file will be opened after successfully installation.
Let's check out how this method works:
Step 1: Download, install and run NSIS on your computer.
Step 2: Choose "Installer based on ZIP file" on the main screen.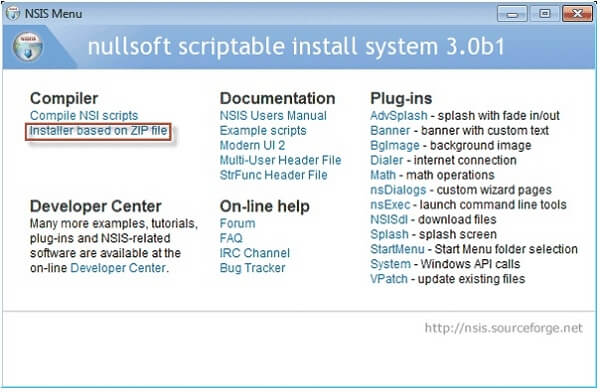 Step 3: Click"Open" and navigate through the hard drive to upload the encrypted ZIP file onto the program.
Step 4: Click "Browse" and choose a save path for the exe file. Then click "Generate".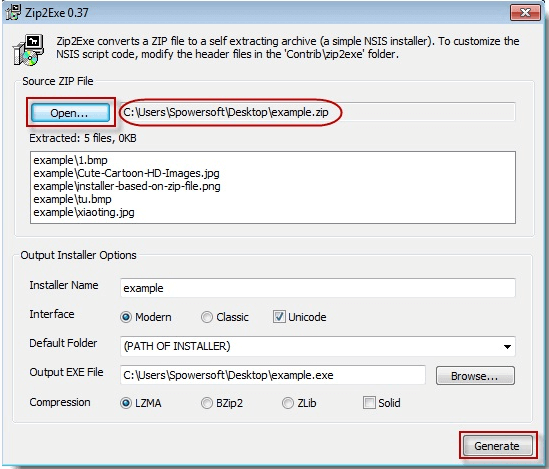 Step 5: Once completed, find the exe file on the specified save location and run it. Your ZIP file will be unlocked after successful installation.
This method is truly easy to use, right? But this method doesn't work for all ZIP archives. Sometimes, it will remind you that the encrypted ZIP file is not support, but sometimes it works. If you happen to meet the same problem, please choose other methods introduced in this article.
Way 3. Recover ZIP Password with Passper for ZIP
As you can see, the above 2 methods are time-consuming or ineffective. Under this circumstance, you need an effective method that can recover ZIP password in a short time. There are many ZIP password tools in the market, but the one I want to recommend is Passper for ZIP. It's a powerful password helper that can recover password for .zip and .zipx files created by WinZip, WinRAR, 7-Zip, PKZIP, etc.
Other main features you should know about Passper for ZIP:
Passper for ZIP offers 4 smart attack types which can greatly reduce the candidate password, thus shorten the recovery time and increase the success rate.

Based on the advanced technology, the program has the fastest password checking speed that can check 10,000 passwords every second.

The tool is really easy to use. You can successfully recover ZIP file password in 3 simple steps.

Also, this tool is pretty safe to use, your files will not be leaked out during/after the password recovering process.
Passper for ZIP is free to download. You can download and install the program on your computer to get started.
Step 1: Launch the program, click the "+" icon to import the encrypted ZIP file.
Step 2: Then select an attack mode from 4 options displayed based on your situation. If you don't know how to choose a suitable attack type, you can check the guideline here.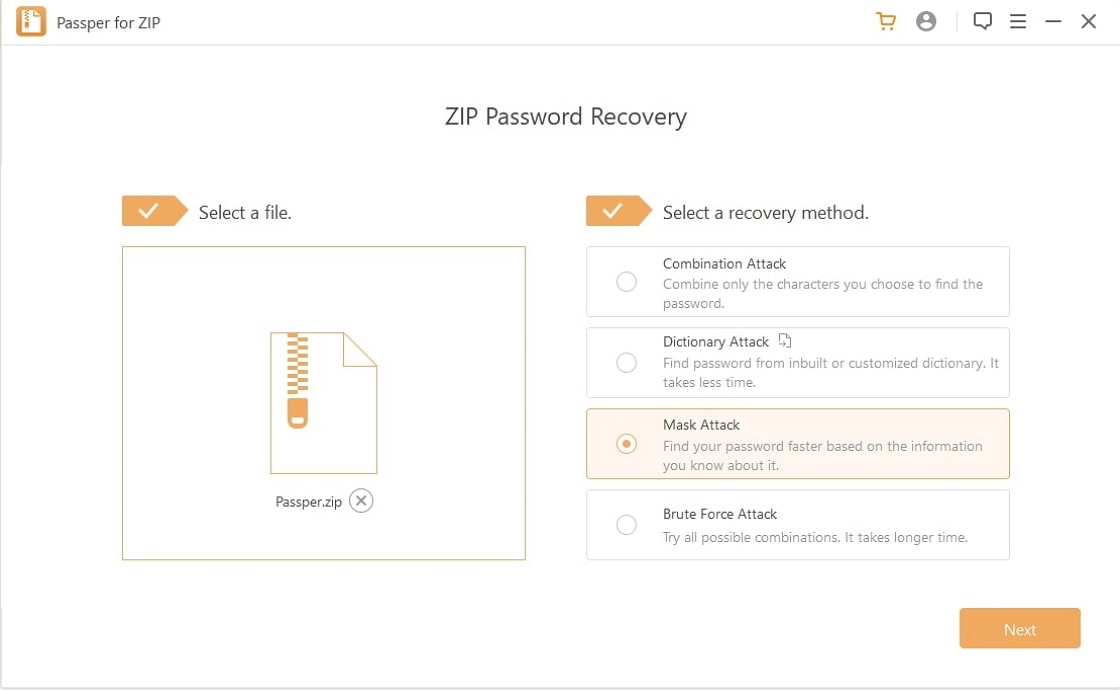 Step 3: After selecting the attack mode, hit "Recover". The program will start recovering the password. Once done, the password will be displayed on the screen. You can copy it to open your locked ZIP file.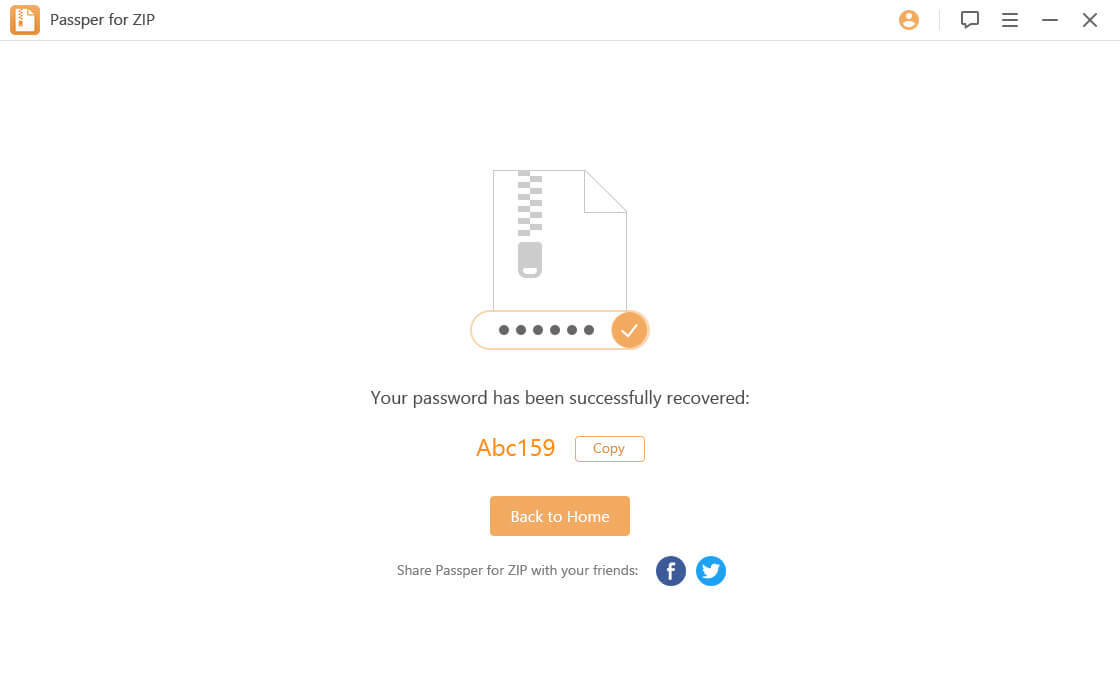 Way 4. Recover ZIP Password Online
If you are not interested in downloading a desktop ZIP file password tool, then you can turn to an online tool. The most popular one is Online Hash Crack. It can recover password for ZIP files in .zip and .7z file format. But it puts a limit on the file size. It only supports file within 200MB.
To recover ZIP file password with online tool, you only need to take several steps:
Step 1: Navigate to the homepage of Online Hash Crack.
Step 2: Click "Browse" to upload your encrypted ZIP file.
Step 3: Enter a valid email address and click "SUBMIT" to continue.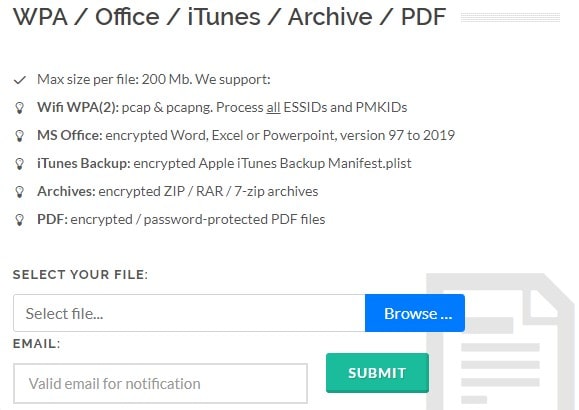 The tool will begin to find the password for you. You'll receive an email once the password has been found successfully. Then, you can navigate to the website to check your password.
Online ZIP password helpers are functional but the major concern is the security of the uploaded document. It is well known that uploading files on the online platform increase the risks of hacking. So, if you are dealing with more sensitive or rather private data, just try using desktop options.
Conclusion
These are the 4 working methods to recover ZIP password. Needless to say, Passper for ZIP is the most powerful and safest method. Give it a shot and you'll get satisfactory results.