Advanced ZIP Password Recovery, also known as Advanced Archive Password Recovery, is a powerful tool for recovering forgotten or lost passwords for ZIP, WinZip and PKZIP files. This tool uses 3 password recovery methods: known-plaintext attack, dictionary-based attack, and brute-force attack to break into the encrypted ZIP file. But the downside is this tool is not compatible with the latest ZIP version and the interface is not clear enough especially for newbie. Also, the price of Advanced ZIP Password Recovery is pretty high compared to the similar tools, so why not look for an alternative which is fully compatible with all ZIP versions and the price is relatively reasonable. Here are the 10 best Advanced ZIP Password Recovery alternatives that you can use:
1. Passper for ZIP - Best Alternative to Advanced ZIP Password Recovery
The first Advanced ZIP Password Recovery alternative I want to recommend is Passper for ZIP. It is a simple piece of software that allows users to easily recover lost or forgotten passwords for their ZIP, WinZIP, WinRAR archives including the latest one, regardless of used the compression method. Itis well aware of the various methods of password protection, and applies all the tricks that allow you to unlock protected ZIP archives as quickly as possible.
Unique Features of Passper for ZIP:
Ultrafast Recovery Speed: It is one of the fastest password recovery tools in the world being able to recover most of the ZIP passwords in under an hour.

Strong AES Encryption Support: Passper for ZIP supports latest encryption technologies, including the complex AES encryption used inthe recent versions of WinZip.

4 Attack Modes Provided: It uses 4 powerful attack modes which makes it one of the highest success rates in the industry.

No Data Leakage: It is a powerful tool that guarantees that your data is not lost or leaked.

Easy to Use: It has a great user interface and is very fast making it ideal for everyone.

100% Trustworthy: It is 100% trustworthy. The developer of the program (iMyFone) is highly recognized by makeuseof.com,macworld.co.uk,cultofmac.com,iphonelife.com., etc.
Cons:
There are no obvious cons have been found yet.
Price: $19.95
How to Use Passper for ZIP
This tool is simple to use, you can crack the password protected ZIP file within only 2 steps, below is how it works:
Free Download for Win 10/8.1/8/7/XP
To get started, download, install and launch Passper for ZIP on your computer.
Step 1: Click on "Add" icon on the interface and select the target ZIP file you want to recover its password and click "Open" to import it. Then, you need to choose the attack mode that you want to use from 4 options. Now once you have chosen the select mode, simply clicks on the "Next" button.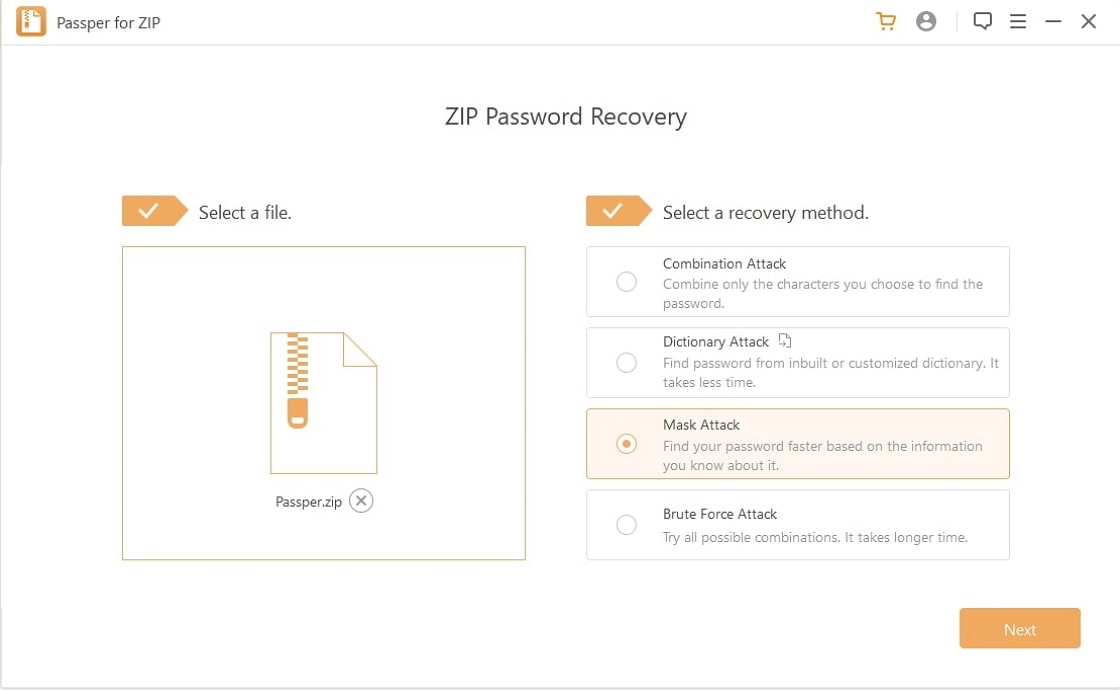 Step 2: Passper for ZIP will then begin to recover the ZIP password immediately. Once the password has been cracked, completes retrieving the password, it will show on the interface. Just copy the password and use it to open your locked ZIP file on your computer.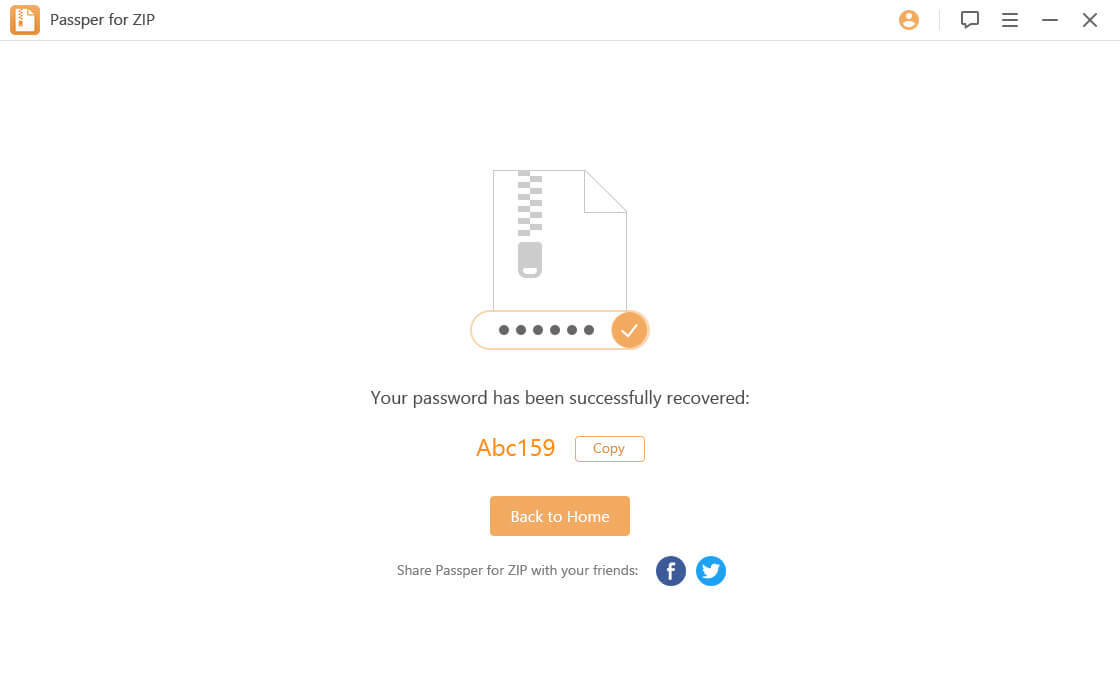 Note
If you remember something about the password, that information will be used to speed up the recovery. Like how many characters your password had, does your password has numbers or letters, or both? Maybe you can recollect the first or the last character, every little bit of this information will be helpful to speed up the recovery.
Below is the video guide about how to use Passper for ZIP.
The Top-Password ZIP Password Recovery tool is another great tool as Advanced Archive ZIP Password Recovery to recover any lost password of your important ZIP archive created with WinZip, PKZip among others .The tool uses 3 main attack methods: Brute force attack, dictionary attack, and mask attack. It has an intuitive interface which makes it easy to use. It also comes with free updates and free technical support ensuring that you get value for your money.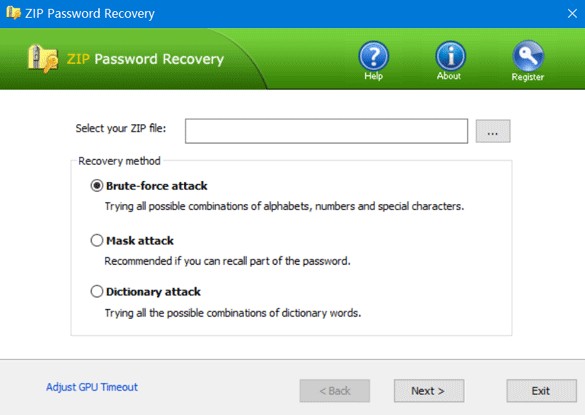 Pros:
Supports many different ZIP file formats,

Work with default '.zip' (most common) as well as '.zipx' (PBKDF2 and AES based) encryption methods.

It has an intuitive user interface
Cons:
Recovery speed is relatively low.

It doesn't support to save to recovery state.

Only 3 recovery method provided.
Price: $19.95
KRyLack ZIP Password Recovery is an awesome Advanced ZIP Password Recovery alternative that you can use to crack your zip file password. With this tool, you should not worry about a lost password because with just a few clicks you will recover the password and be able to extract files from the ZIP file in question. It comes with lots of features to make your work easy and to ensure that you don't get frustrated just because you can't remember a password to a given ZIP file.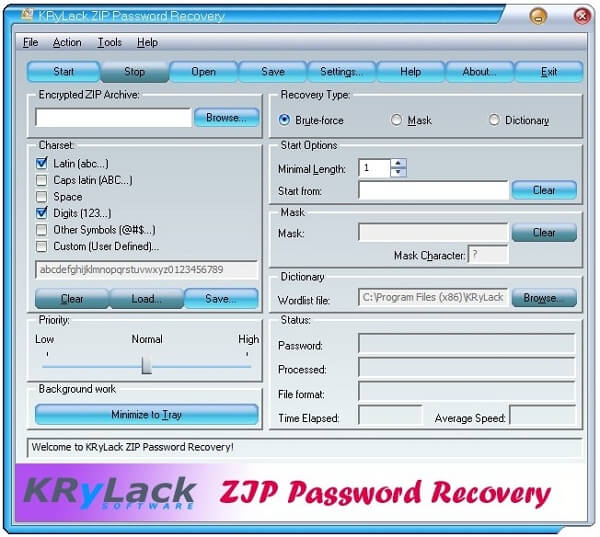 Pros:
Supports ZIP, WinZip and PKZip file formats

It Is designed to safely remove password without cause damage to your files

It Can crack AES encrypted files
Cons:
It cannot recover the complex password.

Uses only one method (brute force) to crack passwords

The interface looks very crowded, all featured are shown in one interface.
Price: $19.95
WinPassKey ZIP Password Recovery is one of the best ZIP file password cracking tools available to the public today. This is an advanced ZIP password recovery tool that uses 4 recovery modes to make sure that you can crack ZIP file password. It comes with the autosave capability making sure that your work is saved in case the process is interrupted before that password has been cracked.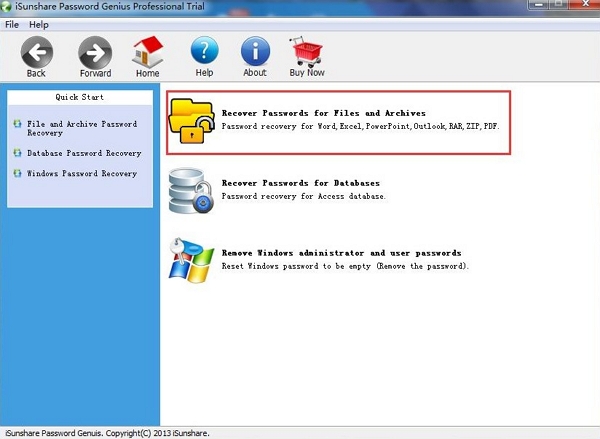 Pros:
It comes with the autosave feature which saves you time in case the process was interrupted

It is compatible with different ZIP file versions such as ZIP, WinZip, PKZIP and 7 ZIP
Cons:
The cracking speed could be better.

This tool crashed during the password recovery.

The interface guideline is not clear.
Price: $19.95
PassFab for ZIP is another well know alternative to the Advanced ZIP Password Recovery tool. It is helpful that you can use in case you forgot your password The tool has an intuitive user interface which makes it quite easy to use. Can recover all manner of ZIP file passwords include then encrypted ones. It deploys three unlocking methods to crack the passwords which make it pretty powerful.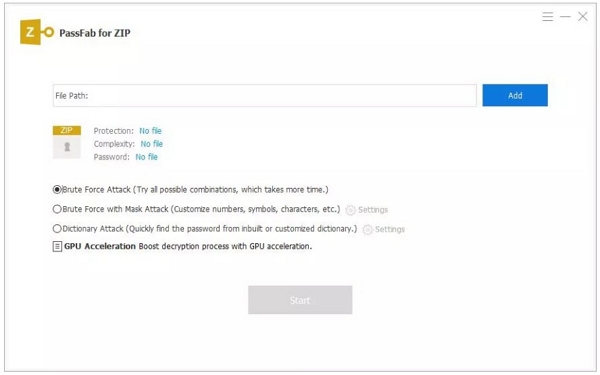 Pros:
It is compatible with all windows versions.

It supports different ZIP file formats.

Simple and easily understandable user interface.
Cons:
It has only 3 attack modes provided.

Complex password cannot be recovered.

It takes very long time to find the password.
Price: $19.95
Conclusion:
The Advanced ZIP Password Recovery tool is an awesome tool to use to crack a ZIP file password. However, it has a number of disadvantages that makes it not suitable for use in the modern world. This article, therefore, has highlighted 5 important alternatives to Advanced ZIP Password Recovery tool. Of all the five, I recommend the Passper ZIP Password Recovery tool which is the fastest, the most powerful and the most secure of all the ZIP recovery tools in the world.