Advanced ZIP Password Recovery is not a new program in the ZIP password recovery industry, but it's still attractive. There are many people searching for this program every day, but it seems that they are unable to download and use the program. So, due to this reason, we'd like to make a full review of Advanced ZIP Password Recovery and recommend the best alternative to it.
Part 1: Advanced ZIP Password Recovery Review
Advanced ZIP Password Recovery is a good program that helps users to recover lost or forgotten passwords for Zip archives. It supports archives created by popular programs like WinZip, PKZip and etc. This program deciphers passwords by trying a combination of over fifteen million different passwords in a second on modern CPUs such as Pentium 4. Such a huge combination makes it easier to retrieve passwords.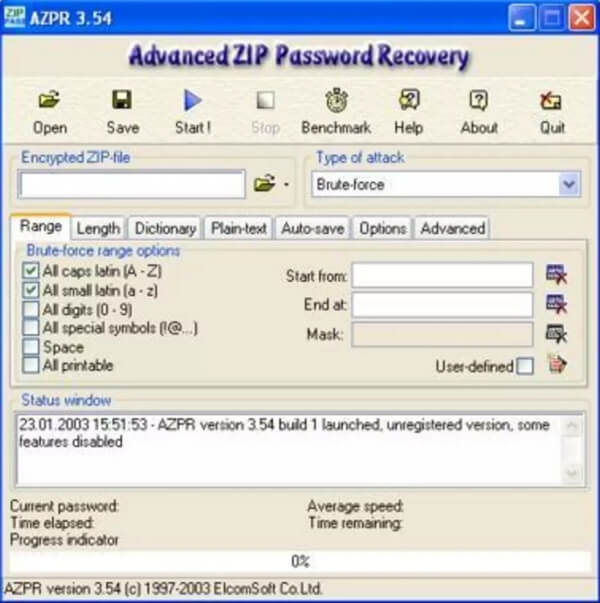 Pros
It supports self-extracting archives.

For brute-force attack, you can select custom characters set, and non-English characters are supported.
Cons
The success rate is lower compared to top-notch Zip password recovery tools.

The program offers 4 recovery methods, but none of them is easy to use.

The program has not been updated since 2005.

Note
As we have mentioned before, you are unable to download the program forever. The reason is that the program has been merged into Advanced Archive Password Recovery. However, this new program has not been updated since 2018 either.
Part 2: A Best Alternative to Advanced ZIP Password Recovery - Passper for ZIP
Since the program Advanced ZIP Password Recovery has been merged into Advanced Archive Password Recovery, you may want to use this new program to unlock your Zip archives. However, we should remind you that the 2 programs not only share the same pros, but also share the identical cons. In this circumstance, you need to get an appropriate alternative to it. There are so many Zip password recovery tools out there, but only a few of them will prove useful. To save your time and lessen your work of searching for the best tool, we recommend Passper for ZIP as the best alternative to Advanced ZIP Password Recovery.
2.1 Introduction of Passper for ZIP
Passper for ZIP is no doubt the best alternative for Advanced ZIP Password Recovery program. It can retrieve passwords for ZIP files created by popular ZIP creators like WinZip, WinRAR, 7-Zip, and PKZIP. It supports the Zip files in .zip and .zipx format. The speed, ease of use, and reliability give Passper for ZIP an edge over other similar-purpose tools.
Why You Should Passper for ZIP?
4 Powerful Recovery Methods: The program offers 4 smart recovery methods including Combination Attack, Dictionary Attack , Mask Attack and Brute-force Attack. They can greatly reduce the candidate passwords, thus shorten the recovery time and increase the success rate.
Fastest Checking Speed: Based on the advanced technology, it can check 10,000 passwords every second.
100% Data Security: It doesn't require any Internet connection during the whole process, therefore, your archive won't be uploaded to its server. Thus, your data privacy is guaranteed.
Save Recovery Process: You can stop the recovery process at any time. The process will be saved and you can resume from that point later.
Easy to Use: The whole operation is as simple as 1-2-3.
Available on:

2.2 How to Recover Zip Password with Passper for ZIP
Passper for ZIP is truly easy to use. You can successfully decrypt your Zip archive withint 3 steps. By doing this, you need to download, install, and launch the program on your computer.
Step 1 You'll see the main interface of the program once you launch it. Head to the "Select a file" section and hit the "+" button. You will be directed to the file explorer window. Here, browse for the encrypted Zip file and hit "Open" to upload it to the program.
Step 2 Now that the encrypted Zip file is successfully uploaded go to the "Select a recovery method" section. Choose a suitable password recovery method and click "Next" at the bottom-right to proceed. The program offers a detailed guide on the 4 recovery methods, and you can click here to learn how to use each one.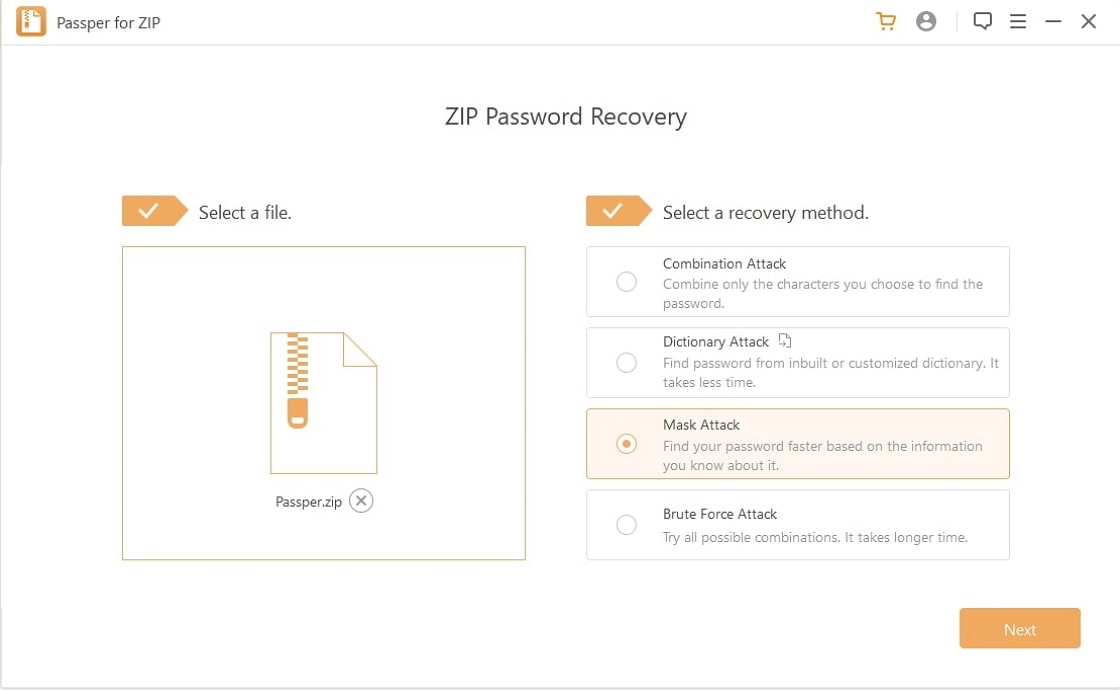 Step 3 If you are satisfied with your selections, locate and hit the "Recover" button. This will immediately trigger the password recovery process. When the ZIP password recovery process is complete, the program will display the password on the background. You can copy the password to open your encrypted ZIP file.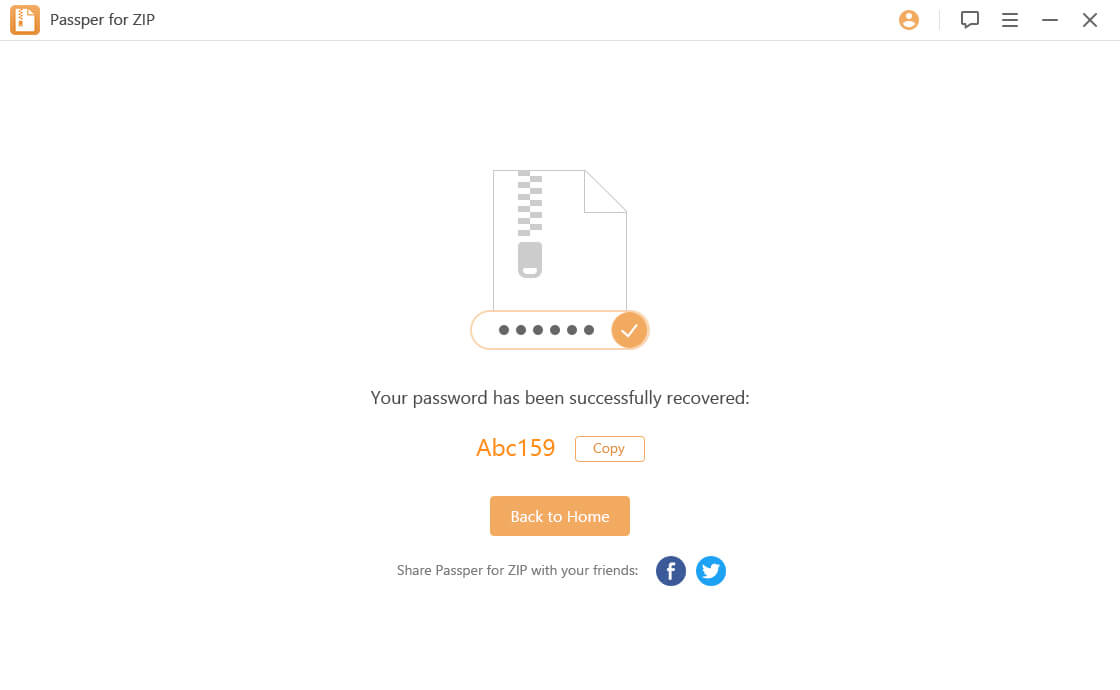 You can also watch this video guide to learn how to recover Zip password with Passper for ZIP.
Part 3: Comparison of Advanced ZIP Password Recovery and Passper for ZIP
Both Passper for ZIP and Advanced ZIP Password Recovery are excellent tools to retrieve lost or forgotten ZIP passwords. However, the two aren't the same in terms of prowess, and this explains why scores of users prefer Passper for ZIP to Advanced Zip Password Recovery. To make this crystal clear, we shall tabulate some of the discrepancies of these tools below.
| | | |
| --- | --- | --- |
| | Advanced ZIP Password Recovery | Passper for ZIP |
| Recovery Method | 4 | 4 |
| Success Rate | 90%-95% | >95% |
| Complexity | Medium | Easy |
| Compatibility | Windows XP-7 | Windows XP-10 |