Imagining that you have lost or forgotten Windows 7 password, and there is no way to recover it. Would you want to reinstall Windows 7 operating system? Absolutely not! In such situation, a Windows 7 password reset tool may be your only choice.
Let's take a look at the following 4 trustworthy reset tools. You can choose one that suitable for your situation.
Top 1: Pre-created Password Reset Disk
If you're proactive, this is probably the easiest way to reset your Windows 7 password for free. By using this free Windows 7 password reset tool, you can check the follow steps:
Step 1. When you enter a wrong password for 5 times, it will appear a Reset password link below the login box.
Step 2. Insert your password reset disk to your computer and click on the Reset password link.
Step 3. A Password Reset Wizard will show up on the screen. Click Next to continue and choose your drive in the next page.
Step 4. You can set new password now after you click Next in the step 3.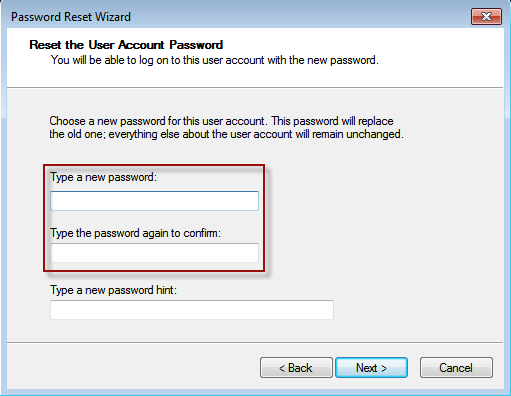 Pros:
Easy to use.

You do not have to be professional in computer.

This password reset tool is completely free.

You only need to create the password reset disk for once, and you can use it whenever you need.
Cons:
Only available if you have created a password reset disk before you lost or forgot the password.

Anyone who get this password reset disk can access your Windows 7 account at any time.
Top 2: Windows 7 Installation CD/DVD
Another free Windows 7 password reset tool is installation CD/DVD. It's well-known among Windows users, but it will be complicated for a computer novice. By using this method, it will be helpful if you have some knowledge of command line. Following are the steps you can refer to:
Step 1. Boot up your PC from the Windows Install CD. You will now see an option to Repair your computer in the left corner.
Step 2. Click on it and choose Command Prompt in the next page.
Step 3. Now, you need to type the following command. Please remember to press Enter after each command.
c:
cd windows
cd system32
ren sethc.exe sethc.exe.bak
copy cmd.exe sethc.exe
Step 4. After this, remove the installation disk and reboot your computer. On the login screen, press your Shift key 5 times in a row, and you'll be taken to the command prompt again. This time, type: net user username newpassword to reset password.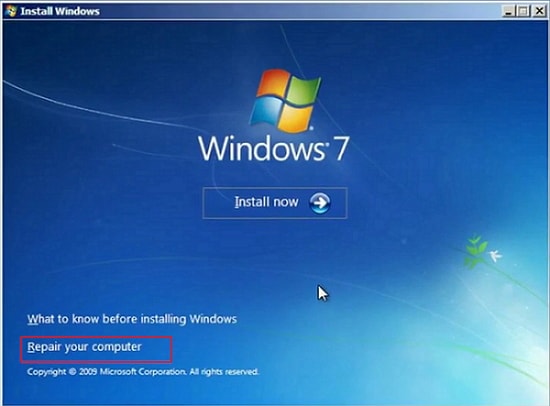 Pros:
It is totally free.

It is an effective and working method.
Cons:
Top 3: Active Password Changer
Active Password Changer is an easy to use program that lets you reset Windows local user account passwords. It does exactly what it says, maybe even a bit more with its additional features, but the price tag might be too high for some people. However, you can use it on three home computers so that maybe makes it a bit more attractive. If you or your family member forgets your/his user account password or a disgruntled ex-employee changes the Admin password on the company's computer, this piece of software just might save your day.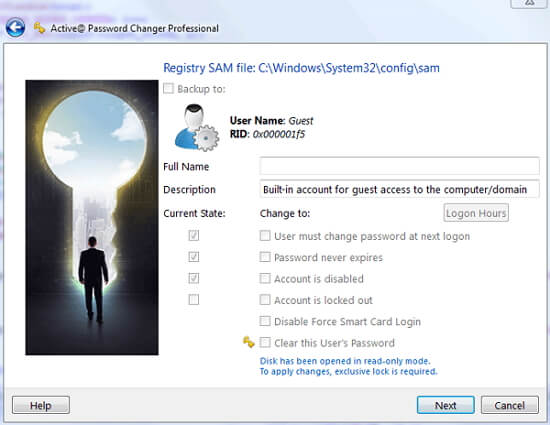 Pros:
Three versions of software: Windows, LiveCD (Linux) PE 3.1 and DOS.

Supports Windows 8, Windows 7, Windows Vista, Windows XP, Windows 2000 and Windows NT.

No previous knowledge of the password needed.

Comes with an additional set of software (Disk Editor, Partition Manager, Disk Monitor).
Cons:
The main interface of this password reset tool is not user-friendly.

It is complicated to operate.

This tool is not available in Windows 10.
Top 4: Cain & Abel
Cain & Abel is a free, fast Windows password reset tool. It can recover many kinds of password by using methods like dictionary attack and brute force attack. Cain & Abel was able to recover the 10-character password in 10 seconds. While it only officially supports Windows XP, 2000, and NT, some people have had luck getting it to work in Windows Vista and Windows 7.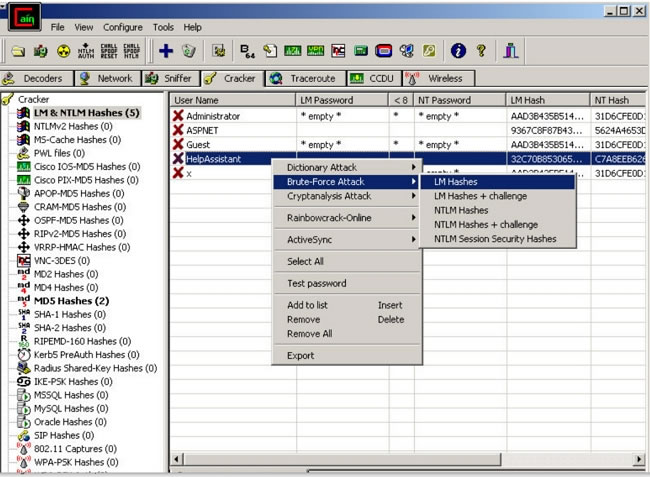 Pros:
Several methods can be employed to recover passwords and then you can choose to reset it.

Recovery of passwords is very fast, at least with my several tests.

Depending on the rainbow table used, Cain & Abel can recover up to 99.9% of passwords from any Windows account.
Cons:
Program must be installed on the hard drive, unlike many other password recovery tools.

Must have access to another administrator account on the computer.

Doesn't seem to work in Windows 10, 8, 7, or Vista.

Separate Rainbow Tables must be downloaded from other sources online.