Are you looking for the best file compressor to get the desired files compressed? For sure, WinRAR and ZIP are several file compression software, and this article will give you a thorough guide on the ideal file compression software. Just stick to the guide and get yourself the best file compressor.
Part 1: Comparison Between RAR and ZIP?
If you have downloaded software online, then you must have come across a ZIP file, right? ZIP file is a single file consisting of multiple files. This is often common with application files, and ZIP is no doubt quite common. However, the more you play around with downloads, I know for sure you are likely to come across the RAR files also. RAR is just another compressed single file with multiple files just like ZIP. However, the two have some differences on the grounds of compatibility, compression ratios, and ease of use, just to mention but a few.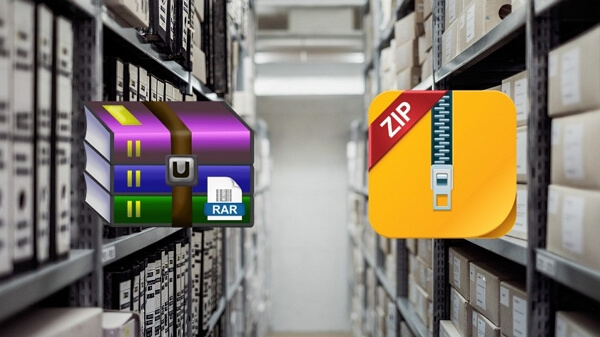 File Size
RAR files to be precise are much compressed and are therefore smaller than the ZIP files. This implies you can take less time to upload or download them. Another good thing about RAR files is that you can even split them into multiple files. Think of this that you have a big RAR file and you want to split them and store in different media say CDs or flash disk. So you can split the large RAR file and store them as RAR files separately on these media.
Usability
Another amazing thing worth mentioning is that WinRAR allows the creation of recovery files such that in the event of a hard drive failure, you are in a position to retrieve them. Isn't that great? However, these RAR positives should not devalue the ZIP files.
Compatibility
One big advantage of ZIP is the fact that it can open on pretty any common operating system say Mac, Windows, and Linux. If you send your friend, for instance, a ZIP file, he or she will not struggle to open it irrespective of whether a newbie or an IT guru. On the other hand, if you send a RAR file, then that person will find it difficult unless he or she is an expert. This is because these systems do not support RAR. The only solution here will be to convert these RAR files to zip which is compatible with the operating systems.
Part 2: How to Convert ZIP to RAR Easily?
RAR is more preferred owing to its higher compression ratio as compared to ZIP file. If you have a ZIP compressed file format, you can convert ZIP archive file to an equivalent RAR format with some useful options. These options include:
Method 1: Using WinRAR
It is no secret that WinRAR is a popular archive manager capable of performing data backups, compression of email attachments, decompression of files such as ZIP as well as converting them into formats like RAR and vice versa.
Step 1. Open the windows file explorer and locate the respective RAR archive file. Right-click the file and hit the "Open with RAR" option.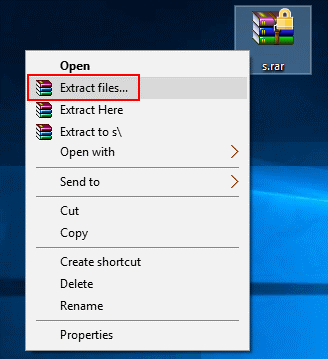 Step 2. On the WinRAR menu, navigate to "Tools" and select the "Convert archives" from the drop-down menu.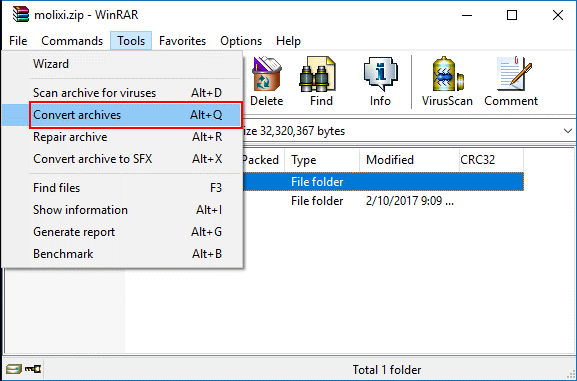 Step 3. Click "Browse" from the subsequent dialog box and select the destination for the new ZIP file. Now hit the "Compression" button.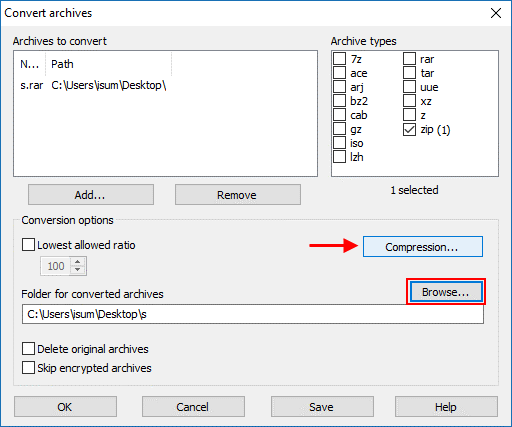 Step 4. A new dialog box "Set default compression options" will open. Choose the "General" tab and select "RAR" under the Archive format section. Click, "OK."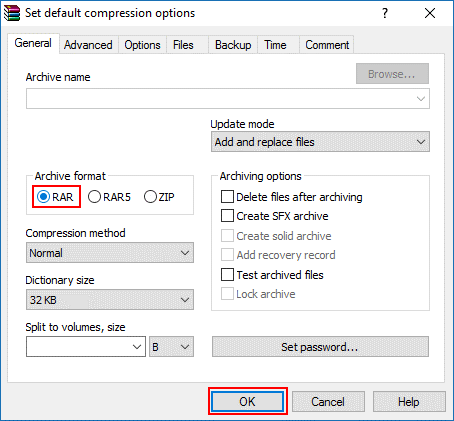 Step 5. Finally, if the file is password protected, just enter the original password to initiate the conversion process.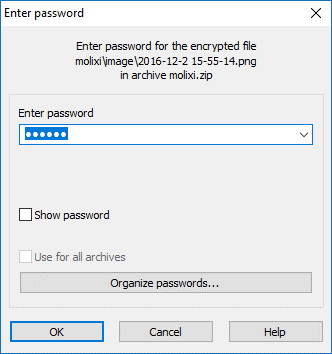 Method 2: Use Online Converter-Cloud Convert
Converting ZIP to RAR using Cloud Convert is such a seamless process, and newbies can perfectly navigate.
Step 1. Navigate to Cloud Convert official page.
Step 2. Hit the "Select Files" drop-down arrow and browse the target ZIP file. Remember you can upload multiple files at the same time.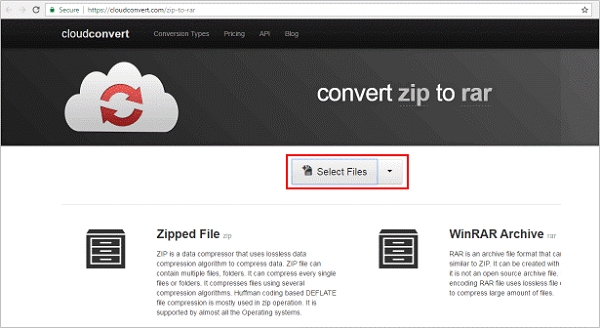 Step 3. Now choose RAR archive format as your output file and click "Start Conversion." The conversion should just take some few minutes before it is ready for download.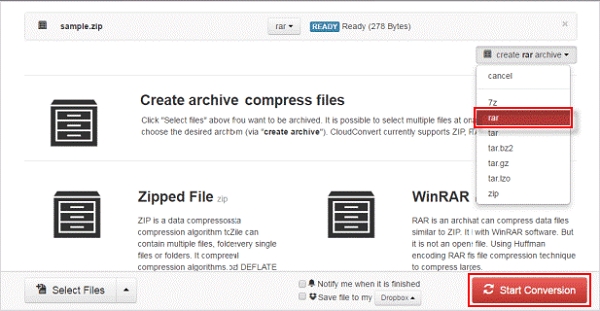 Step 4. When it has completed, simply hit the "Download" button.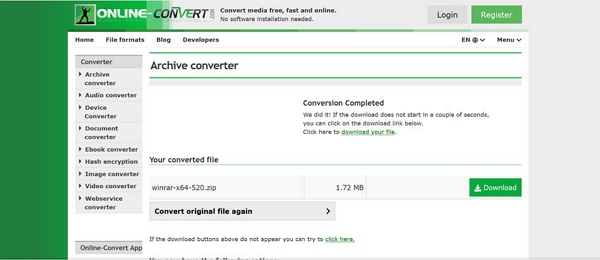 Part 3: How to Unlock the Encrypted RAR File?
Sometimes you want to access your RAR files, yet they are encrypted using a combination of characters or simply a password. This means the only gateway is by entering the original password. Passwords can be forgotten, and in case it happens, you have a rough time trying to access your RAR files. Nevertheless, there are a host of tinker options and Passper for RAR is an effective top rate total-no brainer third-party password unlocker software. Its success rate of password recovery is up to 95%. And it is fully comapitle with all kinds of RAR archives no matter what compression software you use. Most importanly, it is pretty easy to use, only 3 simple steps required, you can unlock your enctypted RAR files.
So if you have an encrypted RAR file and you need to crack the password just pull a trigger and let Passper for RAR do the job.
How to unlock encrypted RAR files using Passper for RAR
Download Passper for RAR from its official download page. Install and launch Passper software on your computer to display the primary window.
Step 1. Now locate and click the "Add" icon on the main interface. Browse for the target RAR file on your PC. Once found, select it and click "Open" on the file explorer to upload it to the program.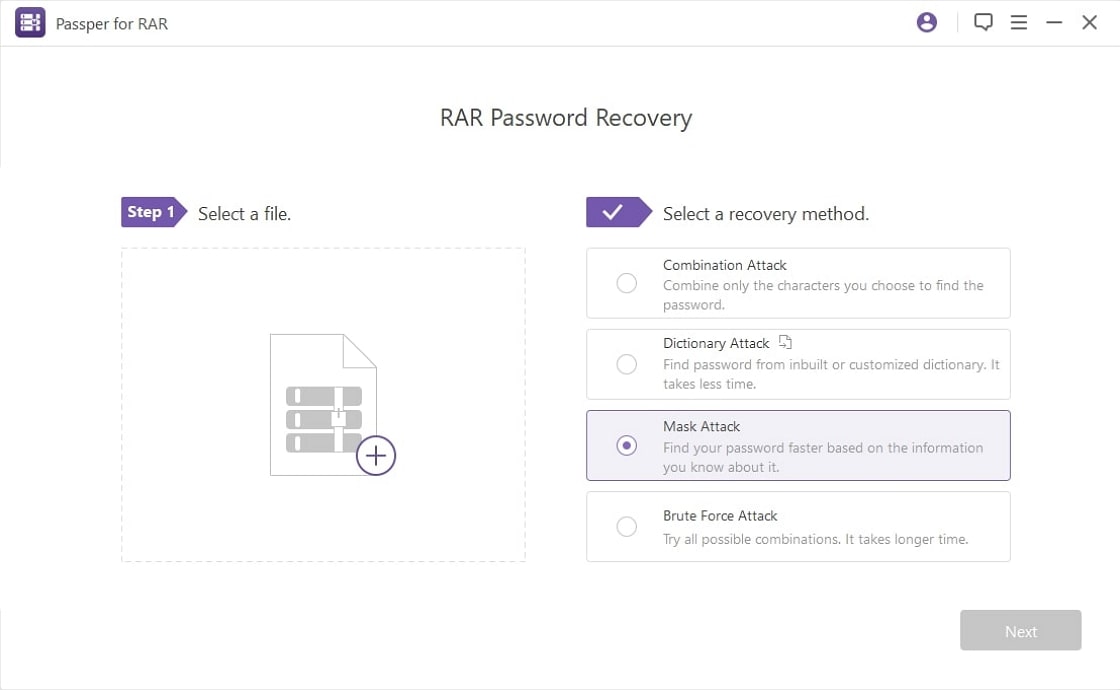 Step 2. The program will then give you three attack modes for encryption. Choose the desired attack option and click the "Start" button to commence password retrieval.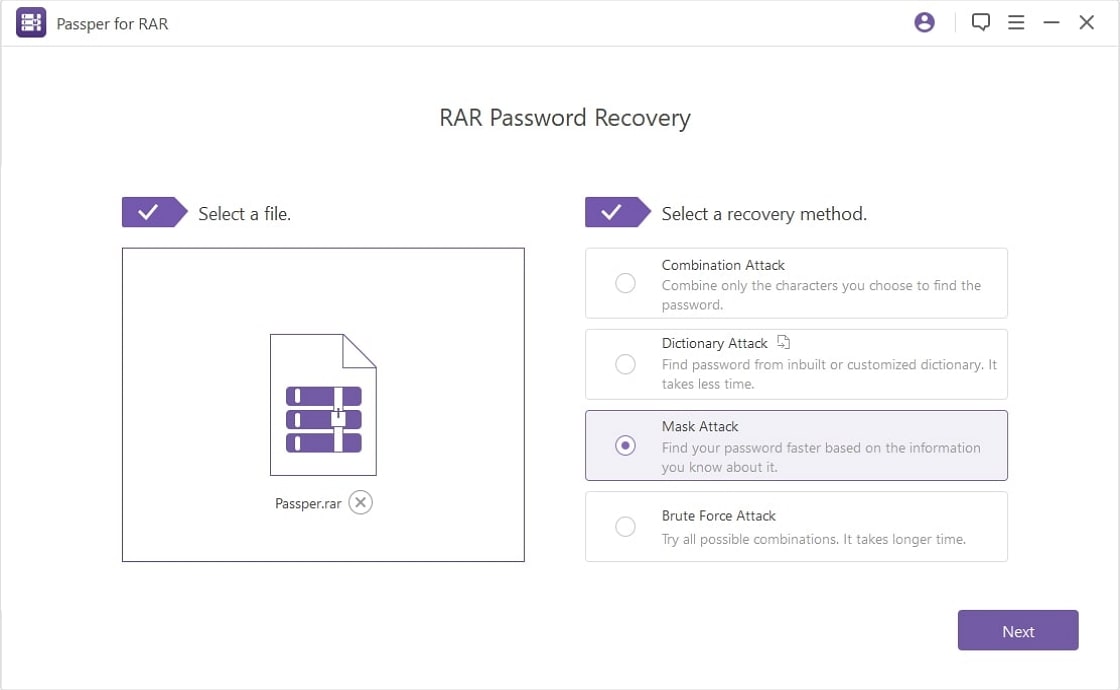 Step 3. When the password is obtained, just copy it to your clipboard or simply put it down somewhere you can access. You can then use this password to open the encrypted file.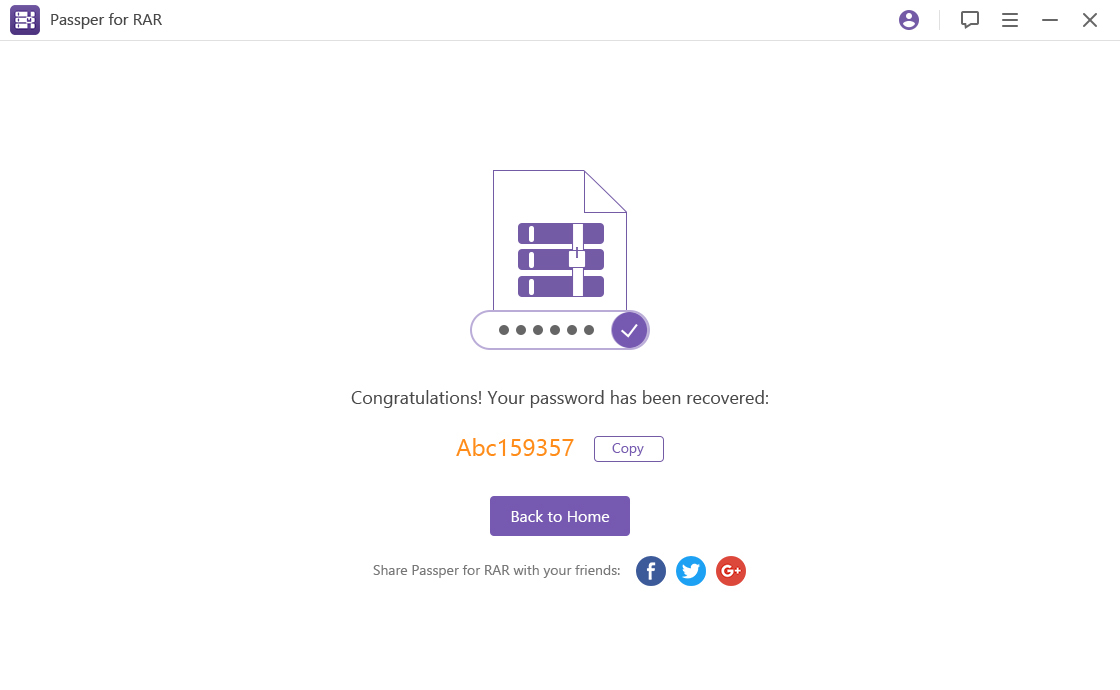 Conclusion
As aforementioned, you can seamlessly connect the dots and note that RAR files have got several advantages. In terms of size, RAR is good. However, ZIP files remain popular due to its compatibility with standard operating systems. Now, depending on the situation at hand, you need not get limited as you can convert ZIP files to RAR and utilize their advantages as dictated by the situation at hand. Just choose the best file compression software, and you are good to go.