Protecting your personal document in this century is very important as whole world is computerized and your document containing personal information about you or your business is not safe. The password is essential so that the fraud and unauthorized access to the personal data is prevented.
Most people on monthly basis receive a bank statement in PDF format which is protected with password. This is done for the security purposes so that your personal information cannot be viewed or copied by others. It might be troublesome to enter the bank statement password every time you want to view or edit it. And what's even worse is that you totally forget your password, which results in the failure to access your bank statement, still less to edit it. Here in this tutorial, we provide you with all the knowledge that you need to remove password from PDF bank statement.
Part 1: Remove Password from PDF Bank Statement with Password
If you do know the password of your PDF bank statement and just want to spare yourself the trouble of entering it every time, you can try the next two methods. Generally it's simpler compared with the situation where you have no clue at all about the password.
1.1. By Google Chrome
Removing the password from PDF bank statement file has never been this easy before. You just have to make a few clicks to remove the password. This can be done with your very own favorite browser "Google Chrome". In order to remove password to view the PDF file with the help of Google Chrome you need to follow the steps:
Step 1: Right click on the encrypted PDF document and from "open with" menu select "Google Chrome".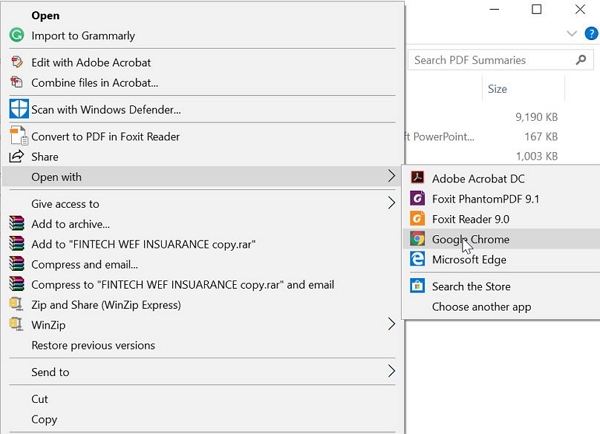 Step 2: Enter the correct password in the prompted box to open the PDF file in Google Chrome.
Step 3: Click on the "Print" icon in the top right corner. From "destination" section in the left menu, click on the "Change" button.
Step 4: Then select "Save as PDF". Finally click on the "Save" button to save the unlocked PDF file. Now you will be able to edit, modify and print the contents of your desired PDF file without entering the password.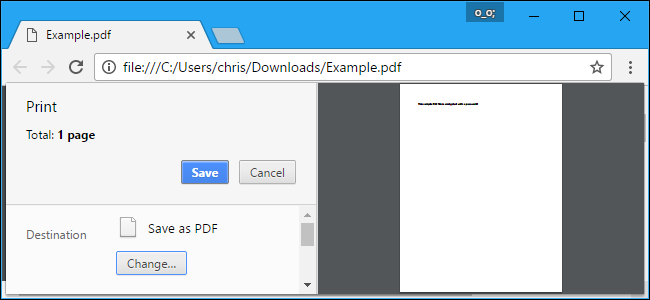 Note
Google Chrome is a very simple method to remove PDF document password so that we can open and edit it freely. However, this method won't be workable if your original bank statement is restricted from printing because the way Google Chrome achieves this goal is printing the original pdf to save a new copy of the pdf, which is clear of any restrictions, thus convenient for our daily use.
1.2. By Adobe Acrobat
Adobe Acrobat is another choice to remove PDF document password if you have the password. Follow the steps below and it will work fast:
Step 1: Make sure that the Adobe Acrobat you use is pro version (the paid version) and open it.
Step 2: Click on the "File" option on the top left corner, on the dropped menu click on the "Open" option and search for your file.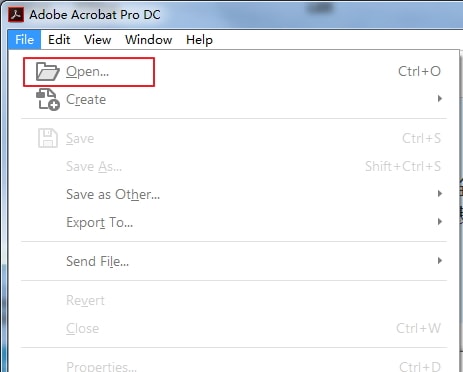 Step 3: If there is no document open password, you'll be able to open it directly. If your PDF file is protected only with an open password, just enter the open password as required. And if your PDF document is locked by both open password and permission password, either of them can open it.

Step 4: Click on the "Protect" option on the right side of your screen and you'll see 3 options showing up below the menu on the top of Adobe. Choose "More Options" and next "Security Properties".

Step 5: Beside the "Security Method", hit the drop-down button and choose "No Security". If you have only set a document open password, then you just need to confirm the change. If you have set a permission password, you need to re-enter the permission password to complete this change.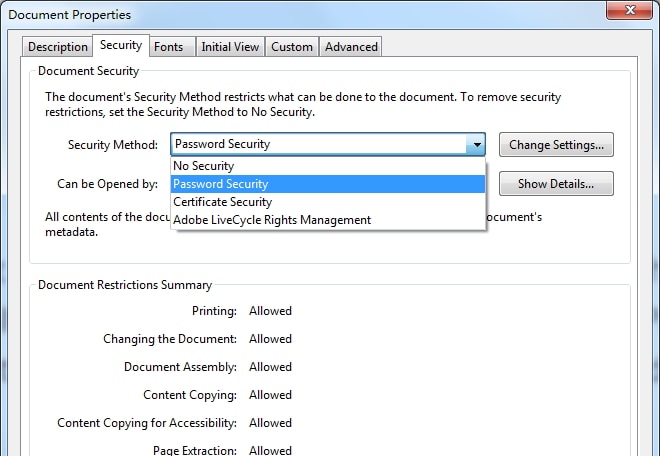 Step 6: After all these operations, save the file to apply the changes. The next time you open it, you'll find there is no password left to bother you.
Part 2. Remove Password from PDF Bank Statement without Password
In order to protect your bank statement, the password may be created in intricate pattern, which increases the possibility of forgetting it. Instead of lamenting over this issue, you can consider using some tools, which can be roughly categorized into two types, online tool and third-party tool.
2.1. Using Online Tool
A popular PDF password remover online is iLovePDF. It is a website which not only helps you remove the password from PDF document but also provides a variety of services related to PDF document which includes converting the PDF format to any other format, merging PDF documents and many others.
You can check the following guide to know how to remove password from PDF bank statement online:
Step 1: Navigate to iLovePDF official site and choose "Unlock PDF".
Step 2: Click on the "select PDF file" button and browse to the encrypted PDF document.
Step 3: Click on "Unlock PDF" button. Wait for several seconds and you will be able to edit or copy the information in your bank statement.


Note
1. iLovePDF can both remove password to view and password to edit for PDF files, but when it encounters a complicated password, you will be asked to enter the password.
2. Since it is an online tool, Internet connection is necessary. And of course, you need to upload your bank statement to remove the password and the server will save your statement for 2 hours. Therefore, if you are very concerned about privacy, an offline software will be a better choice for you.
2.2. Using Third-party Tool
As online tools bring some risks threatening file safety, to preserve privacy we can only choose professional offline software while removing password from PDF bank statement.
Passper PDF Password Remover is just such a professional offline software which provides you with the most secure and easiest way to unlock PDF files. Passper for PDF maintains the integrity of your bank statement and covers all types of PDF password including password to view and password to edit.
Key features of Passper for PDF:
It provides 4 different attack modes with smart algorithm for cracking PDF document open password. However complex the password you forget is, Passper maintains a 95% cracking success rate so that you can remove the password afterwards.

One simple click to remove all restrictions such as editing, copying and printing on your PDF file within 1 or 2 seconds with a 100% success rate.

Absolutely safe from data leakage and data loss.

Supports all versions of PDF files, including the latest PDF 1.7.
Free DownloadFor Win 10/8.1/8/7/XP
If you forget or lose the password to view your PDF bank statement, you can always turn to Passper for help. Just kindly follow the guides below:
Step 1: Download Passper for PDF and install it on your system. After installing, launch it and select the "Recover Password" option.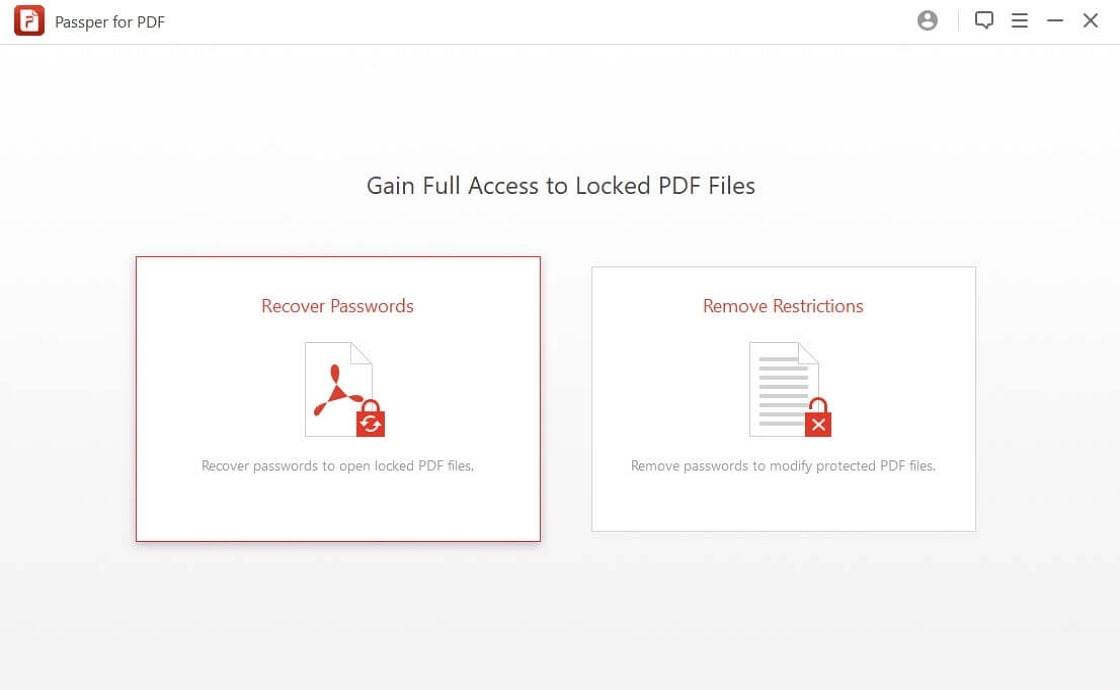 Step 2: Add the encrypted PDF file to software by browsing to the location of the file. Choose an attack type that suits you to decrypt the file.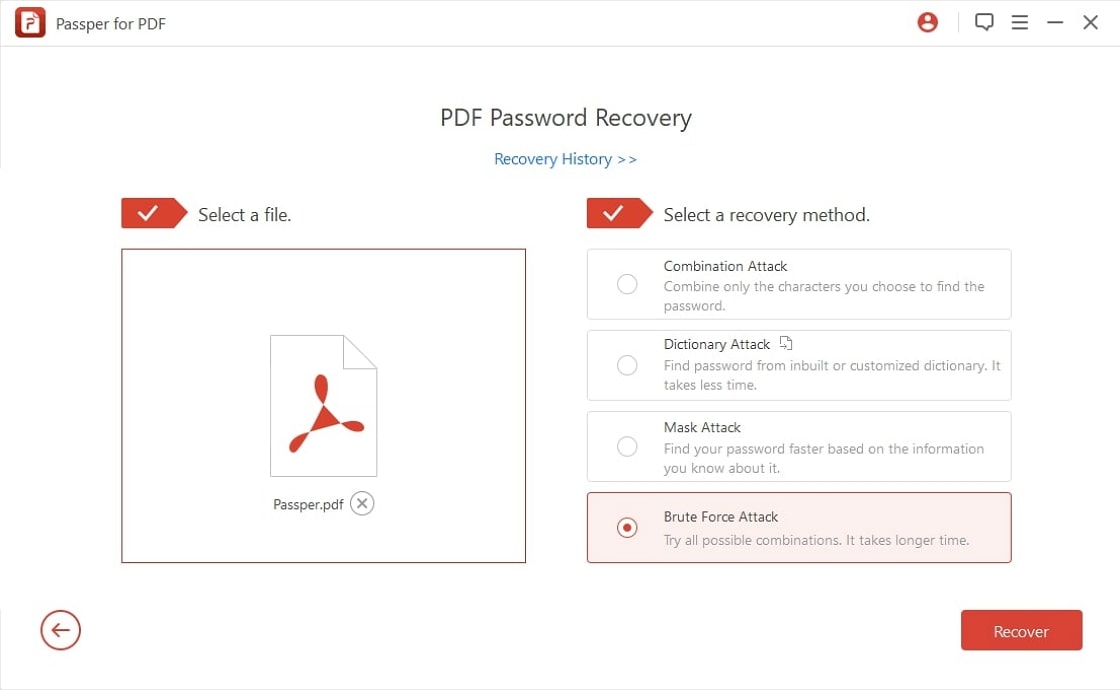 Step 3: After selecting an appropriate attack type, click on "Recover" for the tool to start working. Once the password is cracked, copy it to decrypt your PDF file and soon you can remove the password.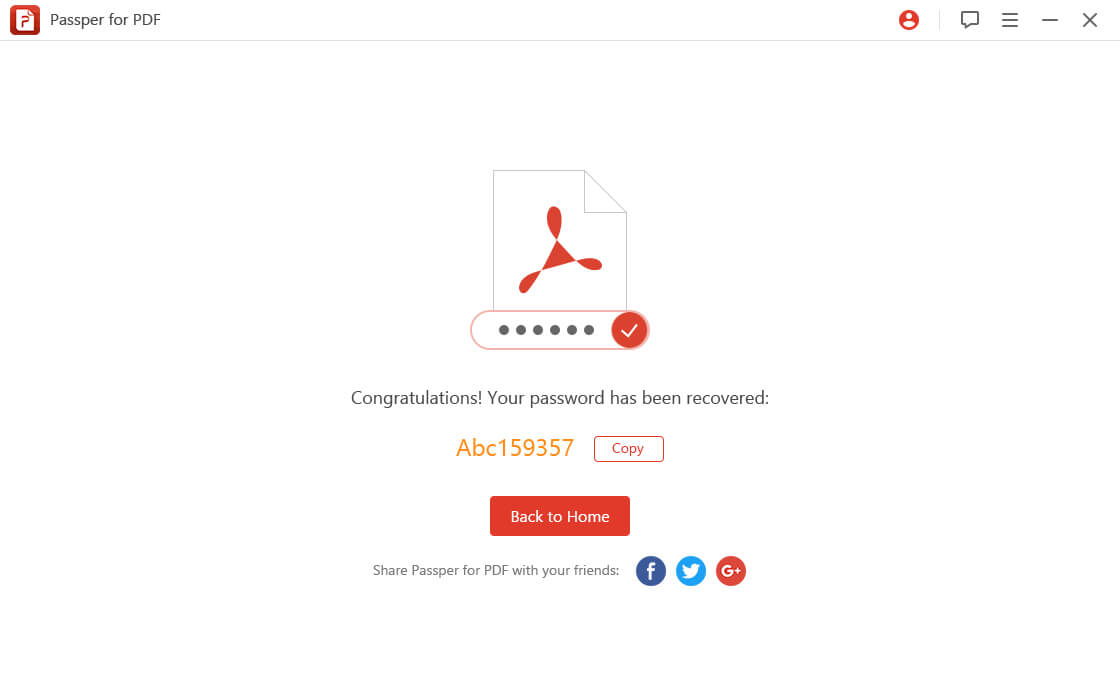 If you want to remove the password to edit your PDF files, Passper is also a tool that you can trust. Check out the steps below:
Step 1: After installing, launch Passper for PDF and select "Remove Restrictions" option.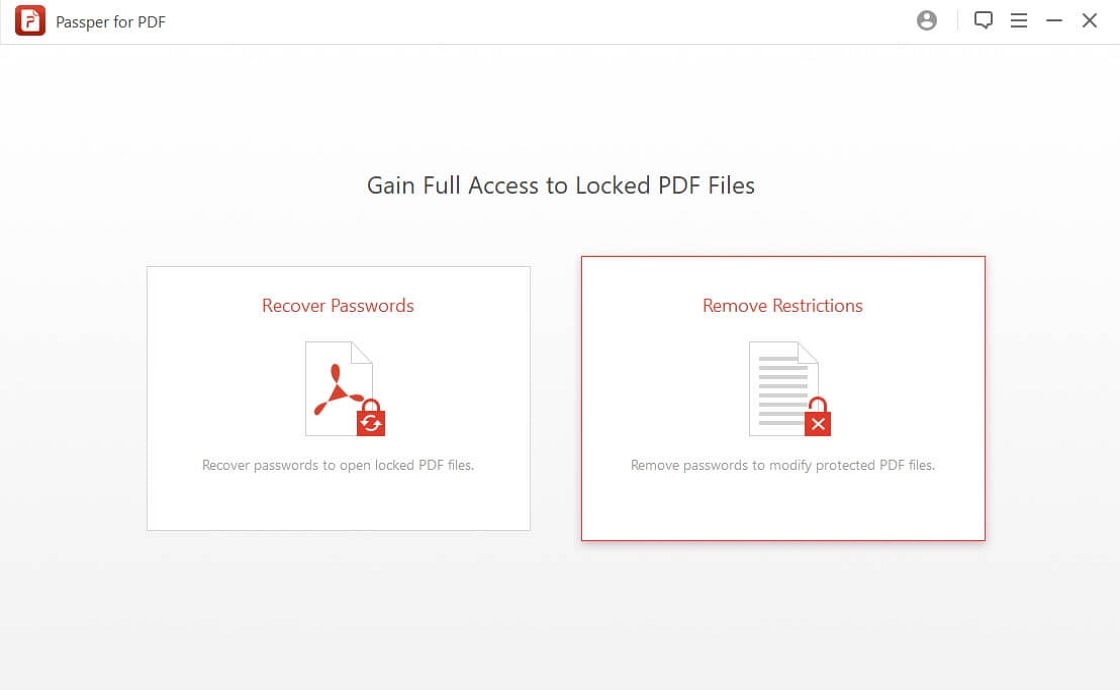 Step 2: Add the encrypted PDF file to software by browsing to the location of the file and click "Remove".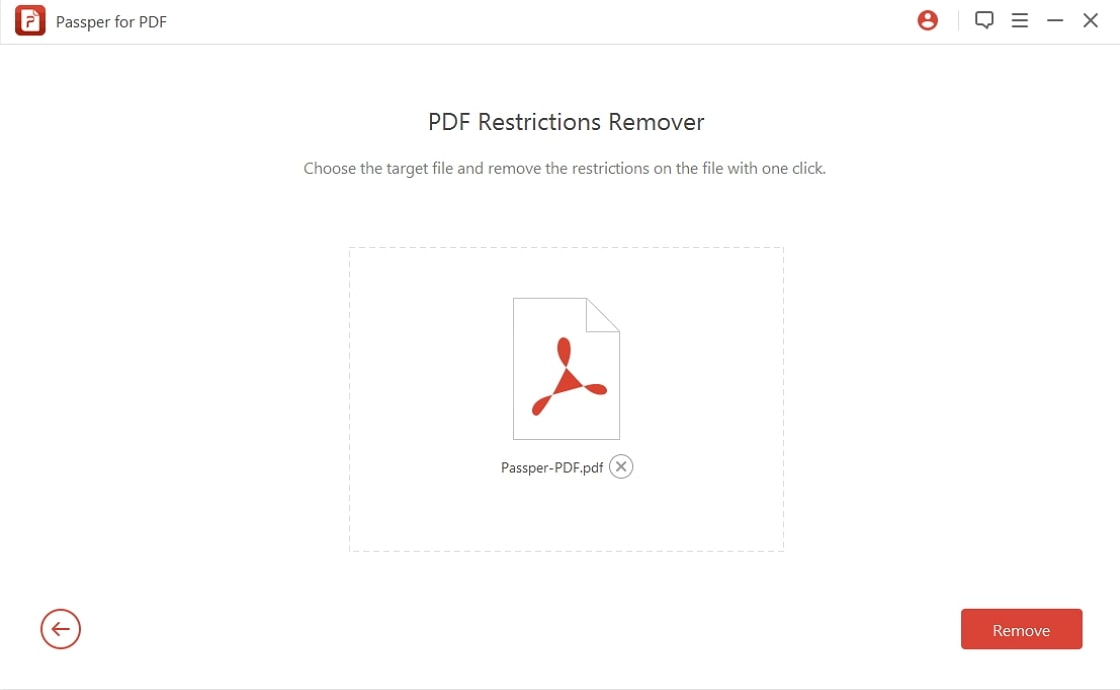 Step 3: This restriction removal process will only take 1 or 2 seconds and then you will have the edit or copy privilege to the file.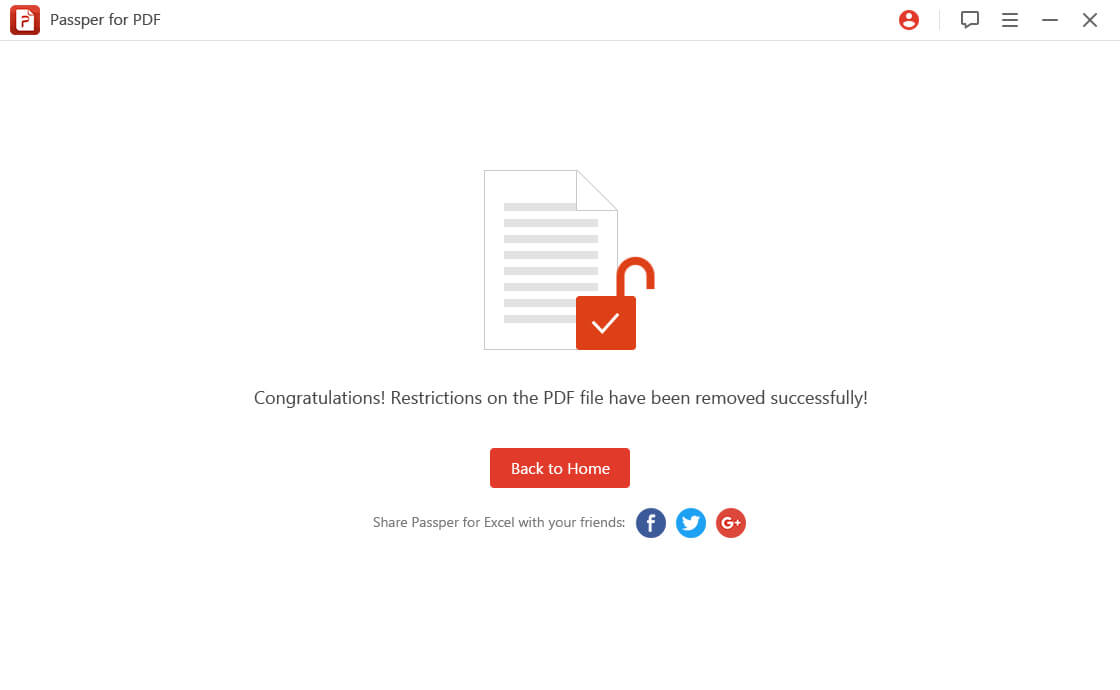 Conclusion
There are indeed more than one approach to remove password from PDF bank statement under different circumstances. With password in our hands, we can make it without much effort, while without password, we need to think twice before we decide which tool to use. Online tools pose some security risks and rely heavily on Internet connection. Passper for PDF, however, aids you in removing encryption from PDF with the highest speed as well as success rate, and at the same time guards the file security. If you need some help with your encrypted PDF document, try Passper for PDF and you won't be disappointed.