It is very common and convenient nowadays for people to download PDF files from websites for life or work use. But  sometimes difficulty arises when we want to make some edits or get PDF files printed - we are restricted and therefore unable to perform such operations. The reason is that the PDF files are secured with permissions passwords for considerations such as data security and privacy. Faced with the trouble, many people would wonder if there is any way out. And to our relief, the answer is positive. In this article,  3 different methods will be elaborated on as to give a full tutorial to remove print restriction from PDF files.
Part 1: How to Know If A PDF File Is Restricted
Owners encrypt PDF files to protect data from unauthorized usage. If a PDF file is opened and you can view the content but unable to copy, edit or print, then this  PDF file is restricted by permissions password.
To know if a PDF file is restricted or not, there is actually a clearer and more straightforward method with the help of Adobe.
Firstly open the PDF file in Adobe and check the name of the file on the top of the screen. If a file is protected there will be written "SECURED" after the file name.

And if you want to know more details about the permissions restricted, you need to check the properties of the PDF file.
Step 1: Open the PDF file in Adode.
Step 2: From "File" menu select "Properties".
Step 3: On the  pop-up window, click the "Security" tab.
Step 4: Read the "Document Restrictions Summary" to check restrictions imposed on file.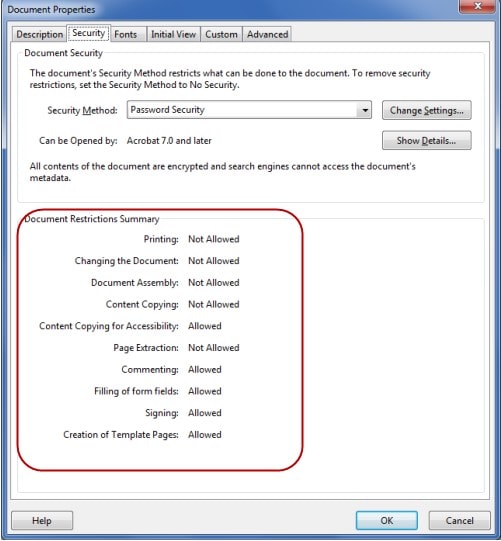 Part 2: How to Remove Print Restriction from PDF
Now that we know about the disappointing print restrictions, how can we deal with such a tricky thing, more specifically speaking, how to remove print restrictions from PDF? In the next part, two methods are introduced.
Method 1. Use Adobe Acrobat to Remove Print Restriction from PDF (Password Needed)
Adobe Acrobat provides the feature to remove print restrictions from PDF files, but it is necessary to have its pro version, which is not free.
To remove PDF restrictions with the help of Adobe Acrobat you need to follow the  steps:
Step 1: Open the PDF file from which you want to remove the print restriction in Adobe Acrobat .
Step 2: Go to "File" menu and click on "Properties".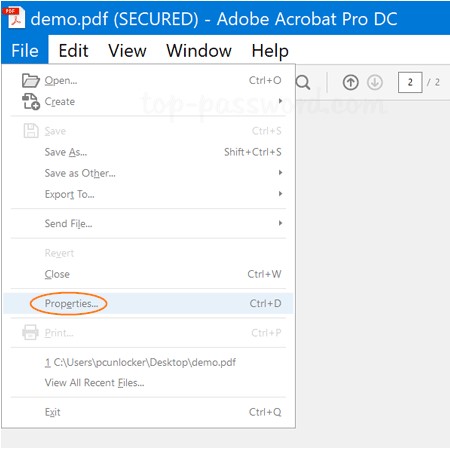 Step 3: Click the "Security" tab in the window popped-up.
Step 4: In the "Security Method" drop-down menu, select "No Security" option. Enter the permissions password as required and save your PDF file to apply this change.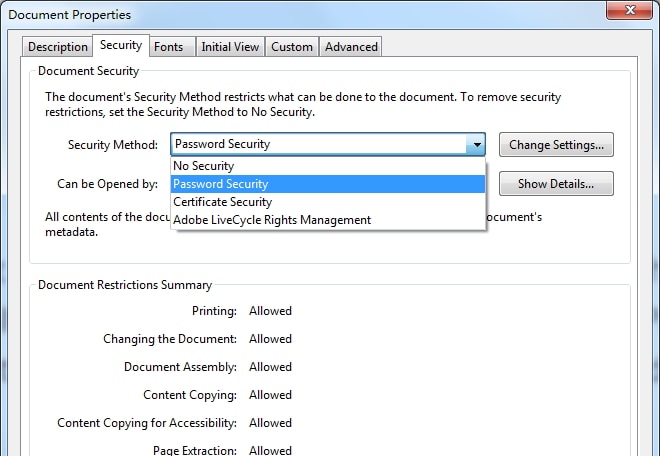 Note
1. Only Adobe Acrobat Pro (the paid version) can perform this task, neither the normal version or Adobe Reader can help us. The version requirement poses some difficulty for easy and daily use.
2. This method is based on the precondition that you actually know the permissions password of the secured PDF files, or else you just can't finish the step when you're required to enter the perimissions password.
Method 2. Use Online Tool to Remove Print Restriction from PDF (Not Fully Recommended)
One popular online tool for removing restrictions from PDF is Smallpdf. It uses Internet connection to unlock your files in the cloud. What you need to do is uploading your PDF files and waiting for them to be processed. The whole interface is friendly to users and the steps are easy.
Step 1: Select "Unlock PDF"on the homepage of the website.
Step 2: Choose or drop the encrypted PDF file in the PDF Password Remover.

Step 3: Confirm your right to the file and click "Unlock PDF" to initiate the process.
Step 4: After that, you can download the restriction-free file to print, edit and copy it as you wish.

Note
1. Every user has only 2 free daily tasks, and beyond that you need to pay to continue.
2. As Internet connection is an essential condition, the performance is not stable and sometimes  rather poor.
3. Some people would fear for possible risks after their files are uploaded to the server, i.e. information leakage.
4. The unlocking fuction has its limitations. For example, if the file is thoroughly encrypted with an opening password, you'll be required to provide the correct password.

---
On some question and answer sites, there always exist not a few worries and doubts held by users regarding unlockling pdf printing restriction.
Some complain that the unlocking function is only available in Adobe Acrobat Pro DC and they only have Adobe Reader at hand. Both programs look the same but functions differently to some degree. "So I really have to buy another version of Adobe product? Just to unlock a file of my own? I mean I know the password...I thought Adobe would be smarter than this..."
Some others in a dilemma "cry" for help when they try to remove pdf restrictions without password. "I wanted to try online tools but my file received from a client is quite confidential and I can never afford to corrupt its security. Is there any reliable tool?"
Method 3. Use Professional Software to Remove Print Restriction from PDF (Highly Recommended)
As we have discussed, both the two methods mentioned above are not perfect for solving this annoying issue. And here, for the question "Is there any reliable tool?", we have a perfect recommendation - Passper for PDF. It is a professional software which provides you with the securest and easiest way to remove restrictions and recover passwords from PDF files. For those who expect to remove print restriction from PDF without password and pursue absolute safety, Passper for PDF is the best option without question.
Features of Passper for PDF are as follows:
Multifunctional: Capable of removing permissions password directly and recovering  the lost or unknown opening password first for later removal.
Absolute safety: It doesn't require any Internet connection and never sends anything concerning privacy to its server. Therefore no data leakage will occur and your PDF file's integrity is guaranteed.
Highest success rate: All restrictions can be removed by using Passper for PDF with a 100% success rate.
Fast speed: Remove all restrictions on PDF files within 1 or 2 seconds.
Easy to use: With a user-friendly interface, it only needs 1 simple click to get the work done.
Compatibility: Supports PDF files created by all versions of Adobe Acrobat or other PDF applications.
Download Passper for PDF and install it on your system. Then follow the steps listed below to remove print restriction from PDF file:
Free DownloadFor Win 10/8.1/8/7/XP
Step 1  Launch Passper for PDF and select the "Remove Restrictions" option.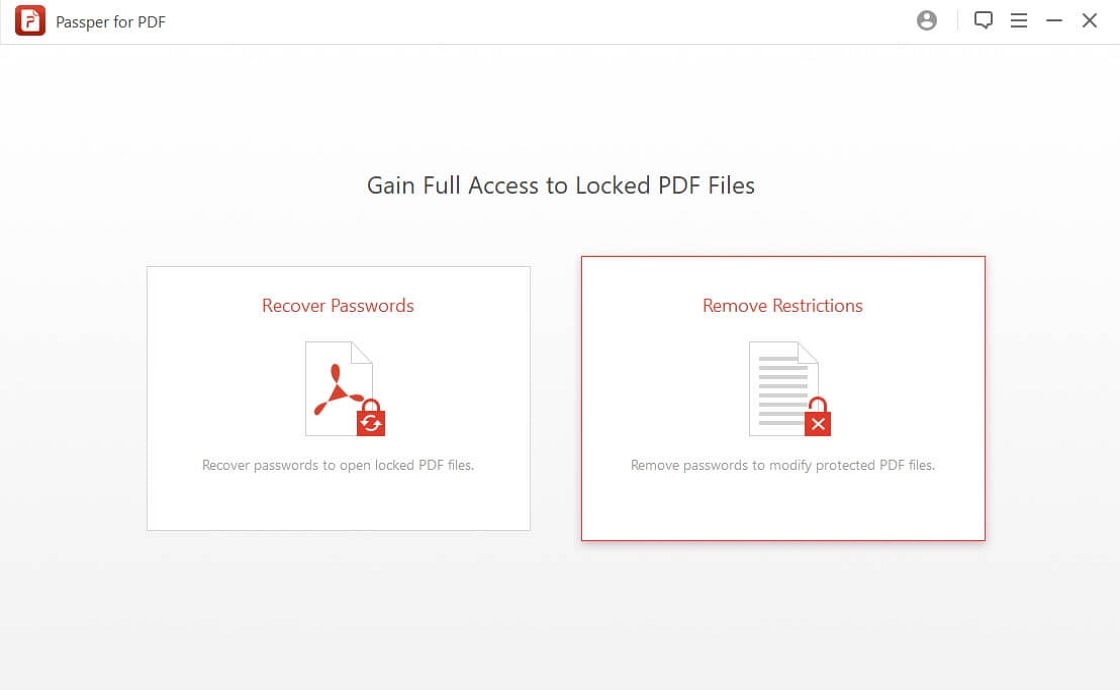 Step 2 Add the encrypted PDF file to the software by browsing to the location of the file and click "Remove".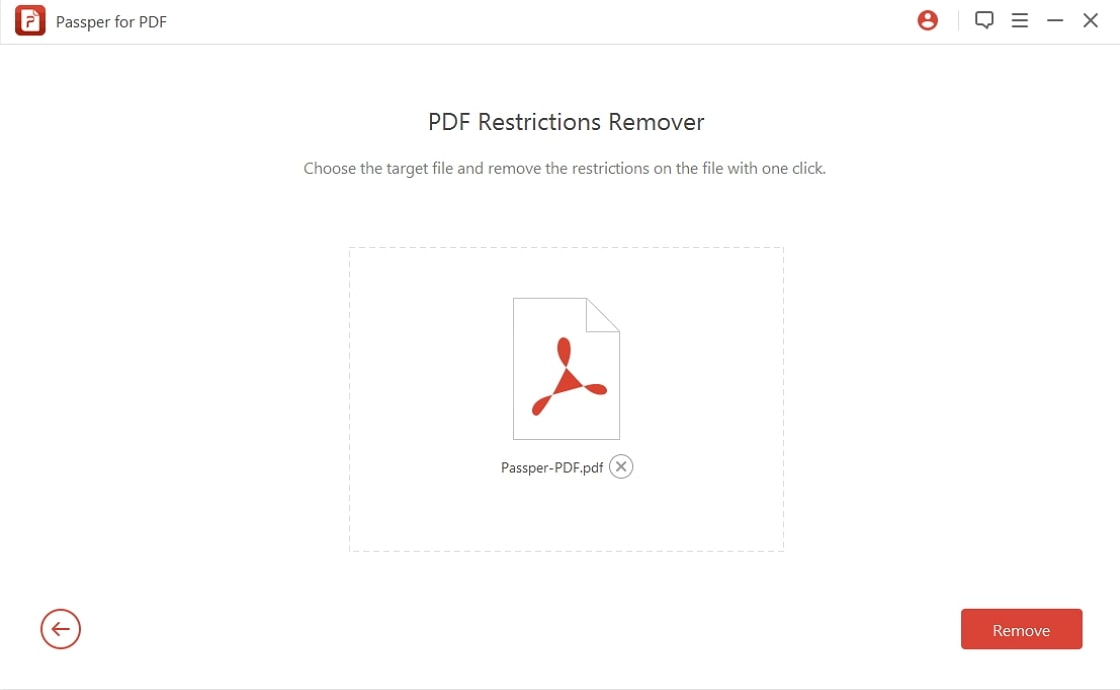 Step 3 In just 1 or 2 seconds, all restrictions will be removed, and you will have the right to print the file.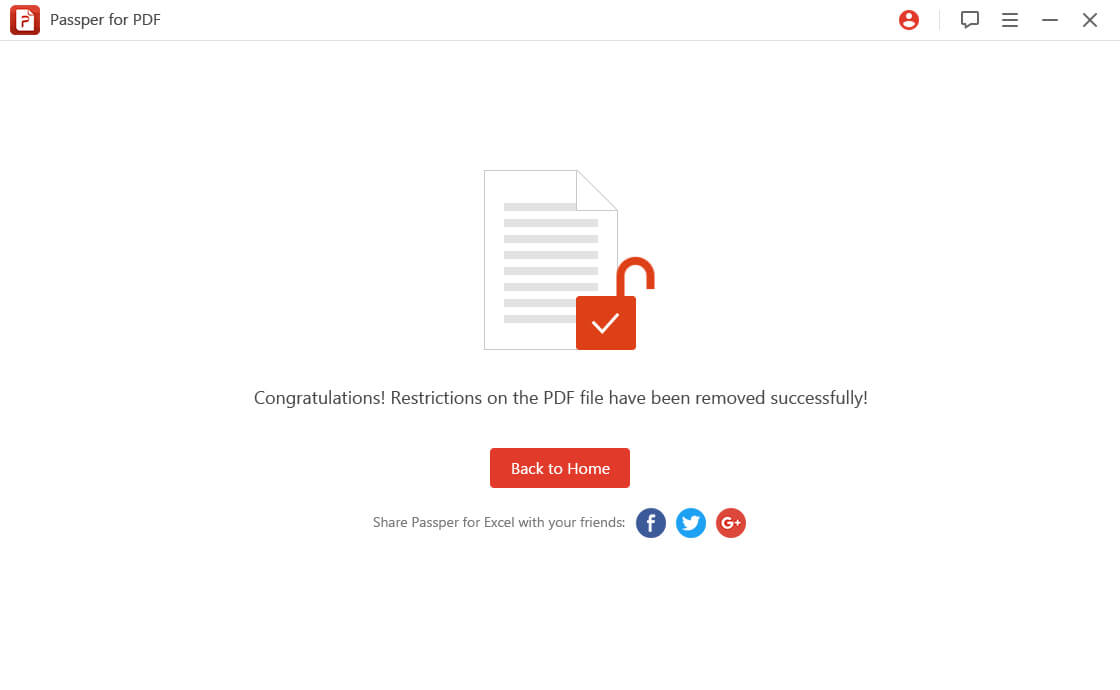 Tips: If You Are Locked Out of A PDF File, How to Access
Owners lock PDF files so that no one can open or view the content of the file without password. This type of encryption or password is called document open password and it's not easy to remove theoretically. However, with powerful Passper for PDF, you can make it without much effort. It can recover almost all the lost or forgotten passwords at the top speed as supported by the CPU and GPU acceleration technology.
Listed below are the steps to recover PDF opening password:
Step 1 After installing, launch Passper for PDF and select the "Recover Password" option.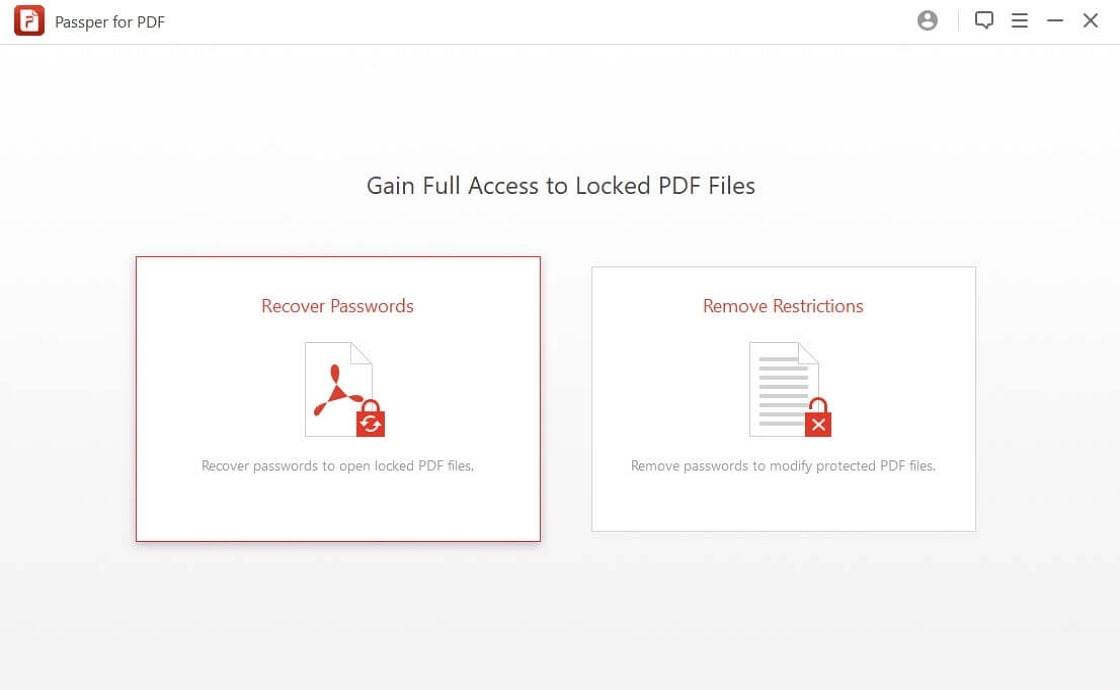 Step 2 Add the encrypted PDF file to the software and choose an attack type that suits you the best to recover the password.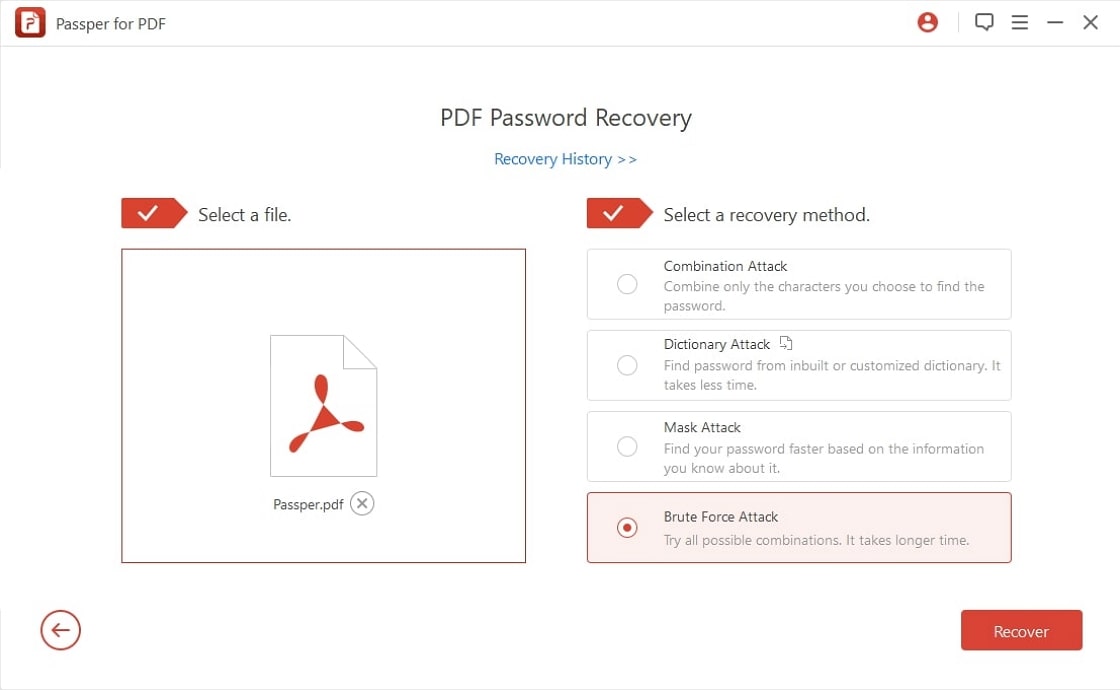 Step 3 After deciding on which attack type to select, click on "Recover" to start the process. Once the password is found, it will be displayed on the interface for you to copy and access your PDF file.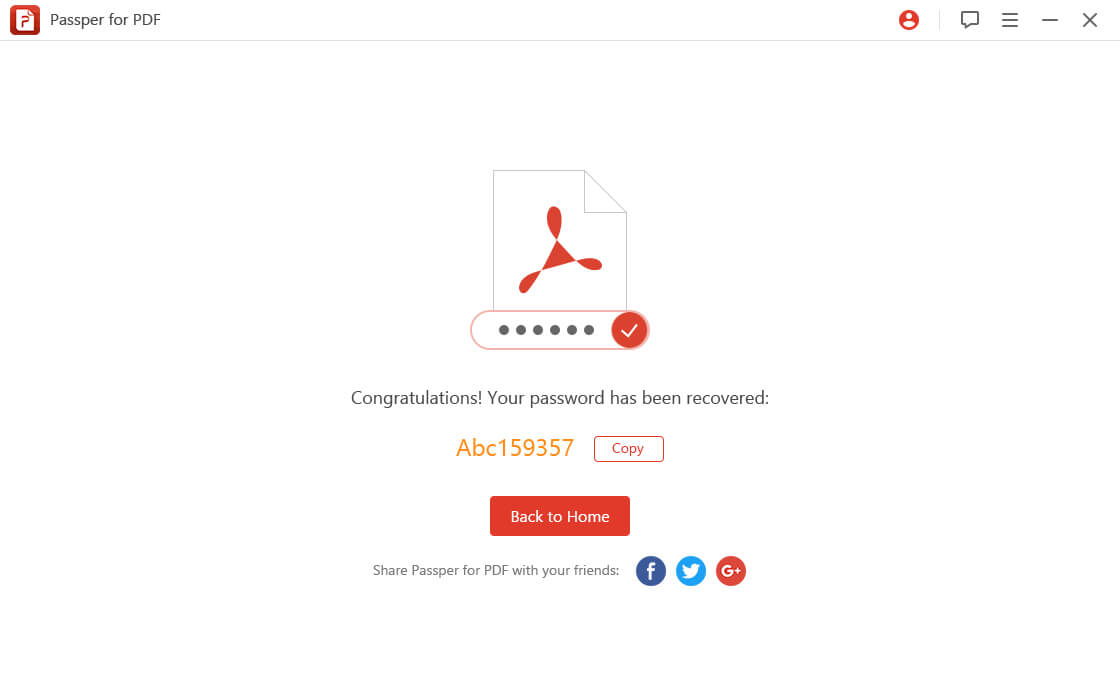 Conclusion
Securing PDF files with a permissions password is the best way to prevent unwanted modification. But what if you cannot recall the password of a PDF file but still want  to copy or print the file content? You can turn to Passper for PDF for help in view of some quite obvious pitfalls  with other methods. As the best and most convenient software for removing PDF restrictions, it won't let you down.