It could turn bad if you cannot open your PDF file or make needed changes simply because you have forgotten the password or is restricted. If the document is urgent and crucial, the mayhem will stress your nerves like never before. Scores of people have mastered the art by using Advanced PDF Password Recovery. In this article, we will take you through a thorough review of Advanced PDF Password Recovery and recommend a best alternative to you.
Part 1: Full Review of Advanced PDF Password Recovery
Advanced PDF Password Recovery is an excellent tool specially designed to help unlock encrypted PDF documents and get rid of PDF restrictions like printing, editing, and copying. With the help of configurable attacks, users can seamlessly retrieve their original PDF passwords with ease and speed. Whether your PDF was encrypted with 40-bit, 128-bit RC4, or 256-bit AES encryption, Advanced PDF Password Recovery will decrypt them without trouble.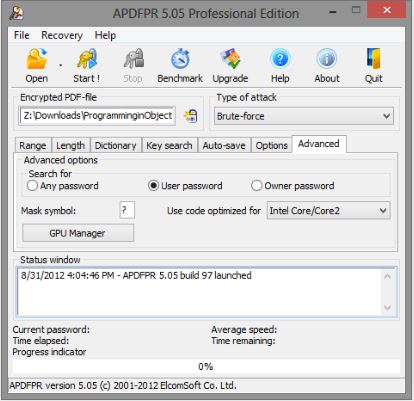 Now, let's check some advantages and disadvantages of Advanced PDF Password Recovery.
Pros
With the help of Thunder Tables Technology, it can break 40-bit encryption within minutes.

It can remove digital signatures, JScript code and form fields.

The removal speed is truly fast.
Cons
It only adopts Dictionary Attack and Brute Force Attack. Therefore, the success rate is lower than other competitors.

The interface is in old fashion and not user-friendly.

The "password to open" can only be recovered in Pro and Ent versions.

Multi-processor and multi-core is only available in standard version, and is only for PDF files that use 256-bit encryption.

The program only supports English now.

Once you minimise the screen of the program, it's icon will disappear from the Taskbar and you need to launch the program again.

The lastest update of the program was published in 2018.
Part 2: Frequently Asked Questions about Advanced PDF Password Recovery
2.1 How to Unlock PDF File with Advanced PDF Password Recovery?
Unlocking PDF files with the help of Advanced PDF Password Recovery is not a complicated process. With a few steps, be sure to complete your task seamlessly. Let's dig into these steps below.
Step 1: Launch Advanced PDF Password Recovery on your computer.
Step 2: Click on the "Open" icon in the menu bar. From the file explorer window, select the file you want to want to unlock and hit "Open." The program will throw a dialog box requiring you to enter a password. If you don't know the password, just click on the "Cancel" button.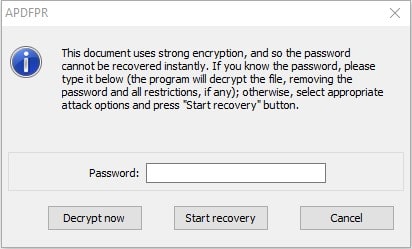 Step 3: After uploading the file, click on the "Type of Attack" drop-down icon to choose the desired attack mode. Make other relevant settings as per your need. Then click on the "Start" button to begin the recovery process.
2.2 Is It Possible to Get Free Advanced PDF Password Recovery Registration Code?
This question is arguably one of the most common questions fronted by potential users on the blog. Unfortunately, Advanced PDF Password Recovery does not offer a free registration code. If you happened to find some websites offer free registration code or cracked version of Advanced PDF Password Recovery, please avoid using them. It will be better to purchase a serial key to use the program.
Part 3: Best Alternative to Advanced PDF Password Recovery - Passper for PDF
As you have seen above, Advanced PDF Password Recovery is a good tool but has other shortcomings that would prove to suck. To fill this niche, you need no better tool than Passper for PDF.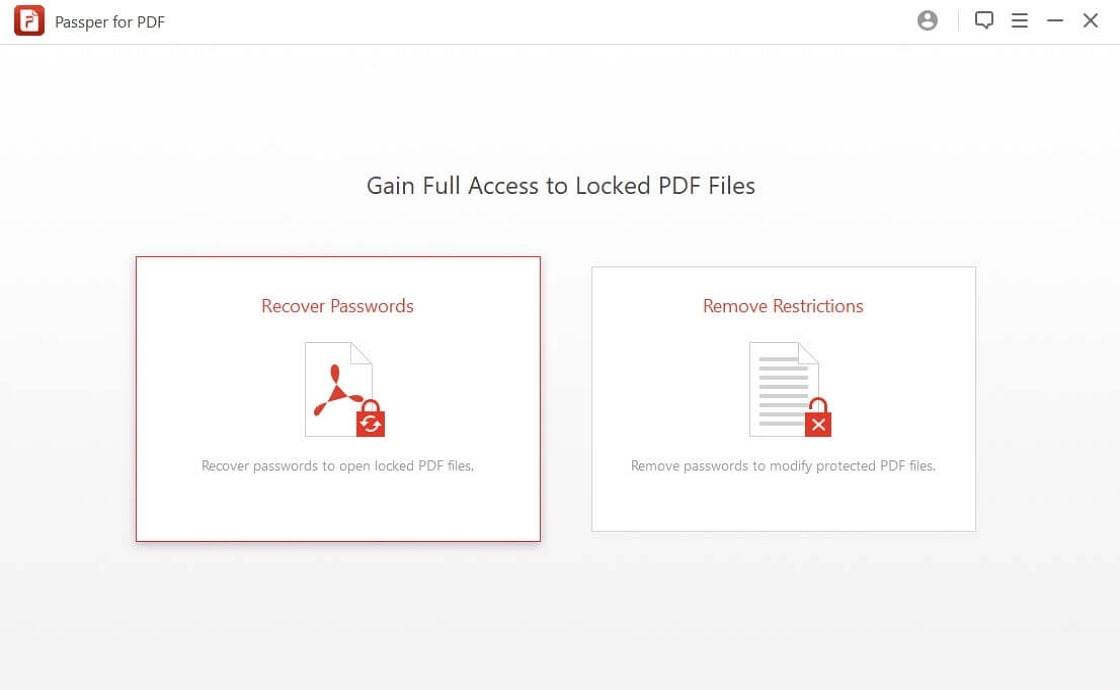 3.1 Introduction of Passper for PDF
Passper for PDF is a powerful program that makes it super easy and safe to recover PDF passwords and remove any restrictions within 3 simple steps. Some of the major highlights of Passper for PDF include:
Based on the advanced algorithm and 4 customized recovery modes, the success rate is higher than other competitors.

All restrictions including edit, copy print and comment on PDF files can be removed instantly with 100% success rate.

The interface is user-friendly and easy to use. Additionally, it supports multi-language.

Passper team concerns your data security. There won't be any loss or damage of your data during/after the unlocking process.

The program has a full compatibility. All versions of Adobe are supported by the program, irrespective of the encryption type.
Passper is the sub-brand of iMyFone, which is a high tech company that has been trusted and recommended by some famous sites like Macworld, PCWorld, makeuseof, techradar and etc. Don't hesitate to try it!

3.2 Why Passper for PDF Is Better Than Advanced PDF Password Recovery
As aforementioned, Advanced PDF Password Recovery is a good tool, but Passper for PDF is way much better. There are several grounds that Passper for PDF outshines Advanced PDF Password Recovery, as elaborated in the table below.
| | | |
| --- | --- | --- |
| | Advanced PDF Password Recovery | Passper for PDF |
| Recover Opening Password | | |
| Remove Restrictions | | |
| Recovery Mode | 2 | 4 |
| Ease of Use | simple but a bit lengthy | very easy to use |
| Speed of Password Checking | 390p/s | 1000p/s |
3.3 What You Can Benefit from Passper for PDF Subscription
Have you decided to download Passper for PDF and subscribe for it? Subscribing for Passper for PDF comes with immense benefits. These benefits are outlined below.
Enjoy full features - When you purchase Passper for PDF, you are given unlimited access to the assortment of features enriched. And there is no limit to the number of PDF files you want to recover or remove password.
30-day Money-Back Guarantee - When you pay for Passper for PDF, you are always given a 30-day grace period to claim your money back if the software does not meet the standards you expected or fails to solve the problem that made you purchase it. Provided the 30 days after the purchase hasn't expired, you can easily ask for a refund.
Free Lifetime Update - Updates are meant to improve the performance of Passper for PDF, and the program keeps rolling out updates whenever it is necessary. You will always get live updates if there is any new release or a newer version of Passper for PDF plan without chucking out any penny.
Professional Technical Support - Passper for PDF has a fantastic 24/7 technical support team. If you subscribe to Passper for PDF, you are given priority if you need any technical assistance. The customer service will always be available to respond and offer solutions to your issues regarding the Passper for PDF. So you don't have to panic whenever you meet any technical issues. Just contact them, and be sure to nail down your issues.
Free Download for Win 10/8.1/8/7/XP
3.4 Special Gift: 20% Coupon Code for Passper for PDF
We would like to give you a 20% discount if you have decided to subscribe for Passper for PDF today.
20% off Coupon Code: PP-WZ-DM
Now, you can follow the steps below to get Passper for PDF with coupon code.
Step 1: Choose the purchase plan and click the purchase link under below: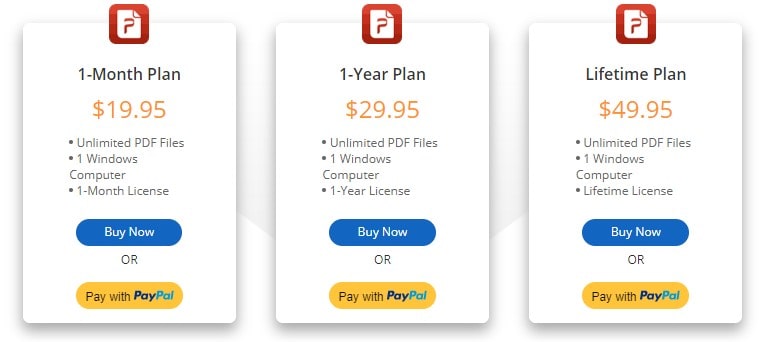 Step 2: The order page will automatically provide you with a discounted price. Next, fill in the details of the payment and billing option to complete the purchase.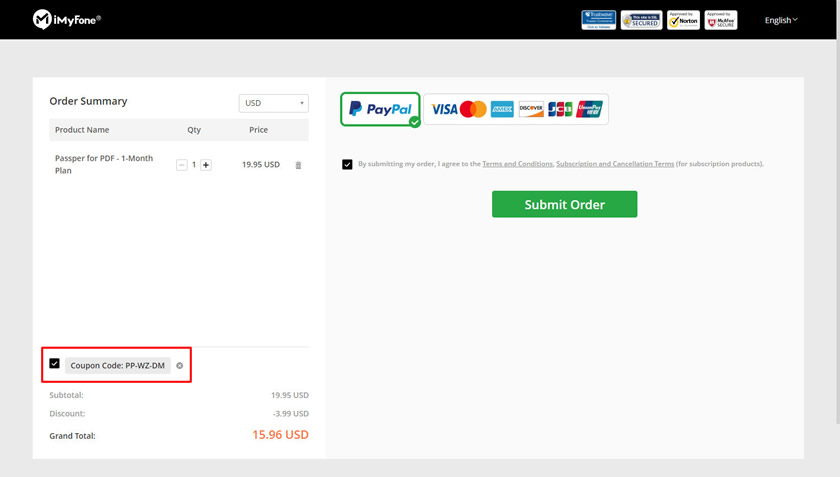 Step 3: If the coupon code doesn't come to effect, you can enter the coupon code manually. Click on "I have a discount coupon" then enter the coupon code 'PP-WZ-DM' displayed above. Click 'Apply' to take effect.