I have a password-protected Excel file but I forgot the password to access it. How can I crack the password without using any software?
It could be hell when you can't access or edit an urgent and important Excel file just because of the forgotten password. Before you admit defeat, let me take you through some of the best ways to crack Excel password without software and access your file again.
Part 1: How to Crack Excel Password without Software
How to crack Excel password without software can be an uphill task, but the fact that there is no installation requirement makes it a good option. There are plenty of ways to crack Excel password without using software, but they vary in complexity and success rates. Nevertheless, they are still worth giving a try because they can save you some penny. With that said, let us dig deep into some of the plausible methods to crack Excel file password without software.
1.1 Crack Excel Password Online
Password-Online Recovery is a comprehensive password recovery tool for various types of documents. The good thing about this tool is that it doesn't tamper with the original formatting of your file and that you only need to pay when the decryption is successful. It is compatible with all major devices and operating systems and is thus a good tool to crack Excel password online.
Step 1: Navigate to the official page of Password-Online Recovery by using any browser.
Step 2: Click the "Upload your encrypted file" button. Browse for the password-protected Excel file you want to crack and click "Open" to upload it.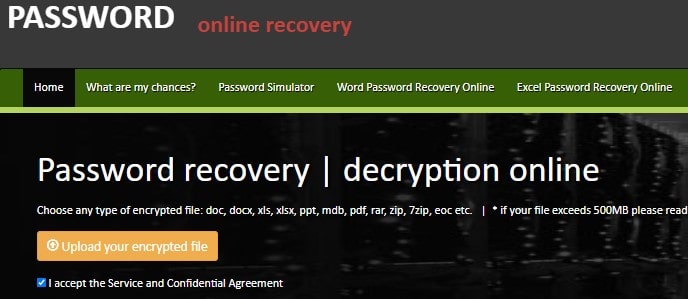 Step 3: The program will decrypt the file and when it is done, make the payment and click on the "Get results" tab to fetch your cracked Excel file.

Note
Being an online service, Password-Online Recovery requires you to upload your encrypted Excel file to crack the password. Considering your data security, I do not recommend you to choose online service when your Excel file contains confidential information.
1.2 Crack MS Excel Password via Google Sheet
If your Excel worksheet/workbook is protected from being edited, then you can crack Excel sheet password without software by using Google Sheet. This method is free and legit. However, you need to back up your Excel sheet to avoid cases of data loss. The steps below illustrate how you can easily crack MS Excel password via Google sheet.
Step 1: Navigate to Google sheet and sign in via your email account.
Step 2: Hover your cursor over the "File" menu and select "Import" from the drop-down list.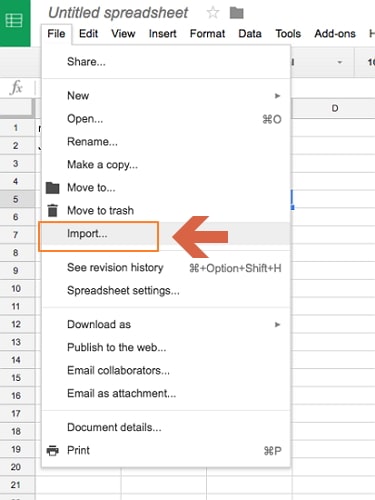 Step 3: The "Import file" dialogue box will be displayed on the next window. Locate and click the "Upload" tab then chose a convenient way to upload your Excel file.
Step 4: When the protected file is uploaded, you will be prompted to make some choices. Select the "Replace spreadsheet" and subsequently hit the "Import data" button. The protected Excel sheet can be edited now.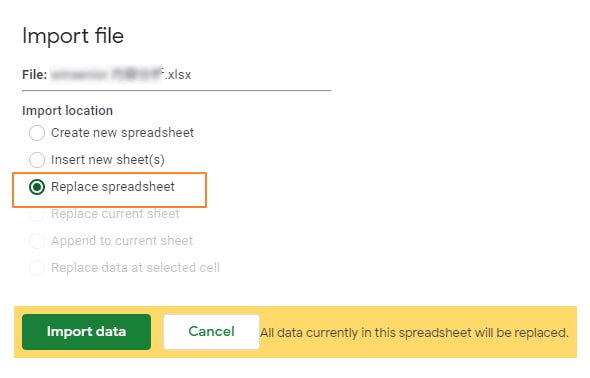 Step 5: Finally, you need to download this editable file to your computer. To do so, simply go to "File" then "Download As" and choose "Microsoft Excel".
1.3 Crack Excel File Password by Changing File Extension
Before we proceed, it is important if you understand that Excel files are a compilation of several XML files stacked together. This means an Excel file is simply a zipped file. To modify these files as we would do with password cracking, you need to change the file extension from XLSX to ZIP. After modifying the file, you have to revert it to .xlsx. This way, you have cracked the Excel file password by simply changing the file extension. So let's see how we can seamlessly do this.
Step 1: Open the File Explorer window and locate the password-protected Excel worksheet.
Step 2: Change the file extension to .zip. The program will then prompt you whether you want to make the change. Click "Yes" to allow the file extension change.
Step 3: Now click on the "Extract" tab within the explorer window and choose "Extract all". Extract the ZIP file to the desired folder.
Step 4: After extracting the ZIP file, open the folder labelled "xl" and subsequently locate the "sheet.xml" file. Right-click on this file and choose "Open with". Select either Notepad or WordPad.
Step 5: When the selected program opens the XML file, identify the "sheetProtection" code section and delete it as shown below.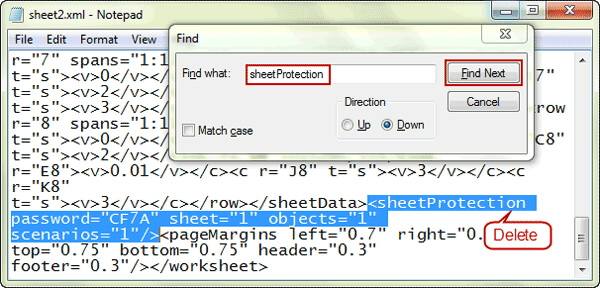 Step 6: After deleting the protection code, go back and select all the files you extracted from ZIP. Right-click on them, choose the "Send to" option, and select "Compressed (zipped) folder" as shown below. Finally, change the ZIP extension back to .xlsx.

Note
This method is a little bit complicated if you are a novice user of a computer. And according to my test, it only works for Excel 2010. So, if you fail to use this method, please consider other options in this article.
1.4 Crack Password Protected Excel File with VBA Code
This method involves the use of Visual Basic scripting language to bypass the Excel password checking mechanisms and crack the Excel password. Ideally, we are fooling the program via a VBA code to allow us to edit it. This method can either give you a temporary password to unlock the password-protected Excel file or will enable you to edit the file directly. It is suitable for single sheets because multiple worksheets will require that you run the code again and again for each sheet. What's important, it can only crack numeric password. With that said, let us dive into how to crack password protected Excel file with VBA code.
Step 1: Open the protected Excel worksheet and access the VBA editor using the Alt + F11 commands on your keyboard.
Step 2: On the toolbar, click the "Insert" button and select "Module" from the drop-down menu.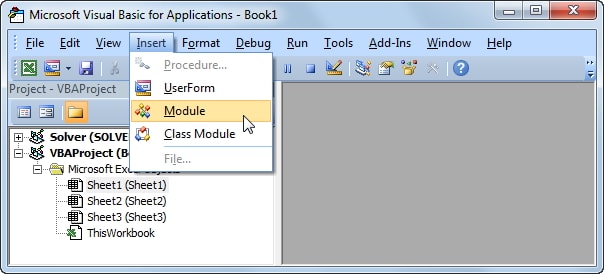 Step 3: A Microsoft Excel Workbook module window will be displayed. Within the General window, enter the following VBA script code.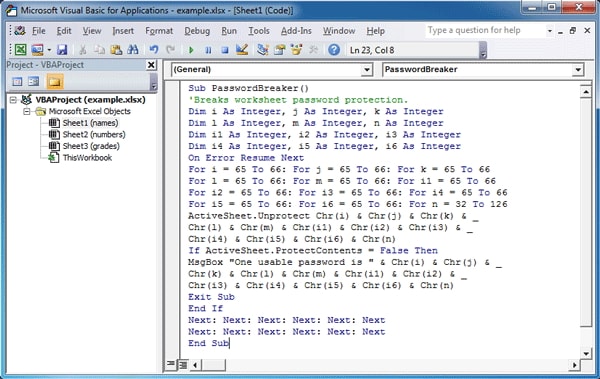 Step 4: Now hit the "Run" button or simply press the F5 key to trigger the process of cracking your worksheet/workbook password.
Step 5: The program should finish the process within a few moments and display the sheet password on a small notification window. Click "OK" and you will be able to edit your Excel worksheet/workbook.
Part 2: What If You Can't Crack Excel Password without Any Software
As you have seen above, most of the options to crack Excel password without software are complicated and register low success rates. If you are looking for a more effective and easier solution, I would like to recommend Passper for Excel to you.
Why does Passper for Excel stand out?
Passper for Excel is a powerful program that offers 4 powerful and customized password decryption techniques to crack Excel opening password.

All Excel worksheet/workbook/VBA Project passwords can be cracked instantly with 100% success rate.

Passper team concerns your data security. It promises that there won't be any loss or leakage of your personal data.

The tool is truly easy to use. Whether you are a computer newbie or an expert, you can crack Excel password with 3 simple steps.
Passper for Excel has received many positive reviews on Trustpilot or via Passper support  center. Do not hesitate to try it now!
User review on Trustpilot:

User review via Passper support center: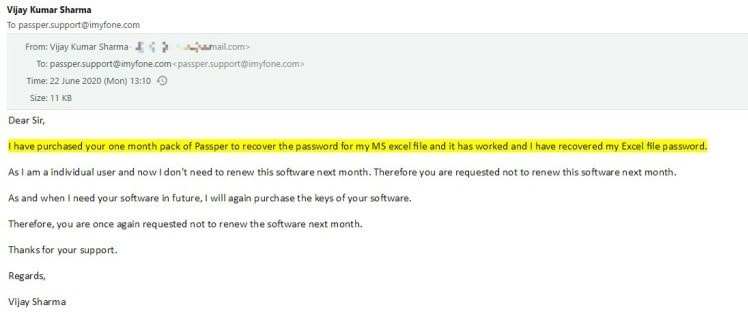 2.1 Crack Excel Password to Open File
Step 1 Run Passper for Excel program on your device and choose the "Recover Passwords" option on the main interface.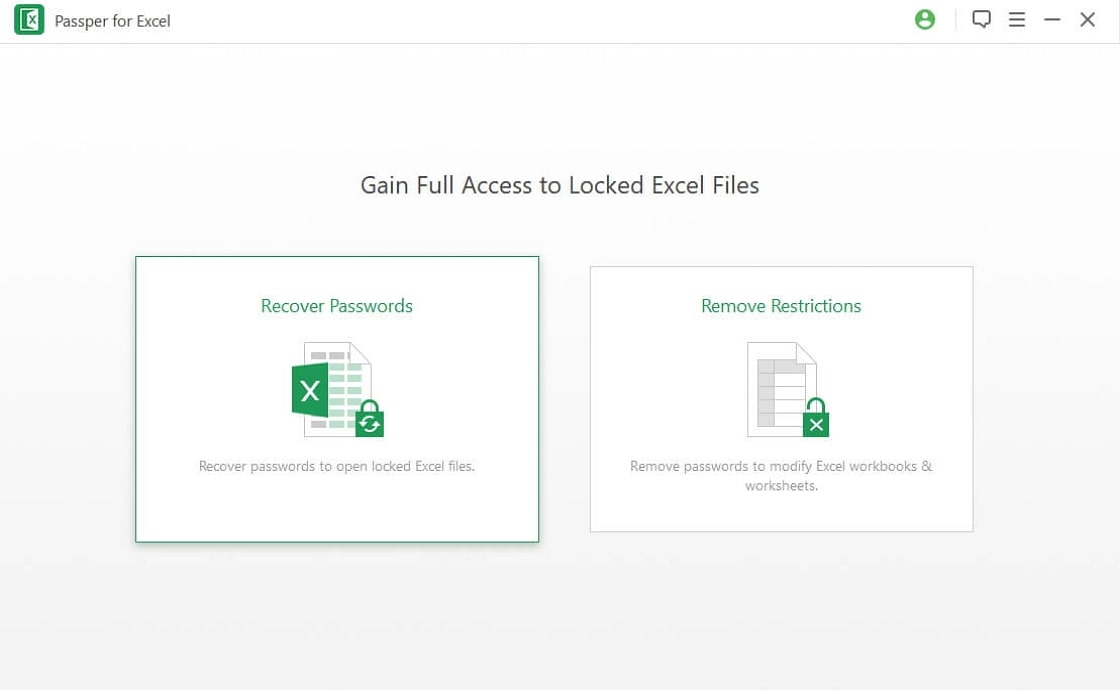 Step 2 Click the "Add" button to select the Excel file you wish to crack its password and click "Open" to upload it to the program. When the file successfully uploads, choose a suitable password recovery mode. You can choose either of the Combination Attack, Dictionary Attack, Mask Attack, and Brute Force Attack. If you are not sure how to choose the mode, you can click here to learn more.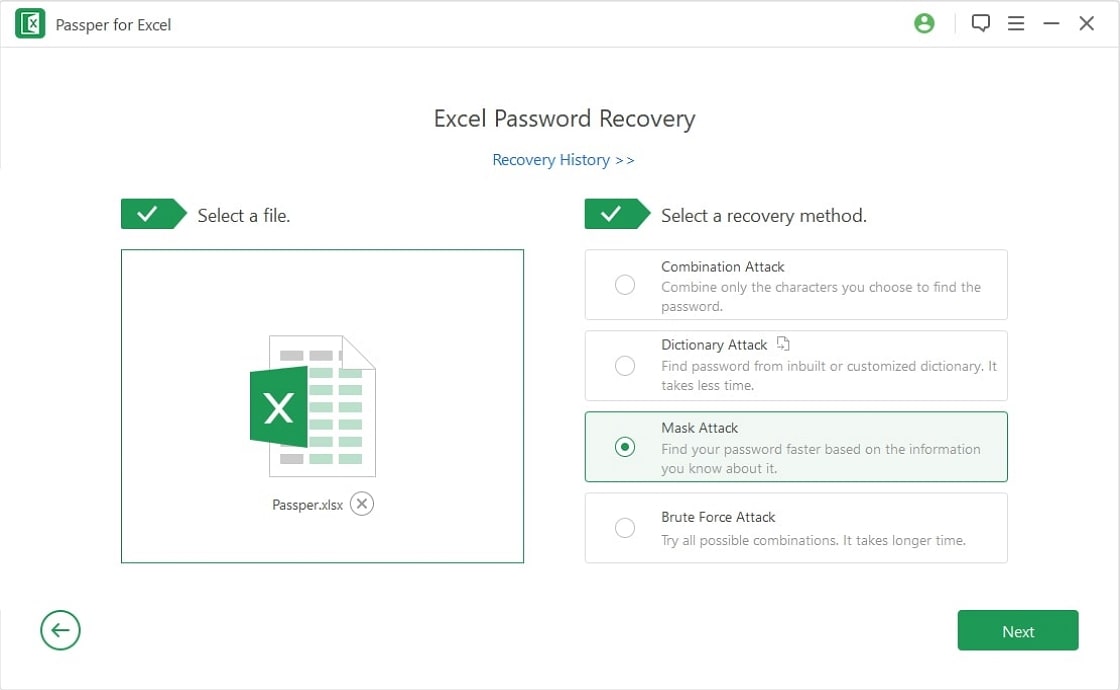 Step 3 After choosing the suitable password recovery method, click "Next" to proceed. From the subsequent window, hit the "Recover" button to trigger the process of cracking your Excel password. When the recovery is complete, the program will display the password on the background. Copy or write down the password then use it to access the password-protected excel file.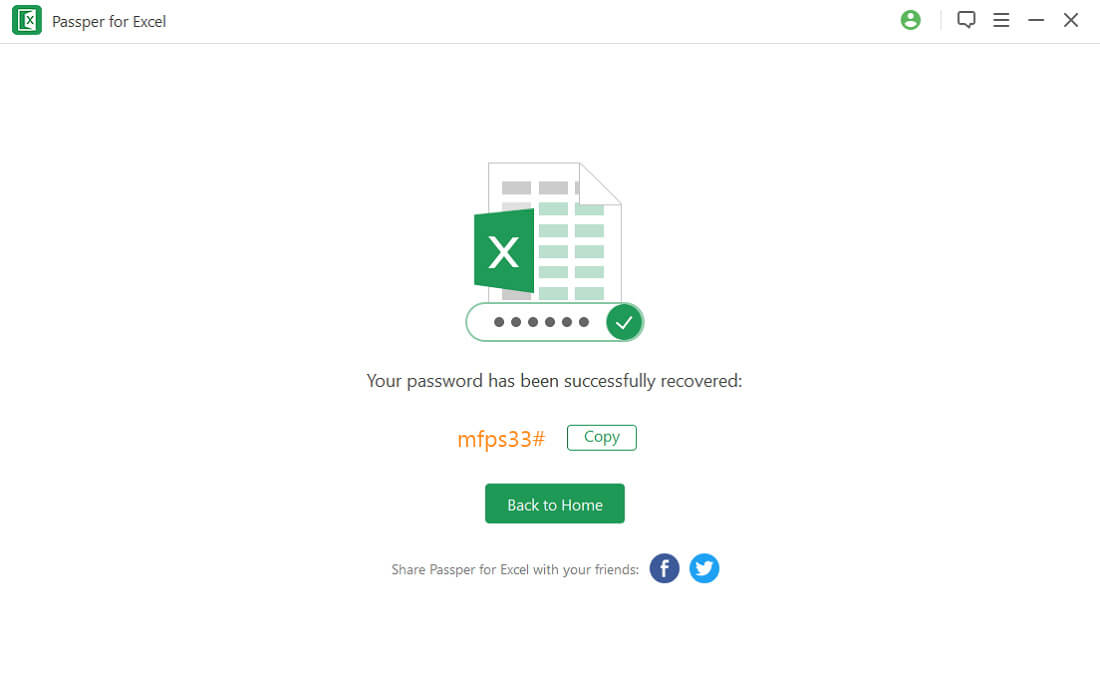 2.2 Crack Excel Password to Modify Worksheet/Workbook
Step 1 Run Passper for Excel and select "Remove Restrictions" option.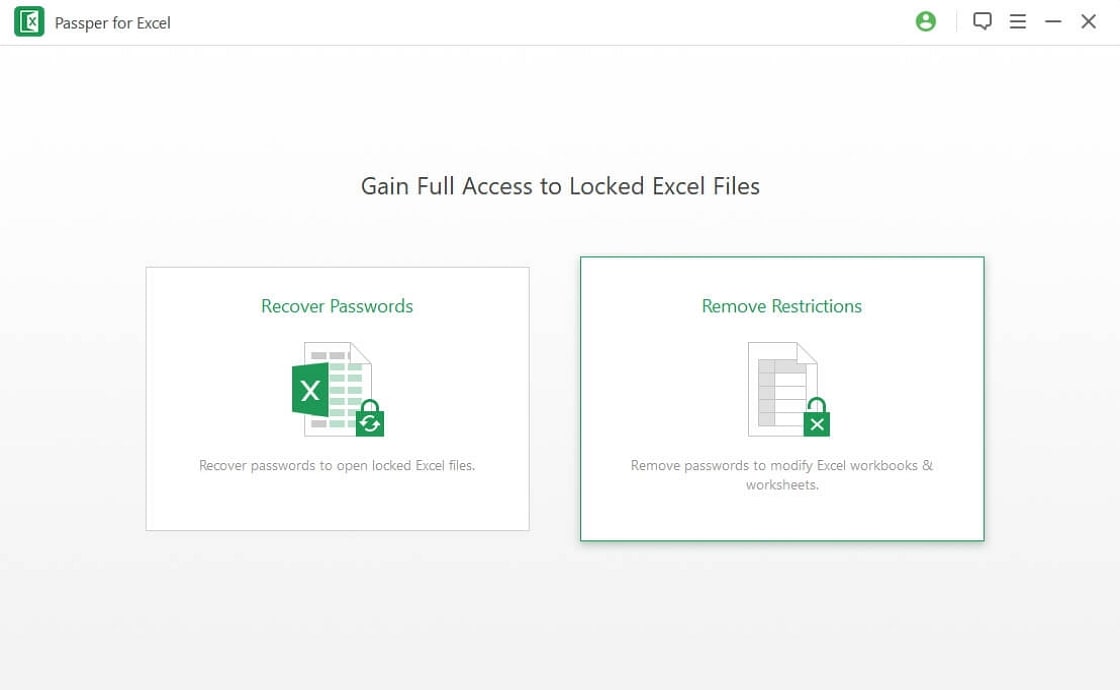 Step 2 Click the "Select a File" tab, and browse for the restricted Excel worksheet/workbook you want to modify and click "Open" to import it to the program.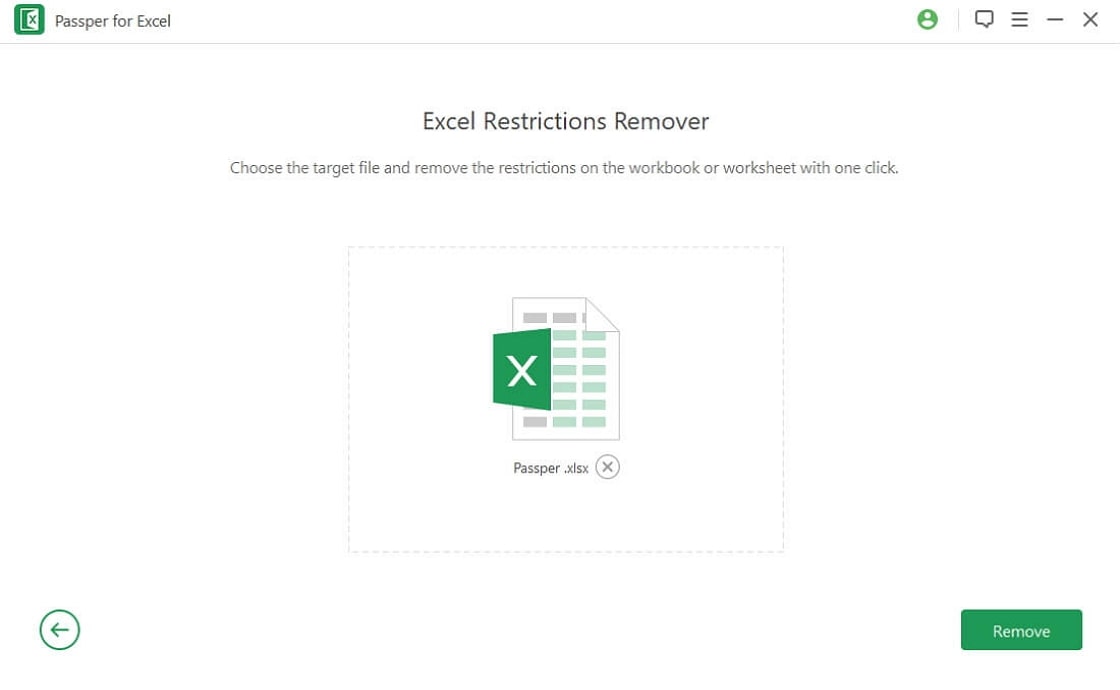 Step 3 Now, click the "Remove" button to get rid of all the formatting and editing restrictions. It will only take a few seconds for the program to remove these restrictions on your Excel worksheet/workbook.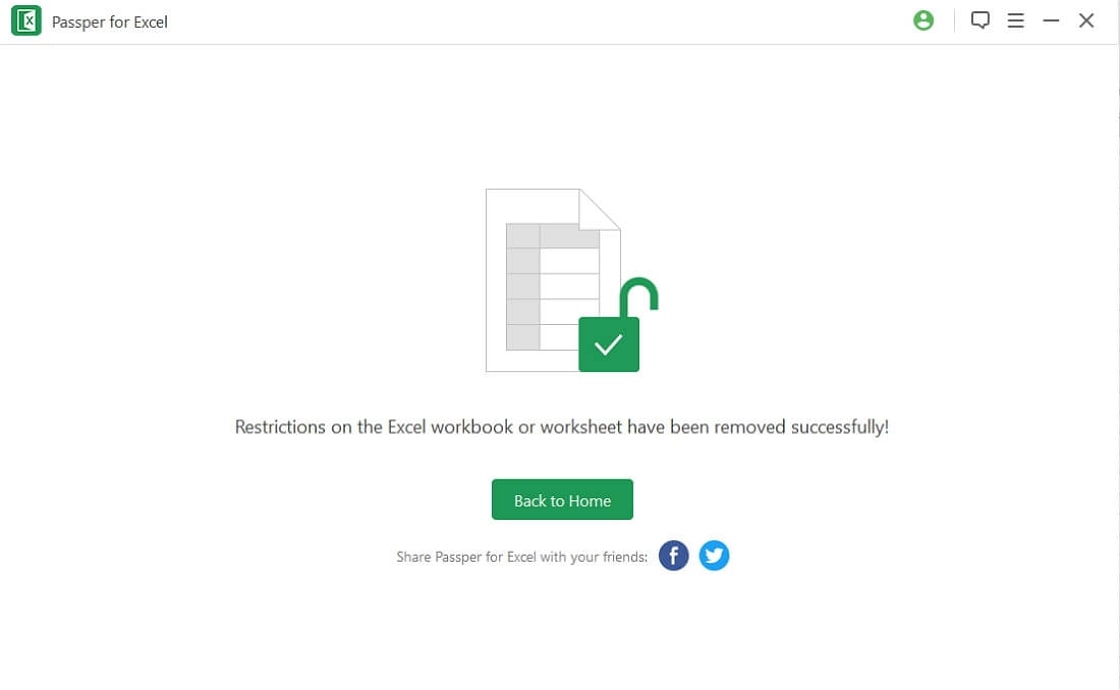 Conclusion
All of the methods mentioned above to crack Excel password with or without software are no doubt helpful. However, the fantastic capabilities and how Passper for Excel simplifies the entire process makes it the undisputed king to crack Excel password. Give it a try!