Passper for Excel is a popular program that can be used to recover forgotten Excel password or remove editing restrictions from Excel worksheet/workbook. You may address a question like "Is Passper for Excel safe?" before you decide to use or install the program on your computer. This is a very good concern since some software may carry viruses or malware which can cause damage to your computer.
Therefore, in this article, we will take the time to address all the safety concerns you may have. Please keep reading.
Part 1: Is Passper for Excel Safe?
The answer of this question is: Yes, Passper for Excel is safe to use and install.
Passper is the sub-brand of the high-tech company iMyFone, which has been recommended and trusted by some reputable media sites like Macworld, PCWorld, techradar, engadget and so on. We won't risk our reputation by offering dangerous software.

As long as you download Passper for Excel from the iMyFone official website, you are guaranteed of 100% secure software without any virus or malware attack. Moreover, the Excel files that you open with Passper for Excel are also safe and secure.
What we must mention is that avoid using a cracked version of Passper for Excel, it is not secure, and you will be exposing your computer and Excel files to threats.
Part 2: Will Passper for Excel Store Your Excel File?
By using Passper for Excel, you need to upload your Excel file to recover opening password or remove editing restrictions. You may be worried that the program will store your Excel files. Please calm down and worry not. We promise that Passper for Excel won't restore any of your Excel files or your presonal data. All your Excel files will only be stored in your local system.
Our privacy policy has made it clear that we won't store, copy or share your personal data with any other under any circumstances. You can check our privacy policy here.
Part 3: Guarantee from Passper for Excel
What guarantees do you get by installing Passper for Excel? There are many privileges that you are guaranteed when you install a licensed Passper for Excel software on your computer. These privileges work for all the plans, be it the monthly, yearly, or lifetime plan. These privileges include:
Virus Free - Passper for Excel is not a virus or malware. It's a genuine program specially designed to unlock password-protected Excel files. By using it, your computer or data will be safe and free from any cyberattacks.
Secure Payments - You can purchase Passper for Excel using different payment methods such as PayPal, Visa, Mastercard, American Express, Maestro, JCB, and Discover. When you make payments using any of these options, Passper for Excel assures you very secure payments. The personal details on your card that you provide are 100% secure.
30-day Money Back - Passper for Excel also gives you 30 days guarantee to refund you if you are not satisfied with the product from the time of purchase. Should you not get the gratification or the software does not work as desired, then you can contact the support center, and you will get your money back.
Free Lifetime Update - Another guarantee that Passper for Excel assures you is that you will get free lifetime updates. No matter what updates the company makes on Passper for Excel, you will get free updates with the licensed version.
24/7/365 Professional Customer Service - Moreover, with a licensed Passper for Excel, you will enjoy the privilege of getting 24-hour professional customer support. The support team is working around the clock throughout the year, to ensure your issue related to Passper for Excel is solved immediately. You will get free guides on how to use this program.
Part 4: User Reviews of Passper for Excel
When it comes to performance and reliability, our software Passper for Excel is to go for undoubtedly. We have received overwhelming positive reviews from our users either via our support center or through Trustpilot. Those positive reviews proves not only the usefulness of Passper for Excel, but also its safety. Check what our users say about Passper for Excel.
User view via support center: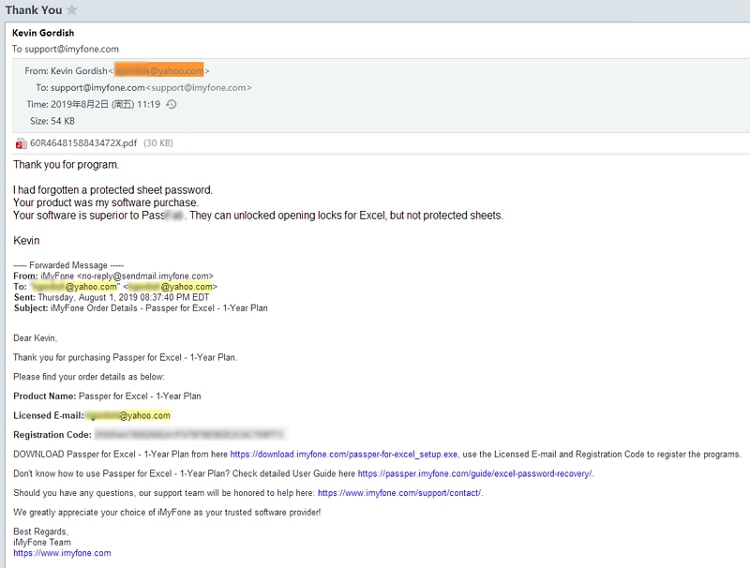 User view on Trustpilot:

Bonus: Get Passper for Excel Now with 20% Off
If you get our official and safe Passper for Excel plan now, we'll give you a 20% discount to save your money.
20% off Coupon Code: PP-20OFF
Then, how will you purchase official Passper for Excel with coupon code? We have made a guide for you.
Step 1: Choose the purchase plan and click the purchase link under below:
Step 2: The order page will automatically provide you with a discounted price. Next, fill in the details of the payment and billing option to complete the purchase.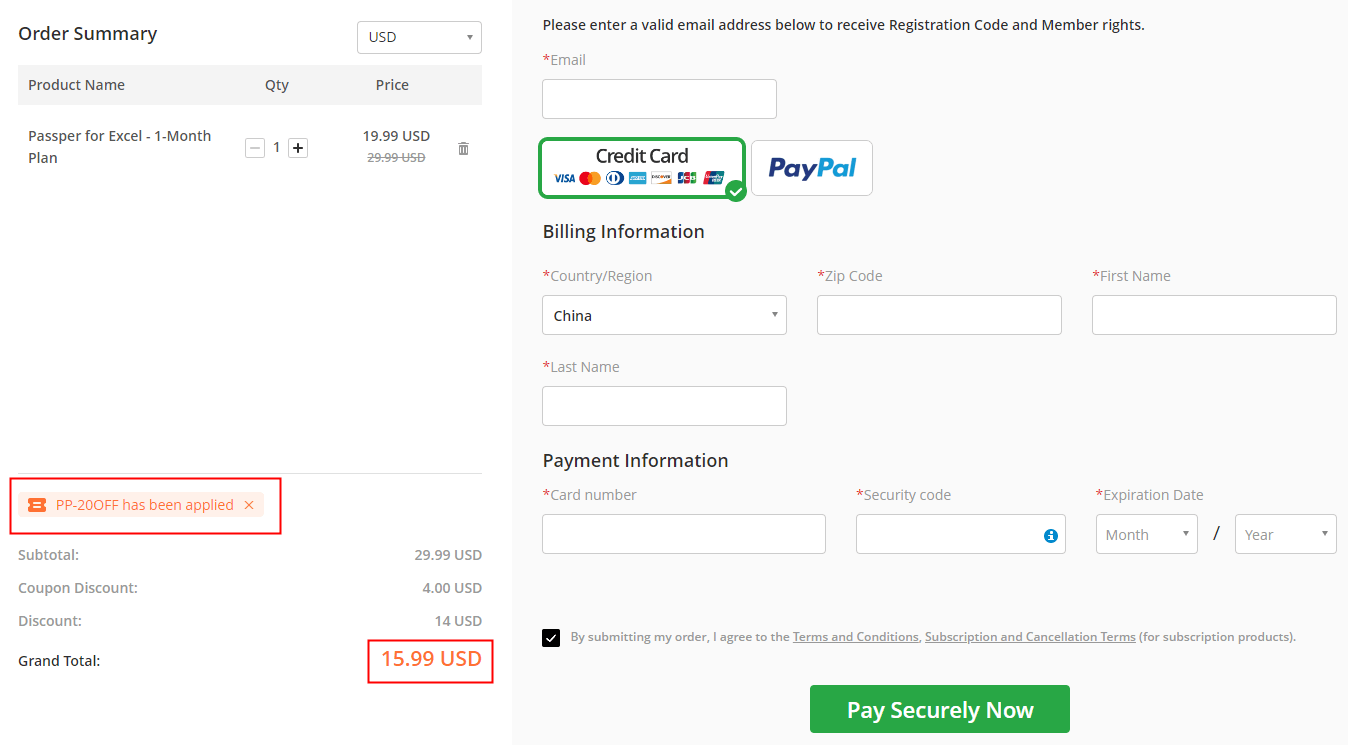 Step 3: If the coupon code doesn't come to effect, you can enter the coupon code manually. Click on "I have a discount coupon" then enter the coupon code 'PP-20OFF' displayed above. Click 'Apply' to take effect.