"I previously protected an excel file with password but now I forgot the Excel password. My question is in a situation like this how can I unlock the file?"
Many people add passwords to the Excel files to restrict access or modification, but sometimes, it happens a lot that people forgot Excel password. This can be frustrating as a lot of users may lose valuable files. But you do not have to worry about that anymore. If you forgot Excel password, there are numerous ways you can do to unlock the Excel file, and in this article, we will introduce valuable methods of Excel password recovery.
Situation1. Unlock Forgotten Excel Password to Open the File
How to open a password protected Excel file if forgot password? If you are in such a situation, then try the 2 methods below.
1.1 The Best Method: Passper for Excel Password Recovery Tool
Passper for Excel Password Unlocker is one of the easiest and most effective tool when it comes to unlocking forgotten Excel password. It can unlock your Excel password without affecting the data in the file. This tool uses advanced AI algorithms to intelligently identify issues in Excel files, allowing for the quick removal of read-only restrictions or cracking passwords. Below are the main features of this Excel password recovery tool.
It features 4 attack types namely Combination Attack, Dictionary Attack, Mask Attack and Brute Force Attack to shorten the recovery time and increase the success rate.

The excel password recovery tool can unlock worksheets/workbooks within seconds without password.

It is easy to use. You can recover the forgotten Excel password as easy as 1-2-3.

Since it's a desktop application, you can unlock the Excel file directly on your computer. Therefore, your data privacy is totaly guaranteed.

It supports Microsoft Excel versions from 97 to 2019. And there is no limitation of the file size.
Passper is the sub-brand of the high-tech company iMyFone which is highly recommended by well-known media sites, including Macworld, Makeuseof, PC World, etc. It has also received positive customer reviews on Trustpilot. Therefore, this password unlocker is trustworthy to use.


You can watch this video to know how the program works to recover opening passwords for Excel files.
You can also check the simple steps below to unlock password protected Excel file:
Step 1 Launch the Excel password recovery tool, and you will see the main user interface. Choose "Recover Passwords".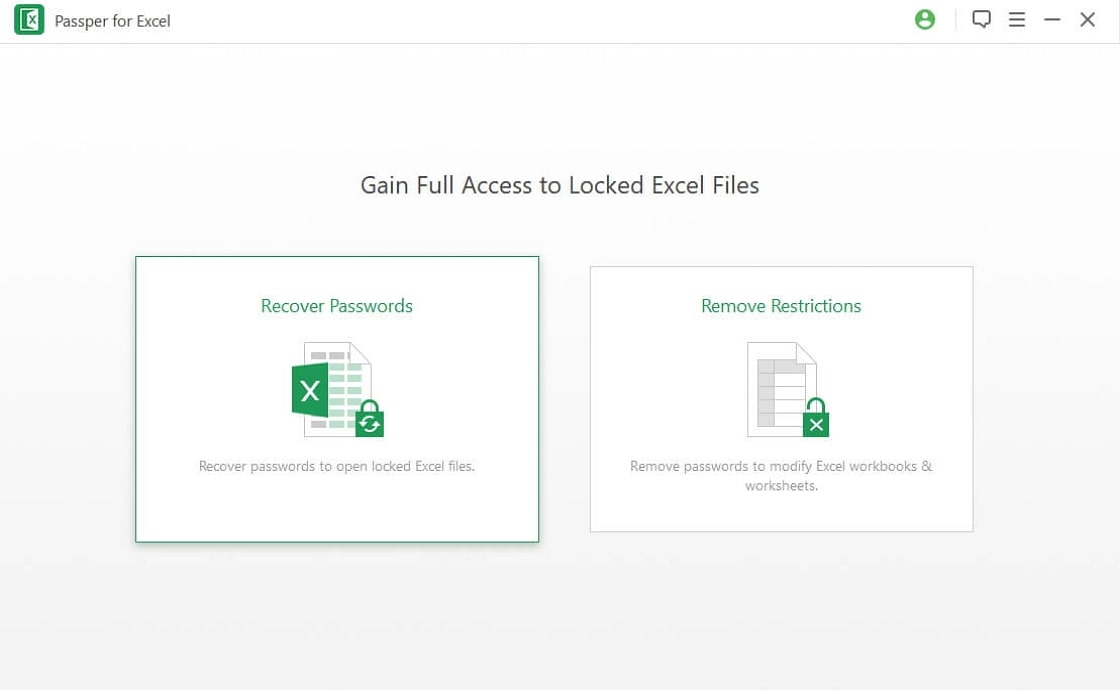 Step 2 Click on the "+" icon to add the excel file that you want to recover its password. Once you do this, you can choose one attack mode according to your own situation.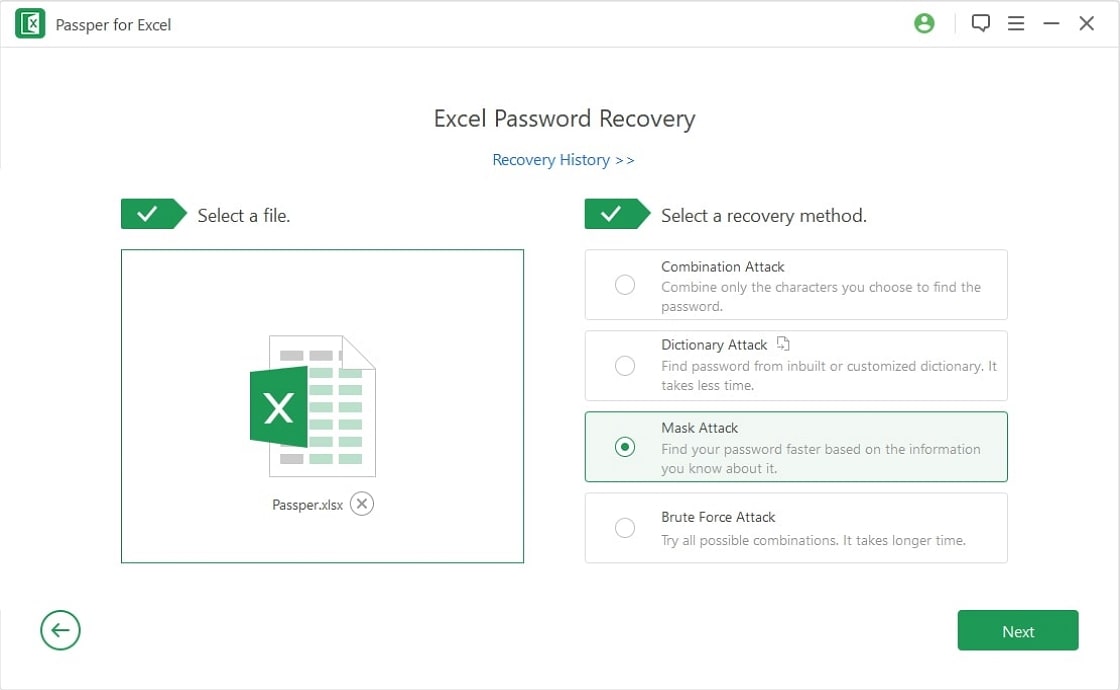 Step 3 You can now take a rest and wait for the recovery process to complete. The recovery time is closely related with the password complexity and the recovery type you choose. After the password is displayed on the interface, you can copy it to your encrypted Excel file and open it.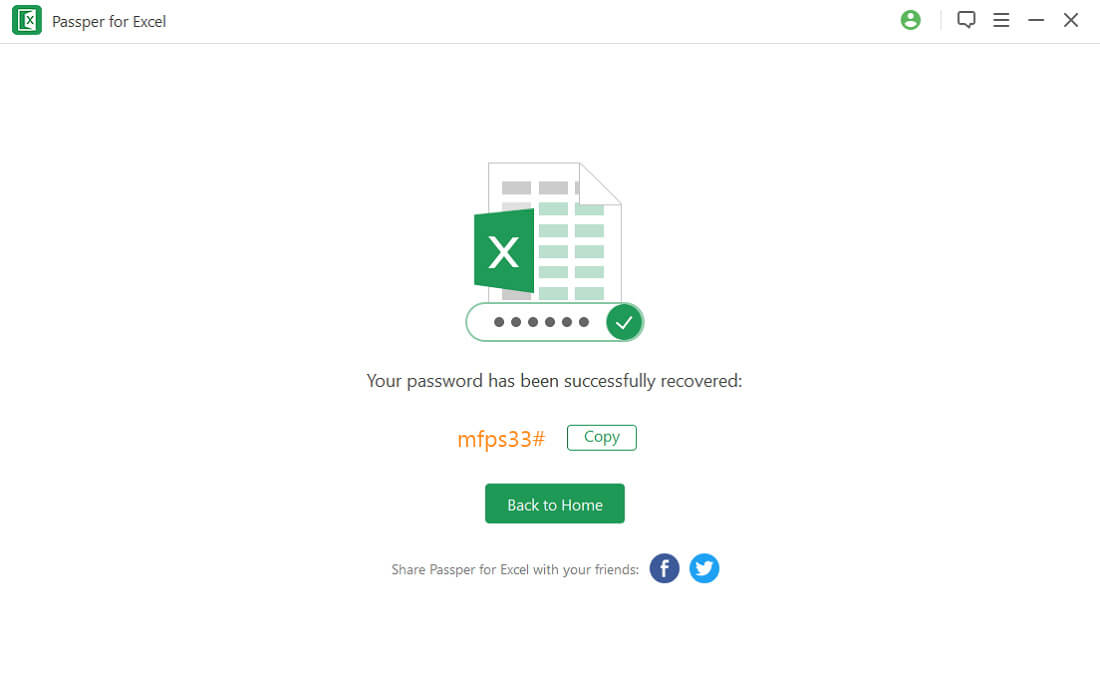 1.2 The Common Method: Recover Forgotten Excel Password Online
If you do not want to install any third-party program on your personal computer, you can try to use an online excel password recovery tool. It's also easy to unlock Excel password online, but it requires stable and powerful internet connection. What's more, it's worth mentioning that you need to upload your file to its server to proceed the recovery. We do not recommend you to use this method if your Excel file includes some sensitive information.
For the users who have powerful internet connection and don't mind uploading files, following steps will help you unlock your Excel files.
Step 1: Navigate to the official website of Password Online Recovery.
Step 2: Click on "Upload your encrypted file" to upload your Excel file.
Step 3: After uploading, you need to input a valid email-address.
Step 4: Check your email box to activate the decryption process.
Step 5: Wait for the tool to recover the password for you. You will be notified through email once the recovery is over. The recovered password will be sent to you after payment.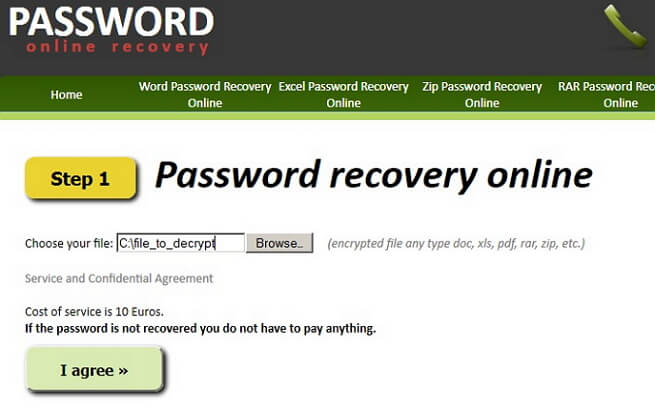 Situation 2. Unlock Forgotten Excel Password to Modify the File
If you have set a password for unauthorized modifying but you have forgotten the worksheet/workbook password, you will be unable to make any changes to your workbook or sheet. If you are in this situation, you can remove this restriction with the methods below.
2.1 Unlock Password to Modify on All Excel Sheets in 1 Click
With Passper for Excel Password Unlocker that we mentioned above, you can unlock the password to modify in only one click even if multiple sheets are locked from modifying.
Here is the video guide to remove Excel password:
Here are the steps to follow:
Step 1 Install and launch Passper for Excel Password Unlocker tool. Select the "Remove Restrictions" on the main menu.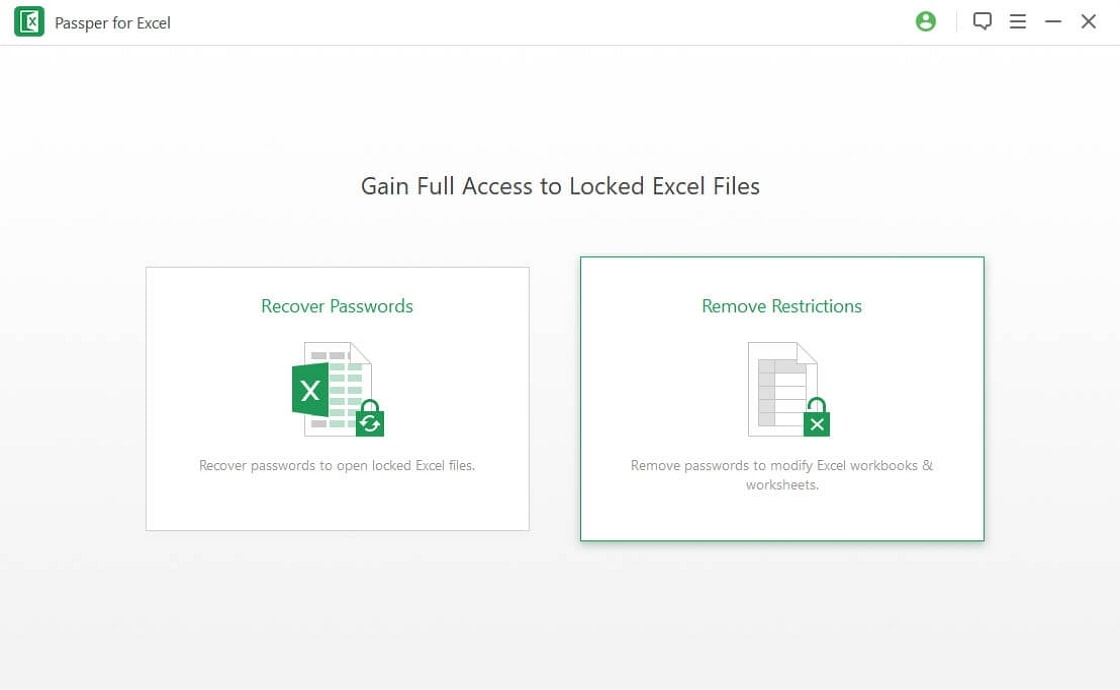 Step 2 Click on "Select a File" to add the Excel worksheet you want to remove restrictions.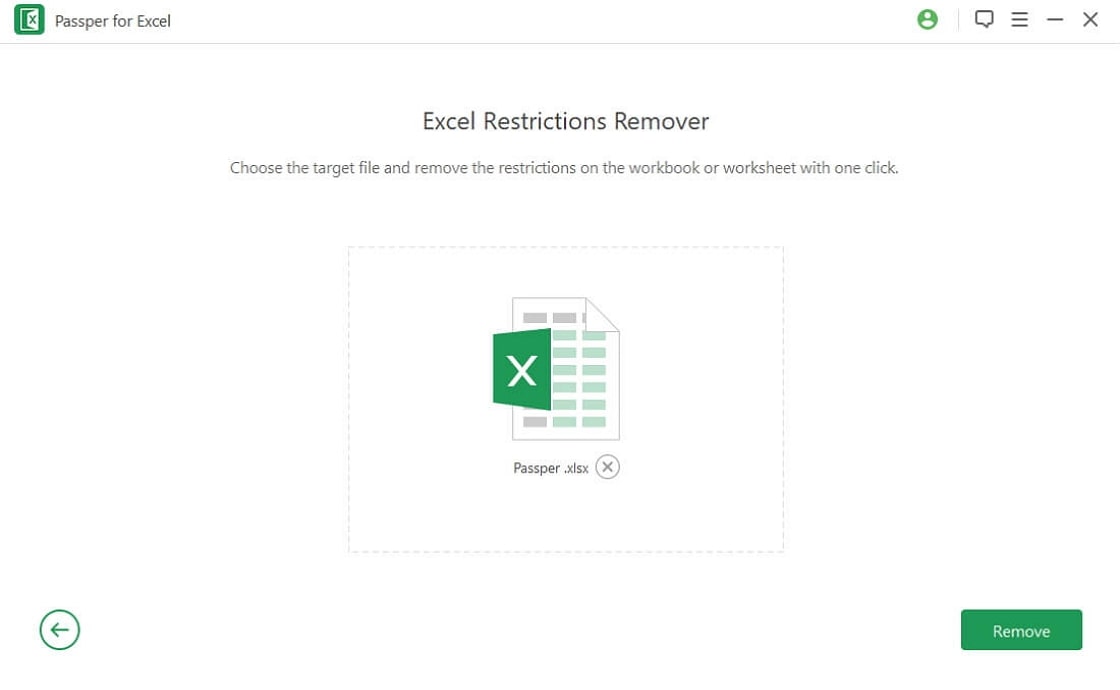 Step 3 Click on "Remove" and the restrictions password will be removed within seconds.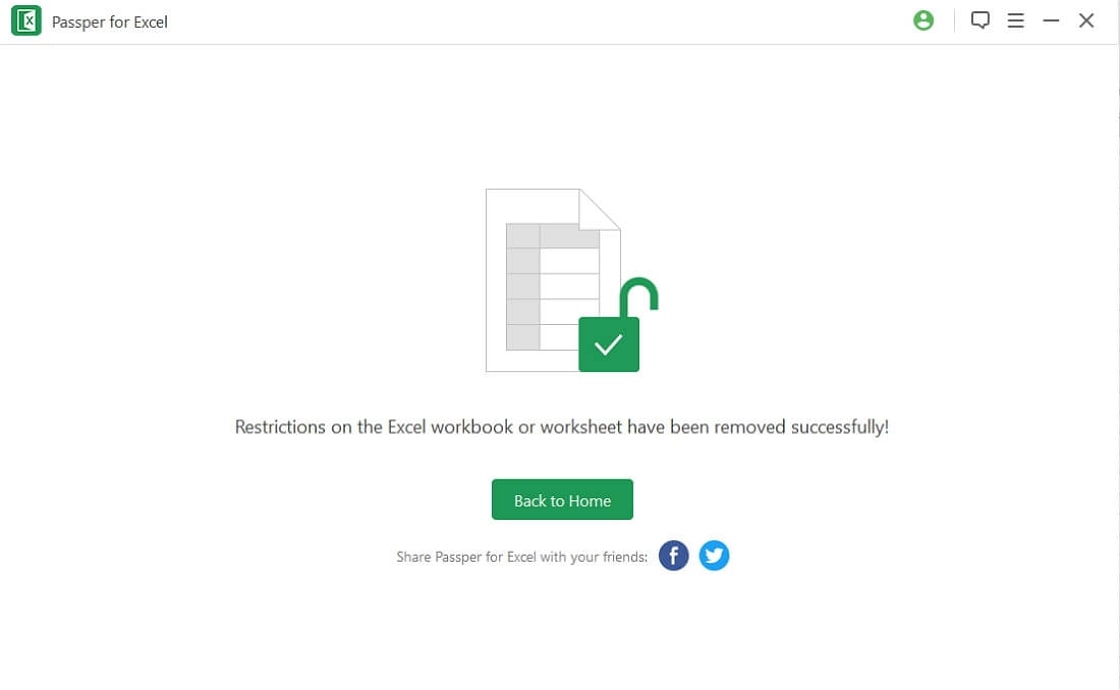 2.2 Unlock Excel Worksheet with VBA Code
The second method we will be looking at is using VBA Code. This method will only work for Excel 2010, 2007 and earlier version. If you forgot password of Excel 2013/2016/2019, please check other methods we introduced in this article.

Note
You have to know that this method is only effective with single sheets. If you have multiple sheets that you have forgotten their passwords, you will need to run the code for each sheet by opening them one after the other.
Step 1: Open the Excel File that you have forgotten the password.
Step 2: Press Alt key plus F11 on your keyboard and the VBA window will pop up.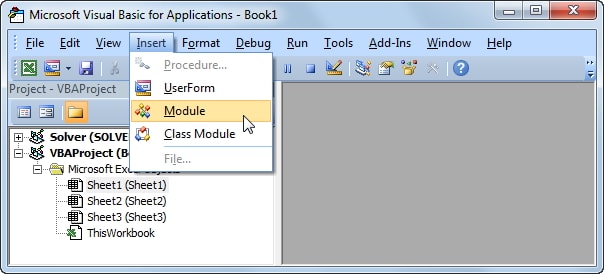 Step 3: Click on "Insert" from the Toolbar and select "Module" from the options.
Step 4: Enter your VBA code on the VBA window.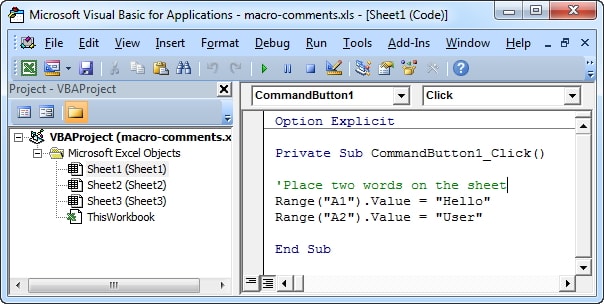 Step 5: Press the F5 key, and the code will run.
Step 6: Wait for some minutes for the VBA code to crack the Excel password. A new pop up window will show up where you will find the password. Write it down and use it to unlock your worksheet.
2.3. Forgot Excel Password? Unlock Excel Password Using Zip
This method works for existing Excel files for 2007 and 2019 versions of Excel. Check out the steps below.
Step 1: Install 7-Zip or any other type of Zip compression tool such as WinRar on your PC.
Step 2: Use the compression to open the Excel file. Right-click on the file and select "Open with WinRar or 7-Zip".
Step 3: To remove password protection from your worksheet, navigate to "xl\worksheets\".
Step 4: Find the sheet that you have forgotten the password. Right click on it and choose the "Edit" option.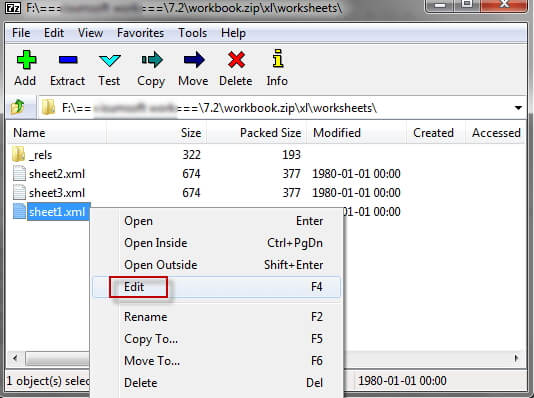 Step 5: Press Ctrl+F to find the tag "" and delete it.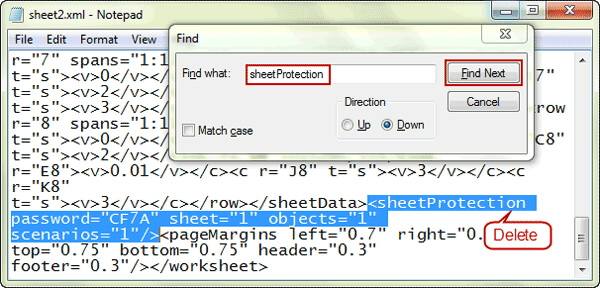 Step 6: After deletion, save the file and close the editor. Now, your worksheet is unprotected.
2.4. Unlock Excel File without Software
If you prefer to unlock your Excel file without using any software, there is still another method for you. To avoid any data loss, create a backup of your Excel spreadsheet first then follow the steps below to unlock excel online.
Step 1: Open Google Drive and log in to your Gmail account. Click on the "New" tab and select Google Sheets.
Step 2: At the lefft corner of the top of the screen, click on File and then Import.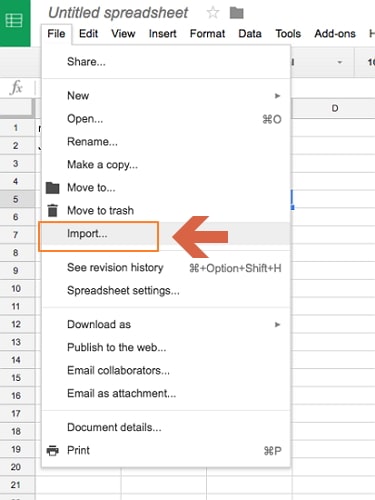 Step 3: A dialog box will pop up; Click on 'Upload' and select a file from your device to upload the password-protected Excel sheet.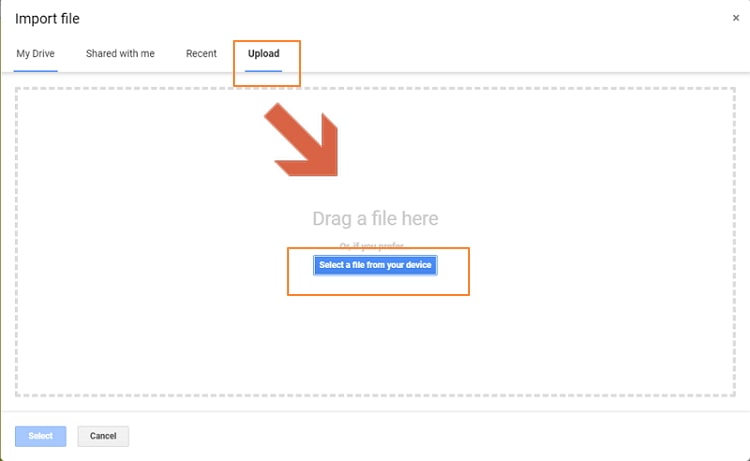 Step 4: After uploading your excel spreadsheet, select 'Replace Spreadsheet' and click on 'Import Data'. The protected Excel sheet will open in Google Sheets.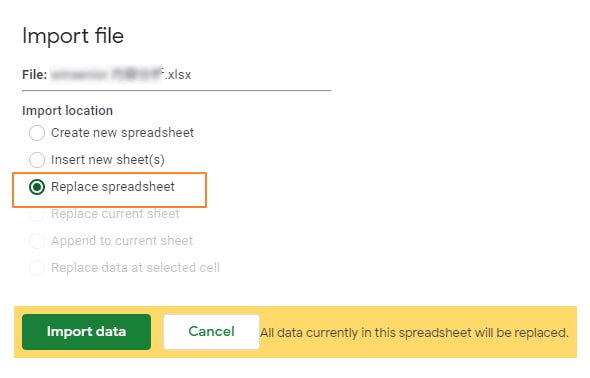 Step 5: Navigate to 'File' and click on 'Download As', then select 'Microsoft Excel'.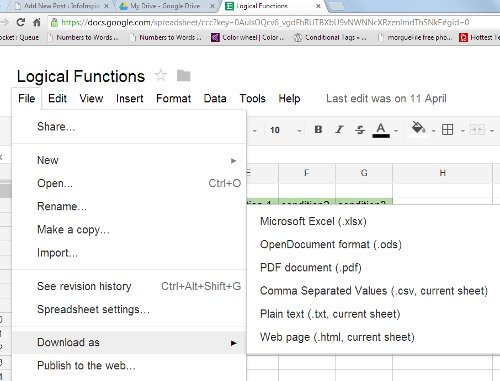 Step 6: After opening this new file, you will find your worksheet/workbook is not password-protected anymore.

Note
The uploading speed is truly slow and the loading process will be stuck if there are several worksheets in your Excel file. What's more, the new file you downloaded from Google Sheets will be in Protected View. You have to enable editing manually.
Tip: Is There Any Solutions If You Forgot Excel Password on Mac?
As you may see, the above solutions for Excel password recovery are mainly for Windows users. As a user of macOS, you may be wondering whether you can recover forgotten Excel password on Mac. Good news for you! We will make everything clear to you in this part. You can keep reading.
If you need to unlock the forgotten Excel password to modify your Excel worksheet or workbook, the above-mentioned methods like using VBA code and ZIP software can also work on macOS. However, if you want to recover the forgotten password to access your Excel file, there are only 2 working ways for you. The 2 methods are using the Keychain Access program or directly using the Excel password recovery tool like Passper for Excel on macOS.
How to install and use Passper for Excel to unlock Excel has been explained in detail in the previous section. Now we will focus on how to recover forgotten Excel password on Mac with the Keychain Access program. You can follow the detailed guide below:
Step 1: Locate the "Application" folder on your computer and open it. Then navigate to "Utilities>Keychain Access". Click to open it.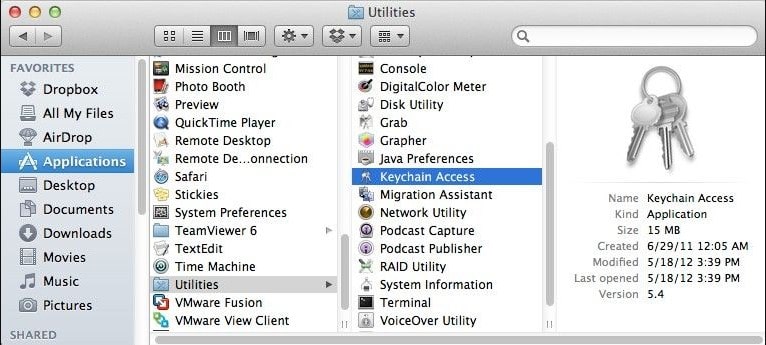 Step 2: Find "Passwords" in the left panel of the Keychain Access program and click on it.
Step 3: You will see a "Name" column at the top left of the program's main screen. Now, scroll down to find "Excel" and click on it.
Step 4: A new screen will pop up. Check "Show password" under the "Attributes" tab. Another screen will appear and you need to enter the "login" Keychain password.
Step 5: Press "Allow" to continue. You will see the password in the "Show password" box.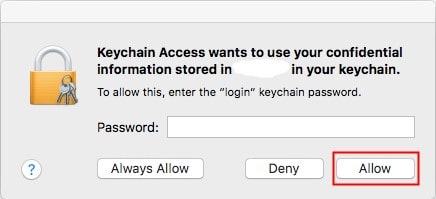 Conclusion
Recovering your forgotten Excel password does not have to be stressful or frustrating. There are a lot of effective methods through which you can unlock your Excel file, such as Excel Password Recovery Tool - Passper for Excel. You can use this tool for any versions of Excel. Get your copy of the tool today!