It is very common to have an encrypted Excel document that you can't access because you don't have the password. Maybe you lost the password or forgot the password you set on the document. One of the best solutions for this problem is an Excel password remover tool and there are very many different types of remover tools, some are apps that you have to download and others that are accessible online. In this article, we share with you 6 common Excel password removers online as well as the risks of removing Excel password online to help you decide which one is best for your particular situation.
Part 1. 6 Best Excel Password Removers Online
The following are the best online tools to help you remove an Excel password:
1. LostMyPass
LostMyPass is one of the many online tools that you can use to remove your MS Excel password. The tool can be useful to you if your Excel file is protected with a simple password. To recover the password, the online tool will scan a database of more than 3 million frequently used passwords until the right one is found. To recover a much "stronger" password, you need to access the premium version of the program which scans more than 20 billion passwords to try and recover your password.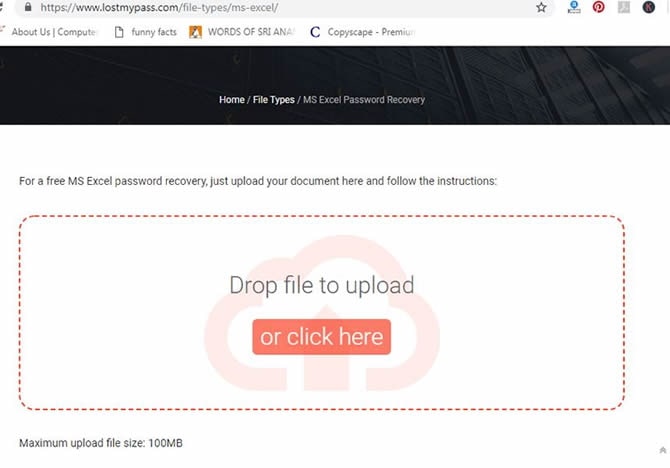 Pros:
The "weak" password can be done for free and the password can be recovered in just a few minutes.

It is free to scan a database of more than 3 million frequently used passwords.
Cons:
It doesn't allow users to remove "Password to Modify" from Excel document.

The success rate of free recovery is only 22%.

The uploaded size should not exceed 100MB.

You need to pay $29 to recover a strong password and this service can only recover password for Excel 2003 and earlier version.
2. Password-Online
Password-online is another easily accessible online tool that you can use to remove Excel password. It is compatible with earlier Excel versions like Office 97. To use this tool, all you have to do is to upload your Excel first and then activate the recovery process through your email box. The tool will do the rest for you. However, there is no indication of how long the process of recovery will take.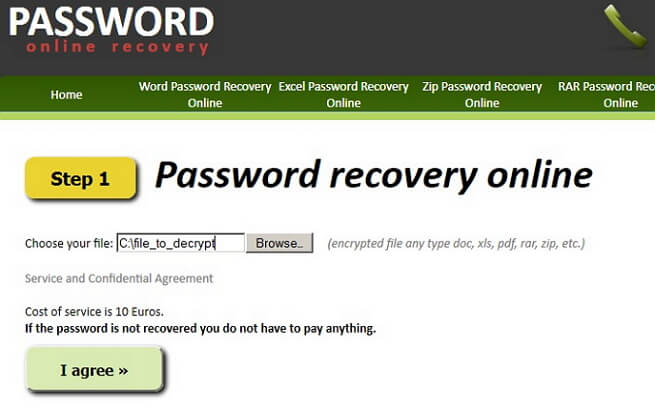 Pros:
You do not need to pay for the service if your password has not been recovered.
Cons:
It cannot remove edit restrictions from Excel workbook.

It only works for Excel 97, 2000 and 2003.

The uploaded size should not exceed 500MB.

You may wait for 15 minutes to finish the verification before the removing process since the verification email always fail to be delivered on time.
3. Straxx Excel Password Remover
Another really great tool to use when you want to remove Excel passwords is Straxx Excel Password Remover. Straxx is designed to make the whole process very easy. It is also completely free for personal use.
While most online tools don't tackle the issue of removing editing protections from a workbook or worksheet, Straxx Excel Password Remover does. Restricstions password like worksheet password and workbook structure password are covered by this online tool.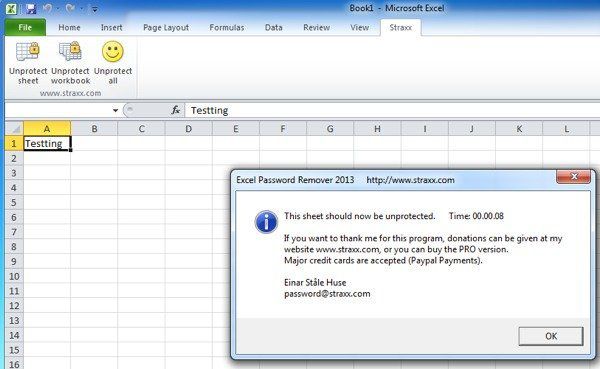 Pros:
The original data will not be damaged.

It can remove password of any length or password containing special characters.
Cons:
It has too many versions that are very hard for users to distinguish.

You have to pay $28 if you are a Mac user.
4. Remove-Password
Remove-Password is another great and easy-to-use online Excel password remover  to help you remove password from Excel document. To use the program, upload the document on to the online server and agree to the terms and conditions. It will require you to enter some information of the correct password. If you have forgotten everything about the password, you can skip this step. But the removal speed will be relatively slow.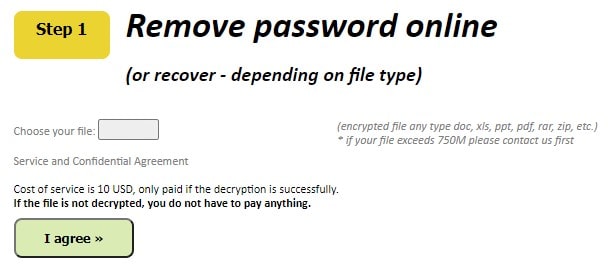 Pros:
No need to install additional 3rd-party software on your computer.

Simple to use.
Cons:
It doesn't work to remove "password to modify".

The newest version of Excel 2013/2016/2019 is not supported.

The file size should not exceed 750MB.

You need to pay 10USD once your Excel document has been unlocked successfully.
5. Password-Find
If you are looking for a totally free Excel password remover online tool, then Password-Find is the best choice for you. With this tool, you can instantly remove password protection from MS Excel document. You don't have to know anything about computer since the tool will do everything for you. Compared to other online removers, this tool has a broad compatibility which supports MS Excel 97/XP/2000/2003/2007/2010/2013/2016/2019/2021.
Pros:
The remover is totally free to use.

The success rate of MS Excel 97-2003 is 100%.
Cons:
It doesn't work to remove "password to open".

The removal rate of Excel 2013/2016/2019 is only 80%.

You file size cannot exceed 10MB.
6. Unprotect-Excel
Unprotect-Excel is another easy-to-use Excel password remover online. It offers a free service to remove password on your Excel file which is locked for editing. We didn't find any information that states it will limit the file size. Therefore, if you have a large Excel file, you can try this tool. In order to test this free tool, we uploaded 2 Excel files locked for editing but it gave us a result that our files are locked for reading. Therefore, before you decide to use this online tool, please think twice.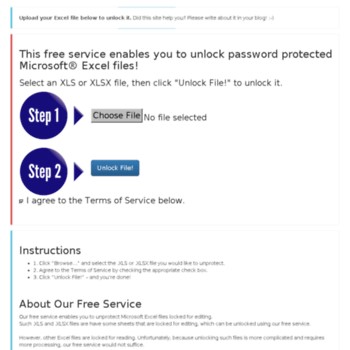 Pros:
Easy to use.

It's free to remove protection from Excel locked for editing.

It doesn't limit the file size.
Cons:
It doesn't work to remove "password to open".

It's feasibility is still under investigating.
Part 2. Risks of Using Excel Password Remover Online
You may be involved in significant risks when using Excel password remover online tools. We are here advicing you to get a good look at all the risks and decide whether you still insist upon online tools.
Data Leakage: When using an online Excel password remover, the confidential data saved on the Excel document will be transferred onto the site, which may result in data leakage.
Internet Dependency: You may get into trouble when the internet is poor as everything performed online is interned based. If the internet is not that good, the Excel password removing process may be interrupted.
Data Loss: You are very likely to lose all or partial data after uploading the Excel file to the online software.,
Limitation: Most Excel password remover online tools only support to remove Excel opening passwords while being unavailable to remove edit restrictions. What't more, almost all online Excel password removers have a limitation on the file size.
If you still consider to use an online tool to remove Excel password, then try the 6 common-used Excel password removers in Part 1.
Part 3. What to Do If Excel Password Remover Online Don't Help
In the previous section, we have listed 6 great online Excel password removers which may satisfy your needs. But what if the above tools cannot help you fix the problem? For better results, you need an offline tool that not only can recover password to open the file but also remove all editing restrictions for you.
One of the best offline tools to help you do that is Passper for Excel Password Remover, a tool that offers you much more in terms of features. These features include the following:
Remove password to open by recovering it first with 4 attack modes. For Brute Force Attack, it will scan billions of passwords and thus it guarantees a high success rate.

Easily lift edit restriction with 100% success rate and enable you to edit the document.

It's faster. Passper for Excel doesn't require internet connection, so the success rate is higher and removal speed is faster.

Since it's desktop program, there is no data loss or leakage during or after the removal process. All your files are only saved in your local system.

The program has a broad compatibility including Microsoft Excel 2021, 2019, 2016, 2013, 2010, 2007, 2003, 2000 and 97. And there is no limitation on the file size.

This program is 100% secure to use. Its developer is a sub-brand of the high-tech company iMyFone which has been highly recommended by a great many famous media sites, such as Macworld, PC World, TechRadar, Make Use Of, iPhone Life, etc, etc.
Passper for Excel is also very easy to use as the following demonstration shows. Here's how to use this application to remove a password from a document:
Step 1: Install Passper for Excel to your computer and then launch the program. On the main window, select the "Recover Passwords" option to continue.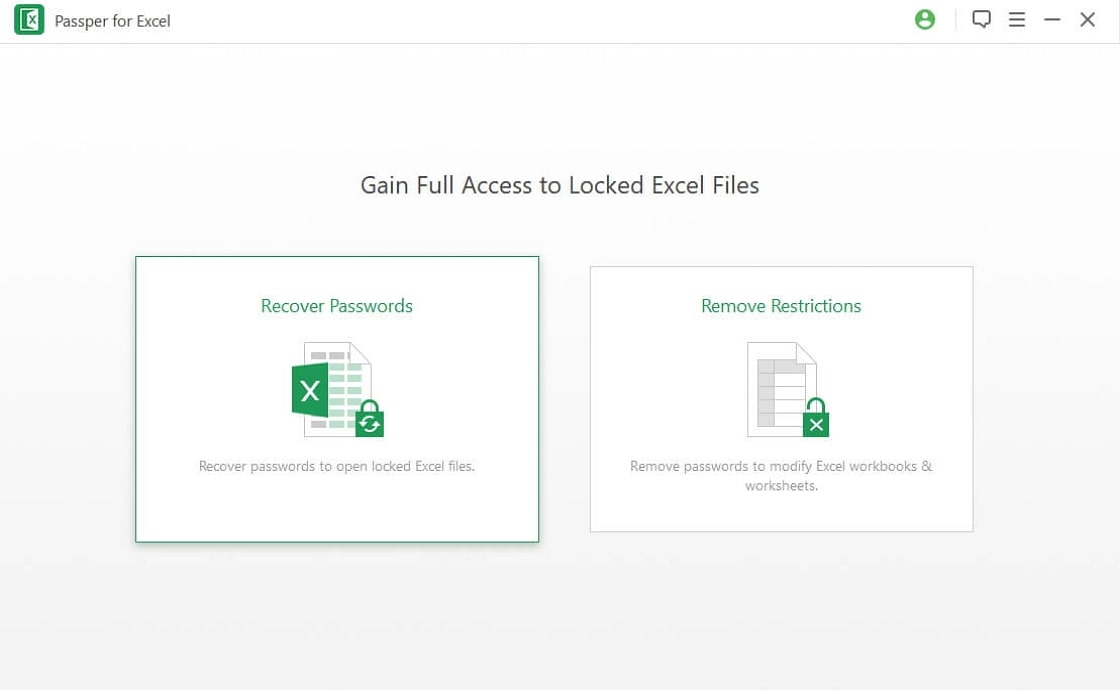 Step 2: Now click on "Add" to import the password-protected Excel document into the program from the files on your computer.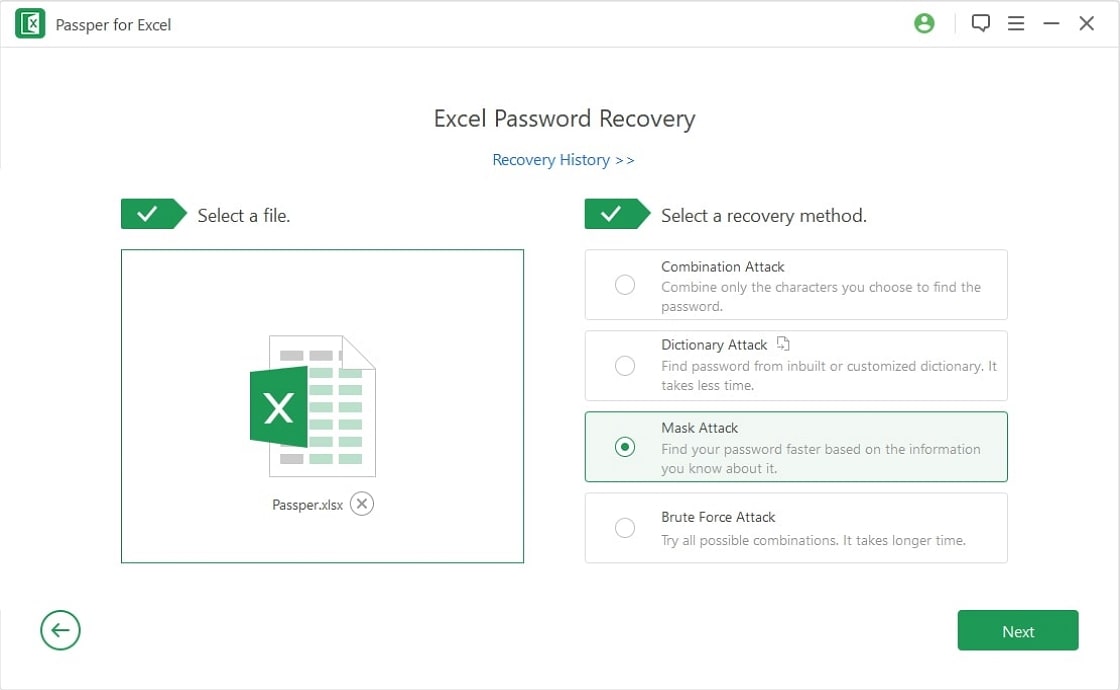 The next step is to select the attack mode you want to use. Each attack mode is meant for different purposes and each will take a certain amount of time.
Step 3: Tap the "Recover" button to begin the process. Once it is found, it will be displayed on the screen and you can then use the password to unlock the document.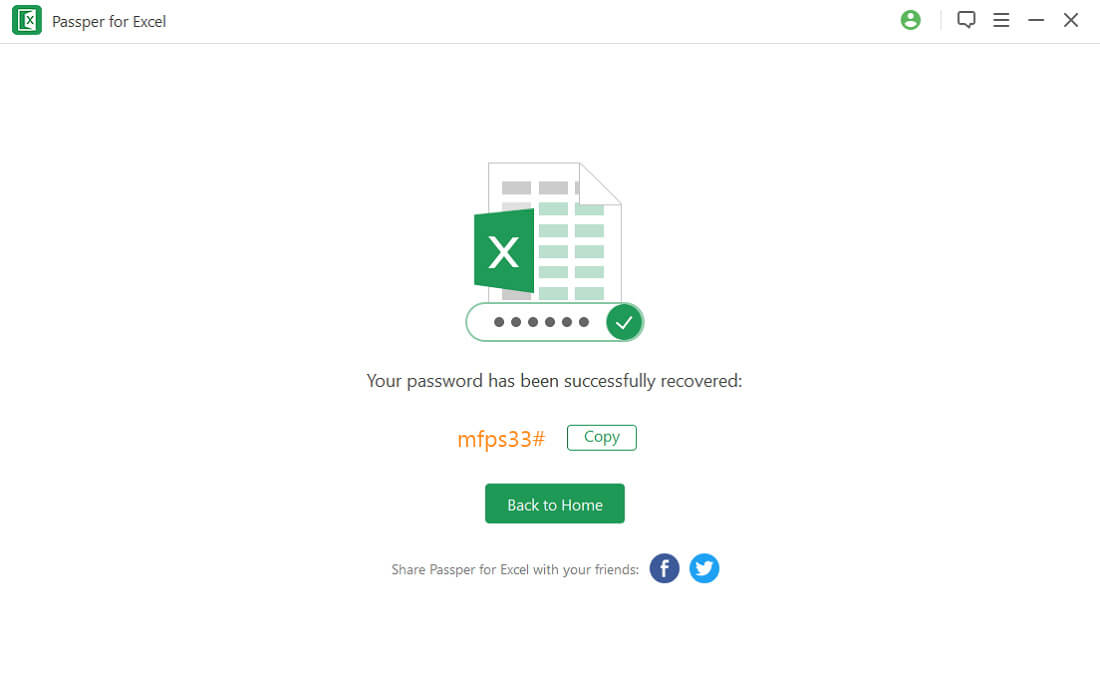 You can also watch the following video to check how Passper for Excel works:
Here's how to use Passper for Excel to lift restrictions on a document:
If you can open and read the Excel document but you cannot edit or print the Excel spreadsheets or workbook, then use Passper for Excel to remove the restrictions in one click.
Step 1: Open Passper for Excel on your computer and then choose the "Remove Restrictions" option to begin.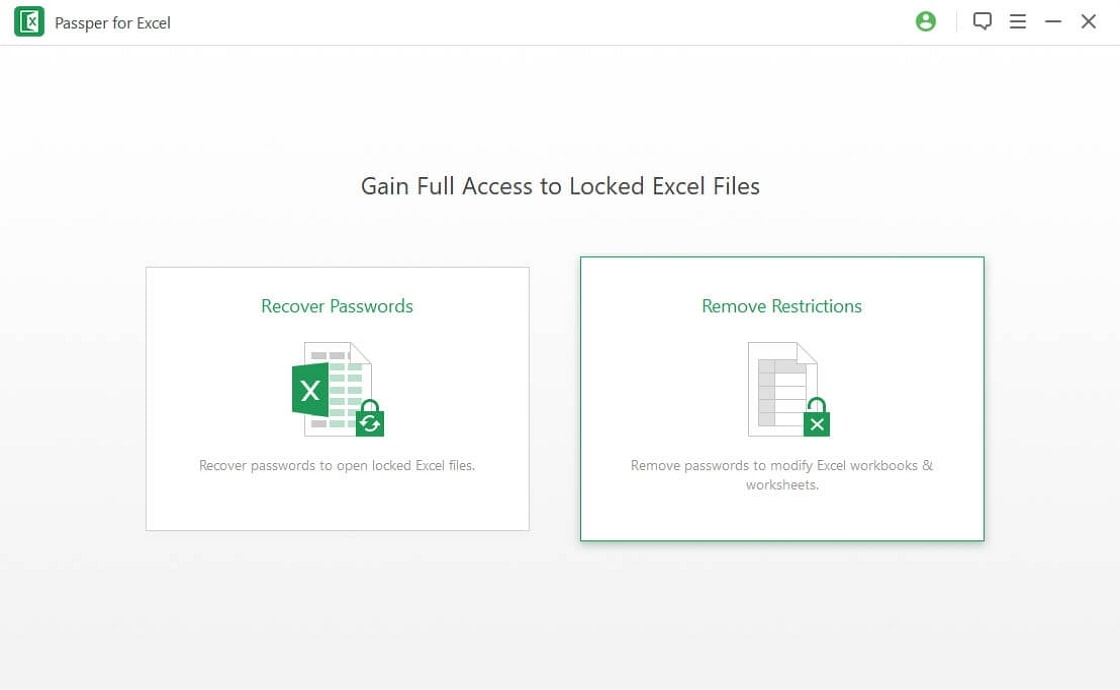 Step 2: Click on "Select a File" to import the restricted file into the program.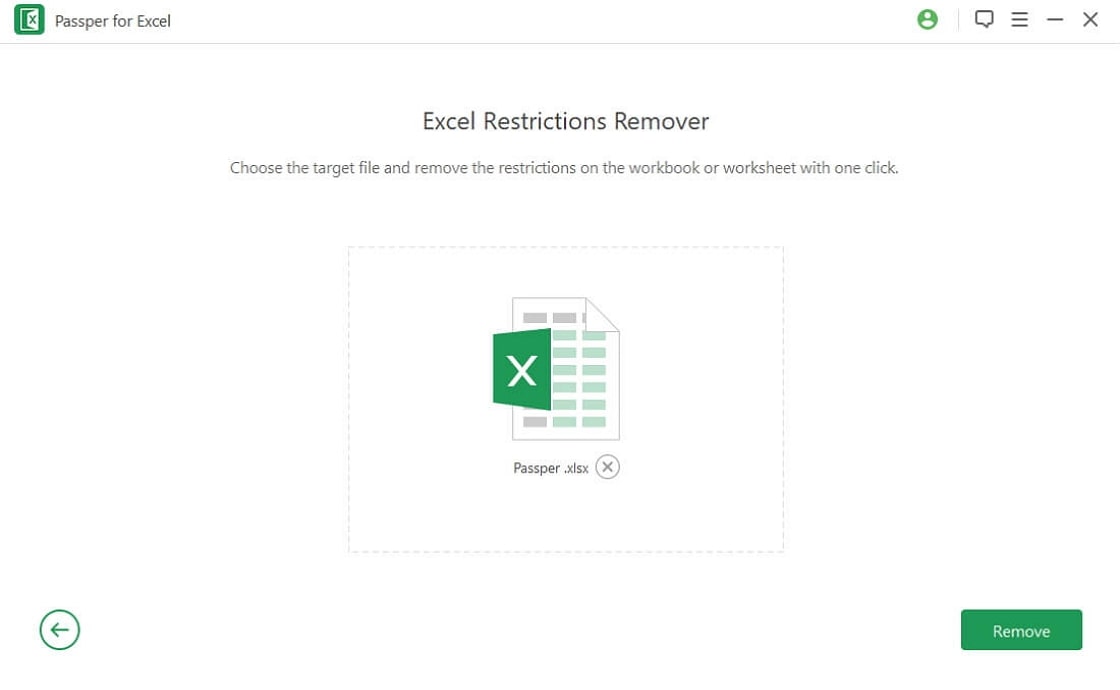 Step 3: Now simply click on "Remove" to remove the restriction from the document.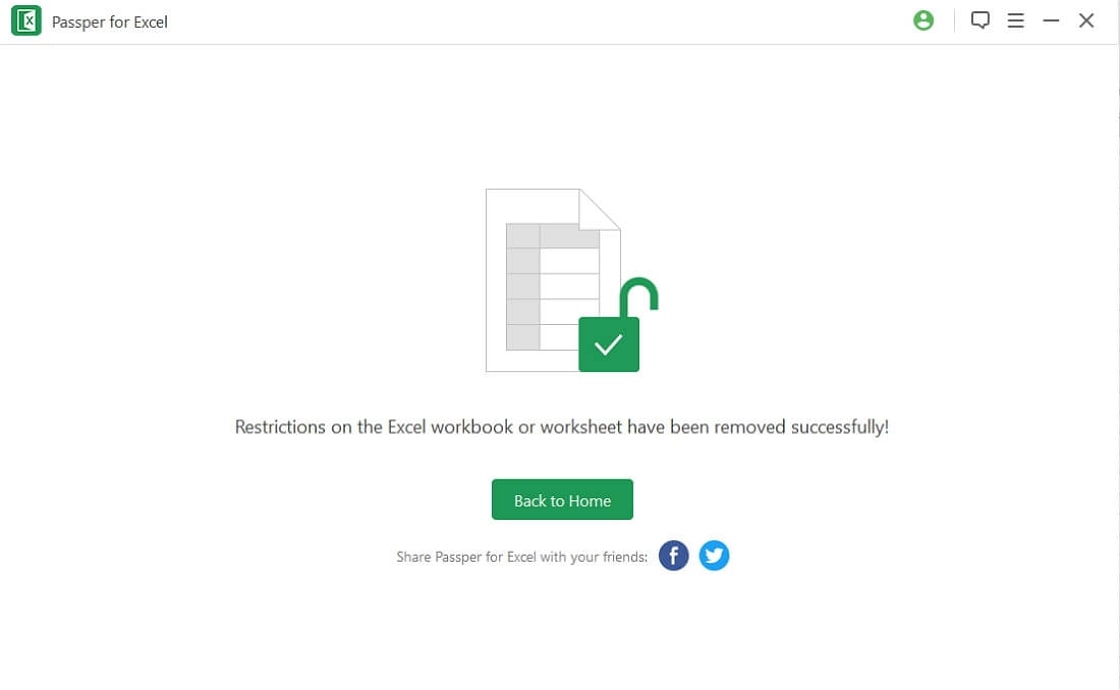 Here is a video guide for you:
After reading through the whole article, you can find one Excel password remover that suits your situation. If none of the above 6 Excel password removers online can satisfy your needs, you can try Passper for Excel. It's the best tool that can unlock your Excel document without password.