VBA is usually used by Microsoft applications, including Excel, Word, etc. to customize the application, add functionality to Office suite, and automate regular tasks, especially in Excel. If you have ever worked on VBA, you may know that you can prevent other users from viewing your code by locking your VBA project. But what if you have forgotten a password for your Excel VBA project?
Well, it can be frustrating when you are into work, and some of your protected documents start halting the flow of your task. If you are in the same situation, there is good news for you. You can use Excel VBA password breakers to crack the password. In this article, we will review and talk about the top 6 VBA password breakers for Excel files. So, let's have a glance.
1. Passper for Excel
Passper for Excel is one of the best Excel VBA project password breakers as one can easily access the password-protected Excel VBA project using this tool. Based on the advanced technology, this breaker ensures a 100% success rate. By using this program, none of your data will be affected or damaged. Additionally, it's worth mentioning that Passper for Excel offers an option to recover opening password for any Excel file.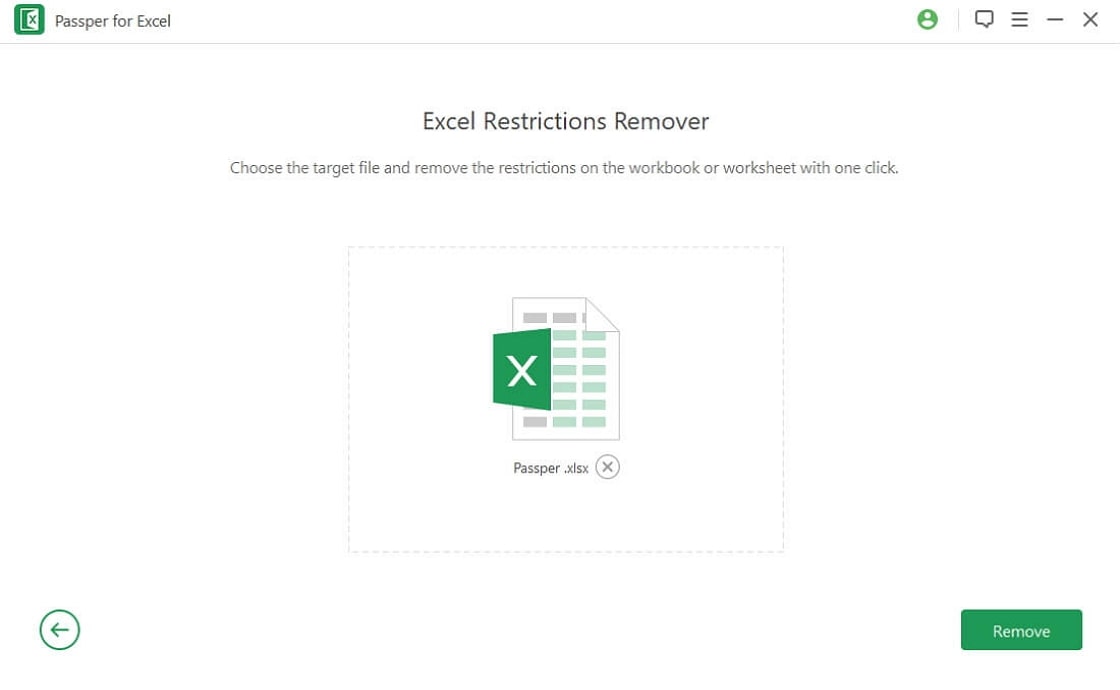 Pros:
Break Excel VBA project password within seconds, regardless of the password length and complexity.

Easy to use. Within 3 simple steps, your Excel VBA password can be cracked successfully.

It supports all versions of MS Excel from 97-2019.

The tool supports all  Excel file types like .xls, .xltx, .xlsx, .xlsb, .xlsm, .xltm, .xlam and etc.
Cons:
The Mac version has not been released yet.
Passper for Excel has served millions of users all over the world. Therefore, this Excel VBA password breaker is trustworthy to use.
2. Lastbit VBA Password Recovery
Lastbit VBA Password Recovery does the same job as most other password breaking tools of the market do. What makes it different from other software is that the Lastbit uses two types of recovery engines. Its recovery engine amalgamates both brute force attack and dictionary attack to create a hybrid dictionary attack. This Excel VBA project password breaker also makes use of a smart force attack to search the most likely character combinations for passwords.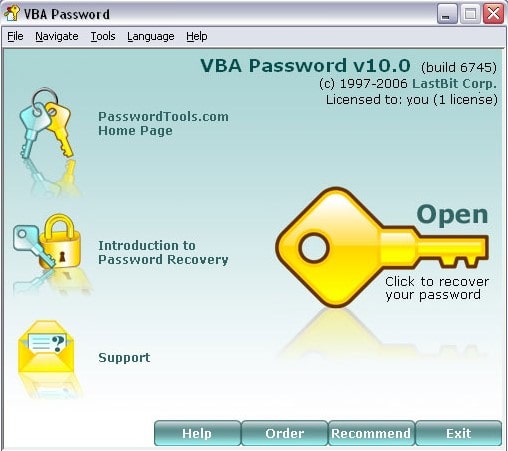 Pros:
The Password Recovery Engine uses the most of CPU.

It has a convenient interface for smarter functioning.

It has a Hybrid dictionary attack.
Cons:
It takes times to download the program.
3. Rixler VBA Password Recovery Master
Rixler VBA Password Recovery Master is an Excel VBA project password breaker that can work on most of the Microsoft Excel documents to decrypt password protected VBA projects. The built-in auto-search feature of the tool helps in tracking down multiple VBA code-protected MS Excel documents so that it can be later recovered. Along with performing auto-search through the desired location, it also scans through the content of the Recent Documents folder, and portray every VBA-enabled applications present there. It is highly powerful to bring out fast retrieval of the lost passwords.
Pros:
The interface is clean and easy to use.

It automatically searches all the Excel files protected with VBA project password.

The tool can operate with batches of files at the same time.
Cons:
The newet version of MS Excel is not supported yet.

It only supports .xls and .xlsm file formats.

It's too expensive to purchase.
4. Accent EXCEL Password Recovery
Accent Excel Password Recovery is a password recovery software designed by the AccentSoft Team. This Excel VBA macro password breaker software enables its user to access VBA files that are password protected or encrypted by recovering or deleting the old forgotten password. This particular software optimizes its functions according to the specification of the computer as it configures and gets into a recovery scenario that can scan maximum passwords at a faster speed. It works more effectively in Intel and AMD processors to yield a high rate of password recovery. Using the Accent EXCEL Password Recovery license, you can get unlimited access to all the exclusive features of the tool, free updates, and technical support for 1-year.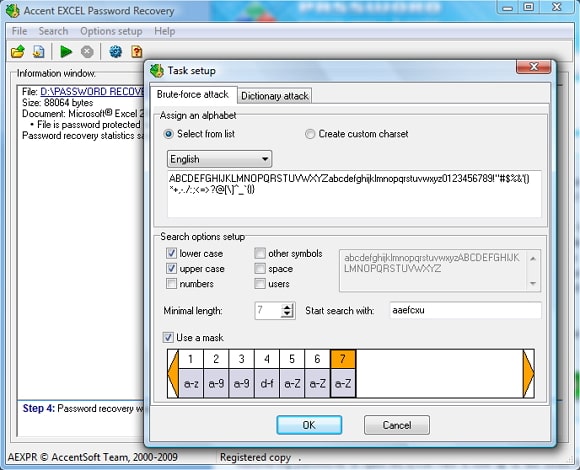 Pros:
The tool has a highly optimized code.

It works efficiently with Intel and AMD processors.
Cons:
Non-paid version displays only the first 2-symbols.

It doesn't save the status of the password recovery file.

It can only works for MS Excel 95-2013.
5. Kernel for VBA Password Recovery
Kernel for VBA Password Recovery is an Excel VBA password breaker that can be used if you have forgotten the passcode of an encrypted or protected Excel VBA project. It doesn't matter if the password comprises of alphabets, numerals, special characters, or intermixtures of these three. It can retrieve all the characters of the password with ease, as it supports multilingual source code passwords.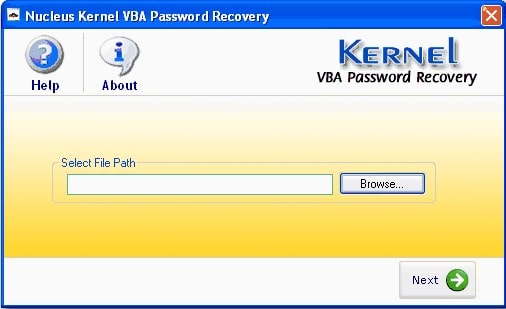 Pros:
It is suitable for all versions of MS Excel versions from 95-2019.

It has a multilingual password recovery mechanism.
Cons:
The success rate isn't much high.

For Excel files, it only supports .xls, .xlsx, .xla.
6. SysInfo VBA Password Recovery
SysInfo VBA Password Recovery tool can break any MS Excel file protected by a VBA password. It can crack through those files having extensions like .xls, .xla, etc. The tool comes with an easy-to-use graphic user interface and needs only a few clicks to get started with the password recovery mechanism. Besides these, another exclusive feature of this Excel VBA macro password breaker is that it offers a back-up of each VBA protected file during the password recovery process to prevent further inaccessibility or corruption of the document.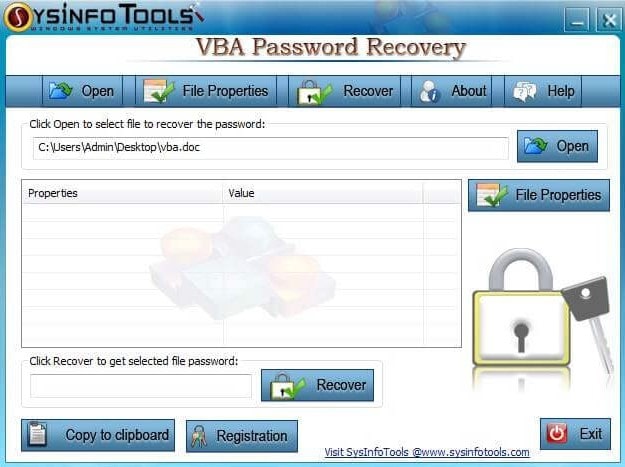 Pros:
The tool provides retrieval of multilingual and complex passcodes.

It portrays the specifications of the VBA files.
Cons:
Its Demo version highlights only 2-characters of the recovered passcode.

The common-used Excel file type .xlsm is not supported.
The Bottom Line
Now, you might have a good understanding of the top 6 Excel VBA password breakers. You can choose anyone to use according to your own situations. If you have found any other better tools to break Excel VBA password, you can leave a comment to us and we will write a review about it.