The purpose of this article is to answer the big question, which is, "Is Passper for Word Safe?" Passper for Word is a popular password recovery tool available on the internet, offering the services of granting access into locked Word documents. One of the concerns of most users, irrespective of their level of tech-savviness is the safety of files and documents on their computers. This article will explain almost all the security issues you concern about Passper for Word.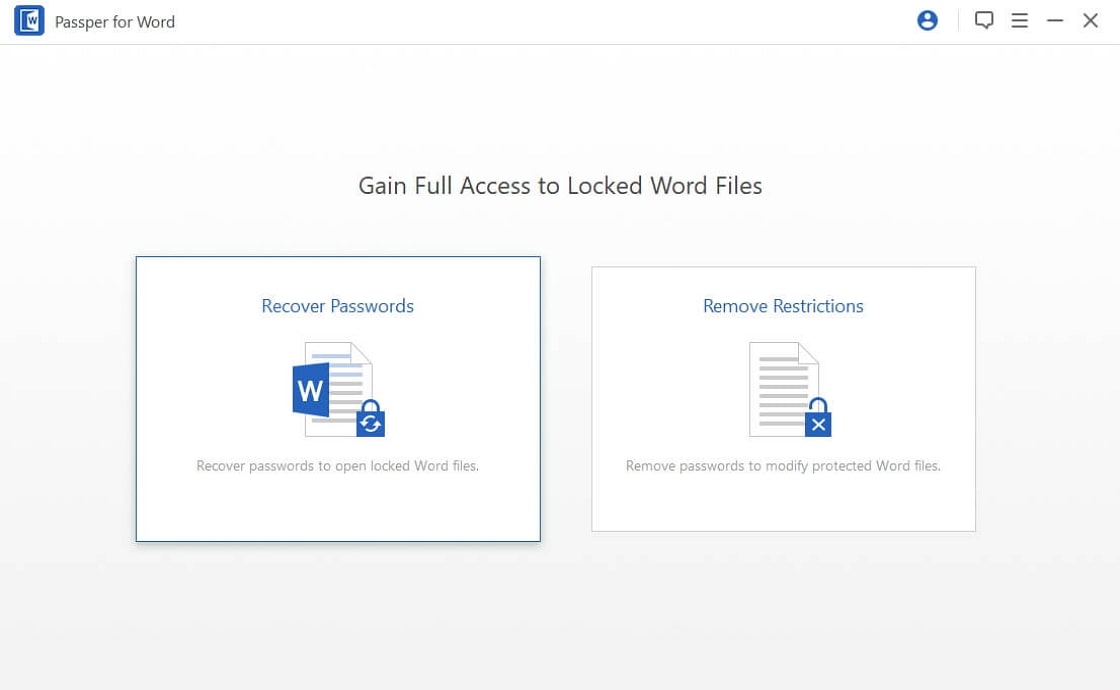 Part 1: Is Passper for Word Safe?
The answer to this million-dollar question is, Yes, Passper for Word is completely safe to use.
Passper for Word is specially designed to unlock password-protected Word documents. The reason why you apply a password to your Word file is to protect your data from unauthorized access or modification. We know how important safety is to you. We promise that there won't be any loss or leakage of your data during/after the usage of Passper for Word.
Besides, we promise that there is no virus, malware or other unexpected pug-ins like pop-up ads coming with Passper for Word. As long as you download the program from the official website, the program is totally safe to use.
Finally, the reviews from the users of Passper for Word, justify the claims in this article about the safety of its usage. They believe it to be a safe, useful and reliable tool.

Part 2: Will Your Word Document Be Stored on Passper's Server?
Another question that comes next after the "Is Passper for Word Safe" question is "Will my documents be stored on Passper for Word Server?" By using Passper for Word, you need to upload your locked Word files to the program. Therefore, some users may be worried that their files will be stored on Passper's server.
Here, we promise that all your original and unprotected Word documents will only be stored in your computer systems. Our Privacy Policy has clearly stated that we concern your data security, and we won't store or can't access your data after you use the program.
Part 3: Can You Get A Free Download of Passper for Word?
Passper for Word is the best tool for unlocking encrypted Word documents and such a valuable tool cannot be obtained for free.
Due to the popularity of the program, some online websites claim to offer free Passper for Word. If you happen to find a free download version of Passper for Word on other websites, please avoid to downloading and using it. It is a cracked version of official Passper for Word, and it will cause severe damage to your computer or data.
Actually, Passper's official website offers a trial version that can be downloaded for free. However, the trial version cannot be used to recover or remove passwords. Rather, it is used to have a full evaluation of the product. So, if you want to enjoy the full features of the program, we suggest you buy an official license plan of Passper for Word.
Part 4: Guarantee from Passper
Passper guarantees the following benefits to you if you use official Passper for Word:
The program is totally safe to use. It does not insert any virus, malware, or plug-in. It does not damage, alter, or store the information in the Word documents you upload.

Payment on the official Passper website is highly secured. It offers several payment methods and all these payment merchants stated on the official Passper website offer reliable services.

By purchasing the official Passper for Word, you can enjoy a lifetime update for free.

Passper offers a 30-day money back guarantee. If you are not satisfied with the program or the program doesn't work for you, you can contact Passper team to require a refund.

In case that you meet any problem during the usage of Passper for Word, Passper team is available to offer you a professional and timely technical support.
Special Offer: Get Official Passper for Word Now with 25% Discount
Can't wait to unlock the full features of Passper for Word? We would like to reward you with a huge discount that can save 25% on the price of the program.
25% off Coupon Code: PP-25OFF
In order to buy the Passper for Word program, the following steps should be taken:
Step 1: Choose the purchase plan and click the purchase link under below: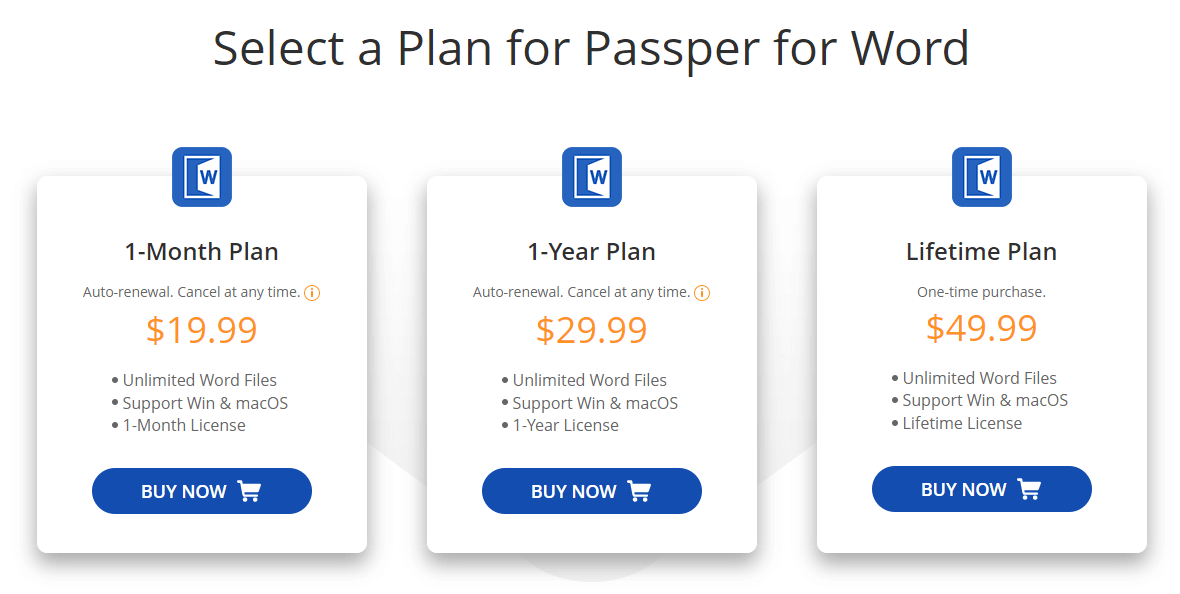 Step 2: The order page will automatically provide you with a discounted price. Next, fill in the details of the payment and billing option to complete the purchase.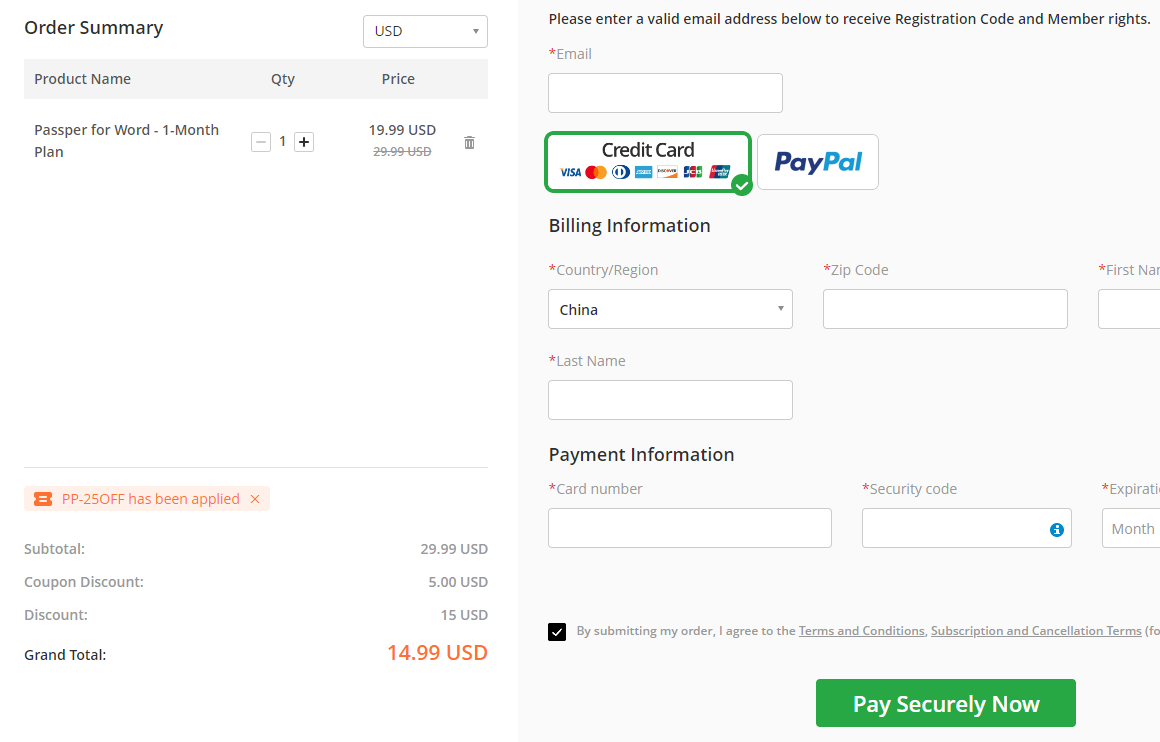 Step 3: If the coupon code doesn't come to effect, you can enter the coupon code manually. Click on "I have a discount coupon" then enter the coupon code 'PP-25OFF' displayed above. Click 'Apply' to take effect.