You've just finished your novel. You don't want anyone to read it yet including your family members, so you add a strong password to protect the document. A few weeks later, you go back to that document, but every password you try doesn't seem to work. These passwords are used on a regular basis and the only explanation is that you forgot word document password or added another character and changed the sequence of the password.
You begin to be in a panic, the book is nearly 100,000 words long and you can't imagine having to sit down and write it again. Before worrying that your months of writing may become a total loss, read on. In this article, we are going to share with you several ways to recover a forgotten Word password.
Part 1. Can You Recover a Forgotten Word Document Password?
It is easy to be skeptical about whether or not you can recover the forgotten password for Word document. Even Microsoft says that you can't although as a caveat, Microsoft does say that there are several programs and online tools you can use to recover the password, they just don't recommend them. In this article, we ask you to keep an open mind to the possibility of recovering the forgotten password. Some or all of the methods discussed here have worked for others and may very well work for you.
Part 2. Four Ways to Recover Forgotten Word Password
The following are some of the ways to recover forgotten Microsoft word password if you are on a budget:
1. Unlock Word Document via GuaWord
If you are running an older version of MS Word, you can try to use a program called GuaWord. This free method uses the command line so there is no UI but it can get past any password.
Once you have installed the program on to your computer, you should see the instructions on how to run the command line in a file called "readme.txt".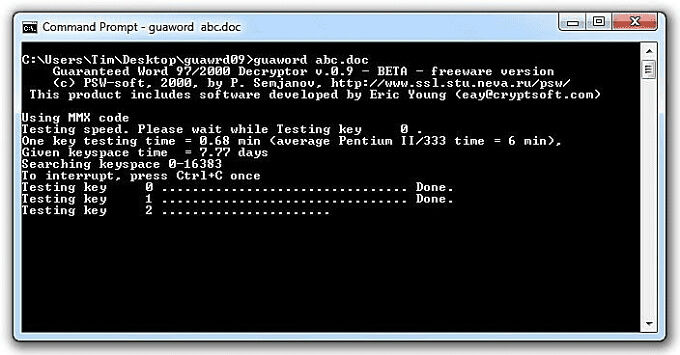 Limitations of This Method:
It can take up to 10 days to unlock the Word document and even then the decryption is not guaranteed.

It only works for older versions of Word document.
2. Recover Forgotten Word Password Online
There is a wide range of online tools that all offer you the service to recover forgotten Word password. While these online tools can work, many are not reliable in that the whole process could take a while and many are not free. You will need to pay for the service before you can even verify that the password has been removed.
There are also a lot of issues with choosing to use an online tool to recover a password. One of these is the security of your document. You don't have control over the servers you upload the document to and they could choose if they wanted to, to share this document with other online users. If the document is of a sensitive nature, this may not be the ideal solution.
The other disadvantage of using online tools is that it may take up to several weeks to get the password. In this time, you don't know who gets to see your document or how many times the document is shared online to sites that will actually pay money to see the content on your document.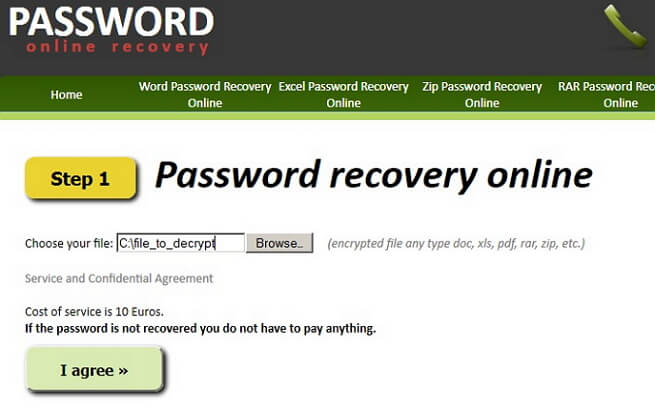 3. Forgot Word Password? How to Recover Word Password with a Premium Tool
While all the methods above do offer a level of success when trying to recover forgotten Word password, you may want a different solution that is easy to use and guarantees a 100% recovery rate. If you want a solution that will not waste your time with endless tries or weeks of waiting for your password to be recovered, you may want to choose Passper Word Password Unlocker. Passper Word Password Unlocker is specifically designed to make it easier for you to recover any password of any length, no matter how complex it is. To do that, Passper employs the following very useful features:
Unlock Word document password to open and password to modify. All types of passwords could be unlocked.

Based on 4 customized attack modes, the recovery time can be greatly shortened and the success rate is the highest on the market.

By using Passper for Word, your data security is 100% guaranteed.

The recovery status will be saved to short the whole recovery progress.

It is very easy to use as we shall see in the tutorial that follows. You don't require any skills or knowledge to use the program.
How to Recover Opening Password for Word Document with Passper
To use Passper to recover your lost Word document opening password, download and install the program on to your computer and then follow these simple steps:
Step 1: Open Passper Word Password Unlocker on your computer and then choose "Recover Passwords" option to begin the recovery process.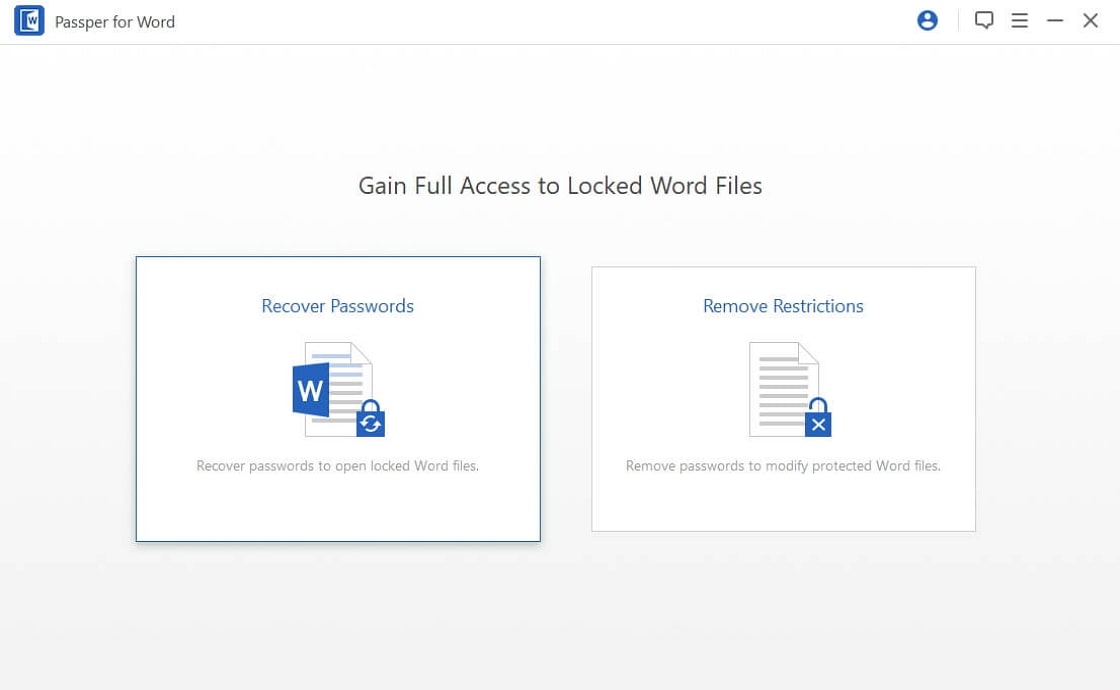 Step 2: Now add the document to the program. To do that, simply click on "Add" and then browse for the password-protected document on your computer.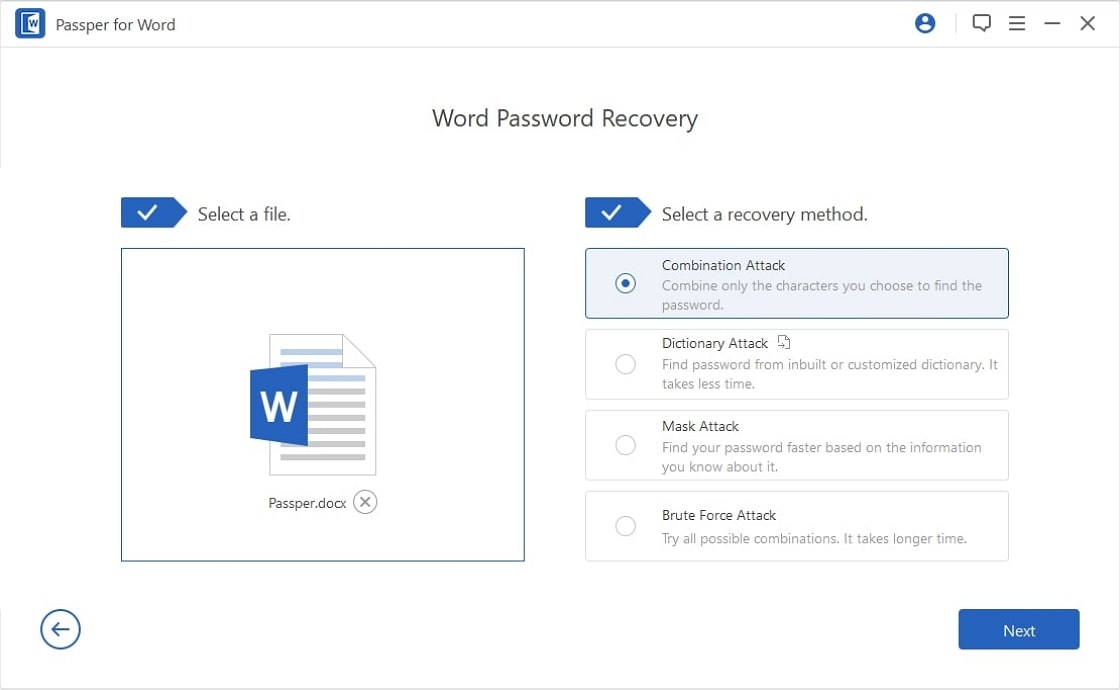 Once the document is open, you should see 4 separate attack modes, each designed to help you recover your password under different circumstances. Select the one you want to use depending on your own situation.
Step 3: The program will begin recovering the password as soon as you click on "Recover". The process could take a few minutes depending on the attack mode chosen. Once it is complete, the password will be displayed on the screen. You can then use the password to open the Word document.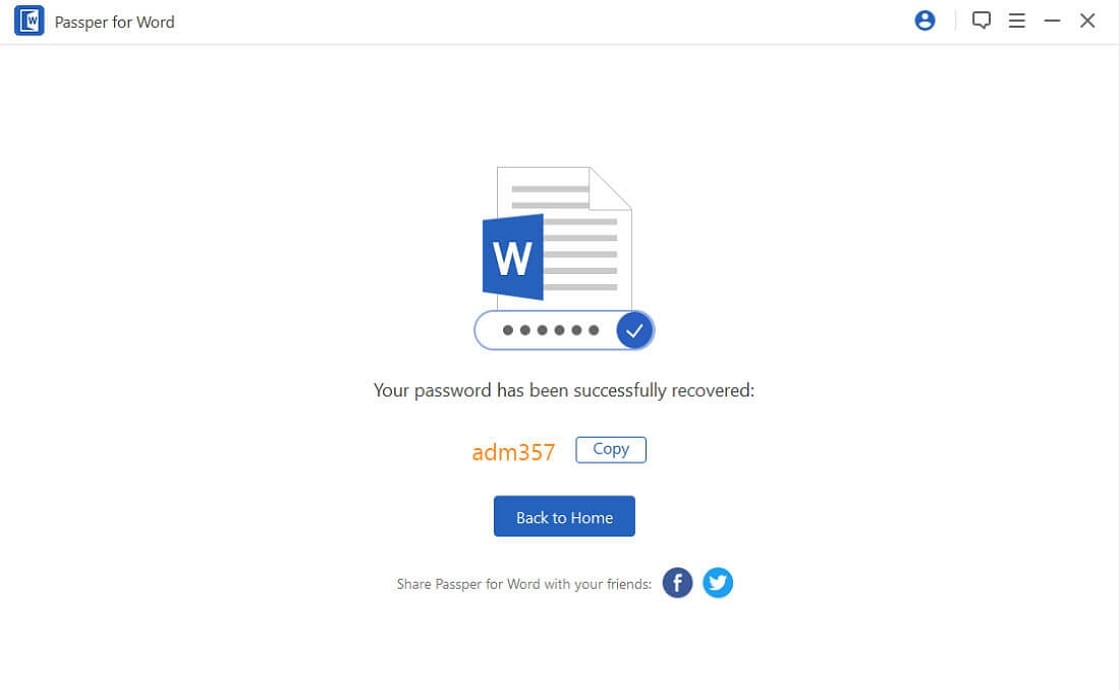 Remove Edit or Print Restrictions on Word with Passper
You also get a chance to remove restrictions set on Word files with Passper tool. And it can 100% remove all restrictions.
Step 1: To edit a read-only Word document, you will need to click 'Remove Restrictions' tab on this program's main interface.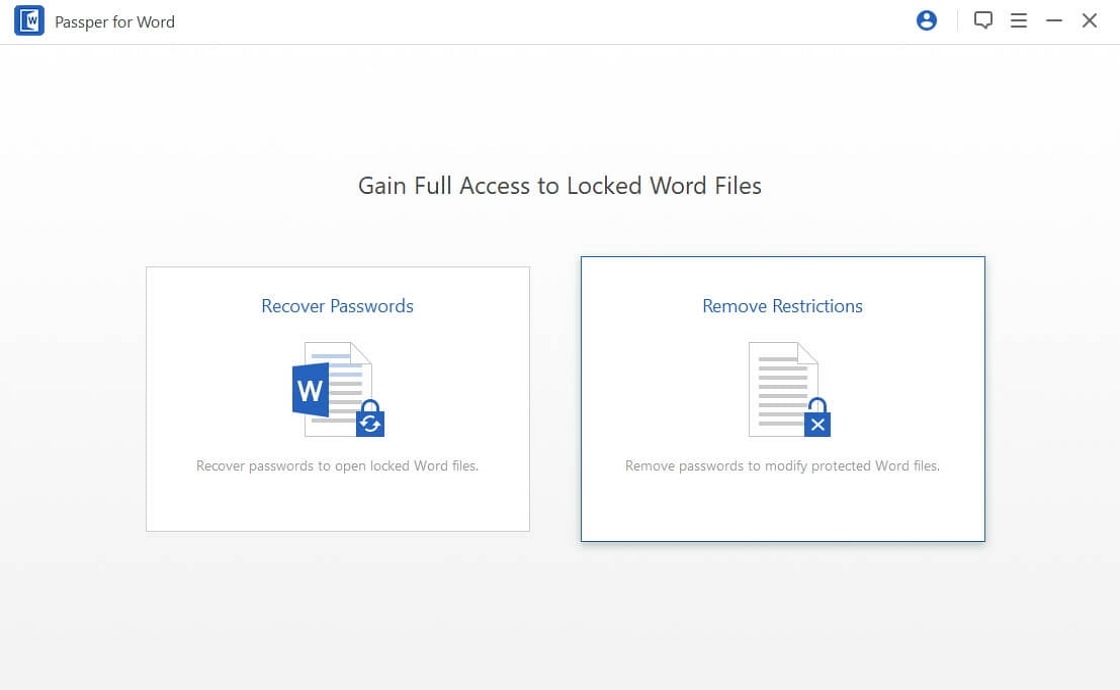 Step 2: Choose the Word file that you need to remove the restrictions and add it to the program. Then click on 'Remove' button.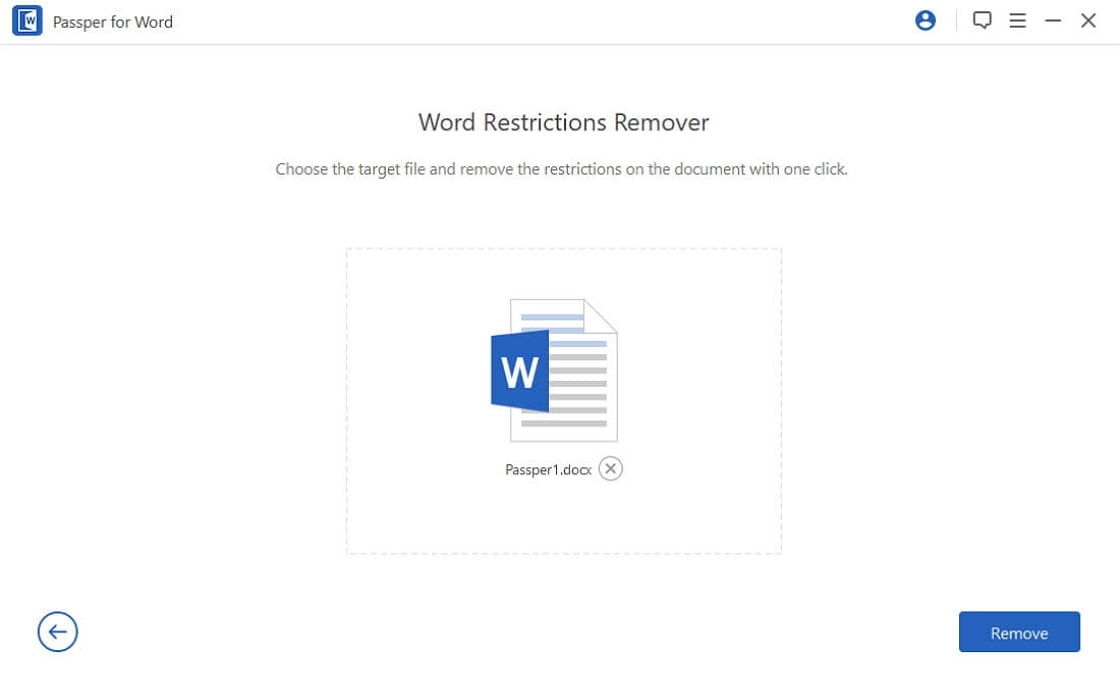 Step 3: The removing progress will be completed in 3 seconds.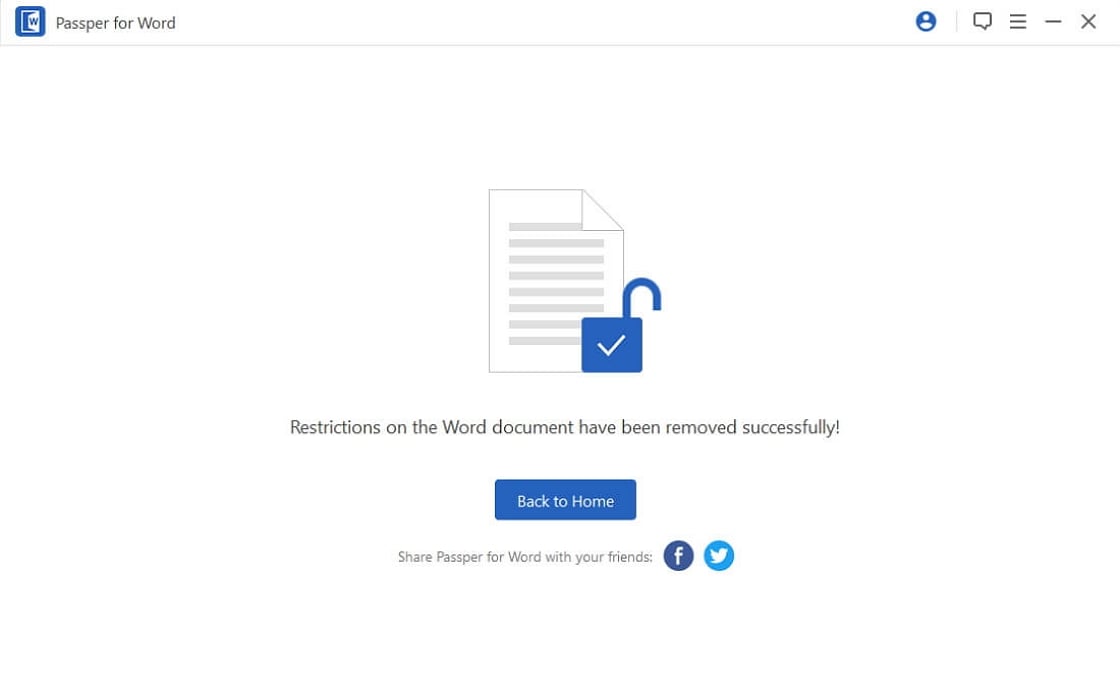 4. Recover Forgotten Word Document Password via VBA (Difficult)
If the online solution doesn't seem viable to you, you can use Microsoft's own VBA codes to access and crack the password. VBA codes are usually found in the Microsoft Visual Basic Editor in Excel and Word document and are aimed at automating various tasks on the document. To use VBA code to recover Word document password, follow these very simple steps:
Step 1: Open a blank Word document on your computer and then press "Alt + F11" to access the MS Visual Basic for Application feature.
Step 2: Click on the "Insert" tab and in the drop-down menu that appears, select "Module".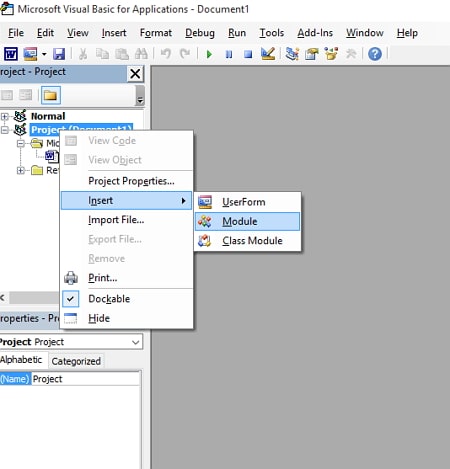 Step 3: On the next page, enter the VBA code and then hit "F5" on your keyboard to immediately run the code.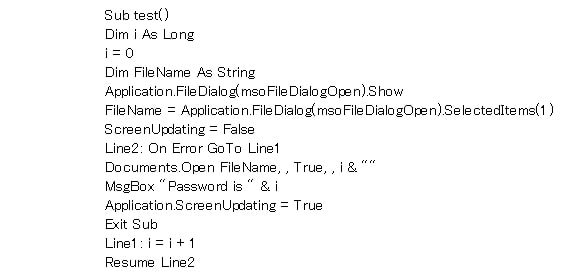 Step 4: Now open the locked Word file and load it on the program screen. A password recovery process will commence in the background using the VBA code. Once the process is complete, use the password recovered to open the Word document.
Limitations of This Method:
It is very complex for most users compared with the other 3 methods.

It doesn't support the new versions of Word document.

This method won't be workable if your password is longer than 3 characters.
Of all the methods we've described above, Passper Word Password Unlocker presents the only viable and most effective way to recover the forgotten password. You never have to worry about the safety of the document since it will remain on your computer and you are free to use the program to recover any password on a later date should you need to.