I have some old MS Word documents on an external hard drive dating as far back as 2003/2004. Only trouble is that they're password protected and I can't remember any of the passwords I really want to read them. Is there a program or something I can use to unlock them? I'm using a Mac.
Are you in a similar situation? Don't have a clue about how to unlock a word document on Mac? Well, you have come to the right place. We are here to share a few workarounds you need to follow to open a password protected word document on Mac. Scroll through and learn all the required steps.
Part 1: How to Unlock A Word Document on Mac without Password
If you don't have the password for the file, we have two methods following which you can easily unlock the file.
Method 1. Find Back Your Password through Keychain Access
You can recover your MS Word document password on Mac through the Keychain access utility. The Keychain Access is nothing but an application on your Macintosh to save the data related to your account; it also manages all the passwords you need to remember to access, for example, your email account, network server, or a website.
Here are the steps you need to follow to find your password in Keychain:
Step 1: Double-click the "Applications" folder on your main hard drive. Find "Utilities" in the list displayed. Click on it.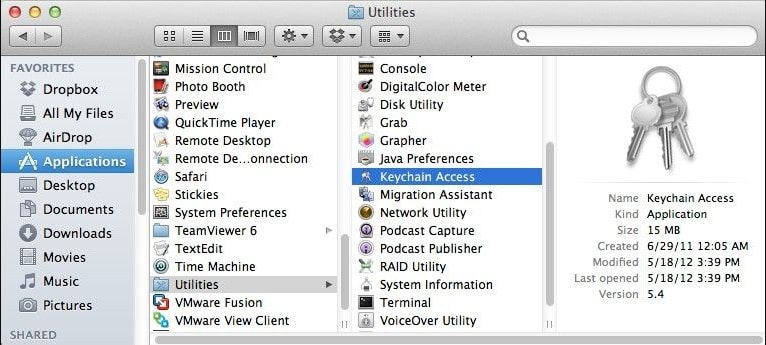 Step 2: Then, from there, double click on "Keychain Access". Now, Select the Password tab and click on Name.
Step 3: Then, double-click on "Microsoft Office".
Step 4: After that click on the "Attributes" and you need to check the box beside "Show Password" tab as well.
Step 5: Finally, type your system administrator password and click "Allow" to finish.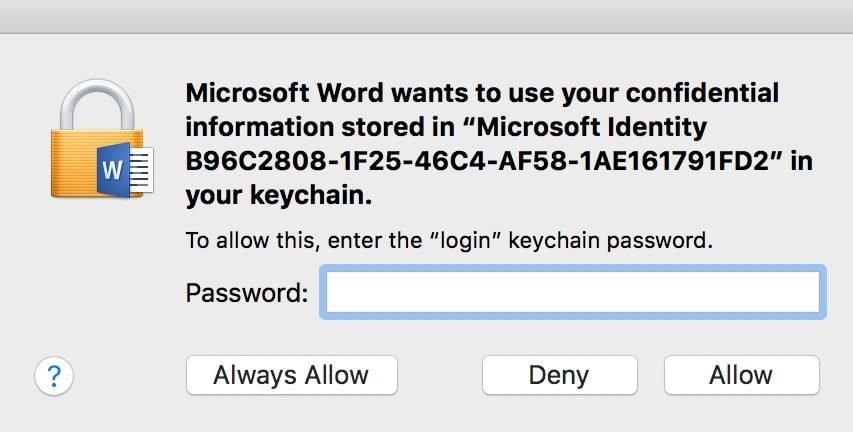 Hence, you have successfully recovered your MS Word password on Mac.
Method 2. Use Professional Word Password Cracker on Mac
If the Keychain access cannot recover the password for you, you can make use of a third-party password recovery software to recover Word document password. Passper for Word is the best word document password cracker for Mac. This is a great utility tool that can definitely help you. Have a look at the key features of Passper for Word password recovery tool.
Key features of Passper for Word:
Created with the advanced algorithm, Passper for Word has the highest recovery rate.

Having CPU and GPU acceleration, Passper offers you the fastest recovery speed.

It offers 4 attack types to recover the password. You can choose according to how much information you know about the password.

Easy to use features; you do not have to be a computer expert by using it.

What's more, all restrictions on your word document can be remove with one click within seconds.
Now you know the key features of the tool, you must be thinking about the steps required to unlock the password-protected MS Word document. Follow the steps below to understand the whole process:
Firstly, download and install the Passper for Word password recovery tool on your system. Once done, run the software.
How to Recover Word Document Password
Step 1 Choose Recover Passwords option on the main interface of the tool.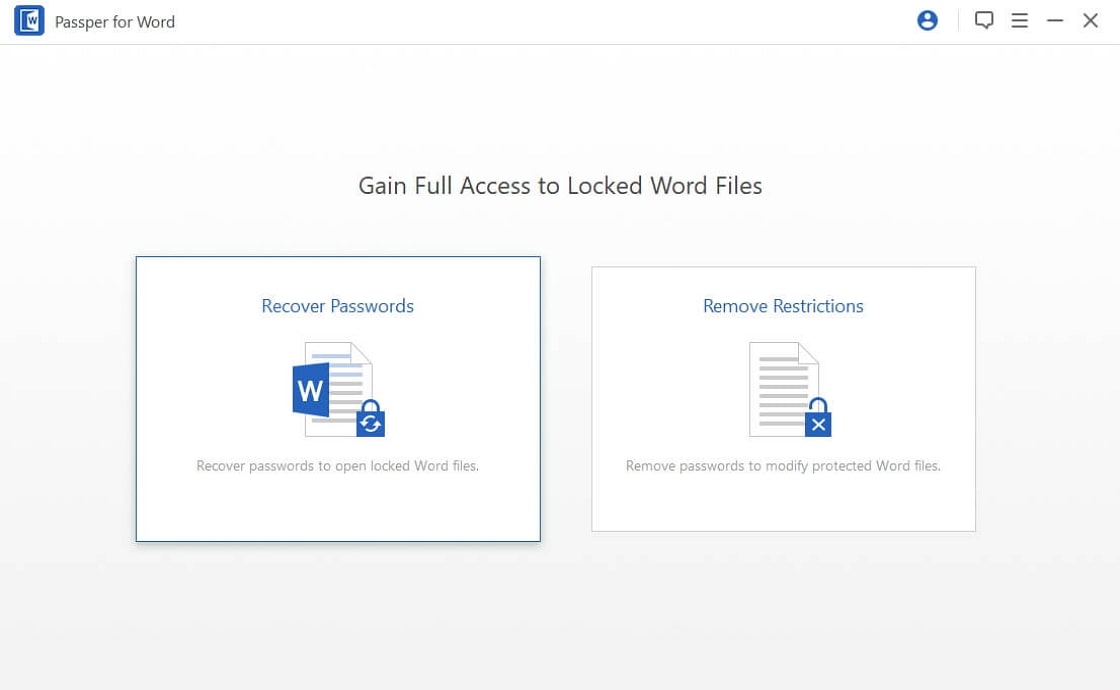 Step 2 Click on the "+" button to import your locked word document. Then, you need to choose one recovery method according to the information you remember about your password.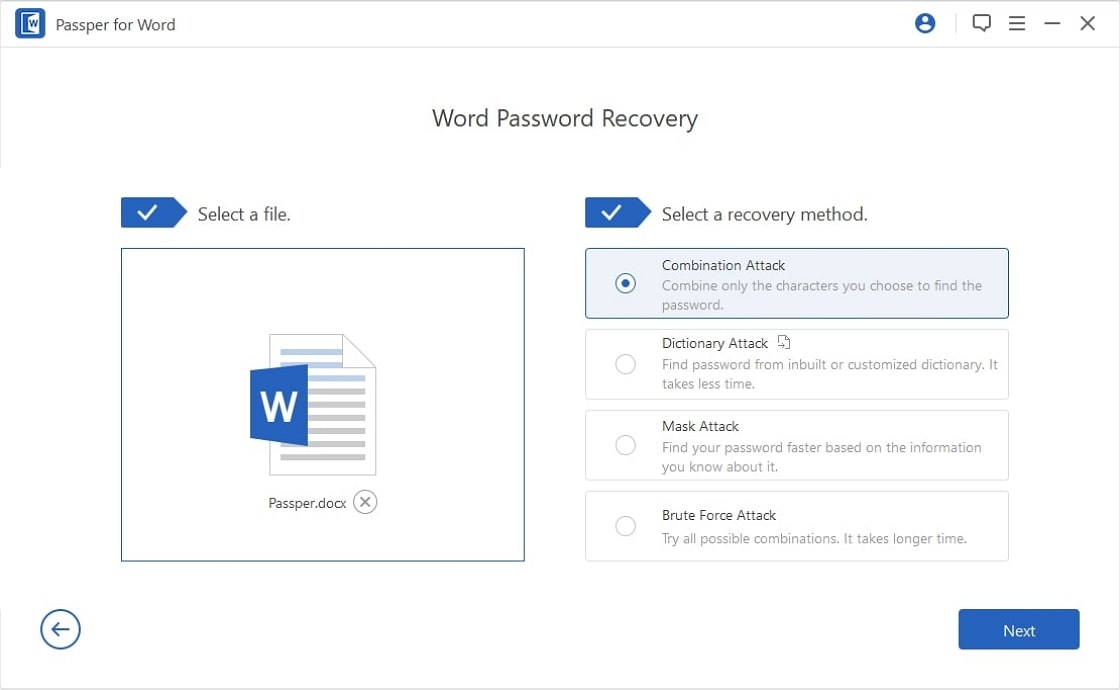 Step 3 Once you choose the suitable attack mode and done with the configuration settings, simply click on the Recover button and the process will begin. After a while, the correct password will be displayed on the screen.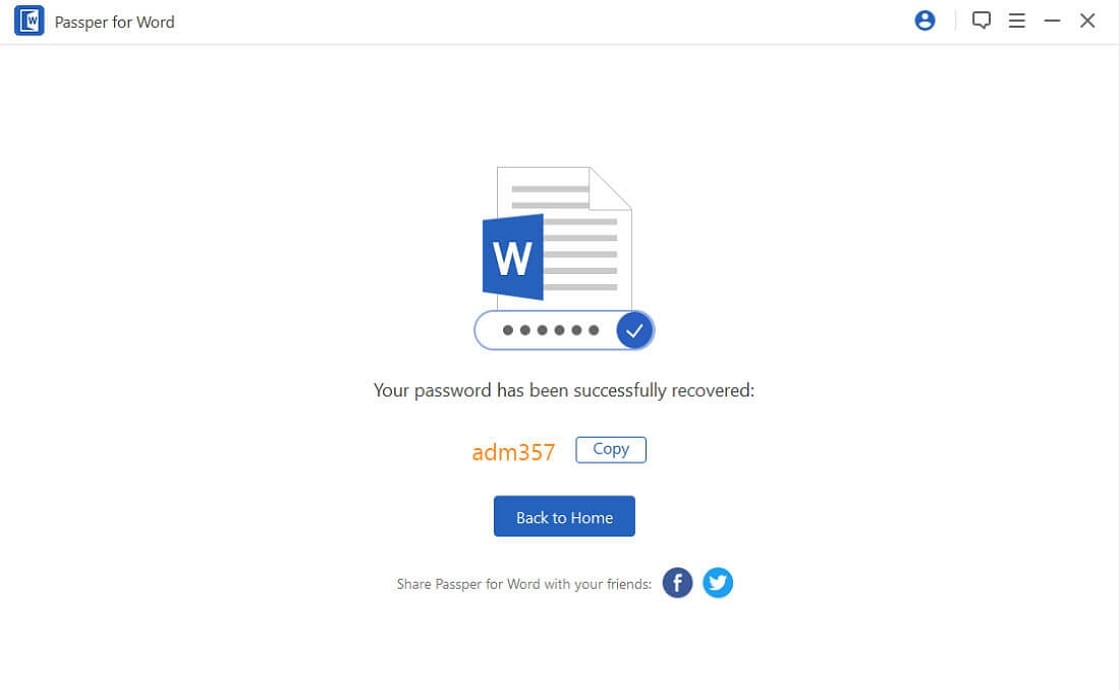 How to Remove Restrictions from Word Document
Step 1 To remove the restrictions, you need to choose Remove restrictions on the home page.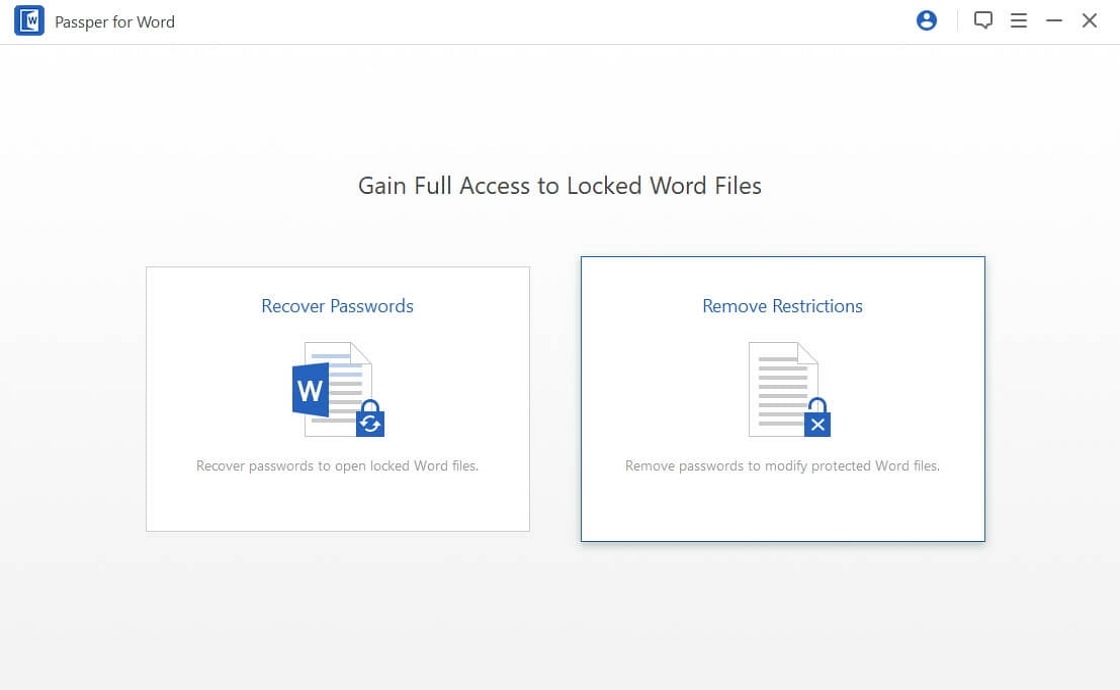 Step 2 Click "Select a File" to import your protected word document. Once the file is successfully uploaded, click on the Remove button.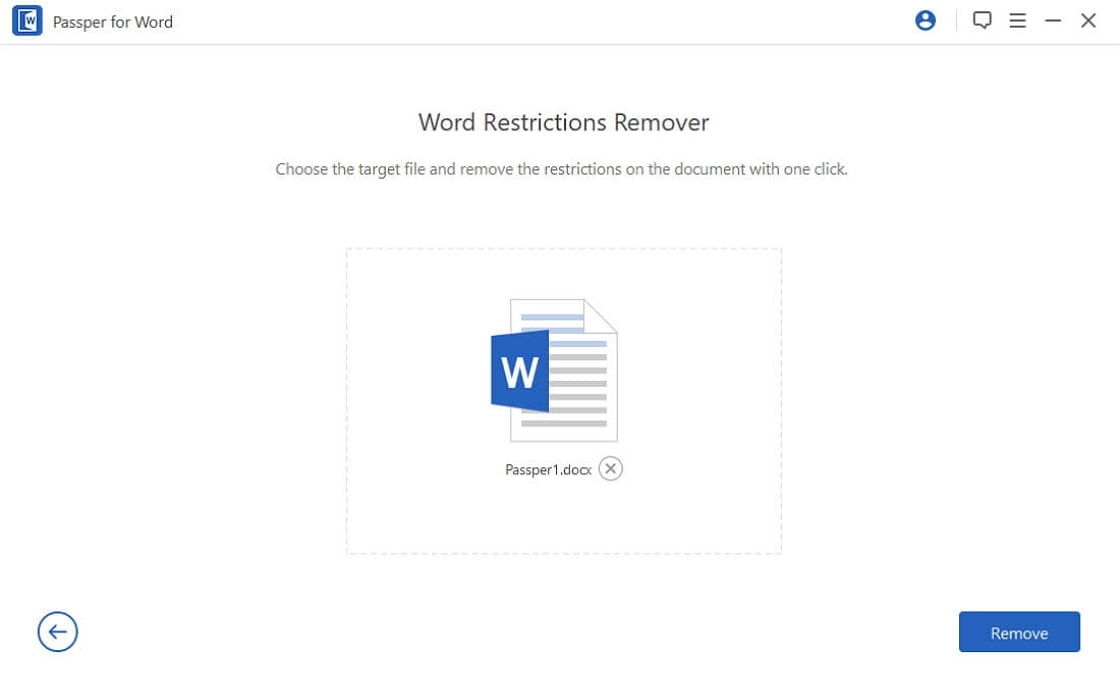 Step 3 Seconds later, all restrictions on your word document will be successfully removed and you will receive the restriction-free word file.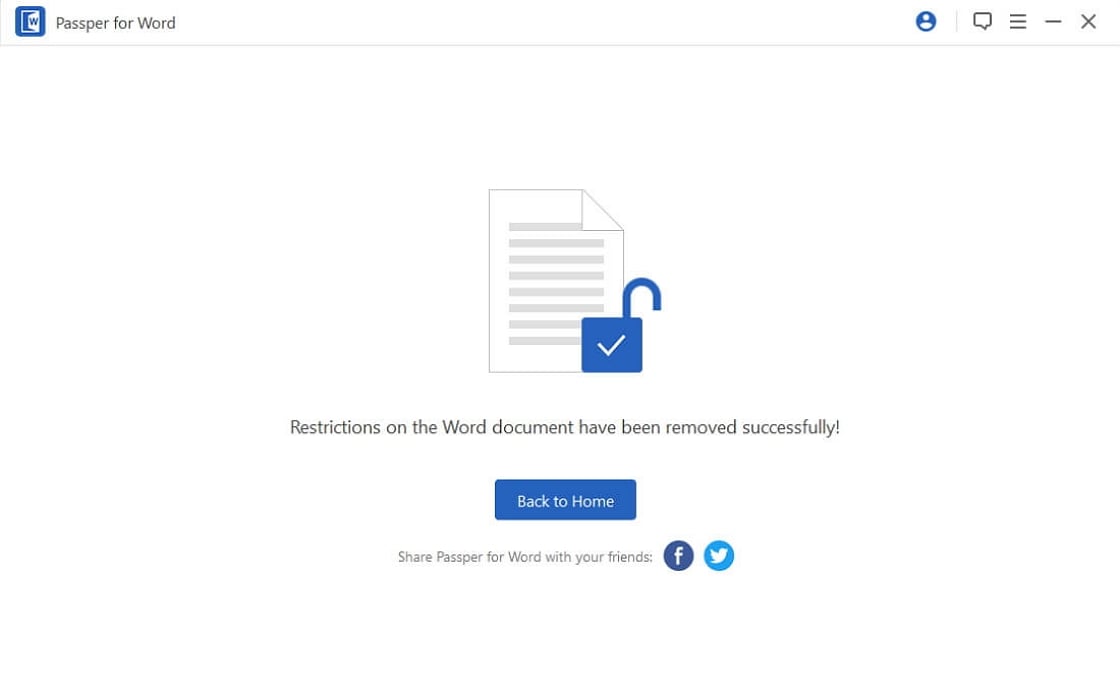 Part 2: How to Unlock A Word Document on Mac with Password
If you already have the password, you don't require to go through all those complex methods. All you need is to follow these simple steps to unlock a Word file and remove the protection on your Mac computer.
Step 1: Firstly, open the protected document. Enter the correct password in the pop-up screen.
Step 2: Click on the File menu and choose Preference from the list.
Step 3: The Word Preference window will pop up. Choose Security and click OK button to continue.
Step 4: In the Security screen, you can remove both Password to Open and Password to Modify. Click OK to finish the operation. Please remember to save the word document.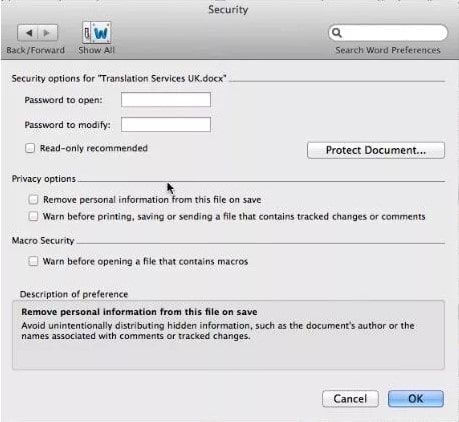 As you already got all the steps to unlock your Word document on Mac, it's time for us to drop the mic. As we mentioned before, there is not any program can be used to recover password for word document on Mac. Good news is that Passper for Word is considering developing Mac version. It is worth waiting!