It happens in our daily life that we may forget the password of our computer or we need to crack the password of a particular computer for some reason. In such cases, we need a tool to recover the Windows password. Ophcrack is one of the most effective Windows password cracking software. It helps people recover the login password for Windows through rainbow tables. We found that there are many questions like "does Ophcrack work on Windows 10", "can I use Ophcrack to crack the password for Windows 10", or "how to use Ophcrack" online. Therefore we would like to write this article and answer these questions.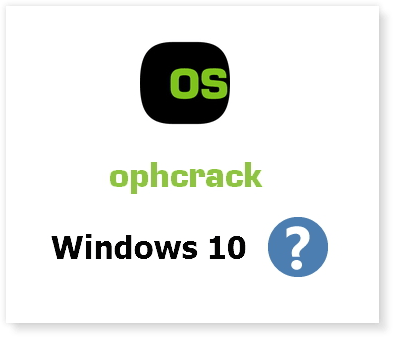 Part 1. Does Ophcrack Work on Windows 10?
The answer to this question is unfortunately NO.
As shown on the official website of Ophcrack, you can download the appropriate Ophcrack LiveCD version for Windows 7/XP/Vista even Windows 8 (the ophcrack Vista/7 LiveCD also works on Windows 8). However there is no Ophcrack LiveCD for windows 10.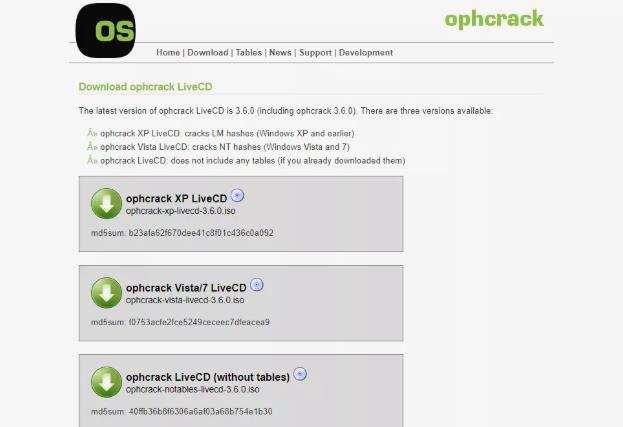 From a post of Ophcrack's user, we can also get the conclusion that Ophcrack doesn't work on Windows 10.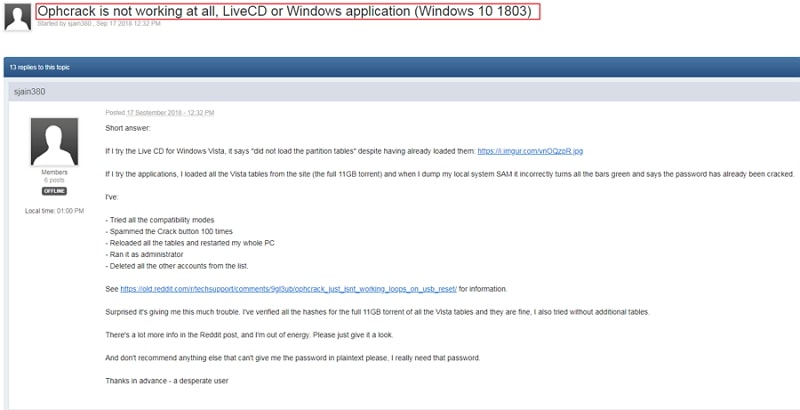 Part 2. Best Alternative to Ophcrack for Windows 10
People want to use Ophcrack on Windows 10 when their Windows is locked because they forgot the password. Since Ophcrack doesn't help, we would like to offer an alternative solution. It is to reset or remove the Windows login password using a third-party tool. Among such tools in the market, Passper WinSenior is your best choice. It works on all Windows version including Windows 7/8/10. Compared with Ophcrack, Passper WinSenior has many advantages:

1. Using Ophcrack, you need to wait for hours to download the ISO files and look for another tool to burn the ISO files to a disc or USB flash driver (check this in part 3). Passper WinSenior will download and burn its customized ISO files within 10 minutes.
2. Using Ophcrack, you need to wait for a long time to get the password recovered. Password cracking usually takes very long time and the result is not guaranteed. It is very possible that your password is being recovered forever. However, Passper WinSenior can 100% reset or remove the password within seconds.
Next let's tell you how to use Passper WinSenior to unlock your Windows 10. First of all, download and install Passper WinSenior on your computer. Please note that since you have forgotten the password, you will need to download the software on any other accessible computer.
Free DownloadFor Win 10/8/7/XP/Vista
Step 1: Insert a USB flash drive or CD/DVD to an accessible computer and select the corresponding option on the interface, then click "Create" button to create a bootable USB drive or CD/DVD. Once you've successfully created the flash drive, eject it.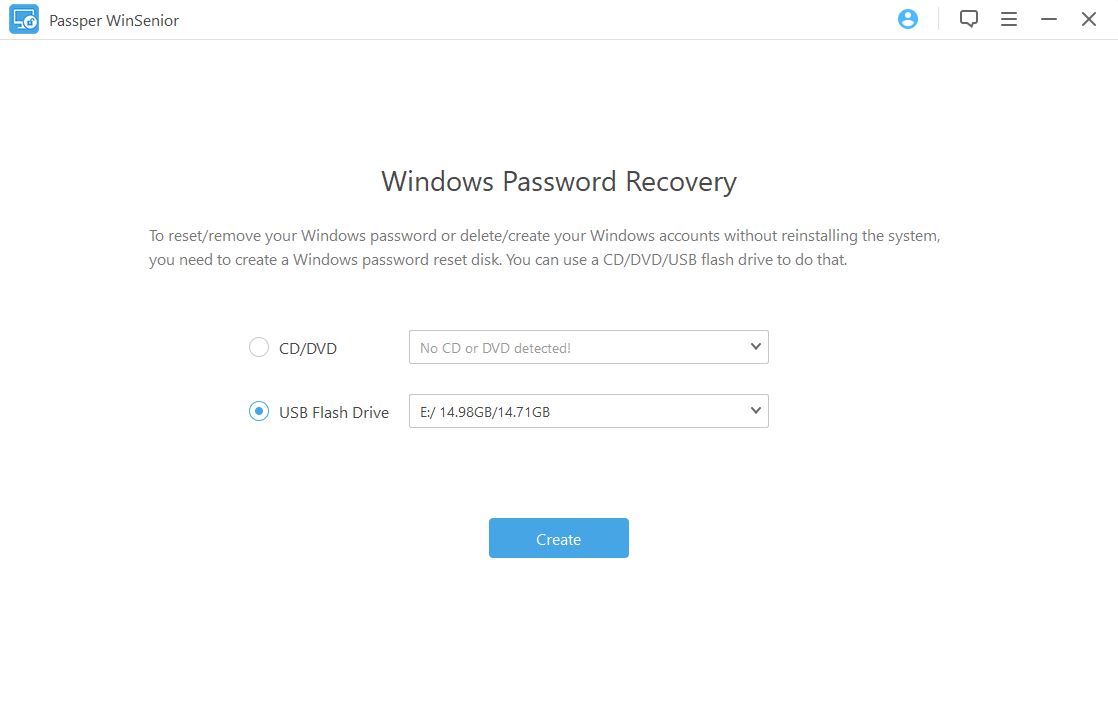 Step 2: Now move to your locked PC and insert the bootable disc you just created. Restart your computer. If you have set your computer to boot from USB flash driver or CD/DVD, the computer will run Passper WinSenior automatically. If not, enter boot menu and boot your computer from the USB drive or CD/DVD that you just burned ISO files to. There is a very detailed guide.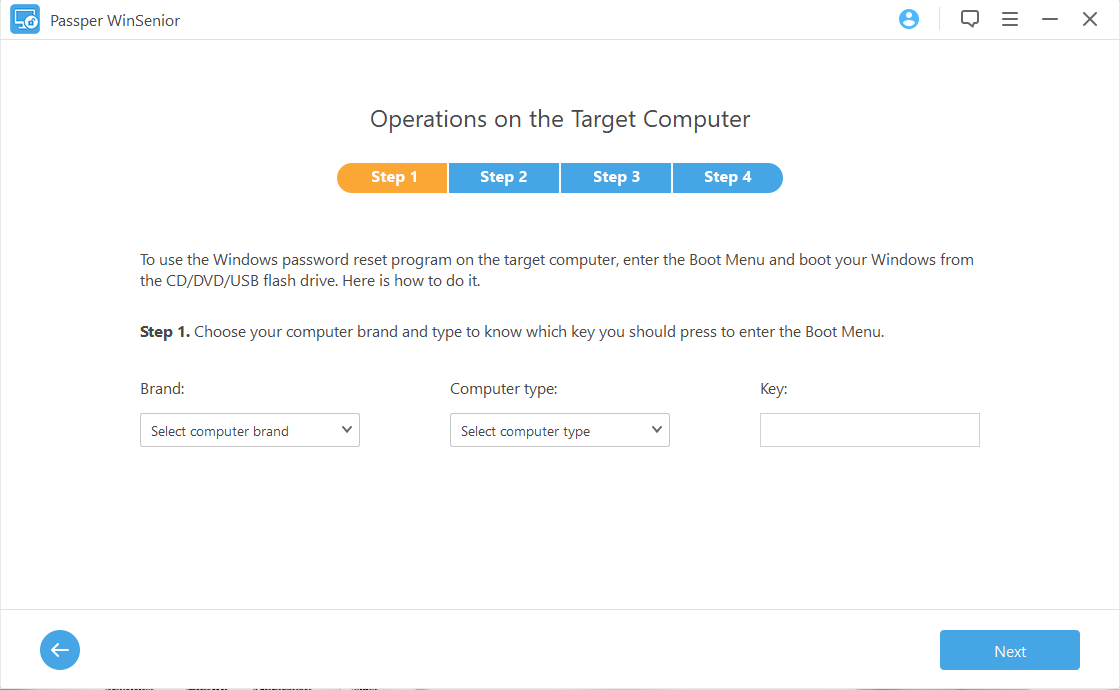 Step 3: Once you see the interface of Passper WinSenior, select the operating system that is locked.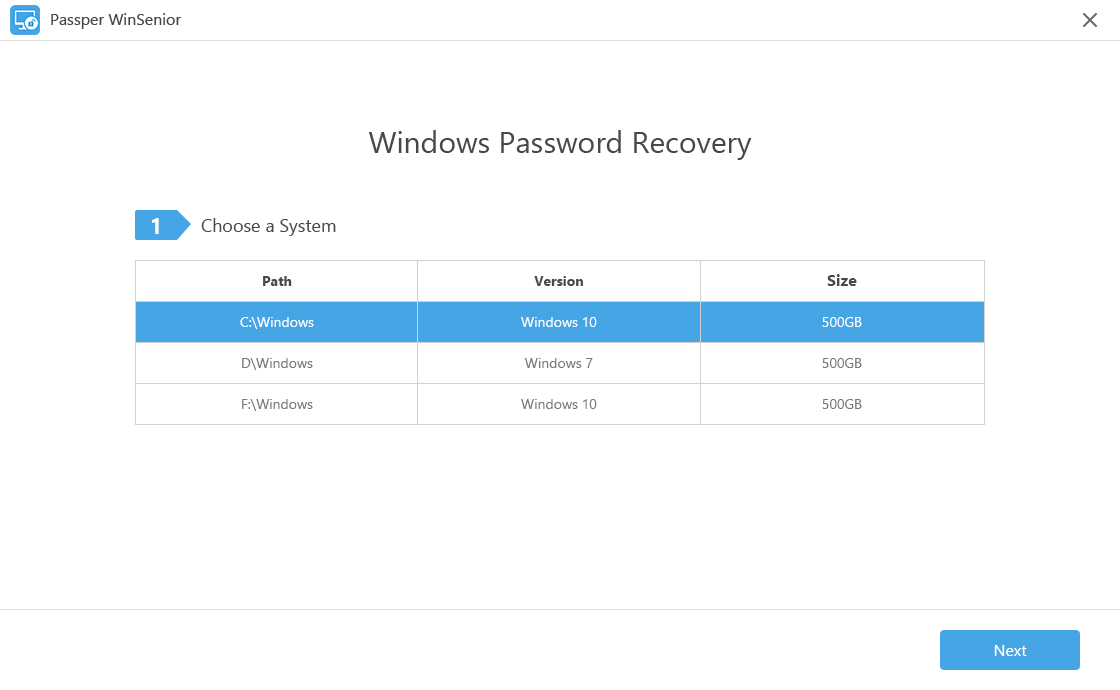 Step 4: Choose Reset Windows Password or Remove Windows Password. Then select the user account you want to reset/remove password for. Follow the on-screen guide to finish the process within seconds.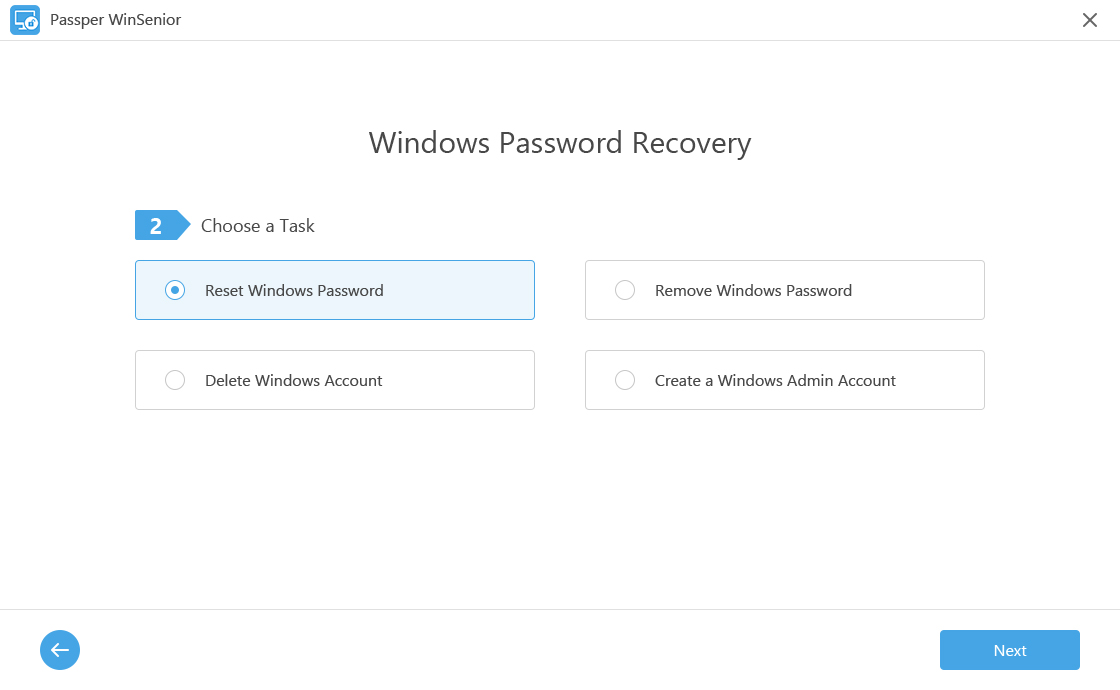 Once the password has been reset or removed, eject the bootable drive and reboot your computer. You should now be able to login into Windows with the new password or without password.
Check this video to better understand how to use Passper WinSenior:
Part 3: How to Use Ophcrack in Windows 8/7/XP/Vista
Although the above alternative method works better than Ophcrack when people forget the Windows login password, there are still some people who desperately want to recover the password. We know Ophcrack doesn't work on Windows 10, but it works for Windows 8/7/XP/Vista. We found that there were also some people asking how to use Ophcrack bootable CD to recover the passwords for Windows 8/7/XP/Vista online, so we'd like to offer a user guide here for some people's convenience.
Step 1: Visit the official Ophcrack website. You can see the features of Ophcrack there. Now click Download ophcrack LiveCD. This step and the following 3 steps should be implemented on a computer that you are able to access.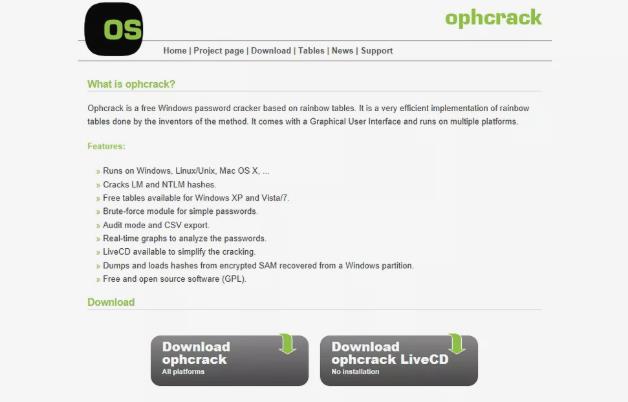 Step 2: Choose and click the correct version of Ophcrack LiveCD according to the Windows version of your locked computer. Ophcrack XP LiveCD works for Windows XP, and Ophcrack Vista/7 LiveCD works for Windows Vista/7/8.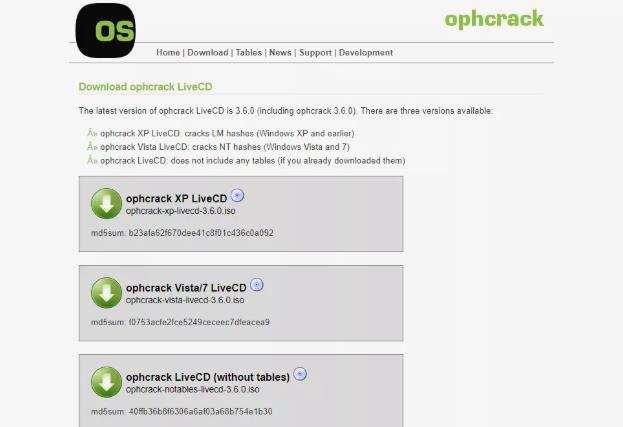 Step 3: Now your browser will start to download the ISO file. If there is a prompt asking you to download or save it, choose to save it at an appropriate location on your desktop and DO NOT OPEN IT. Do note that the file you are downloading is quite large. Ensure that your WiFi is stable and fast.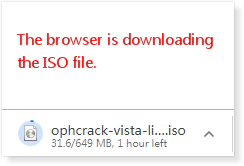 Step 4: Burn the software file you just downloaded onto a disc or a flash drive. A flash drive with a capacity of around 1GB should be sufficient. Please note that burning ISO files is a different process than burning the music files and images, or copying files. Opt for a good DVD/USB burning software for the purpose after duly checking if it comes with the options for ISO burning. If you haven't burn the ISO files correctly, you cannot use Ophcrack.
Step 5: Once you have burned the ISO files on the flash drive or disc, move to your locked computer and boot your computer from the disc or USB flash drive you just burned ISO files to. Insert the disc or USB flash drive with Ophcrack ISO to the locked computer and start it. Wait till the Ophcrack begins to run on the computer. If not, then you need to enter boot menu and set your computer to boot from USB flash driver or CD/DVD.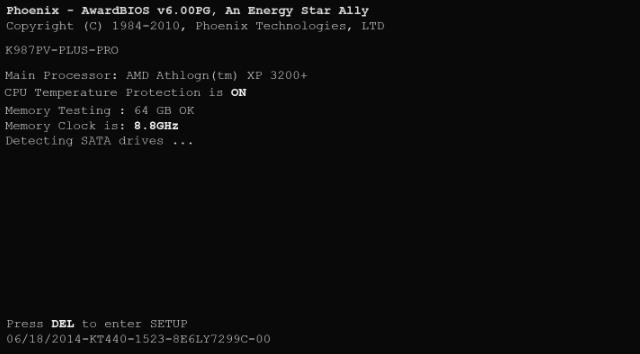 Step 6: Wait patiently till Ophcrack LiveCD software has been loaded successfully. Ophcrack LiveCD software will recover your Windows password from your hard drive. After a while, you will see the screen of Ophcrack LiveCD software. If it finds your password, you will see it in the NT Pwd column. It will take some time, so keep waiting.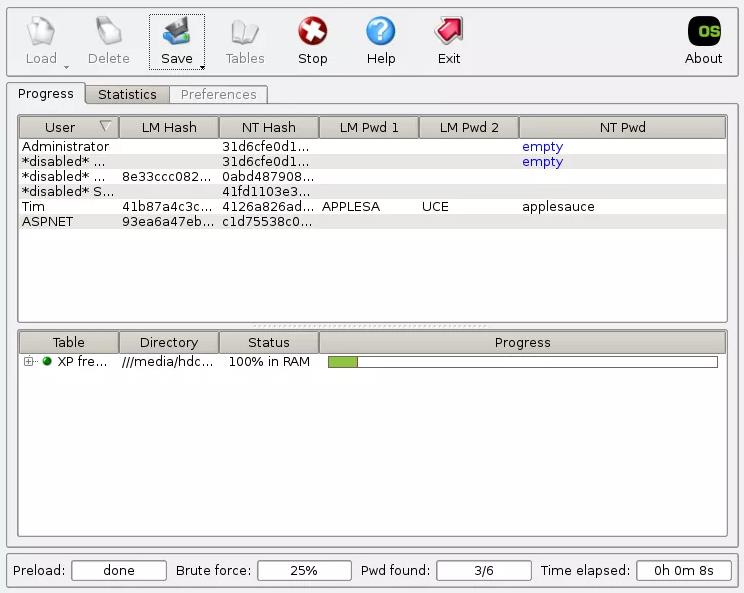 Once the password is recovered, note it down and remove the LiveCD from your computer. Restart your computer and enter the retrieved password for your username.
Summary:
The above is all the things people want to know about Ophcrack Windows 10 and and other versions. Password recovery is not advisable because the steps are very time-consuming and complicated. If you make any mistake in the process, you will not be able to recover your password. Therefore, if it is not a must to get back the password, we would recommend you reset Windows password or just remove the password. If you have any question regarding this article, please leave a comment below.