Creating a RAR file to compress and save our valuable documents is something we do frequently. But how many of you have ever thought about it- What if you forget the password? Is there any way to get access back?
With so many passwords we have these days it's impossible to remember all of them. Well, forgetting your Gmail password might not sound as hefty as forgetting the password of a RAR file. Since there is no proper way to unlock the file, especially if you are a Mac user. Sounds like a blunder?
Before you hit the button of another disappointment, let's tell you the answer.
Part 1: Is There A Way to Unlock RAR Password on Mac?
You may have already tried and tested different methods to unlock your RAR file before you came here. There is no proper method following which you can unlock RAR password on Mac. But all thanks to our professional tech geeks! We have found 2 methods for you to unlock your RAR file on Mac following our guide. Scroll through to avail the clearer picture!
Part 2: How to Unlock RAR Password on Mac?
There are two methods following which you can unlock RAR password on MAC. One is by creating a '.bat' extension file and the other option you have is to use the cRARk unlocker tool. We have listed both methods here. Scroll through and learn the easy steps.
Method 1. Unlock Password Protected RAR on Mac with CMD
It's a bit difficult to open RAR files without having the password. But the workarounds we have shared here will surely help you to get the access. You can use Command Prompt to unlock the file.
All you need to do is creating a batch script. Batch script containing a command series is nothing but a DOS file. When you create a batch file with .bat extension and run it on your system it automatically opens command prompt.
Follow the simple steps below to create and run a .bat extension file on your Mac.
Step 1: At first, open Notepad from your system.
Step 2: As the Notepad opens enter the code for batch script, you can easily get one from the internet.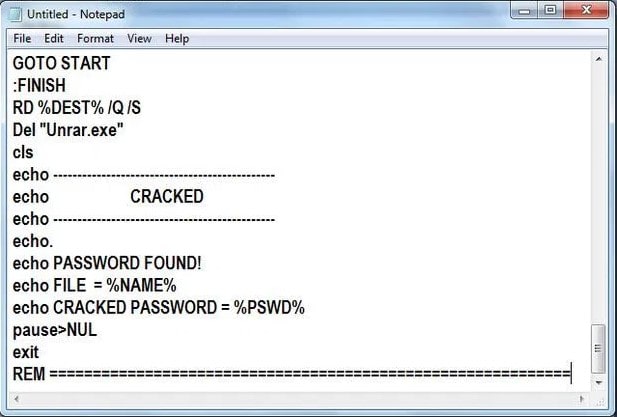 Step 3: Now, save the Notepad file as "Cracker.bat". Ensure that the file extension get saved as .bat file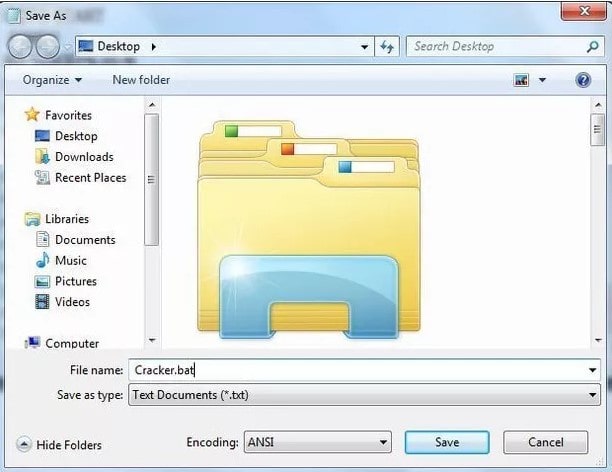 Step 4: Once you are done, locate the file from your system and open it. It will open the command prompt window.
Step 5: As the command prompt screen asks for the file name enter the one you need to unlock. Make sure you enter the extension alongside.
Step 6: Now, you will get a prompt asking you about the location of the file. Put the file location and hit the Enter button
Step 7: Command prompt will take some time to crack the password, depending on its length and complexity.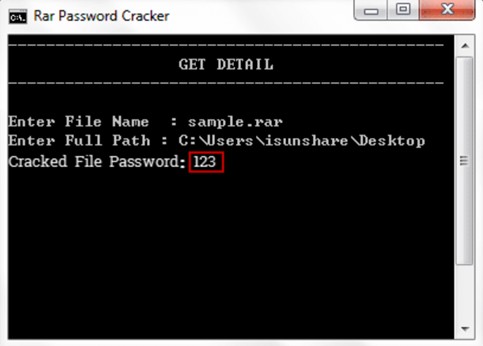 Method 2. Use cRARk to Unlock RAR Password on Mac
You can use cRARk to unlock RAR file on Mac. cRARk is a utility available for both Mac and Windows users. This command-line RAR password cracking tool is available for Linux as well. If your system comes with a powerful GPU, then you can easily work with CUDA as well.
While some of the users said the tool does not work on Mac, it is a fact that this freeware software takes a huge amount of time to crack the password of your RAR file. If you do remember some basic information about the password like the number of characters, or specific details about the combination of the whole password, the process of cracking the password becomes much faster. Follow the specific guideline here and use cRARk to unlock password protected RAR Mac.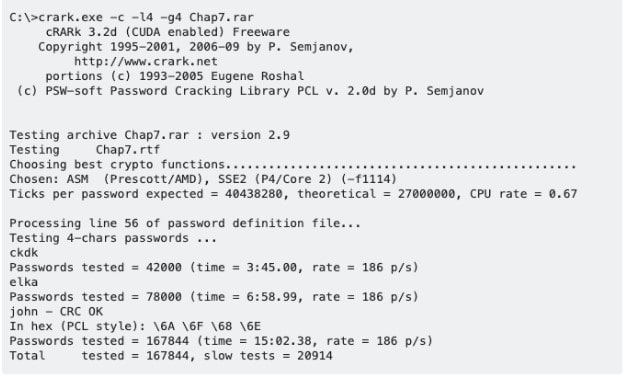 Step 1: Firstly, install cRARk on your system and open it either through the menu or the following command line: cd /pentest/passwords/crark/
Opening through the menu involves-Start/Dragon --> Backtrack --> Privilege Escalation --> Password Attacks --> OfflineAttacks --> Crark
Step 2: Once you open the menu, start creating a password.def file.
Step 3: Copy either the english.def file or the crackme.def file into the password.def to create the file.
Step 4: Now, modify the password.def file to reflect the options you need to use.
Step 5: Then, select your desired testing method under the double hash.
Depending on your password combination you need to enter different command line.
If your password consists of numbers only:

nano password.def

[$1]*

If its lower case letters only:

nano password.def

[$a]*

If its uppercase letters only:

nano password.def

[$A]*

If you are not sure about the password combination then:

nano password.def

[$a $A $1]*
Step 6: Finally, save and exit. If your system can't use CUDA, you need to disable the option using -c command while testing
Now, you can easily unlock RAR password on Mac using either of the two methods. Taking the complexity of the two methods into account, we can understand there are many who will not be able to find a feasible solution with the above two methods. If none of the processes allows you to unlock RAR file without password on Mac, we suggest you move your files on a Windows PC and use a password unlocker to get the job done.
Bonus Tip: Best RAR Password Unlocker for Windows
If you are a Windows user and looking for the best RAR password unlocker tool then we have it here for you. With a simple user interface Passper for RAR can help you to get the job done quite easily on your Windows system. We have shared all the required steps following which you can crack your RAR file password on Windows computer with Passper for RAR. But before proceeding with the steps lets have an overview of the key features of Passper for RAR password recovery tool.
Key Features:
Having 4 recovery methods which ensure high success rate.

Multicore CPU or GPU acceleration technology makes the recovery process 15X faster.

It has a simple and easy to use interface.

Password recovery state can be saved for future recovery.

The program is designed by iMyFone team, therefore, it's safe and reliable to use.
Now, as you know the key features you must be looking to get the tool and use it to recover your RAR password. Follow the steps below and you can easily make it.
Step 1 Once you are done with the installation launch the application on your system. Now, at the RAR Password Recovery screen click on the Add option there to upload your locked RAR archive.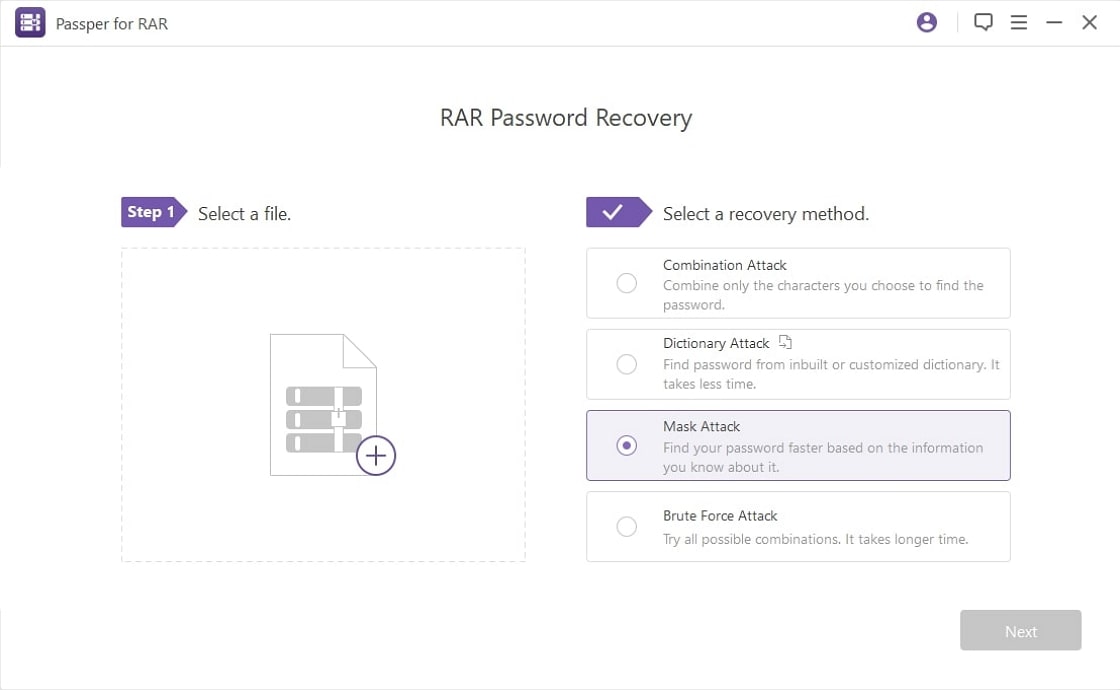 Step 2 Now choose the recovery method or type of attack. Passper for RAR enables 4 recovering options for you. All the 4 recovery methods are for different situations.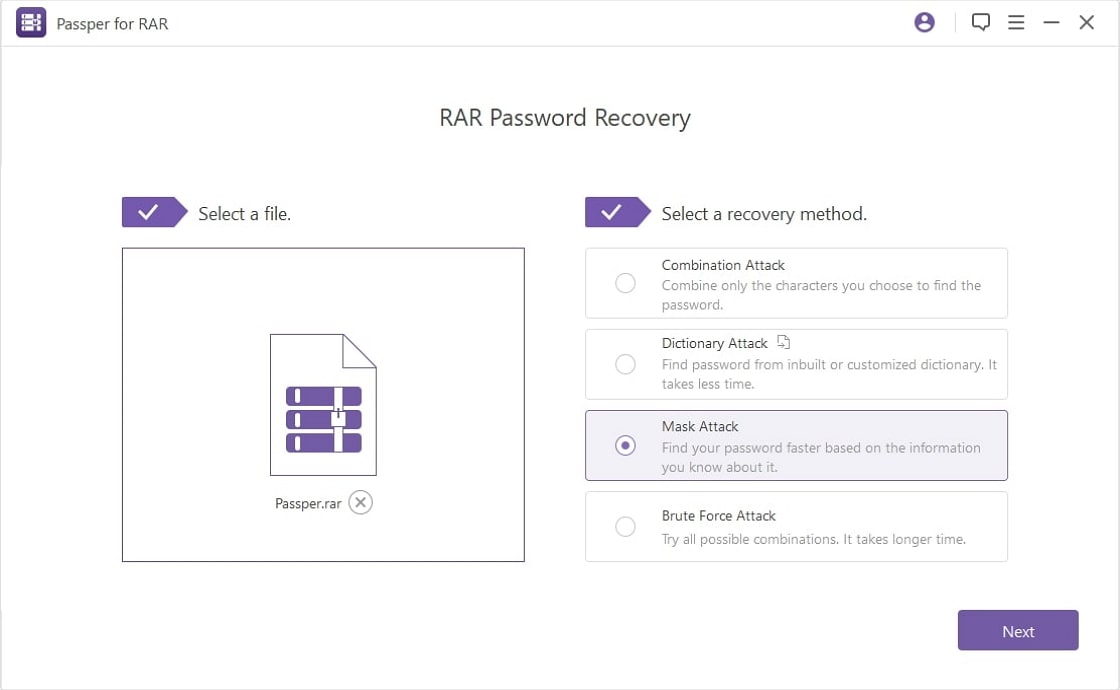 Step 3 After choosing the suitable recovery option click on the Recover button. After a short while, the password will be recovered and displayed on the screen.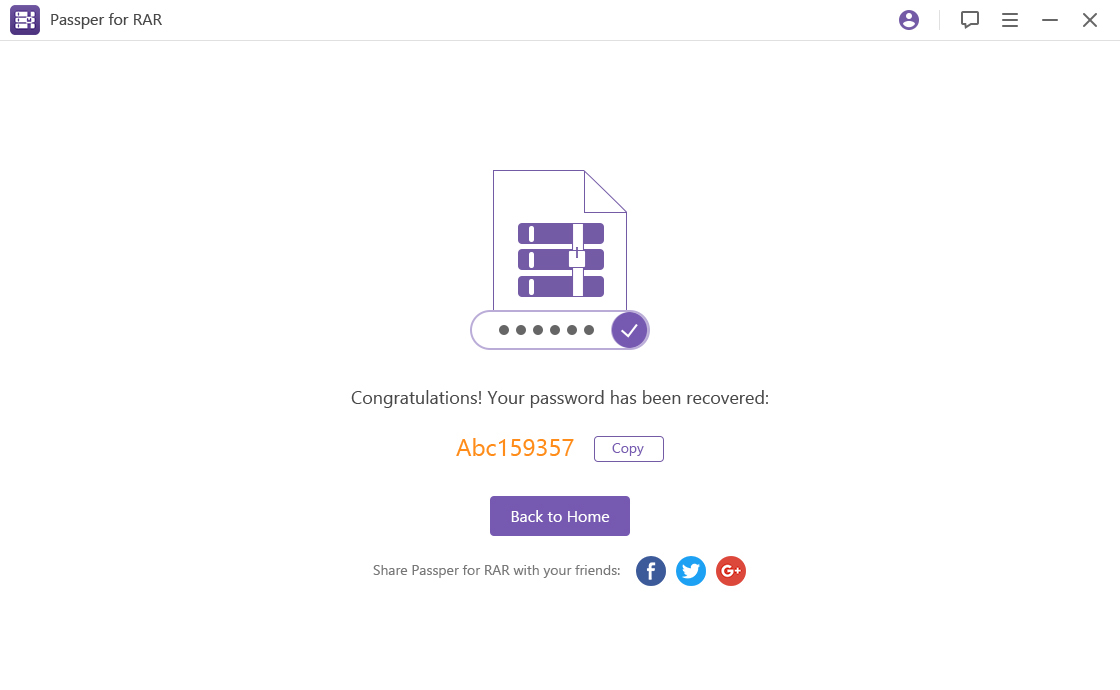 Conclusion
Hope you have successfully unlocked your RAR file password on Mac already. After reading this article, you will find it is hard to find a program that can recover RAR password on Mac. In order to help the Mac users, Passper for RAR is considering developing Mac version. Do comments in the box below, let us know your idea!