If you forget or get mixed up of your RAR/WinRAR password, Passper for RAR definitely can help you unlock password protected RAR file. This is the most powerful and successful password recovery tool for RAR files. In this article, we are taking you through Passper for RAR full review to enable you to get a clear understanding as to why Passper for RAR is the best choice.
Part 1: Passper for RAR Full Review
Passper for RAR is the top solution to recover lost passwords for RAR files. The program is popular due to its ability to unravel the forgotten password irrespective of how complex the password is. This program is specially tailored to help users retrieve passwords with less effort. There is nothing that can make you give up this tool, ranging from incredible recovery speed to a simple interface.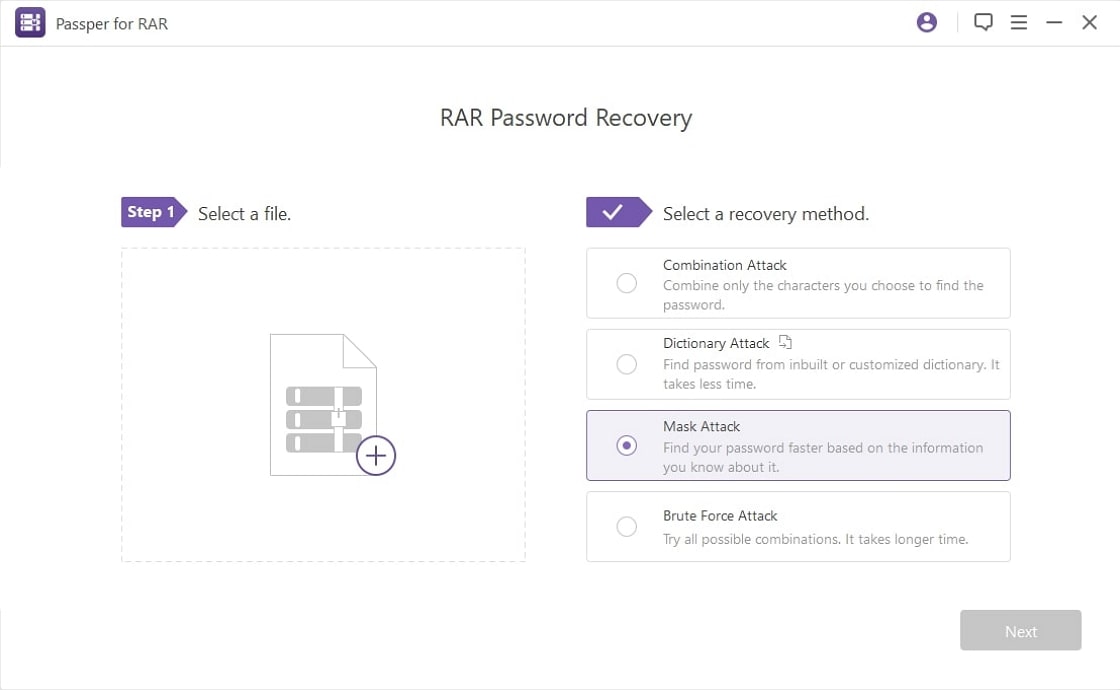 1.1 Main Features of Passper for RAR
Now, let us look at some more outstanding features of Passper for RAR.
Passper for RAR offers up to four recovery attack modes that make it so successful. These modes include the Dictionary Attack, Combination Attack, Mask Attack, and Brute Force Attack.

It allows users to save the recovery process and continue later without losing any data.

It uses multicore CPU to accelerate the recovery speed.

All data is saved in your local computer to ensure data security and safety.

It supports almost all versions of windows from 10/8.1/8/7/XP/Vista.
1.2 Pros and Cons of Passper for RAR

Pros
Passper for RAR provides you with 4 options when other tools can only offer 3 attack methods.

The program is easy to use. Even if you aren't a tech-savvy, you can find your RAR password with several simple clicks.

It has an intuitive and user-friendly interface.

Its database contains billions of real passwords.

Passper is a sub-brand of the high-tech company iMyFone, which has been recommended by many reputable media sites like PCWorld, techradar, makeuseof and etc.


Cons
Passper for RAR can only recover forgotten password so far. It's unavailable to remove password protection.

The program only supports Windows operating system yet.
1.3 How to Unlock RAR Archive with Passper for RAR
Unlocking RAR with Passper for RAR is not a complicated process. It involves 2 simple steps that any user can navigate with ease. So if you are a newbie, just calm your nerves because this program will be a smooth ride for you.
Let us begin by downloading and installing the program on your computer.
Step 1 Launch Passper for RAR. Now when the main interface is displayed, click the "+" button. From the subsequent file explorer window, select the password-protected RAR file and upload it to the program. Once the password-protected RAR file is uploaded, you are now required to select a suitable password recovery method. Simply select the desired method and click "Next" to proceed.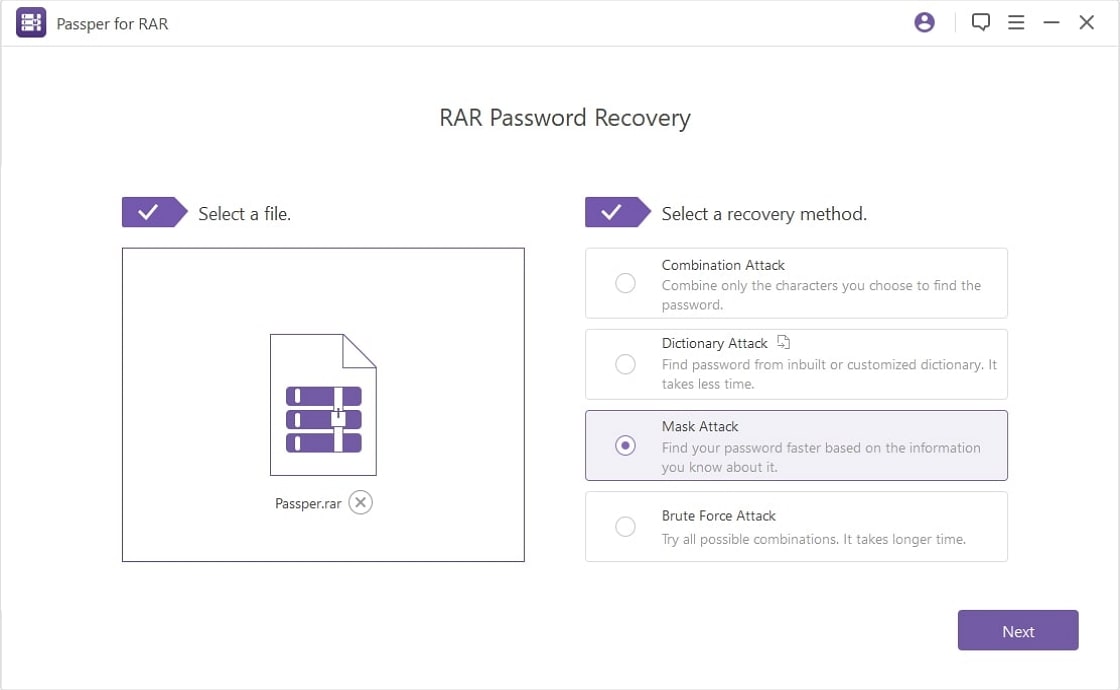 Step 2 Now click the "Recover" button to initiate the password recovery process. When the password recovery is complete, you should see the notification that your password has been recovered. Also, the retrieved password will be displayed in the background. Copy the password or write it down somewhere, then use it to open the RAR archive file.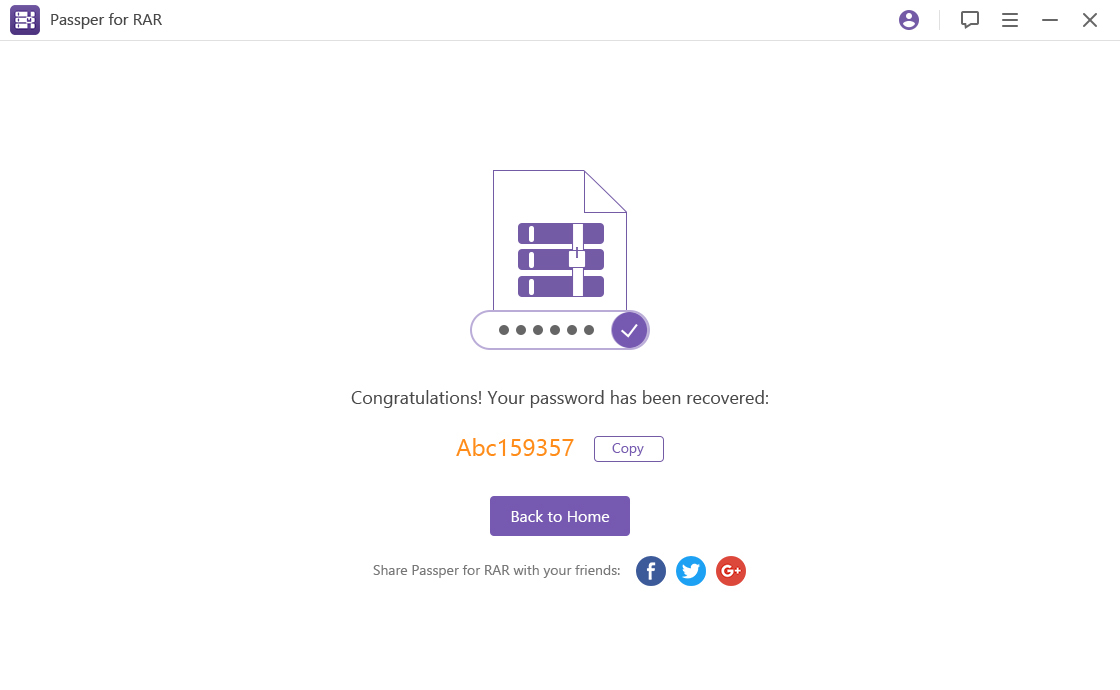 1.4 How to Choose Your License Plan of Passper for RAR
After checking the above review of Passper for RAR, have you decided to get an official license key to unlock the full features of the program? If your answer is positive, then you should read through this section.
Passper for RAR offers three license plans for users to unlock their password protected RAR files. These plans are a 1-Month plan, 1-Year Plan, and Lifetime Plan. All these plans allow you to unlock unlimited encrypted RAR archives. They only differ in price and license period.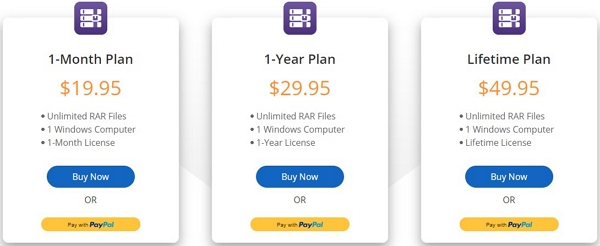 Getting an official license key of Passper for RAR not only give full access to its features, you can also enjoy some benefits from it.
Free lifetime update: Passper for RAR keeps releasing new versions which include any new feature or any significant improvement. You can get these new versions or updates for free.
Professional technical support: In case that you meet any problem during the usage of the program, you can contact the Support Center to get professional technical assistant.
30-day money back guarantee: If you are dissatisfied with the program for any reason, you are protected with a 30-day money back guarantee.
Part 2: How to Get Passper for RAR with Big Discount
There is no doubt that Passper for RAR is reasonably priced for its outstanding features and the benefits you'll receive. However, there are some users still cannot afford it. In order to help those users get Passper for RAR official version, we will share with you a coupon code.
25% off Coupon Code: PP-EXL-25D
The following steps illustrate how to get Passper for RAR with the coupon code.
Step 1: Choose the purchase plan and click the purchase link under below: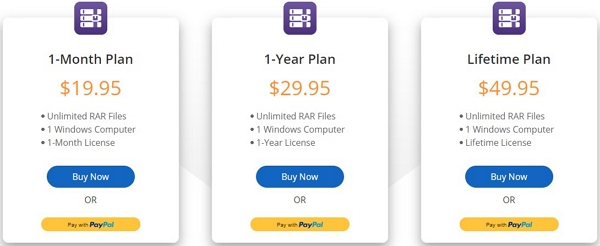 Step 2: The order page will automatically provide you with a discounted price. Next, fill in the details of the payment and billing option to complete the purchase.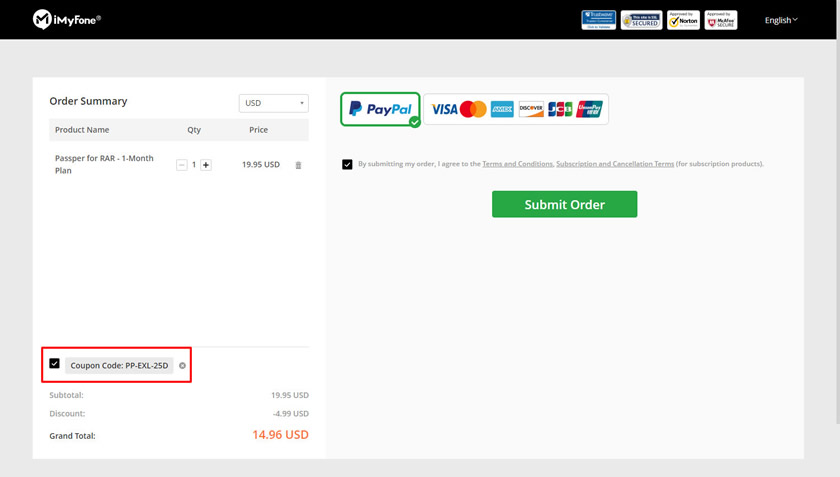 Step 3: If the coupon code doesn't come to effect, you can enter the coupon code manually. Click on "I have a discount coupon" then enter the coupon code 'PP-EXL-25D' displayed above. Click 'Apply' to take effect.

Conclusion
From this Passper for RAR review, it is beyond doubt that Passper for RAR is the real deal for recovering passwords on RAR files. Its simplicity and effectiveness make it a tool of the new century. Choose a suitable Passper for RAR plan, use the redeem coupon code and purchase it to enjoy the best RAR password recovery.