Losing or forgetting RAR password happens more often and has led to the development of several tools claiming to aid in the recovery process. However, these RAR password recovery utilities have been reviewed by those persons who try using them and end up being disappointed on not getting what they were looking for. Most fails to do what they claim they are capable of.
To feasibly carrying on what you planning with RAR password, there need to be a powerful and reliable utility like Passper for RAR.
Part 1: Passper for RAR Full Review
Passper for RAR is a top rate RAR password unlocking tool among its peers. The program is powerful and effective being able to solve any kind of RAR password issue. Passper for RAR is integrated with a smart algorithm, advanced CPU and GPU acceleration making to exhibit an ultrafast checking speed that can check 10000 passwords every second. It has an intuitive interface making it pretty easy to use for the novice and tech-guru alike. The following are the notable features of Passper for RAR:
Highest success rate. The program adopted a smart password recovery strategies and algorithm which ensures the highest password recovery rate.

Customized password attack mode. The program offers 4 powerful password attack methods which you can customize and use to crack RAR password quickly and efficiently.

Easy to use. Passper for RAR user-friendly interface provides you with a straightforward platform to find back your

Safe to use. This provides will not infect the computer with malware and will recover RAR password without interfering or losing data, your data will not be leaked out.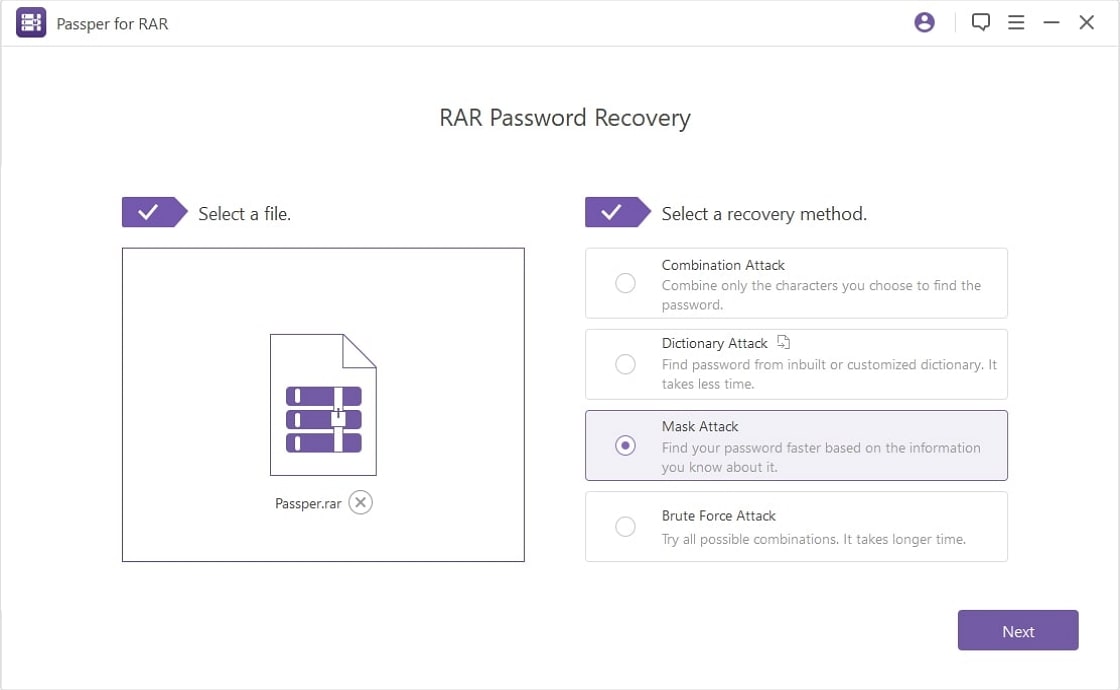 Part 2: Is It Possible to Get Free Passper for RAR Registration Code?
Passper for RAR is the best RAR password cracker in the market, does it provide free Passper for RAR registration code? This is a kind of question which comes in your thought when you get to know there is a premium version. However, be informed that there exists no possibility to get free Passper for RAR registration code. Passper for RAR registration code is sent to you once you purchase a premium package and the program adopts real-name authentication. All those codes you might come across on the internet belong to someone who has purchased the package.
To get Passper for RAR registration code purchase one of the following licenses:
1-Month Plan: This Passper for RAR premium version is valid for a period of 1 month from the time of purchase. It is used for one computer and provides no limit of the number of times to use and recover a password. This plan costs $19.95.

1-Year Plan: Purchasing this plan offers a license valid for one year to be used for one computer. The plan provides an unlimited number of times to recover RAR files passwords under active license period. This plan costs $29.95.

Lifetime Plan: By purchasing this plan with only $49.95, you will be provided with Passper for RAR registration code to be used for one computer and crack an unlimited number of passwords for the RAR files.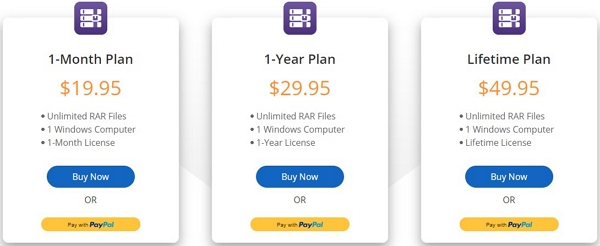 Part 3: What Will You Get After Buying the Registration Code?
Once you have Passper for RAR registration code of your own, the following are some of the privileges and benefits yoursquo;ll get served with:
Customer Care Services: iMyFone technical support team will readily be on your service anytime to respond to queries about the program or issues you might have come across while using Passper for RAR. Count on them to guide you through any issue.

Free Lifetime Updates: Upon paying for the free Passper for RAR registration code, your details will be captured and be scheduled among the first to receive notification for the new release of the software version.

Value of Your Money: Passper for RAR is a professionally advanced and exceptionally functional password recovery tool. Every feature found on the program is functional and executes exactly what it claims to do. Nonetheless, Passper for RAR registration code goes at a lower price at $19.95.

30-Day Money-Back Guarantee: Buying Passper for RAR registration code assures you 30-day money-back guarantee. This implies that in a scenario in which you have already bought the license and you feel you not okay with it, you can request for a refund. This will be honoured without asking questions.

Part 4: 25% Off Coupon Code for Passper for RAR
Using a discounted code provided by Passper can see you getting Passper for RAR license for as little 25% off the required amount. Check out below and learn how you can benefit from this discounted offer:
Step 1: Select and copy the 25% off coupon code provided by Passper.
25% off Coupon Code: PP-EXL-25D
Step 2: Choose the purchase plan and click the purchase link under below: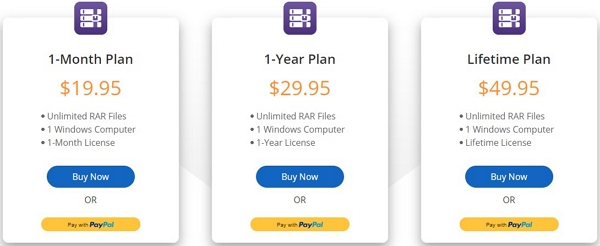 Step 3: The order page will automatically provide you with a discounted price. Next, fill in the details of the payment and billing option to complete the purchase.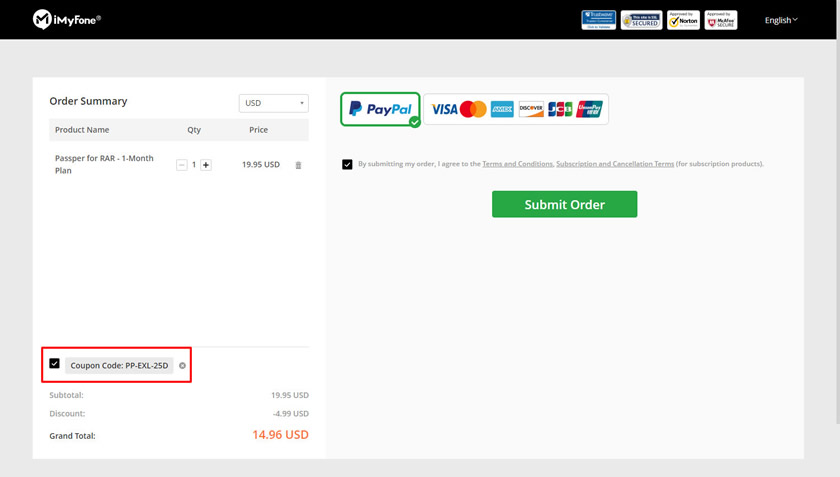 Step 4: If the coupon code doesn't come to effect, you can enter the coupon code manually. Click on "I have a discount coupon" then enter the coupon code 'PP-EXL-25D' displayed above. Click 'Apply' to take effect.

Conclusion
In summary, before using RAR utility go through reviews of the program to be posted with the program capabilities. Itrsquo;s recommendable to have a culture of embracing the premium license of the software as it provides more than what you are looking at a faster speed. Moreover, you are guaranteed of getting back the value you paid for.