Do you have a PDF file whose password you have forgotten? Do you want to access a PDF file right now but are unable to because of the password? Are you procrastinating to crack the PDF password all because it sounds very difficult? Well, you surely do not have to bother yourself with all that stress. In this article, we are going to give you a step-by-step guideline that can help in decrypting PDF password online like a pro.
Before we go into deep discussion of the guideline to crack PDF password, we want to let you have a knowledge of the 2 types of password protection.
Document open password: It is a password that you need to enter to get access to a PDF document that is protected through a password. It is used to protect the PDF files from unauthenticated access.
Permissions password: This type of password is used to protect PDF files from editing, printing and copying content. To gain access to all these features you need the owner of the PDF to give you the password to unlock it.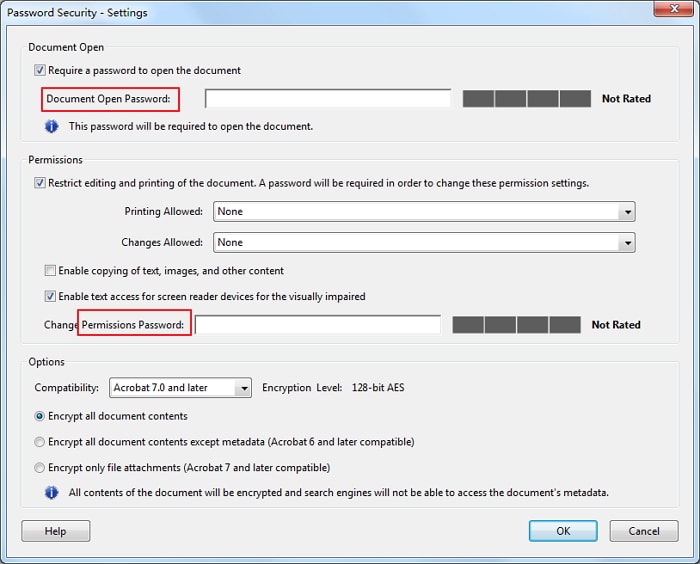 Part 1: 3 Ways to Crack PDF Passwords Online
While cracking a PDF password might seem like a difficult task, it can be made easy if you know exactly what tools to use. Here, we gathered 3 easy-to-use tools that you can use online.
Way 1. Smallpdf
Smallpdf is a web-based application that allows you to perform all of the PDF functions without downloading or installing the software on your system. You can use the online tool to edit, convert, merge, split, compress, encrypt and decrypt the PDF files. The application has a simple interface which makes it easy to use.
How it Works:
Smallpdf can only be used to crack permission passwords. Here are steps to crack PDF password using this tool:
Step 1: Upload your file to Smallpdf.
Step 2: You will then have to confirm that you own the file. Then click on Unlock PDF. The process for unlocking the password starts immediately.

Step 3: Click on the Download File option to save the file. You can edit and print your PDF file now.
Way 2. iLovePDF
iLovePDF is a superb tool that is used to manage PDF documents. The web application is very easy to use and is available in 25 languages. The application allows you to merge, split, compress, convert and crack PDF password online.
How it Works:
After our testing, the tool can only be used to crack permission passwords. If you have a PDF file protected with document open password and you lost or forgot it, then iLovePDF is not workable in this situation. Here is a step-by-step guideline to crack permissions password:
Step 1: Upload the PDF file protected with permissions password.

Step 2: Click on the Unlock PDF option.
Step 3: After the cracking process is finished, iLovePDF will automatically download the file for you. Then, you can use the PDF file as you want.
Way 3. Online2PDF
Online2PDF is an online tool available on the web that allows you to manage the PDF documents. It is very simple and convenient to use. You can use the application to convert, edit, merge and crack PDF password.
How it Works:
You can use this tool to crack permission passwords only. Here are the steps that you need to follow to crack PDF password online.
Step 1: Click Select files to upload the PDF file for which you want to unlock.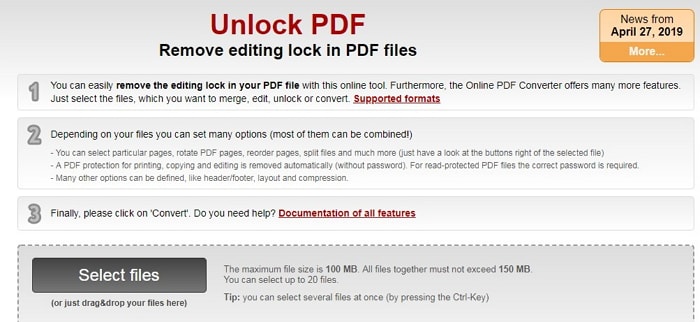 Step 2: Click on the dark grey button with yellow lock, on the top right corner.

Step 3: It will require you to enter the password. If your PDF document is protected by permissions password and you forgot it, you can skip this step and directly click Convert button. Wait several seconds and your PDF file will be cracked and downloaded automatically.
Part 2: What are the Disadvantages of Cracking PDF Password Online
We spend hours surfing the Internet looking for applications and feeding ourselves with all kinds of news. In recent years, web applications and tools have quickly taken over the world simply because they are easily available and can be accessed with little to no information, unlike the traditional desktop-based software. Moreover, the user experience in case online tools is far more friendly than the desktop software available. Whether you want to crack PDF password online or want to merge a file, the online tools do offer a better user experience.
Having said that, online tools do have their downsides and we are going to discuss in detail here.
Complete reliability on the Internet connection: Though Internet connection is readily available in almost every location, if you lose Internet connection, you cannot work on the online tools. The online tools need access to the Internet for usage which makes them unreliable.
Security threat: Though you would like to believe that your data is secure on the online tool. But because these tools save your files for hours on the online server they are less secure. There are more prone to risks, data breaches and vulnerabilities.
Lowers the speed: It is much likely that the online tool is comparatively slower in cracking password than the software versions available for the desktop.
Limited size: Most of the online tools have limited size of files that can be uploaded and used.
Browsers support: We all use different browsers. Some online tools may not support all of the browsers available.
Strong encryption can be hard to crack: Though online tools can be used to crack PDF password, they may not be as useful when encounter strong encryptions or document open password.
Though the online tools are readily available to crack PDF password, there are still loopholes that need to be fixed in them. The desktop version is still more reliable and robust when it comes to cracking password.
Part 3: A Better Way to Crack PDF Password
One of the best professional desktop software is Passper for PDF Password Cracker. Passper for PDF provides you a complete solution to all of the password related problems. It can be used to crack PDF password by recovering the documents open password or by removing the editing and printing restrictions.
Recover document open password: If you lost or forgot the password to open your PDF file, you can use the software to crack and recover the password to get access to the file.
Remove Restrictions: Passper for PDF can be used to crack permissions password and then remove all the restrictions on the PDF documents. These files can be used for editing or printing.
Why Passper for PDF is the Right Choice for You?
Highest success rate: The software uses smart algorithms and 4 attack types which guarantee the highest success rate in the market.
Remove the restrictions immediately: Just takes one or two seconds to remove the restrictions instantly.
Fast cracking speed: Uses CPU acceleration technology so the password cracking is very fast.
Safe recovery: You do not need to upload any PDF file so your personal information will be greatly protected..
Tip 1. Crack Document Open Password
Step 1 Now download Passper for PDF on your desktop and launch the software. Select the Recover Password option in the homepage.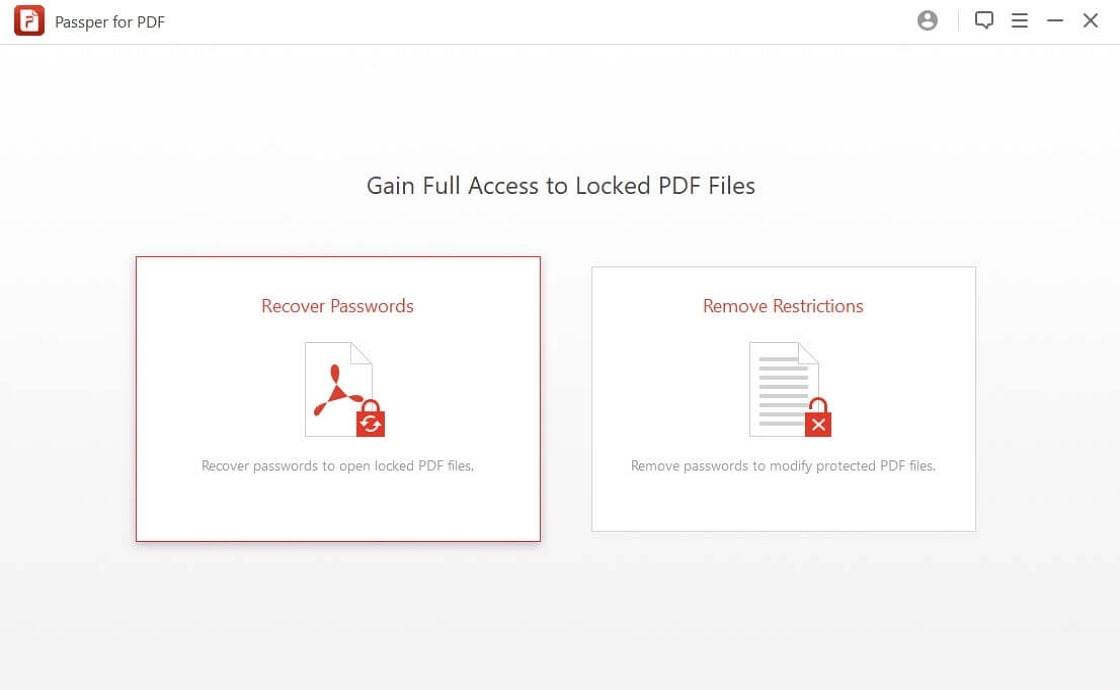 Step 2 Add the PDF file for which you want to recover the password by clicking on the add option. Now choose the suitable attack types.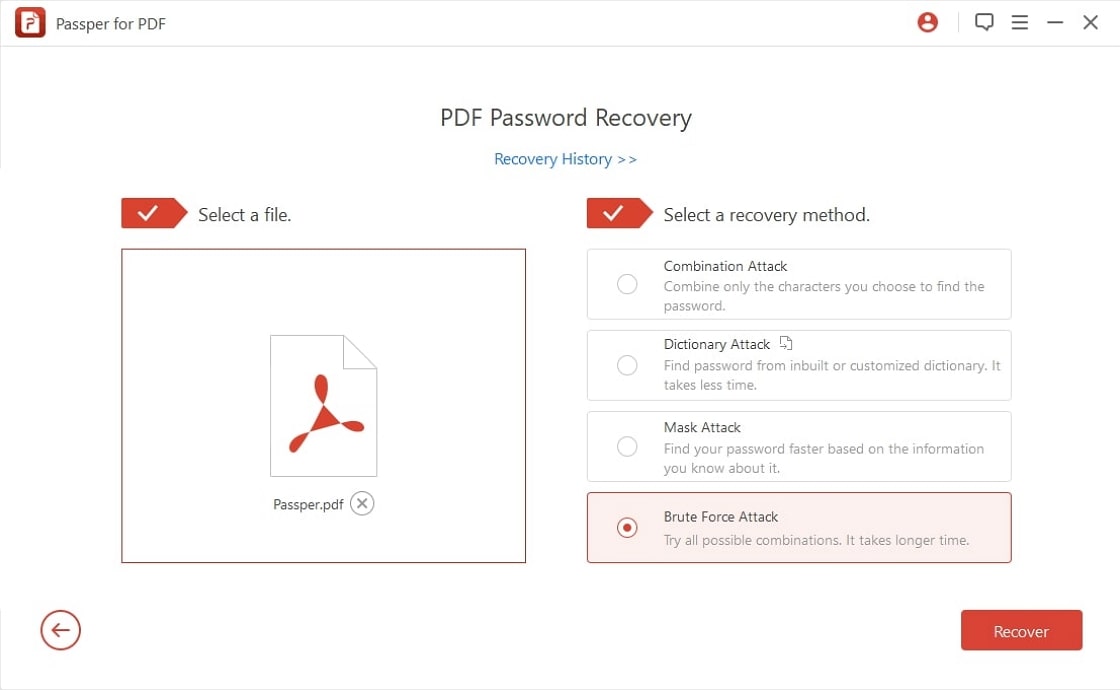 Step 3 Click on the Recover button and your PDF file password will be recovered.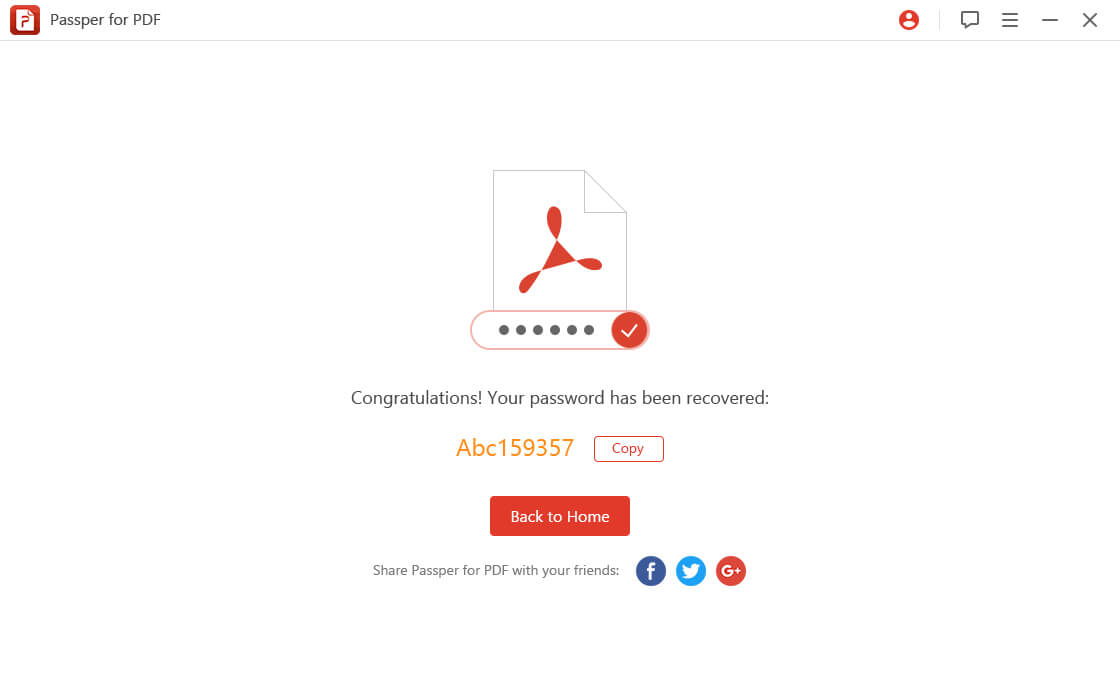 Tip2. Crack Permission Password
Step 1 Launch Passper for PDF and then select Remove Restrictions option.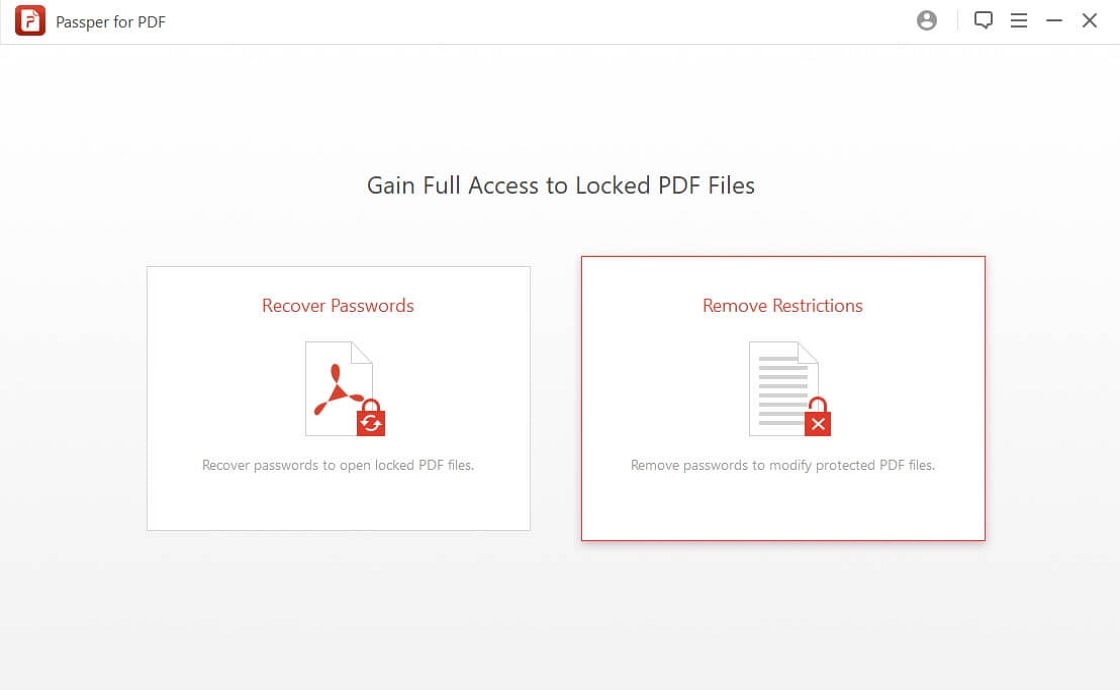 Step 2 As soon as the encrypted pdf file is imported, click on the Remove option.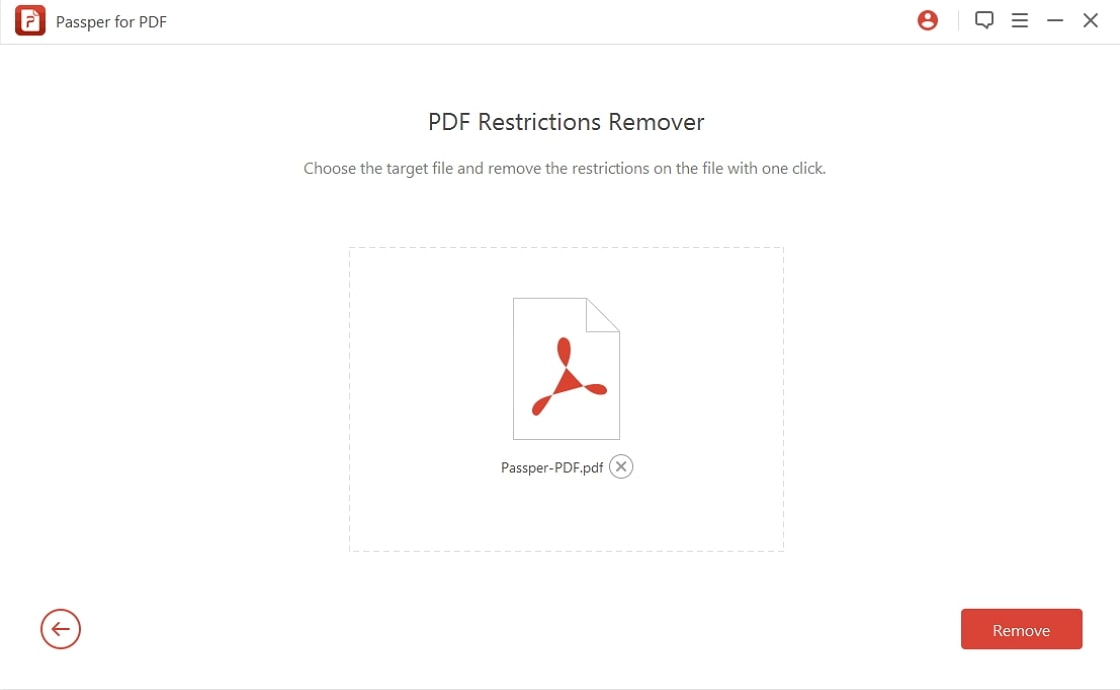 Step 3 It will take just one or two seconds to remove the restriction. Then you can edit or print the file as you wish.