Are you trying to figure out how to reset Toshiba laptop password? It is really a sucking experience when you forgot the precious password of your Toshiba laptop. But don't feel sad. Just take a deep breath and calm down. To be honest, it is not a hard thing to reset Toshiba laptop password. Here, we prepared three best and easy ways for you.
Way 1: Call Toshiba Official Support Center for Password Reset
Most of the top laptop companies have an official support center to support customers and help solve any problems. Toshiba also has a support center where you can get solutions to any problems that you may face with your laptop. Toshiba support center can help you to reset your password, but this is possible only if you are using a domain controller account.
Some Toshiba laptops may be configured so that you have a domain controller account that helps you connect to the Toshiba root center. If your laptop has been configured in such a way, then you can use this method to reset your password easily. If you have a local account, then you can consider the second or third way. Before you use this method, you must know the laptop model and serial number. It will be present on your laptop or you can search for it in the bill/manual. You need to have this information compulsorily to use this method.
The following steps explain how to reset Toshiba laptop password by contacting the support center of Toshiba.
Step 1. Make sure you have the Toshiba laptop model and serial number ready with you. Contact the official support center of Toshiba by dialing their toll-free number 1 (800) 457-7777. You will be connected to their IVRS. Follow the instructions and choose the option to talk to a customer support executive.
Step 2. Once a customer support executive takes your call, tell him/her about the problems you are facing and ask them to help you reset your password. They will ask you for your laptop model and the serial number. Give them this information.
Step 3. The customer care executive will then be able to use the information you provided to reset the password through their terminal. They will then assign you a new password, which you will most probably receive by email.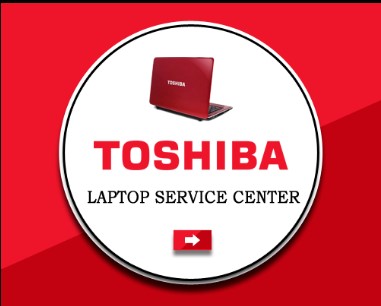 Way 2: Reset Toshiba Laptop Password with Password Reset Disk
A very handy way of resetting your Toshiba laptop password when you forget it is by using a password reset disk. This is a special disk you can create, which will store information from your computer. You can use this disk to easily reset your password and get access to your locked computer. Creating a password reset disk is easy. You can do it from the Control Panel in Windows, selecting the option Create a password reset disk and following the instructions.
Once you have created this password reset disk, make sure you store it safely. Whenever you face a situation where you forget your password, you can use the disk to do a password reset and regain access to your locked Toshiba laptop. However, you must note that this disk must have been created earlier. If you forget your password and have not created the disk earlier, then you cannot use this method. In such a situation, you can look at Way 3 to help solve your problem.
The following steps explain how to carry out a Toshiba laptop password reset by using the password reset disk that you had created earlier.
Step 1. Boot your Toshiba laptop, when you enter the wrong password and you will find a Reset password link under the password box. Click on that link.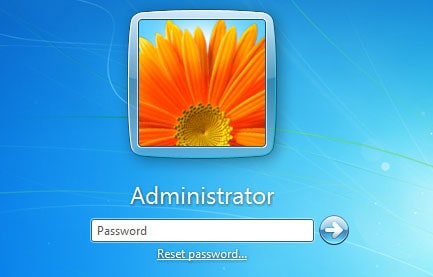 Step 2. Insert the password reset disk to your laptop. The Password Reset Wizard loads on your screen and it shows you instructions on how to reset the password. You will need to select the drive where you have inserted the password reset disk.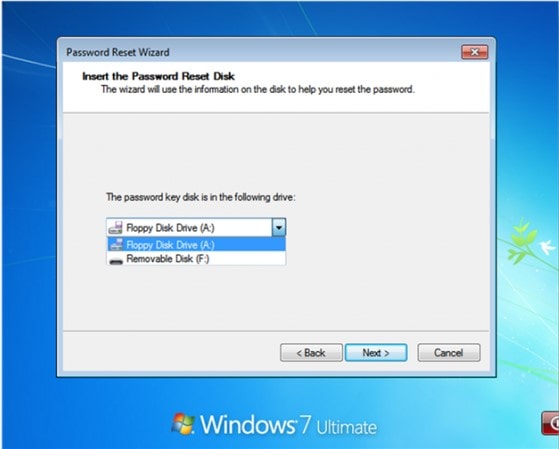 Step 3. You will then be asked to type the new password. Type it and confirm by retyping. You can add a password hint, so you won't forget the password again. Once you are done with changing the password, click on Finish. Now remove the password reset disk and then reboot the laptop. You can now use your new password to log in to your Toshiba laptop.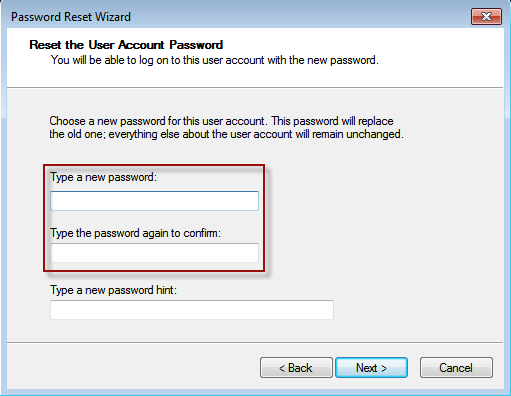 Way 3: How to Reset Toshiba Laptop Password without Disk
In case you had not created the password reset disk and you do not want to reformat or reinstall the operating system, then don't worry. We will tell you how to reset password on Toshiba laptop without disk by using a tool known as Passper WinSenior.
Top features of Passper WinSenior:
Reset lost or forgotten password without reformatting or reinstalling operating system.

Supports all models of Toshiba laptops.

Enables you to create a password reset disk with USB or CD/DVD.

Guarantees 100% success rate.

Works on Windows 10, Windows 8.1/8, Windows 7/XP/Vista.
Passper WinSenior is available for trial so you can try it out before purchasing. This software is easy to use, all you need to do is follow the instructions in our guide.
Free DownloadFor Win 10/8/7/XP/Vista
The following steps explain how to reset password on Toshiba laptop without disk by using the Passper WinSenior software.
Step 1 The first step is to create a password reset disk, since you don't have one. To do this, install Passper WinSenior on any other computer and then load it. Now insert a CD/DVD/USB drive and when the software loads, choose the drive where you have inserted the CD/DVD/USB and select Create. Click Continue and then wait as the disk is created.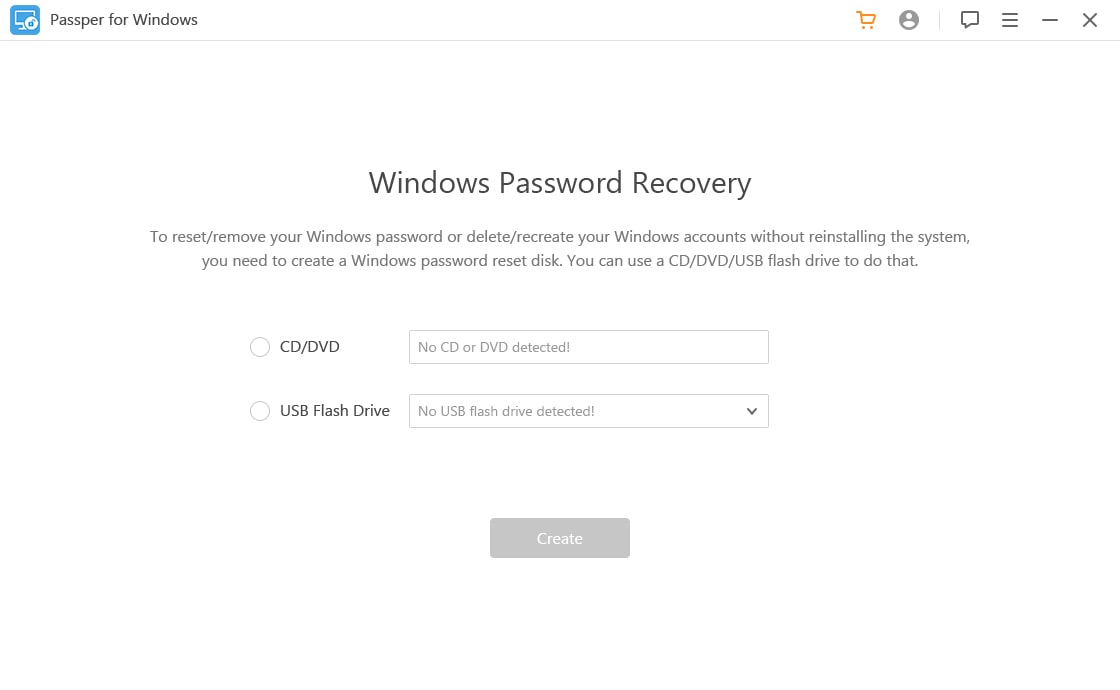 Step 2 Now insert the password reset disk to the locked Toshiba laptop and the Operations on the Target Computer screen will show up. Here, select the brand of your laptop as Toshiba and then choose the model of your laptop, it will then show you a key that you need to use to enter the Boot Menu.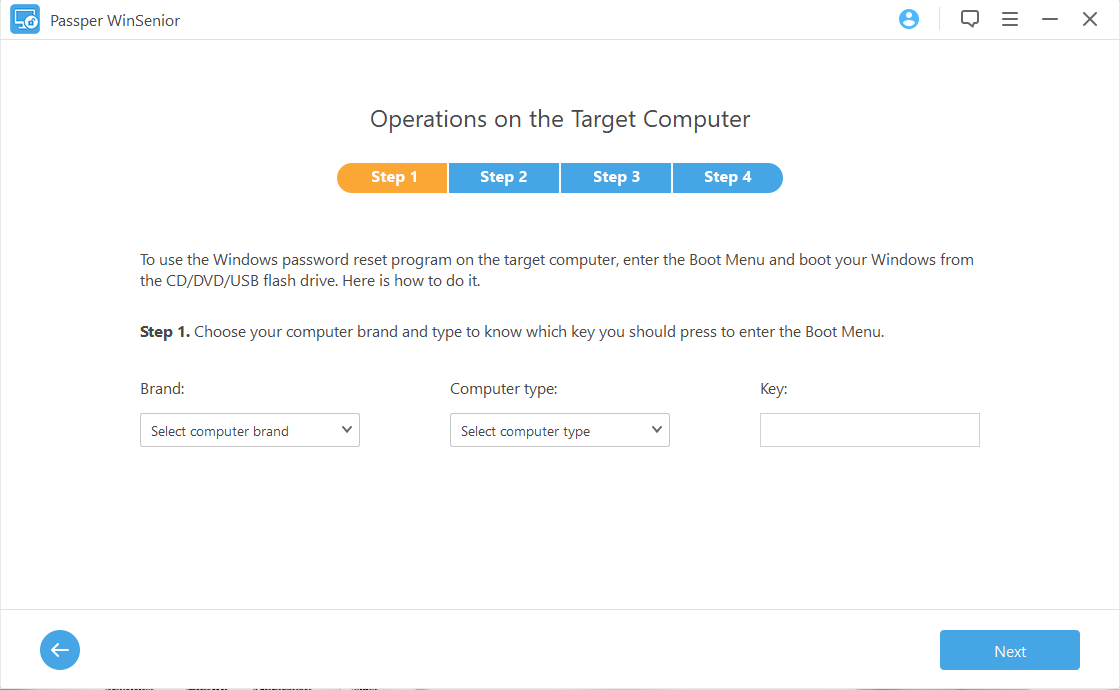 Step 3 After you select the boot device in the Boot Menu, you will enter the interface of Windows Password Recovery. Here, you need to choose a system, choose Reset Windows Password and choose a user account. Then, you can enter new password for the account. You will see a notification once the reset is successful.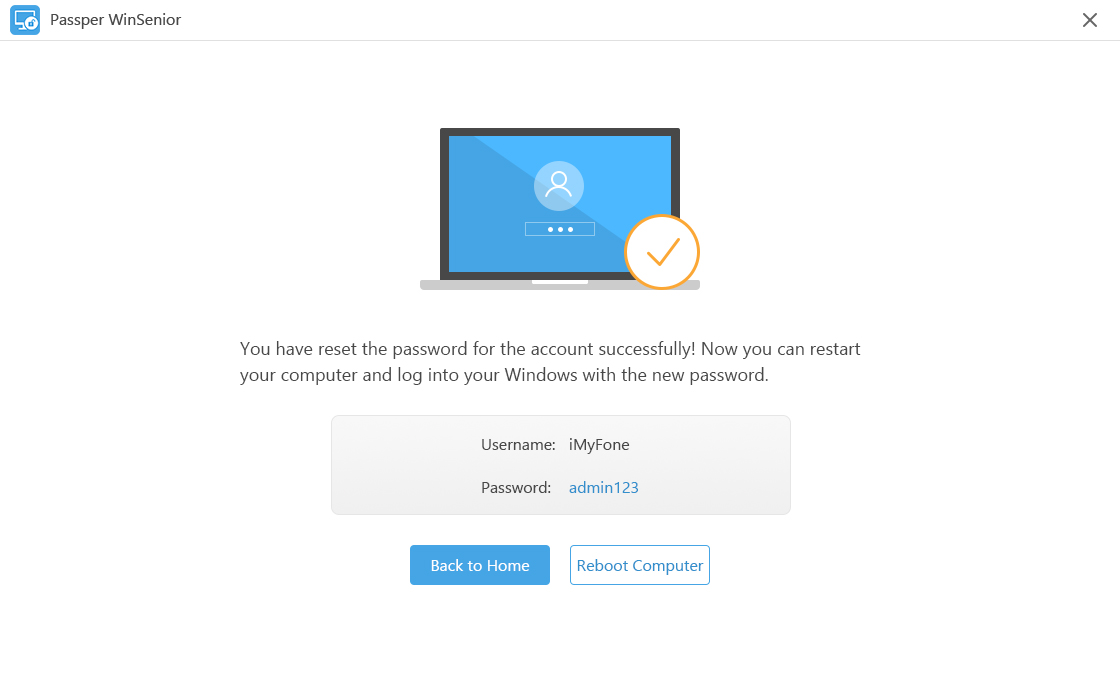 In this short guide, we introduced 3 ways to reset Toshiba laptop password. You can clearly notice the difference of using the first 2 options and using Passper WinSenior. You may clearly know what you should choose according to your situation. As a computer novice, I highly recommend Passper WinSenior as it is easy to use and it is helpful anytime.