You may have seen people online offering free Passper for Excel serial key or talking about it. But it is surprising how much misinformation is there about Passper for Excel serial key. Most of those in forums who claim to know all about the Passper for Excel serial key seem to have inaccurate information. This is why we've decided to set the record straight in this article.
1. Why Do You Need the Passper for Excel Serial Key
Passper for Excel is a top rate Excel password unlocker among its competitors. The program is powerful and effective being able to recover Excel opening password easily and remove all editing and formatting restrictions on your worksheet/workbook with 100% success rate. With the detailed guide and intuitive infertace, Passper for Excel is easy enough for the people who know nothing about password decryption. In order to enjoy the full features of the program, you need the serial key to activate the program.
The core features of Passper for Excel are listed below:
High recovery rate: The program adopts advanced algorithm and smart password recovery strategies which ensure a high recovery rate.

Fast unlocking speed: Any restriction on your Excel worksheet/workbook can be removed within seconds.

Customized recovery modes: The program provides you with 4 different attack modes. You can choose one method according to your situation and customize the set.

Data security: Passper team concerns your data security. There won't be any data loss or data leakage during or after the unlocking process.

Safe to use: Passper is the sub-brand of the high-tech company iMyFone, which is trusted and recommended by many reputable media sites, like Cult of Mac, Macworld, PCWorld and etc. It also receives positive feedback from its users.


2. Is it Possible to Get Free Official Passper for Excel Serial Key
Passper for Excel is the best Excel password unlocker on the market. You may wondering whether it is possible to get free official Passper for Excel serial key. Here, in this article, we will give your a certain answer: No. A lot goes into creating the Passper for Excel software including monetary investment, time and effort. As such it may take months to develop the program to be as functional as you need it to be. Even after the program has been released, it still requires regular maintenance in terms of updating to provide the best user experience possible. Therefore, Passper for Excel official doesn't offer a free full version. Hence, there exist no possibility to get free official Passper for Excel serial key. But after checking the above features, you will find the program is worth paying.
There are a lot of websites that offer a free Passper for Excel serial key designed to help you crack and make use of the full version of the program. But before you go trying to use these serial keys, there are two important things you must understand about these websites:
The free Passper for Excel serial key found on those website won't work on your devices. This is because iMyFone, Passper's parent company will regularly keep track of all product keys assigned to customers, updating and deactivating them as needed.

Since there is no such thing as a free Passper for Excel serial key, any that you may find from any website online will be illegal and could land you in serious legal trouble. The law prohibits you from accessing intellectual property like Passper for Excel without the appropriate licensing (in this case a serial key) or without prior knowledge and permission from the copyright owner. Therefore if you find a serial key that doesn't work, you may still be legally liable and charged with copyright infringement.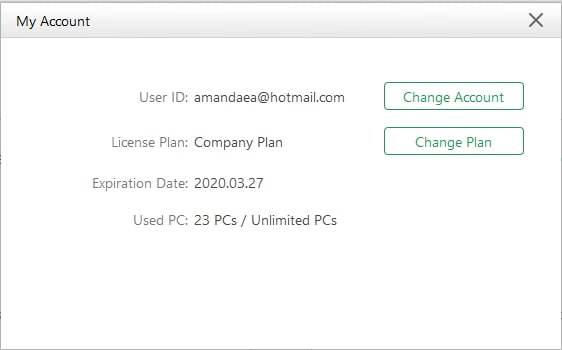 3. What Can You Enjoy After Getting the Serial Key
When you get the Passper for Excel serial key, you can enjoy the following benefits:
With the official serial key, you will be able to enjoy the full features of Passper for Excel without any restrictions. It's worth mentioning that you can unlock unlimited Excel file with a serial key.

Customer support is also readily available to those who buy the valid Passper for Excel serial key. This may come in handy when you need technical assistance from the support team or you need to recover lost data.

If you are at any point dissatisfied with Passper for Excel, you will get a 30-day money back guarantee that you can use to return the product and get a refund no questions asked.

You can also enjoy free lifetime update when there is a new version released. We constantly update the program to present better user experience.
4. The 25% off Coupon Code for You
To show our appreciation for showing interest in our product, we are offering you a 25% off discount on all Passper for Excel licenses. You can apply the coupon code below to take advantage of huge savings. Here's how to use the coupon code:
25% off Coupon Code: PP-25OFF
Step 1: Choose the purchase plan and click the purchase link under below:
Step 2: The order page will automatically provide you with a discounted price. Next, fill in the details of the payment and billing option to complete the purchase.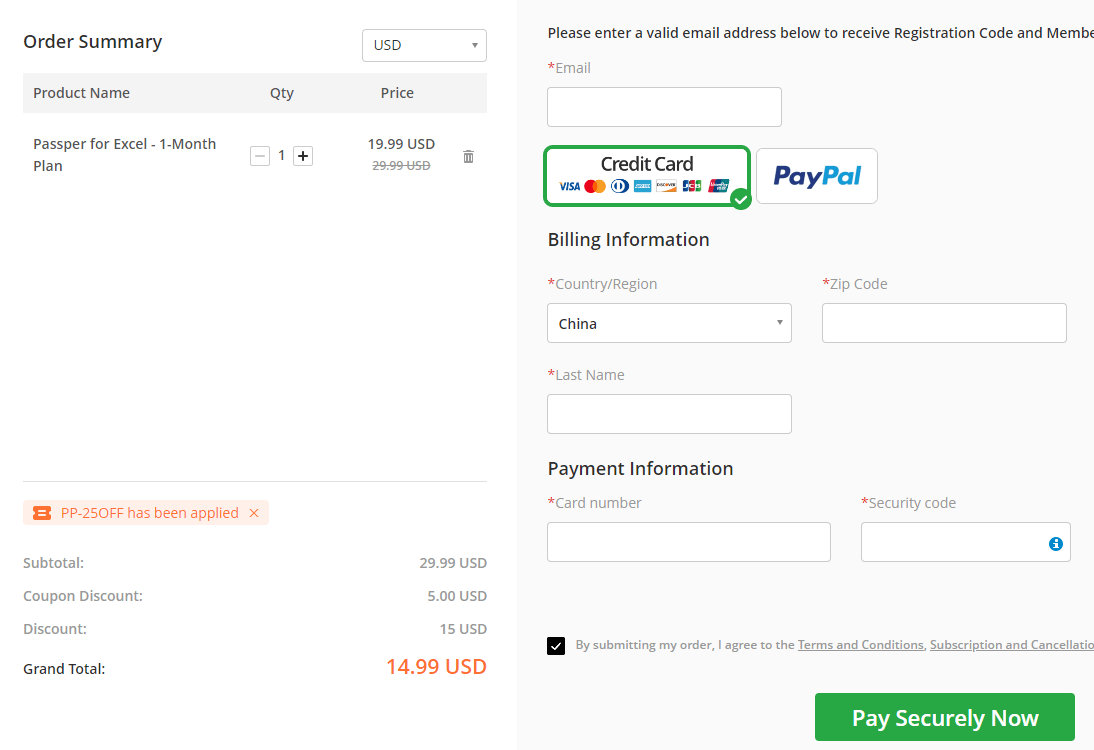 Step 3: If the coupon code doesn't come to effect, you can enter the coupon code manually. Click on "I have a discount coupon" then enter the coupon code 'PP-25OFF' displayed above. Click 'Apply' to take effect.

Step 4: Simply fill in your information and payment details to check out and you'll purchase the license at 25% off the list price.
The only legal way to use Passper for Excel is to purchase the serial key from the official website. This way, you can experience the software fully without any restrictions.