You may have come across several crack versions of Passper for Excel software. You can often find them when searching for the software and as usual, they will appear in search results. It can be very tempting to choose to get these crack versions but they may carry risks that can expose your data, not to mention that they may not be as functional as the copyrighted program.
In this article, we are going to look at these Passper for Excel Crack programs and how different they are from the official program.
1. What is Passper for Excel Crack?
Passper for Excel crack is Passper for Excel that has been altered to remove the copyright protection that would ordinarily protect the software from misuse. The crack software will also lack a serial number and a hardware key, making it easy to manipulate the program in any way and without restrictions. The goal of all these modifications is to make Passper for Excel free.
2. Is it Safe to Use Cracked Passper for Excel
You may be tempted to get the cracked version of Passper for Excel because it is free. But there are certain dangers associated with using cracked software. The following are just some of the risks you are taking when you use the cracked software;
You increase the chances that your computer will be infected by viruses and malware every time you install cracked software on to your computer. These altered programs are often the main medium through which viruses can be delivered to your computer. The person who altered the virus can very easily include a single line of code in the program meant to infiltrate your system and get your personal information.

Crack software is less effective and functional than the official licensed version. This is because the alternations made to make it cracked can compromise the features that make the software useful in the first place. This means that the program may be useless in the recovery of Excel passwords.

Owning unlicensed software is a serious offence that can have serious legal consequences for you. It falls under copyright infringement and the penalty can be significant jail time or a fine of up to $250,000.

Using crack software for business purpose could significantly diminish your business's reputation. If your clients find out, they may be reluctant to share their data with you since there is no guarantee that you will protect it. This could lead to loss of business and reduced profits.
3. Why Do You Need the Copyrighted Version
You may be able to avoid the legal consequences we've mentioned above by simply purchasing the copyrighted version of Passper for Excel. But that's not the only benefit of purchasing the legal software. Some of the other benefits include the following;
The copyrighted version of Passper for Excel is safe to use.

You will get lifetime free updates of Passper for Excel when you buy the licensed version.

The licensed version offers you unlimited customer support that is always available to answer any questions that you may have about how to use the program, helping you get the most out of the program.

A licensed version of Passper for Excel guarantees better performance since it will come with full features.
Many top tech media sites have recommended Passper for Excel, such asMacworld, PCWorld, iPhoneLife, etc.

Bonus for You
As a reward for choosing to use the licensed version of Passper for Excel rather than use the crack version, we are awarding you a 25% off coupon that you can use to get a discount on the Passper for Excel license of your choice. To apply the coupon to any Passper for Excel license, follow these simple steps;
25% OFF Coupon Code: PP-25OFF
Step 1: Choose the purchase plan and click the purchase link under below:
Step 2: The order page will automatically provide you with a discounted price. Next, fill in the details of the payment and billing option to complete the purchase.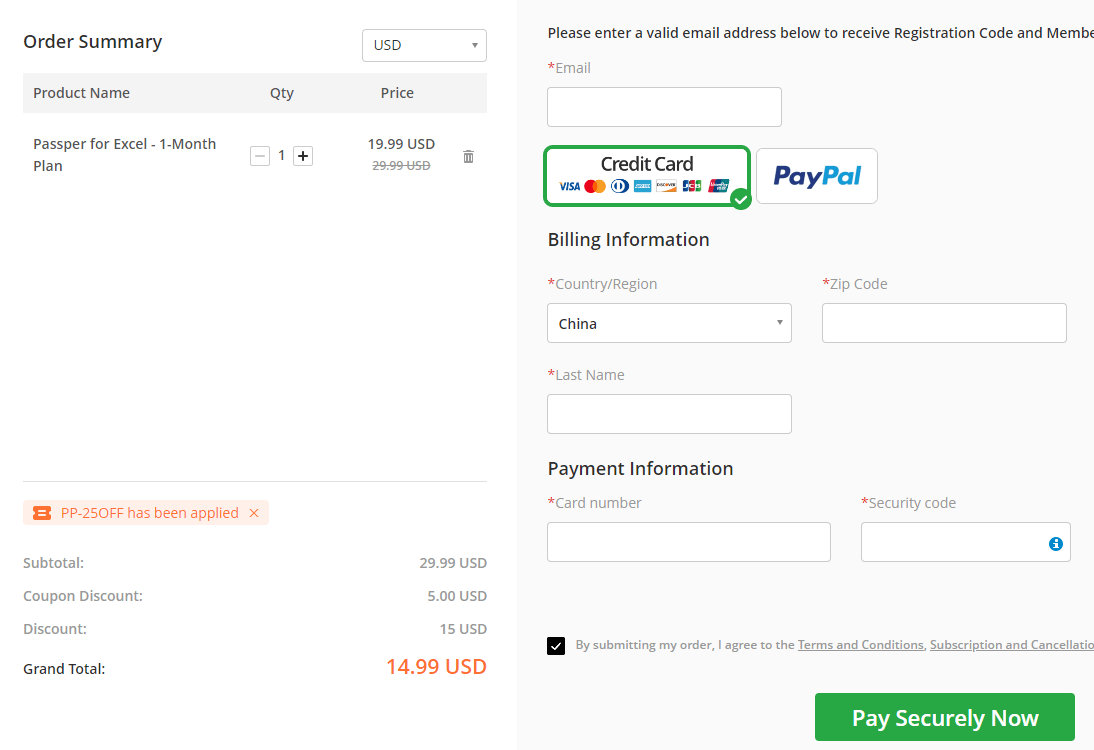 Step 3: If the coupon code doesn't come to effect, you can enter the coupon code manually. Click on "I have a discount coupon" then enter the coupon code 'PP-25OFF' displayed above. Click 'Apply' to take effect.

When you use the licensed version of Passper for Excel, you can expect to get the most of the software as described in the purchase page. Regular updates will ensure that you always have a fully functional and reliable program.