Have you ever had an experience when you were supposed to get started on a project, but the excel file has a password? What's even worse, you have forgotten the password or you no longer remember the combination of upper or lowercase you created the password? That can be a very difficult time.
Passper for Excel is a tool that allows you to recover your lost or forgotten Excel password. Besides, you can also remove any restriction or protection in your excel worksheet or workbook without the correct password. Passper for Excel does it in such a way that your data in the excel document will not be affected.
1. When Do You Need Passper for Excel
There are quite a number of scenarios where you need the Passper for Excel software, and a few of these scenarios are listed below:
Forgot Excel Password: We all have such a bad experience when we just forget the password to one or two of the most important Excel files we use. If you forgot the password, Passper for Excel is available to help you out.
Cannot Copy the Workbook or Worksheet: If you can't copy the content saved in the worksheet or workbook, then you will need Passper for Excel to remove the edit restrictions.
Cannot Print an Excel Sheet or Workbook: Yes, you may have tried it all, but it's just not working. You thought it was a faulty printer, but the printer can print other files, it just cannot print from your password-protected Excel worksheet. In this case, you need Passper for Excel to unprotect the sheet first then print it out.
Passper for Excel uses advanced AI algorithms to intelligently identify issues in Excel files, allowing for the quick removal of read-only restrictions or cracking passwords.
2. Core Features of Passper for Excel
In order to recover the opening password for Excel document or remove restrictions on your Excel worksheet, Passper for Excel has a very powerful strategy in place. It delivers the following:
10X Faster Recovery Speed: Using multi-core GPU and CPU speed in order to accelerate the recovery process.

100% Decryption Rate: The usage of a highly precise algorithm guarantees the 100% decryption rate.

Remove restrictions in just one second –yes, 1 second.

Save and Continue Feature: This allows you to save the recovery progress so that you can continue the password recovery at a later time.
3. How to Choose a Suitable License
It is important to know the type of license you want to purchase before you proceed to actually buying the license. Like every other Passper software, the Passper for Excel software license comes in various packages to meet the different needs of several individuals, families, and businesses. Choosing the right license key is necessary in order to get the best out of the software.
There are a plethora of options for you to choose from to enjoy this software for Windows users. These include the one month, one year and lifetime plans respectively.
For a better understanding of these plans, check the details of each license you can enjoy below.
| | | |
| --- | --- | --- |
| 1-Month Plan | 1-Year Plan | Lifetime Plan |
| Unlimited excel files | Unlimited excel files | Unlimited excel files |
| Support Win & macOS | Support Win & macOS | Support Win & macOS |
| 1-month license | 1-year license | Lifetime license |
| $19.99 | $29.99 | $49.99 |
This offer is not going to last forever, so it is important to take advantage of it now while it is still available.
4. How to Get and Use the Official Passper for Excel Coupon Code
In order to appreciate everyone who has been using one or two of the Passper tools or encourage those who are just getting started, the team at Passper has decided to help everyone save more money while they do their work. We would offer a 25% off coupon code to everyone who wants to purchase the Passper for Excel software license.
The coupon allows you to enjoy 25% off when you purchase the different licenses for this program, and it works on every serial key. To use the coupon code, you can follow the detailed steps below.
25% off Coupon Code: PP-25OFF
Step 1: Choose the purchase plan and click the purchase link under below:
Step 2: The order page will automatically provide you with a discounted price. Next, fill in the details of the payment and billing option to complete the purchase.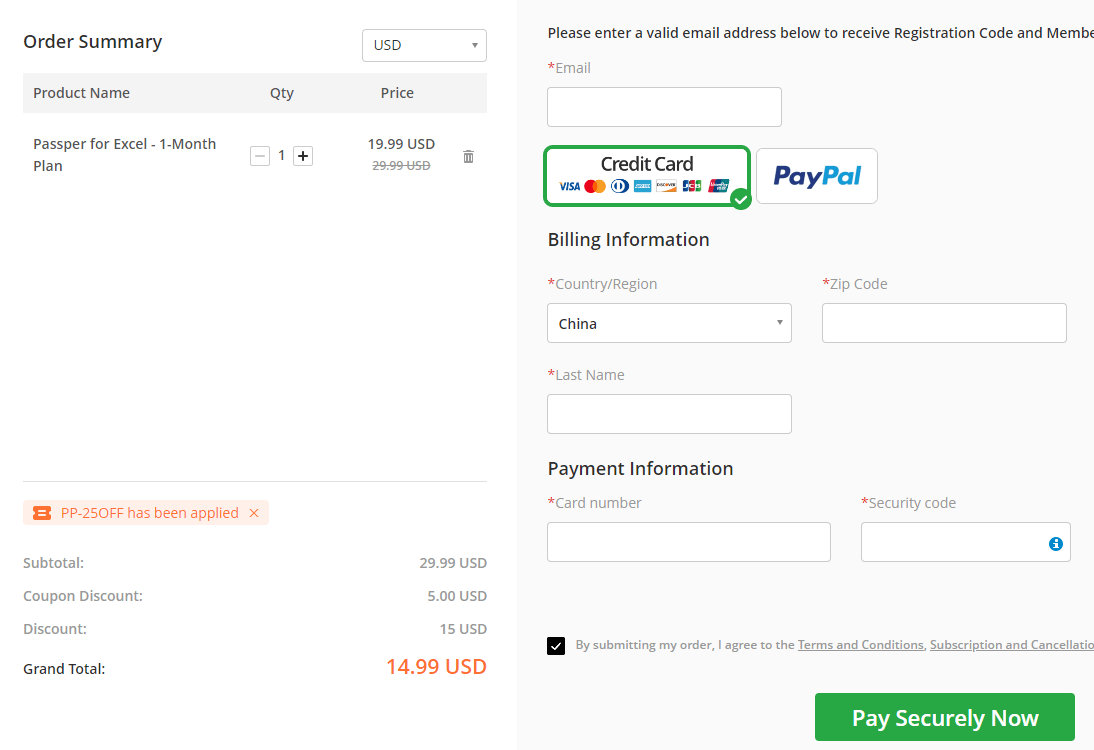 Step 3: If the coupon code doesn't come to effect, you can enter the coupon code manually. Click on "I have a discount coupon" then enter the coupon code 'PP-25OFF' displayed above. Click 'Apply' to take effect.

Step 4. The coupon code has now been added, you can now enjoy your 75% discount as you proceed to complete your purchase information to complete your order.