One of the main reasons people use Word to PDF converters is because MS Word reformats documents when opened on a different computer. Even if you use the same computer but a different printer, the formatting you spent your time and effort on will be lost. So, Word to PDF conversion is high in demand. This article will provide detailed guidelines and the best softwares to do this.
Part1. Convert Word to PDF with Microsoft Word
If you have the desktop version of Microsoft Word installed on your Windows PC or Mac, the easiest way to convert your document to PDF is right in Word itself.
Open the document you want to convert and then click the "File" tab.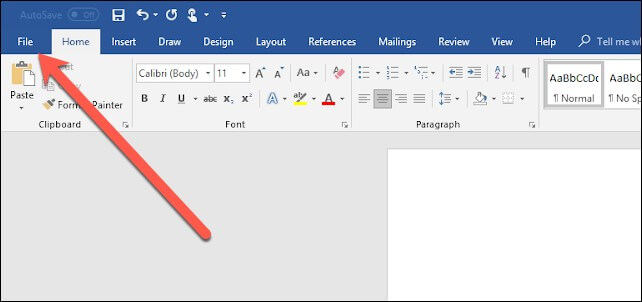 On the backstage screen, select "Save As" from the list on the left.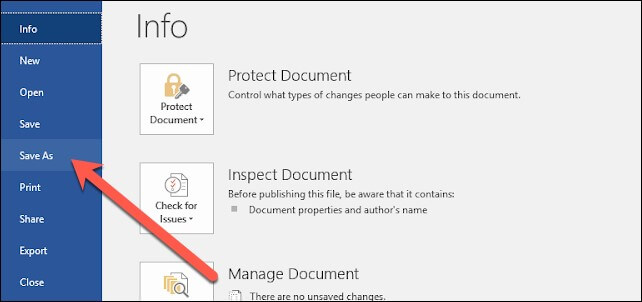 Next, from the Save As screen, select where you would like the PDF to be saved (OneDrive, This PC, a particular folder, or wherever).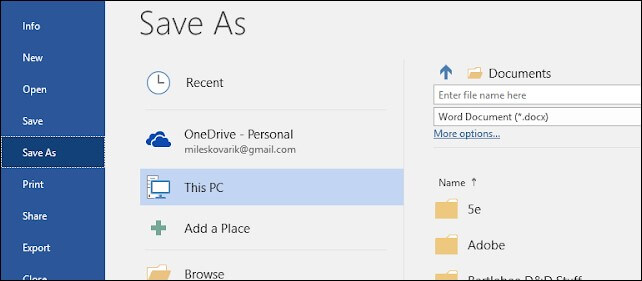 Click the dropdown arrow on the right side of the "Save As Type" box and select "PDF (*.pdf)" from the dropdown menu.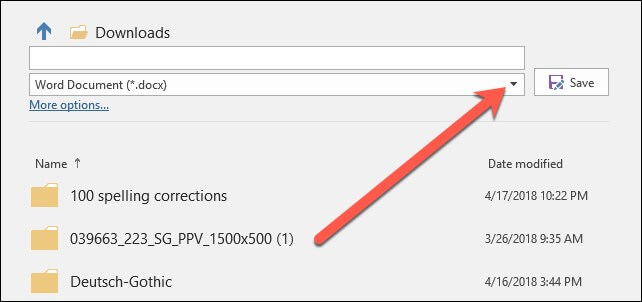 If you want to, you can change the filename at this time. When you're ready, click the "Save" button.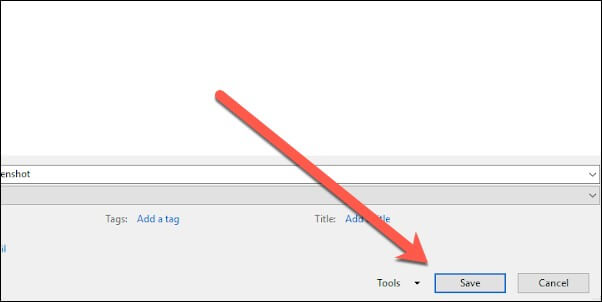 After saving the PDF, you'll be returned to your Word document, and the new PDF will open automatically in your default PDF viewer.
Part2. How to Convert Word to PDF Online
We have made a list of the best online Word to PDF converters.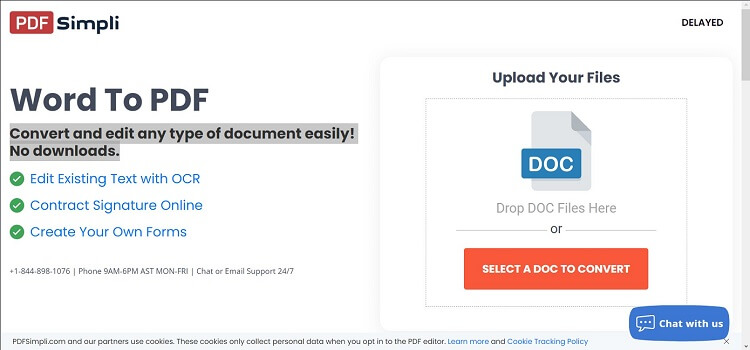 With PDF Simpli you can convert and edit any type of document easily! No downloads required for this to work as the converter functions online. Their software makes quick work of file conversions for documents. Just upload a document to get started!
With Small pdf you can convert and save DOC and DOCX to PDF within seconds. They have a drag and drop option to begin conversion quickly. No registration or installation needed as the software is available online. Smallpdf is one of the most popular online PDF software. They help millions of happy users to convert Word files to the handy PDF format every day. With this helpful tool, you can efficiently and accurately transform any Word document to PDF online. Same layout, same formatting. Once you convert a Word file to PDF—use their share feature to quickly create a shareable download link or email the PDF via a simple click. Before saving, take advantage of their  other tools to modify your PDF further. You can add text and annotations, compress it for emailing, or even merge it with other PDFs for easy file handling.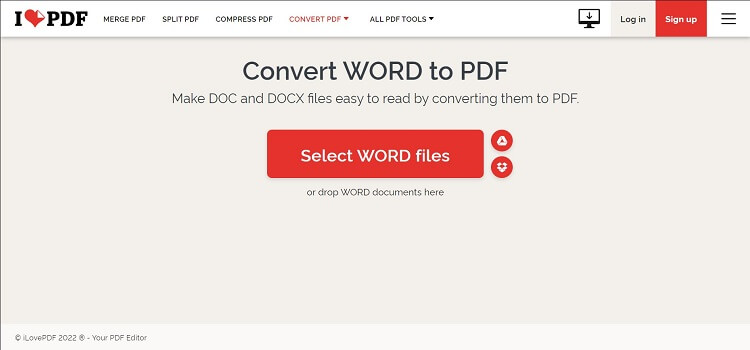 The iLovePDF team works with an effort of making the job of PDF edition easier. From firsthand experience, they know that dealing with PDF files can be very time-consuming. Wouldn't it be nice to spend more time doing things that make you happy instead of stressing over PDFs? Their online converter Word to PDF is one of their most famous tools.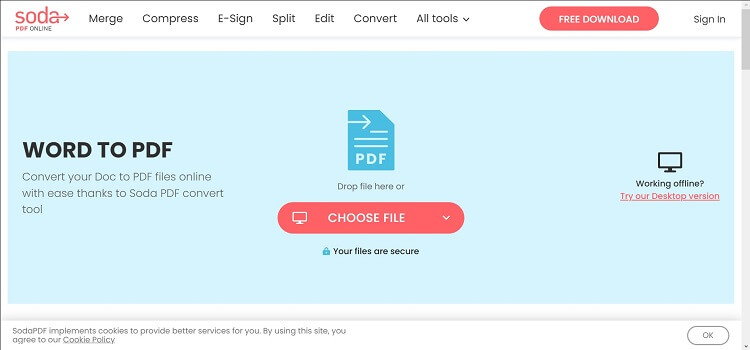 This website has a wide range of PDF tools available at your disposal. They also have a downloadable desktop version. You can convert your Word files with ease thanks to the Soda PDF conversion tool. You can convert DOC to PDF online, or convert from PDF. The software preserves the layout and security of your document. Your document appears as it would in Word even after the drag drop converts Word to PDF process. They have an amazing tool to convert Word to PDF convert online. The content remains editable regardless of the format. You can easily modify files and convert from PDF for FREE with their PDF to Word tool as well.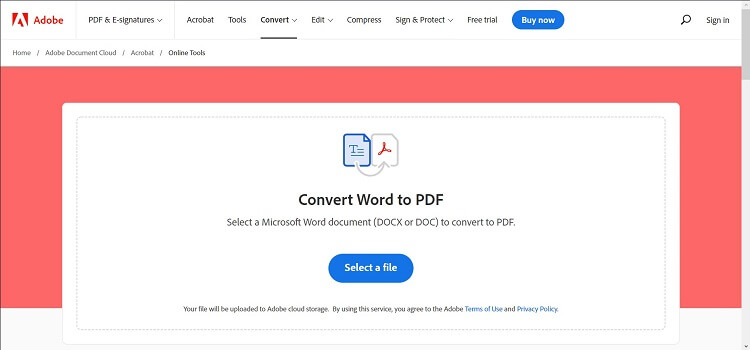 Adobe invented the PDF format. Try the highest quality PDF tools to convert files and share your best work with confidence. Use Adobe Acrobat online services to turn Microsoft Word documents into PDF files. Download the converted file or sign in to share your PDF. Drag and drop or upload a DOC or DOCX file, then watch your file turn into a PDF. When you create PDF documents with Acrobat, they look like you intended.
Part3. Bonus Tip: How to Unlock Word Documents Without Passwords
Passper is a sub-brand of the hi-tech corporation iMyFone. Supported by the strong technical team of iMyFone, Passper has stood out in password recovery and removal, and helped more and more people over the world bypass password protection when they forget the password.
So, you can easily:
1. unprotect word document online
2. perform online file repair free for password
 Passper for Word can help you do two essential things.
1. You can recover the password to open a password-protected Word document with the highest success rate with Passper.
2. You can instantly remove the password from a Word document to enable editing.
Passper for Word allows you to recover any opening password or remove editing and formatting restrictions from Word 2003-2021 documents with just a few clicks so that you can access or edit the locked Word document. Below are the simple steps about how you can use Passper to unlock password locked Word documents.
Step 1. Choose 'Recover Passwords'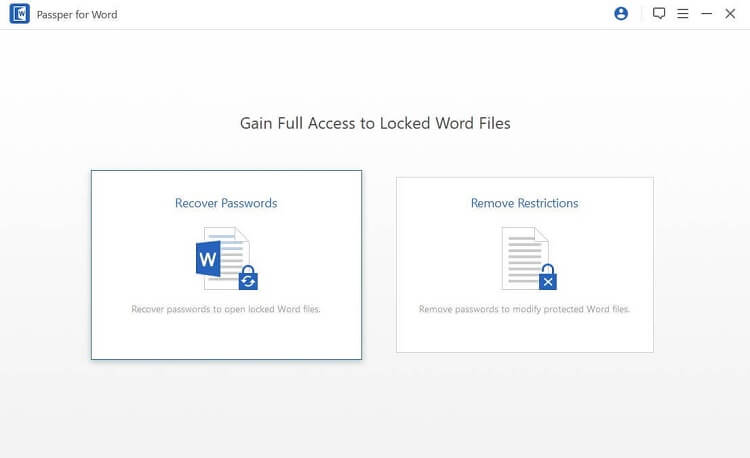 Select the option of 'Recover Passwords' on the homepage.
Step 2. Select a File & a Recovery Method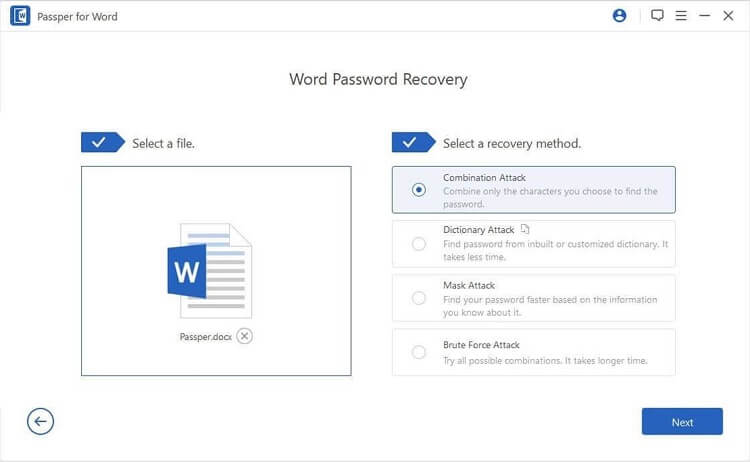 Add the target file and choose one of the 4 recovery methods.
Step 3. Recover the Password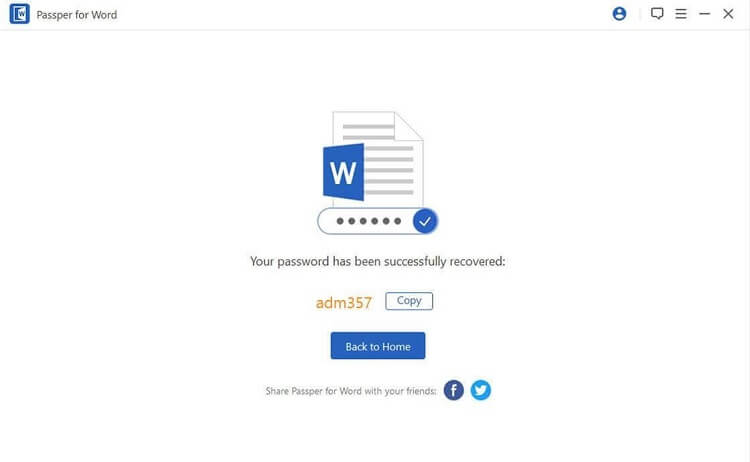 Click 'Recover' and wait for the password to appear on the screen.
How to Recover Opening Passwords for Word
Below are the detailed steps on how to use Passper for Word and get the password. For a complete and detailed guide click here.
Step 1. Choose a Mode
Download, install and run Passper for Word on a Windows or Mac computer. Then select the 'Recover Passwords' option on the homepage.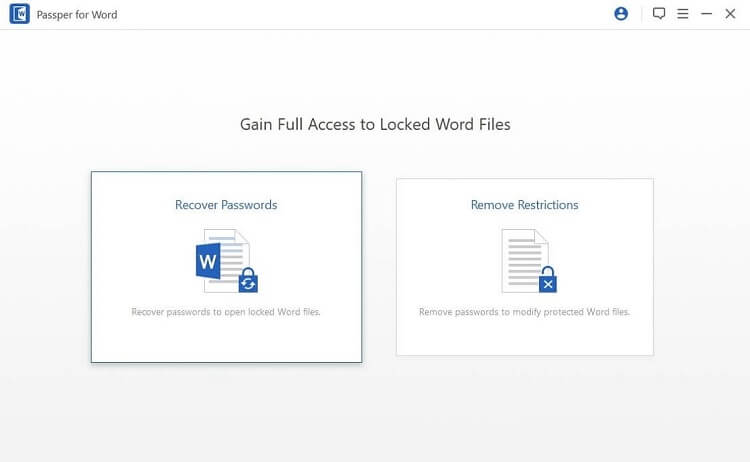 Step 2. Select a Method of Attack
Click the 'Add' button to select and import the password protected Word document into the program. Once done, select a method of attack according to your situation.
Step 3. Recover Word Password
After you've selected the method of attack and finished configuring the settings, click 'Recover'. The password will be shown on the screen once completed, and you can copy the password to open the locked Word document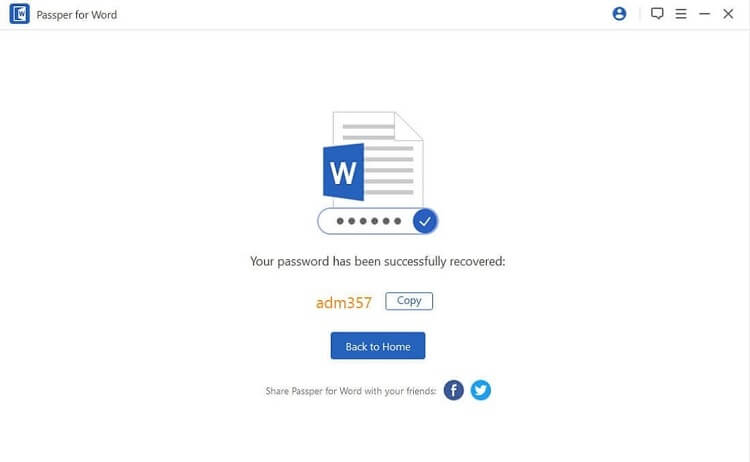 How to Remove Restrictions from a Word Document
Passper for Word also helps to remove editing and formatting restrictions from a Word document. Here is how to do it.
Step 1.  Run the program and select the 'Remove Restrictions' option.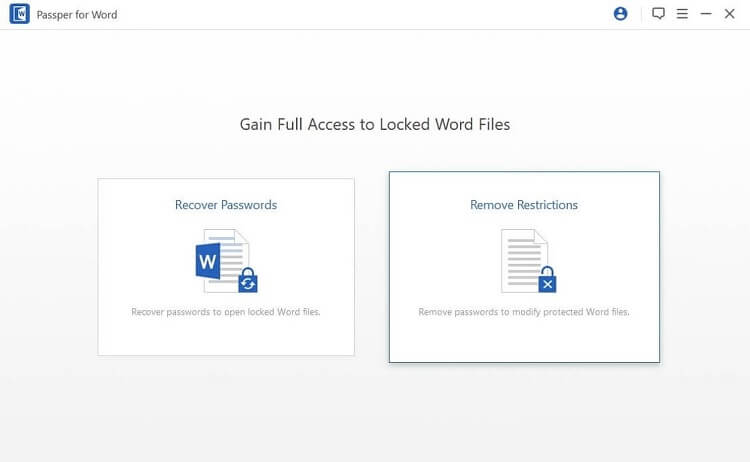 Step 2. Add the password protected Word document using the 'Select a File' option. Once the file is added to the program, just hit the 'Remove' button.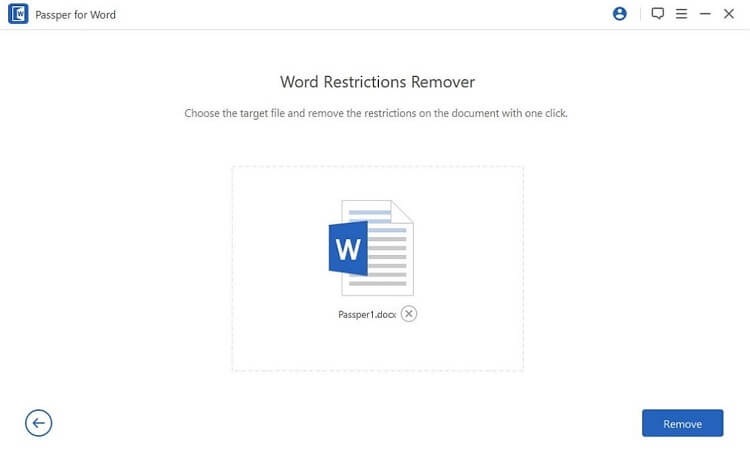 Step 3. All restrictions will soon be removed. You can edit the Word document now.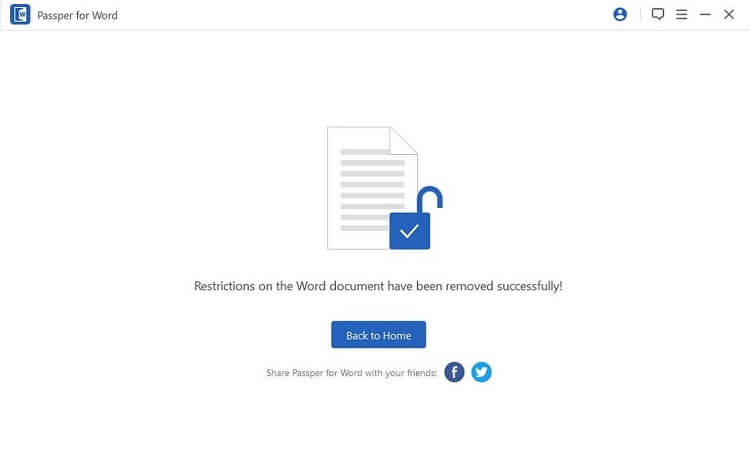 Conclusion
The conversion of Word documents to PDF has become a vital need today. There are several issues with sharing word documents with other parties. A PDF file is an easy fix. Some notable reasons why PDFs are better than Word include: References can become mismatched, MS Word has multiple versions, there are many Word processors and PDF Files are Mobile Device-Friendly. So, for your ease, we have included in this article all the help you will need to convert Word to PDFs, among other vital tools as well. Passper for Word has a significant functionality to help recover passwords for Word files and unlock them. Often, you come across Word files which have restrictions on them, this is where Passper kicks in. Unlocking the file and removing all restrictions for full edits and use is a simple solution with Passper.