PCUnlocker is one of the most reliable Windows password reset application available in the market today. Therefore, in this article, we'll make a full review of this tool. Additionally, we found some users reflected that PCUnlocker doesn't work sometimes, so we'll also recommend several PCUnlocker alternatives to you.
Part 1: Full Review of PCUnlocker
PCUnlocker is a bootable utility application used to reset passwords that you may have forgotten or lost. By using it, you can instantly unlock your system by burning a bootable CD/DVD password reset disk. Multiple features of the software make it one of the most popular password reset tools.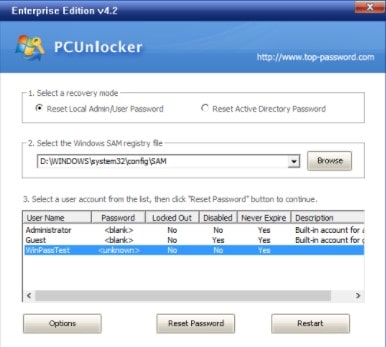 The main features of the software include:
100% ensured recovery rate to reset or change local Administrator and other account passwords, as well as passwords for Active Directory accounts, without overwriting your old password.

Helps to unlock Windows account that is disabled, locked, or expired.

Reset Windows passwords with a bootable CD, DVD or USB flash drive.

It can disable "Force Smart Card Login".
Although the software has been developed with a lot of features, just like any other product in market it has its own cons.
The program is not easy to use. After downloading PCUnlocker, you need to install other programs to create the bootable password reset disk.

The program has not been updated since 2018.

When you purchase the program, you need to pay 12.5 USD for a physical PCUnlocker CD. And it doesn't make any explanation of what we can do with that CD.
In addition to those shortcomings, some users reflected that they failed to boot to PCUnlocker. Therefore, we would like to recommend some alternatives to you. Let's focus on a few of them and discuss on how they differ.
Part 2: The Best Alternatives to PCUnlocker
In this part, we'll focus on 3 popular Windows password reset tools.
PCUnlocker Alternative 1: Passper WinSenior
Passper WinSenior is one of the best alternatives of PCUnlocker in the market so far. It helps to reset or remove Windows passwords in a quick and user-friendly manner without reinstall or reformatting your operating system. Furthermore, Passper WinSenior is more of a toolkit with various features, including user account creation and deletion, without having to log into your Windows system.
Some other features of Passper WinSenior include:
The program offers detailed instructions on the screen, which makes the resetting process easier.

You can reset or remove Windows passwords within seconds.

Based on the advanced technology, the program guarantees a 100% success rate.

It supports to create a password reset disk with CD/DVD or USB flash drive in one simple click.
Free Download for Win 10/8.1/8/7/XP
The 3 easy steps to follow in order to reset Windows password using Passper WinSenior are mentioned below:
Step 1 Install WinSenior on an accessible computer. Insert a blank CD/DVD or USB flash drive to the computer. Click on the "Create" button to create a password reset disk. Once finished, eject it.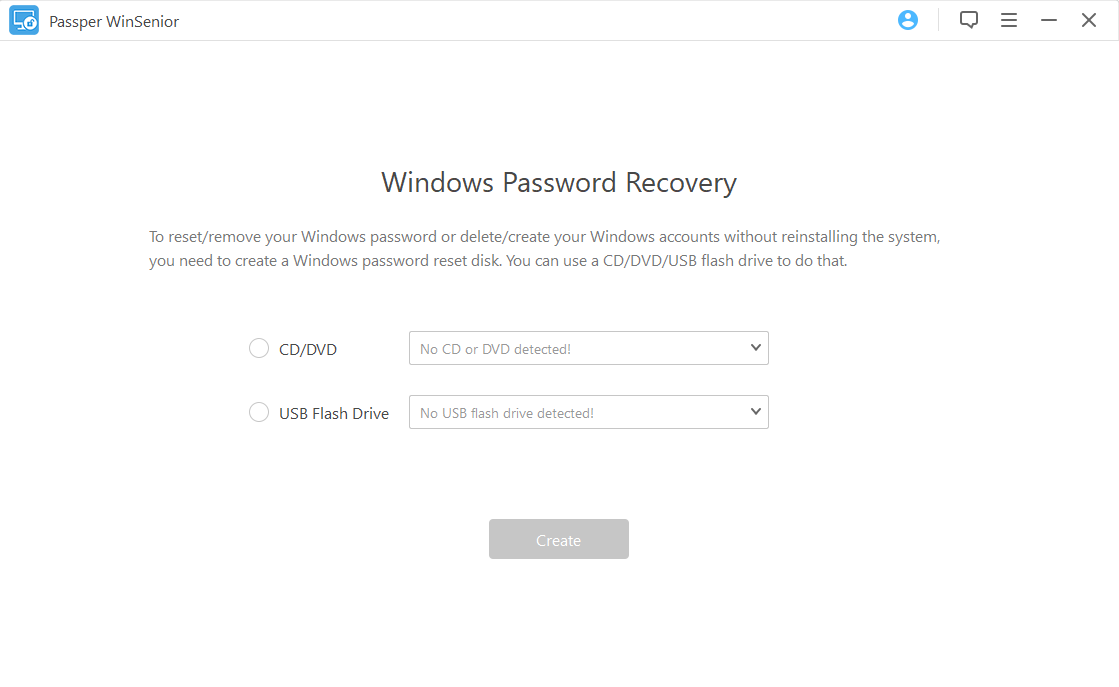 Step 2 Insert the CD/DVD or USB flash drive to the locked computer. Boot the locked computer with the special key. Choose a boot device on the Boot Menu, then the main interface of the program will appear.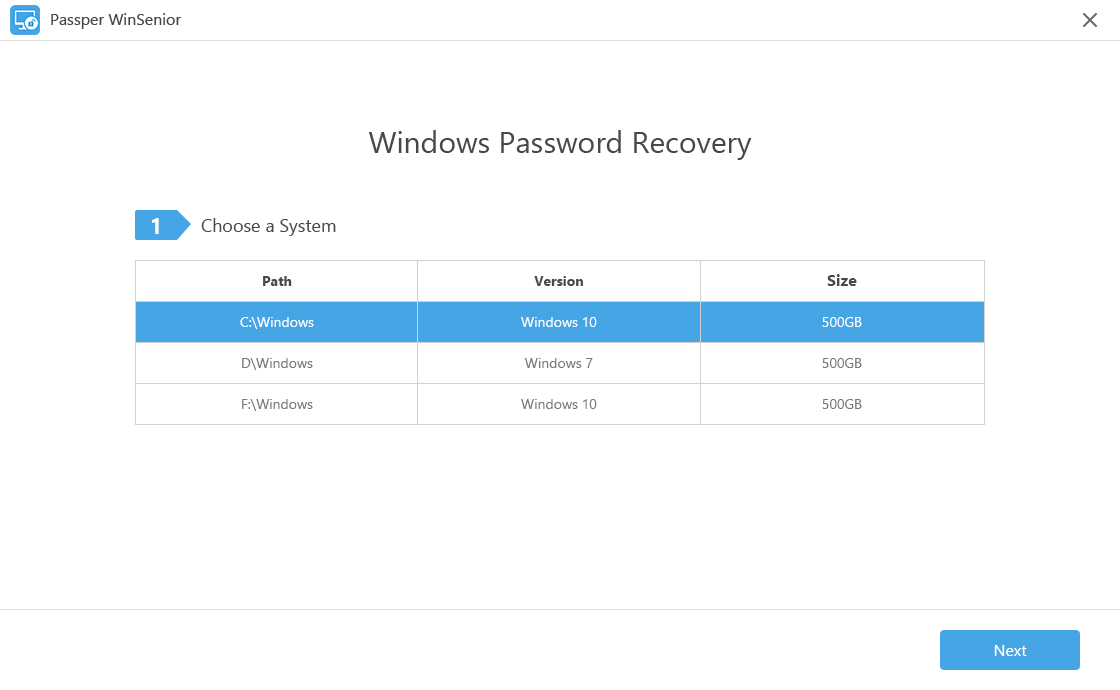 Step 3 Choose your operating system and now you can reset password for your user accounts.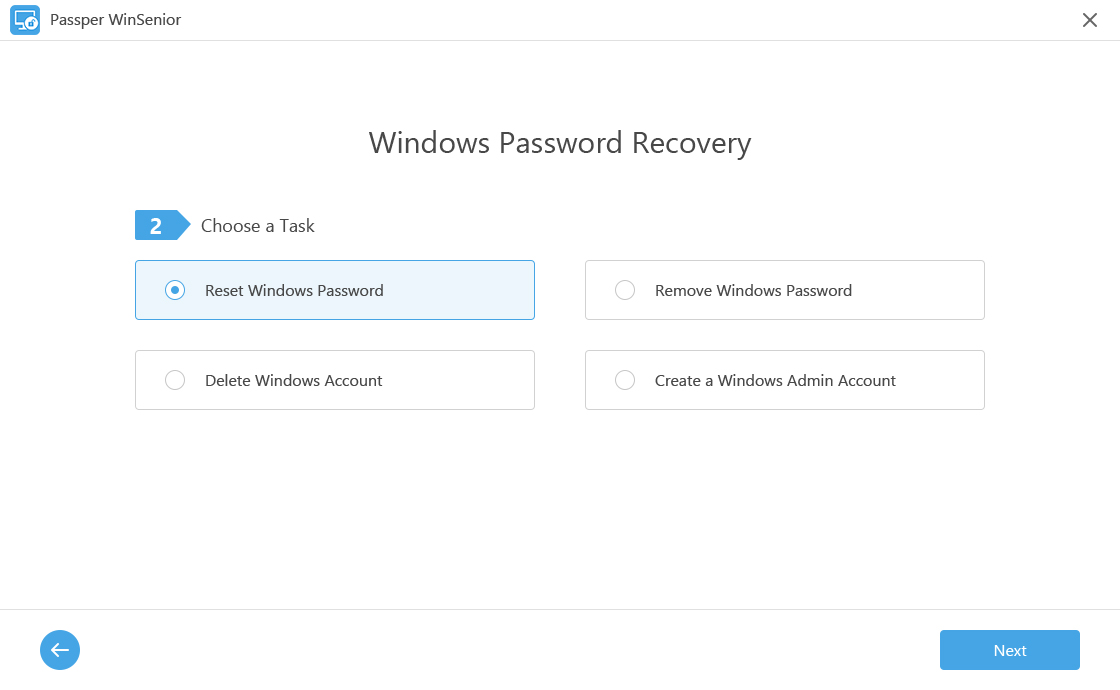 Once done, you will see a notification. Then, you can regain access to your locked computer.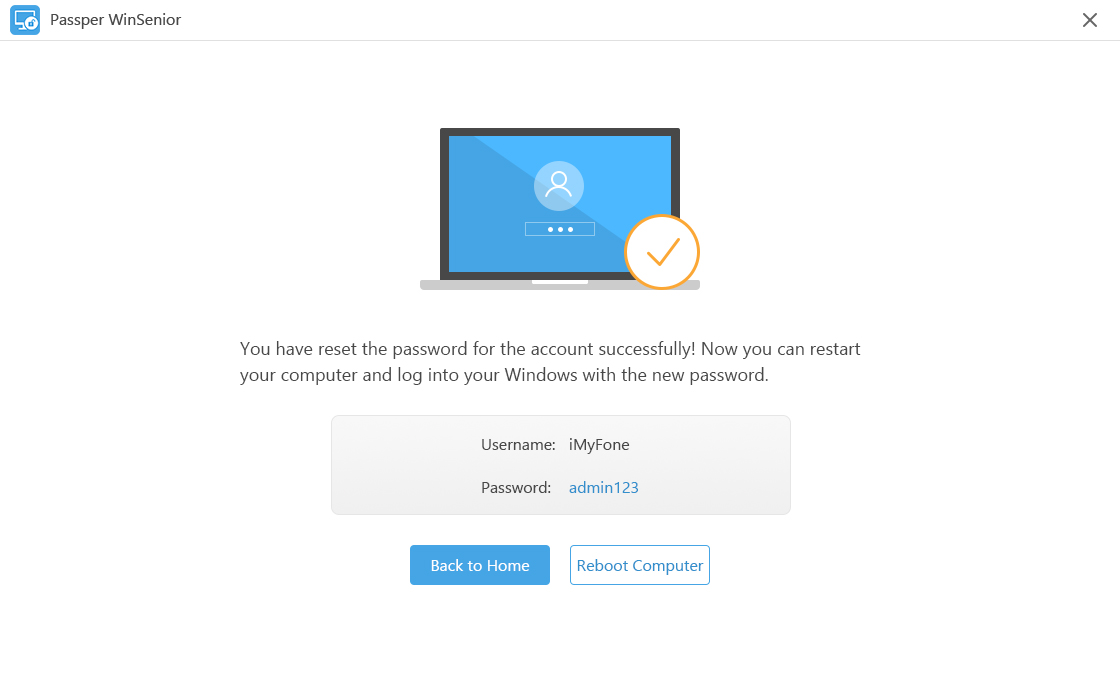 PCUnlocker Alternative 2: Chntpw
Another alternate software to PCUnlocker for Windows is Chntpw, a hygiene Linux utility software that can help reset a Windows password. Sometimes known as Offline NT Password & Registry Editor, Chntpw is a free software utility application for resetting or removing local passwords used by Windows platforms. Chntpw functions by editing the SAM database where Windows OS usually stores its passwords. Machines that have both Windows and Linux OS installed within them are highly benefitted from Chntpw.
The steps to use this software is a bit lengthy, as mentioned below:
Step 1: Create a Live CD with BurnCDCC or ImgBurn on an accessible computer with Internet connection.
Step 2: Insert the Live CD to the locked computer and start the machine from it.
Step 3: Once the boot screen pops up, press Enter to the next screen. It will list all the Windows partitions here. You can press the corresponding key to continue.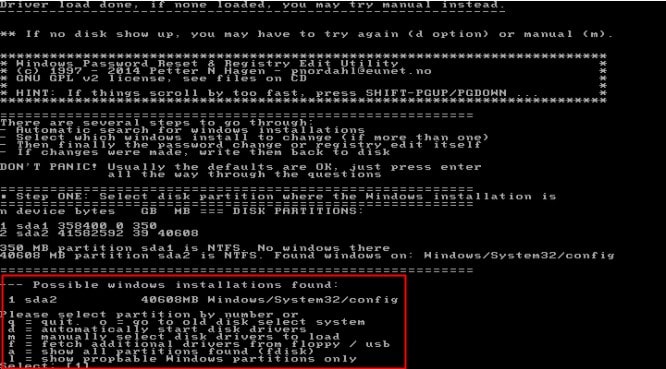 Step 4: Then, it will ask you to select registry files. We have to type 1 and press Enter.
Step 5: The Chntpw Main Interactive Menu will show up. Press 1 and Enter to continue.
Step 6: All the user accounts found in the SAM data base will be displayed. Check the username that you want to reset password for, then type its RID and press Enter to continue.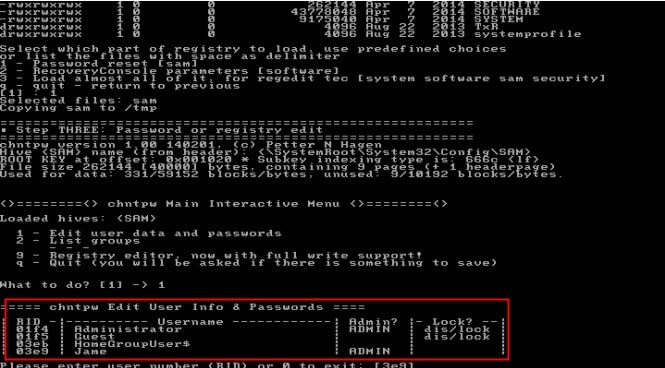 Step 7: In the new screen, it will offer several options to you, for instance, clear user password, unlock and enable user account, and etc. Since we need to reset Windows password, we need to type 1 and press Enter.
Step 8: Once the password has been cleared, we can press q to quit the program.
Step 9: Finally, you need to press y to confirm the changes.
As you can clearly see, the number of steps to follow are quite a lot and it involves a lot of commands for successful implementation.
PCUnlocker Alternative 3: Ophcrack
Ophcrack is yet another free alternative to PCUnlocker that uses the LiveCD version, helping you to find your passwords without installing any software within your operating system. It helps to recover passwords for both local accounts and Microsoft accounts and uses dictionary attacks to predict passwords, and then displays them on the screen.
The steps to recover Windows passwords using Ophcrack are mentioned below:
Operations on an accessible computer:
Step 1: Visit the official website of Ophcrack. Choose a correct LiveCD version for your locked computer and download it.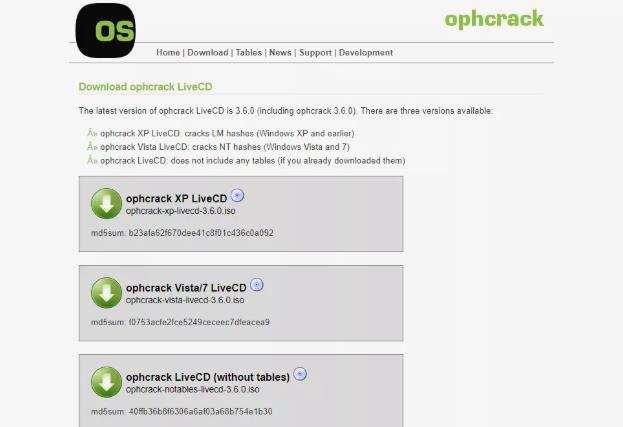 Step 2: Burn the LiveCD ISO file to a disk or USB drive.
Step 3: Restart your locker PC with the Ophcrack LiveCD CD/DVD or USB flash drive inserted, after a while you'll see the Ophcrack LiveCD Menu to be visible.
Step 4: Automatically, Ophcrack LiveCD will load and the hard drive partition information will begin to display after which Ophcrack LiveCD will attempt to recover all your passwords.
Step 5: A window will pop up showing all the users and corresponding passwords that Ophcrack LiveCD has recovered. Note them down, restart your PC and use them to log into your Windows.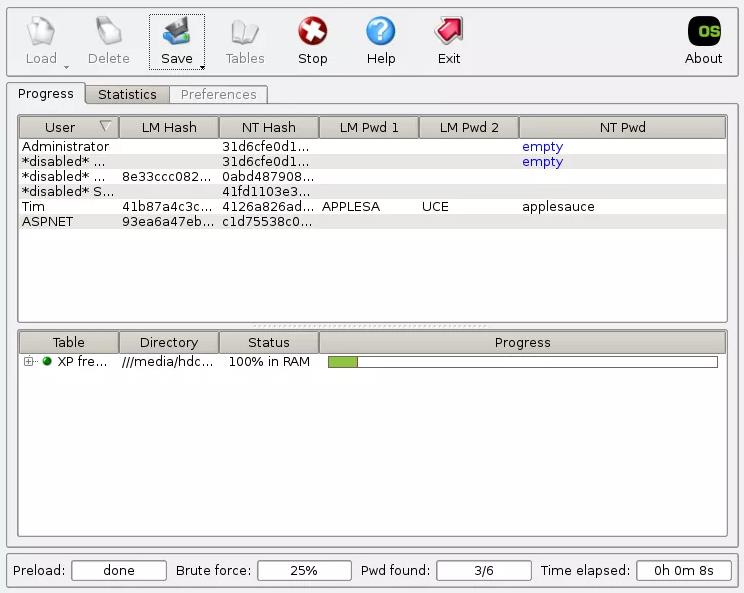 Comparison of Above 3 PCUnlocker Alternatives
In order to help you choose a better alternative of PCUnlocker, we have made a comparison table here.
| | | | |
| --- | --- | --- | --- |
| | Passper WinSenior | Chntpw | Ophcrack |
| Complexity | Easiest | Complex | Medium |
| Data Loss | No data loss | Data Loss | No data loss |
| Time Costed | Shortest | Medium | Long |
| Success Rate | 100% | 80% | 70% |
| Operating Sytems | Windows Vista-10 | Windows NT-10 | Windows XP-8 |