We are encouraged  on protecting Windows 10 computer  with the password. However, if the password you set is pretty strong, there are  the possibility that you totally forget what the password might be. Then you  may want to get into computer with an installation disk, but cannot find it.  Worry no more, if you are experiencing the similar issue like we described,  just read this post. In this post, we will show you some possible solutions to  reset password in Windows 10 without disk.
Method 1. Reset Windows 10 Password with  Security Question
Windows 10  computers starting with the 17063 models offers the user with an option to set  security question and answers which they are required to provide when they  forget their Windows 10 password. They are two questions I total and you should  provide them with the correct answers to successfully bypass the Windows 10  login password. Check out the procedure below and reset Windows 10 password:
Step 1: Power on  the computer and key in the wrong password and click enter. An option to reset  password will appear. Click it.
Step 2: Select  the option to use a security option. On the window that opens provide answers  to the security questions.
Skip this option  on how to reset password in Windows 10  without using the disk if you are not in a position to answer the questions  correctly.
Method 2. Reset Windows 10 Password with Admin  Account
Every Windows 10  passwords have the Administrator Account which is created by Microsoft. It  comes with the Windows. This administrator account is disabled by default. You  can activate it while you can access your computer.
Because it is an  administrator account, it has the privilege to reset other user account  passwords. You can access the account from the login screen. Click on the Super  Administrator Account and provide its login credentials, then proceed following  the onscreen instructions and reset the password of the target user account. That's  how simple you can use admin account and reset user account password in Windows  10.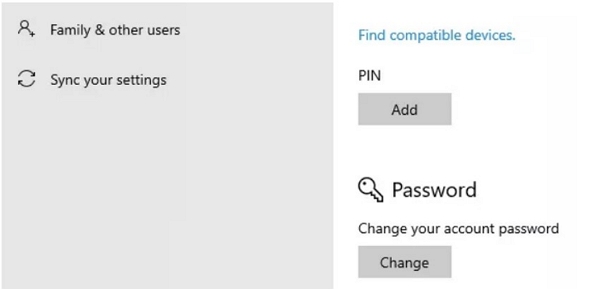 Method 3. Reset Windows 10 Password Online
If you had linked  your Microsoft account with your Windows 10 laptop, you can feasibly go to  Microsoft webpage and use Microsoft account to reset your user account  password. Note that resetting Windows 10 user account password will  concurrently change your Microsoft account.
The following is  a detailed guide on how to reset Windows  10 password without disk online:
Step 1: Navigate  to Microsoft account Reset page using this link
Step 2: Provide  the email address you used as a Microsoft account. For security purposes, type  the captcha you seen in the screen to prove you are human.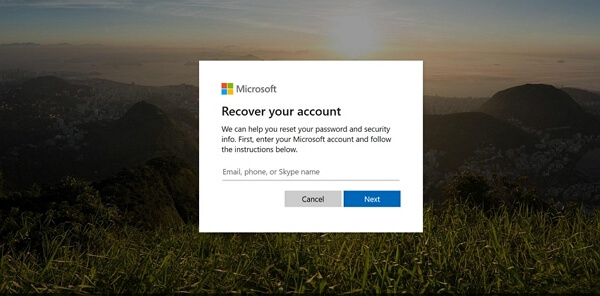 Step 3: Choose an  appropriate and accessible way you want to receive the security code then click  "Send". This could be the phone number or the email address you associated with  Microsoft account.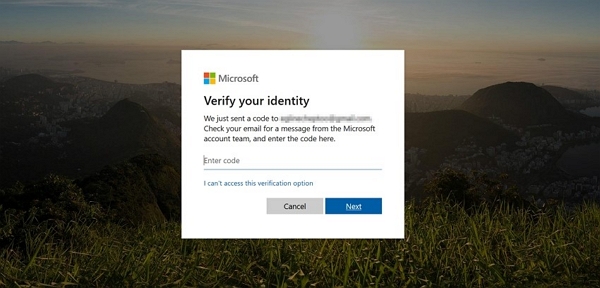 Step 4: Enter the  security code then click next on the page. After which you'll be able to  provide the new password. After confirming the new password, click "Next".
Step 6: if  everything goes on well, notification on the screen will appear informing  you've recovered the user account successfully.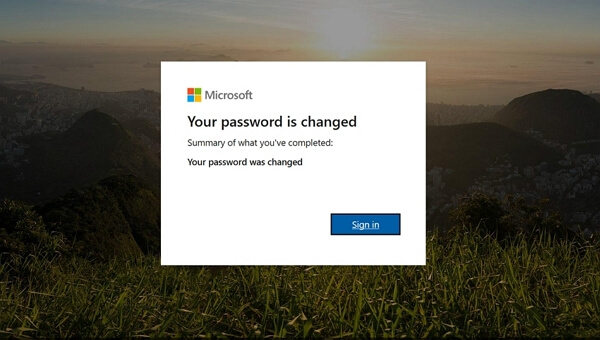 Step 7: Get reach  to the locked computer and use Microsoft account to log in. Make sure this computer  has internet access otherwise you won't be able to log in.
Method 4. Factory Reset your Windows PC
Factory Resetting  the PC can help set your computer to factory settings. But please be noted this  way will wipe out some important  files. If you insist to do so, just do the following
 Step 1: On the login screen, press and hold the  shift key while clicking on the power button then choose restart. Advanced  options menu comes up.
Step 2: Choose  "Troubleshoot" then select "Reset your PC".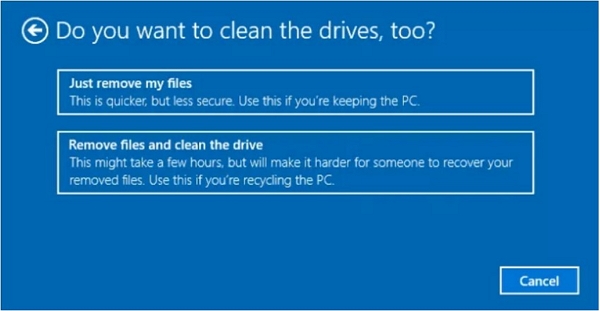 Method 5. Using Cain and Abel
This password  reset tool can be used to reset local Windows 10 password for free. It uses  combinations of hashtag algorithm and brute force attack to recover lost  Windows 10 passwords.
Step 1: Download  and install Cain and Abel in an accessible computer and burn the ISO file into  an empty bootable disk.
Step 2: Insert  the loaded bootable disk into the locked computer and then enter the BIOS menu.  Select the drive which windows file is loaded.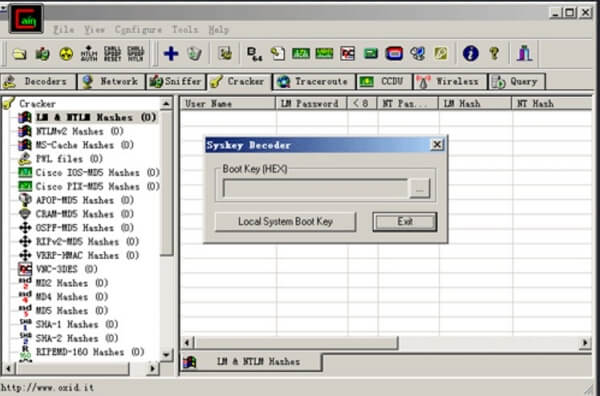 Step 3: All  accounts associated with the PC will be displayed. Right click the name of the  locked user account. After which you select "Brute force" then "NTML" hashes. The  process will take a few minutes and the password will be displayed on the  screen once the process is complete.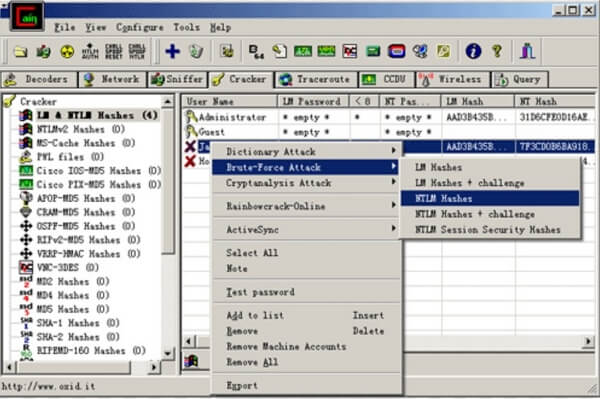 Method 6. Reset Windows 10 Password without Disk Using Passper WinSenior
If all above methods failed to reset Windows password for you, it is  highly recommended to try a professional Windows password recovery tool like Passper WinSenior. This top-rated Windows password  recovery tool which allows resetting password for any Windows account without  disk. And it guarantees 100 % success rate in resetting or removing Windows  password. More importantly, with the help of Passper WinSenior, you won't need  to reinstall or reformat your operating system.
Now follow the steps below to reset password in Windows 10 without disk.  First of all, download and  install the program on an accessible computer.
Free Download for Win 10/8.1/8/7/XP
Step 1: Insert an blank CD/DVD/USB into an accessible computer, and  launch the program. Click the "Create" button to burn Passper WinSenior ISO file into a bootable  disk. After the burning process competed, just eject it out.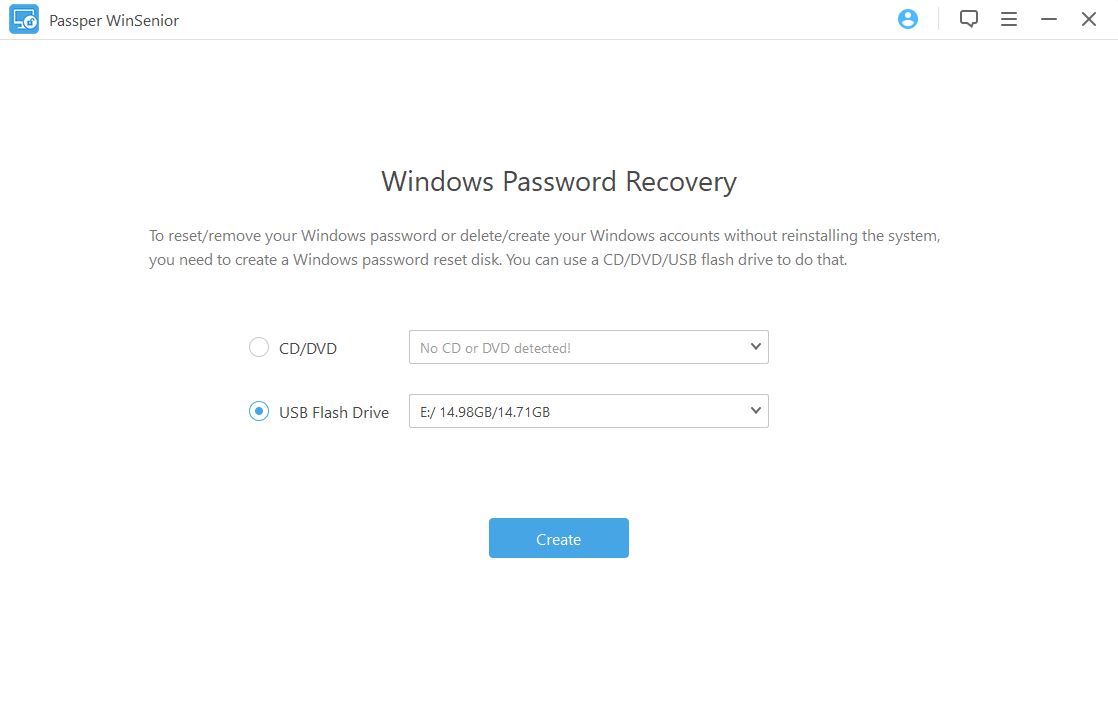 Step 2: Then Insert created bootable reset disk in the locked computer. Then follow the  on-screen instructions to enter boot menu.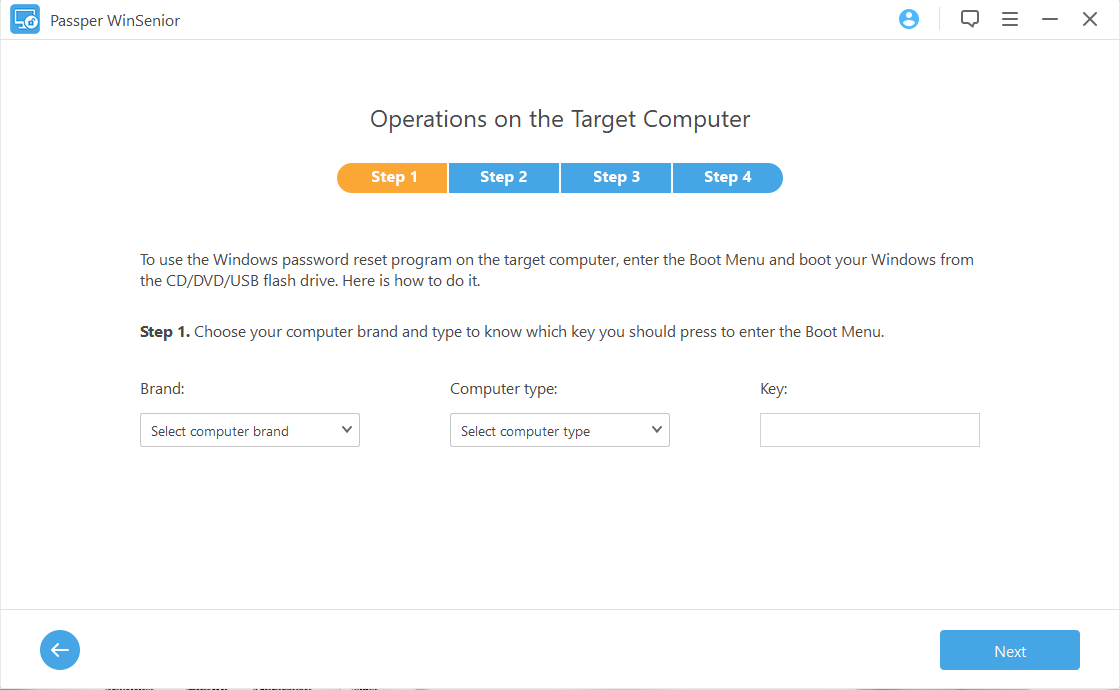 Step 3: Once you've  successfully entered boot menu, just select the operating system, then several task options will be visible on the  screen. Select "Reset Windows Password", then choose the user account you intend to reset its  password from the list of user accounts. Click "Next" to proceed and enter the  new password for the target account and click "Reset".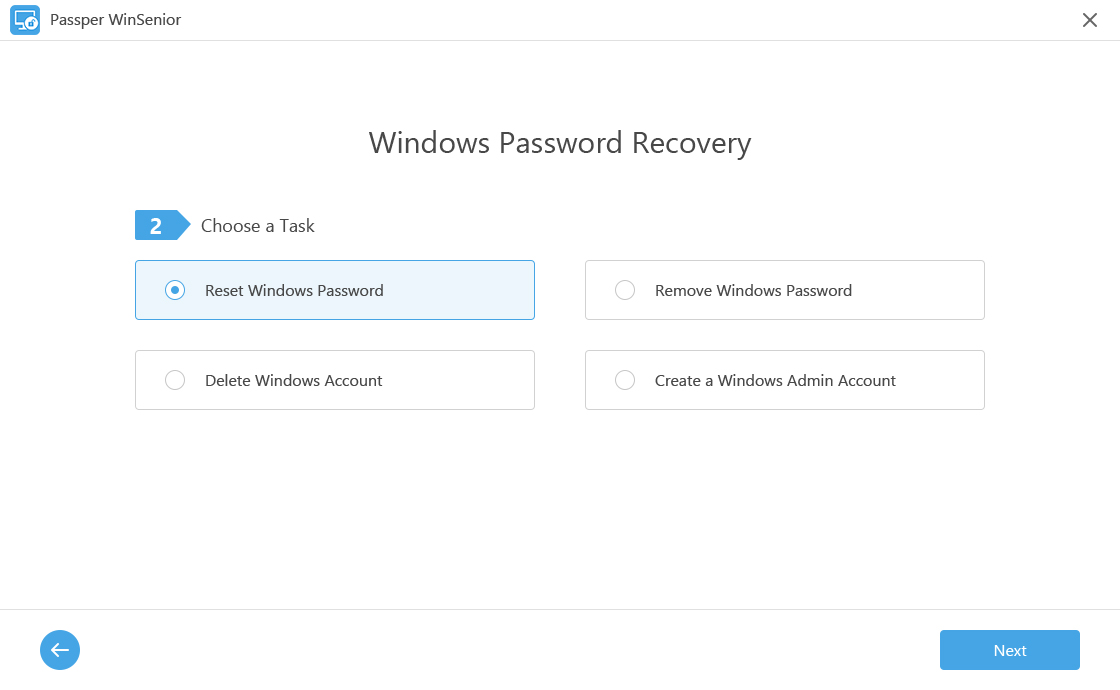 After some few  minutes a success notification will appear. Click "Reboot" computer and eject  bootable reset disk then click "Reboot" to confirm the process. Use the new  password when the password powers on.
Conclusion
All these methods  in this article are applicable in recovering password in Windows 10 be free to  try them. According to users' reviews, Cain and Abel have failed in some  instances while Passper WinSenior has the highest success recovery rate.