PowerPoint is one popular tool in Microsoft Office Suite which is basically used for making presentations that have to be presented in meetings and conferences. In view of PowerPoint presentations' security and for fear of data leakage, many owners choose to secure them with passwords. But questions begin to arise afterwards. What if we forgot or lost the password? In the final analysis, the root is about how to crack PowerPoint password.
Recently, though, quite a few ways shared by technical guys to get into secured PowerPoint do not go well. In this article, we'll talk about everything you may want to know regarding cracking PowerPoint Passwords when you forgot it.
Part 1: Is it possible to Crack PowerPoint Passwords?
The answer is a big 'YES'. It is totally possible to crack PowerPoint passwords. Before we go into detail, let's take a look at the brief introduction.
What is password cracking and how to crack passwords?
Passwords are usually the combination of letters, numbers and the other special letters. A password is used commonly to allow a user access to a particular device. The main purpose of password is to authenticate, validate and verify the system.
Password cracking is the process of continuously trying a vast number of different combinations of letters until succeeding in finding the right one. Generally speaking, the speed of recovery can be influenced by many factors such as the cracking tool chosen and cracking method used. Therefore to solve the problem with maximum efficiency, an excellent tool with effective methods is quite necessary.
Part 2: 2 Types of PowerPoint Password Protection
There are two different PowerPoint password options to protect the presentation: password to open and password to modify.
Password to Open
As the name suggests, if this kind of password is set for a PowerPoint presentation, then anyone who wants to open it needs the right password. Therefore when you don't have the password, or have unfortunately forgot or lost it, you need to have it recovered first.
Password to Modify
This type of protection restricts free edits to the file. Users need to know the password to have the right to modify or can only read it.


Note
If you need to break PowerPoint password to open the locked file, then 'Crack Password to Open PowerPoint' will work for you. If on the other hand, you need to remove the password to modify the file, then you can directly jump to 'Remove Password to Modify PowerPoint'.
Part 3: 3 Methods to Crack PowerPoint Password
There are three basic but important methods to crack PowerPoint password, which are listed below:
Method 1. Use Passper for PowerPoint
When it comes to opening and modifying encrypted PowerPoint files, Passper for PowerPoint is always a top choice. It can recover lost or forgotten PowerPoint password to enable you to view it, and remove restrictions from read-only PowerPoint files so that you can edit, copy, and print them. Some distinctive features of Passper for PowerPoint are listed below:
Quick Recovery Speed: Advanced algorithm and efficient optimized codes are used to accelerate the recovery speed. Besides, as it doesn't require Internet connection, the recovery performance is stable and smooth.

Enhanced Recovery Rates: There are various recovery solutions provided to increase the success rate of recovery.

Remove in One Click: Restrictions for copying, editing and printing can be removed with just one click in 3 seconds with a 100% success rate.

Recovery Progress Saved: It will save the progress of recovery so that you can easily resume it the next time.

Absolute Data Security: No data will be kept on Passper's server and privacy is absolutely guaranteed.

Full Compatibility: Supports all types of PowerPoint files including *.ppt and *.pptx.
Crack Password to Open PowerPoint
To begin with, get Passper for Powerpoint on your PC and install it. Follow the below-given steps to find out the password for the encrypted PPT files.
Step 1
Select the option of 'Recover Passwords'.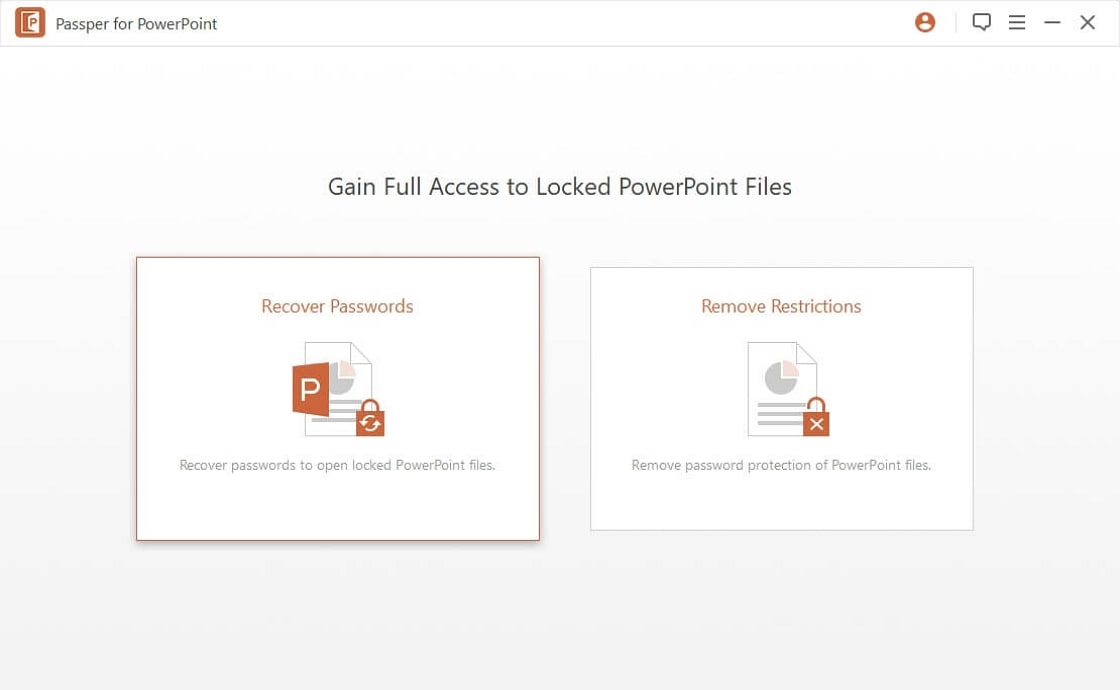 Step 2 Add the password protected file into the software. In order to decrypt the PowerPoint you need to choose a suitable attack method. Passper for PowerPoint offers 4 attack types depending on how much you know about the password.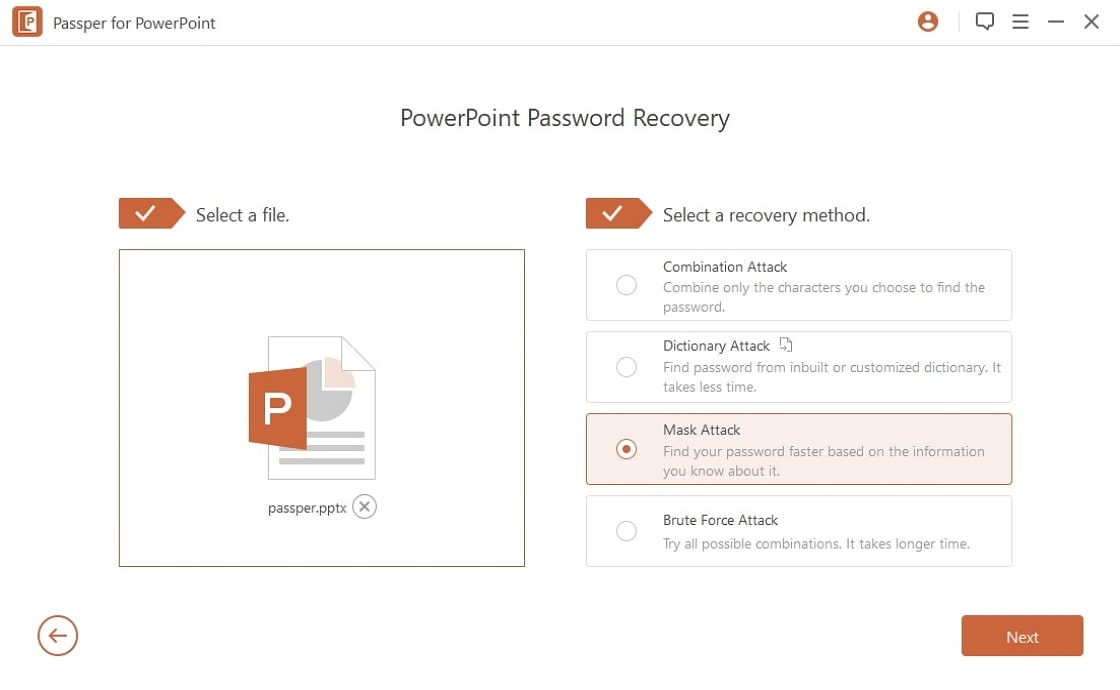 Step 3 Click on the 'Recover' button and the tool will start to crack the password. Once it is recovered you can use it to decrypt your PowerPoint presentation.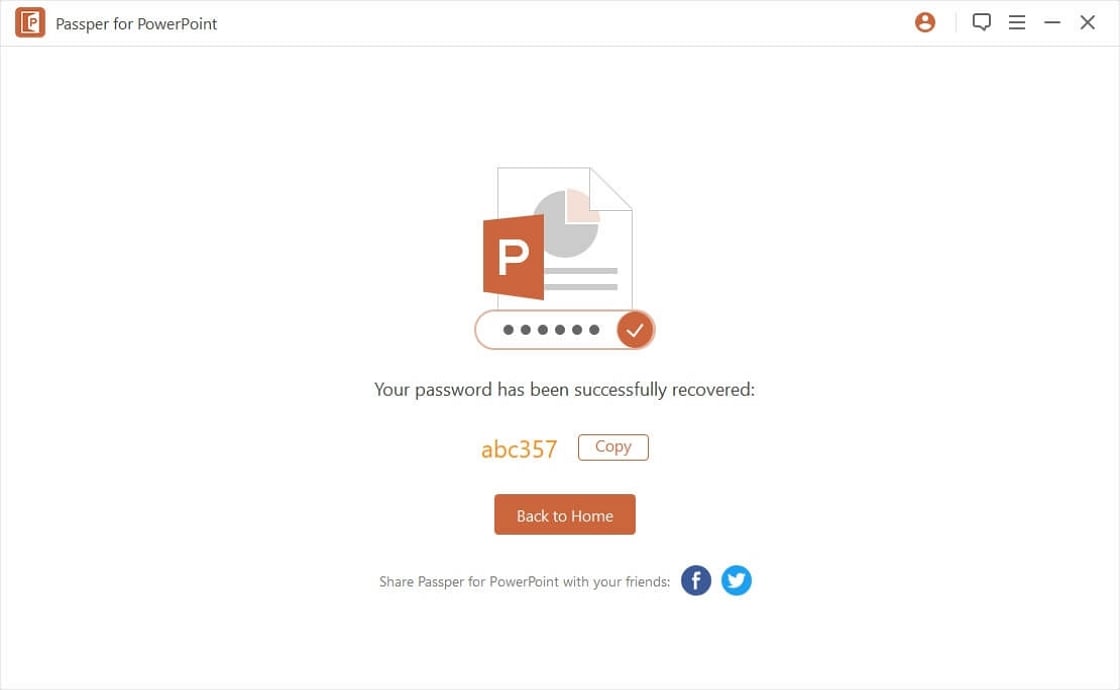 Remove Password to Modify PowerPoint
Restrictions can also be removed from PowerPoint with the help of Passper for PowerPoint by following the steps:
Step 1 After installation launch Passper for PowerPoint and then select the 'Remove Restrictions' option.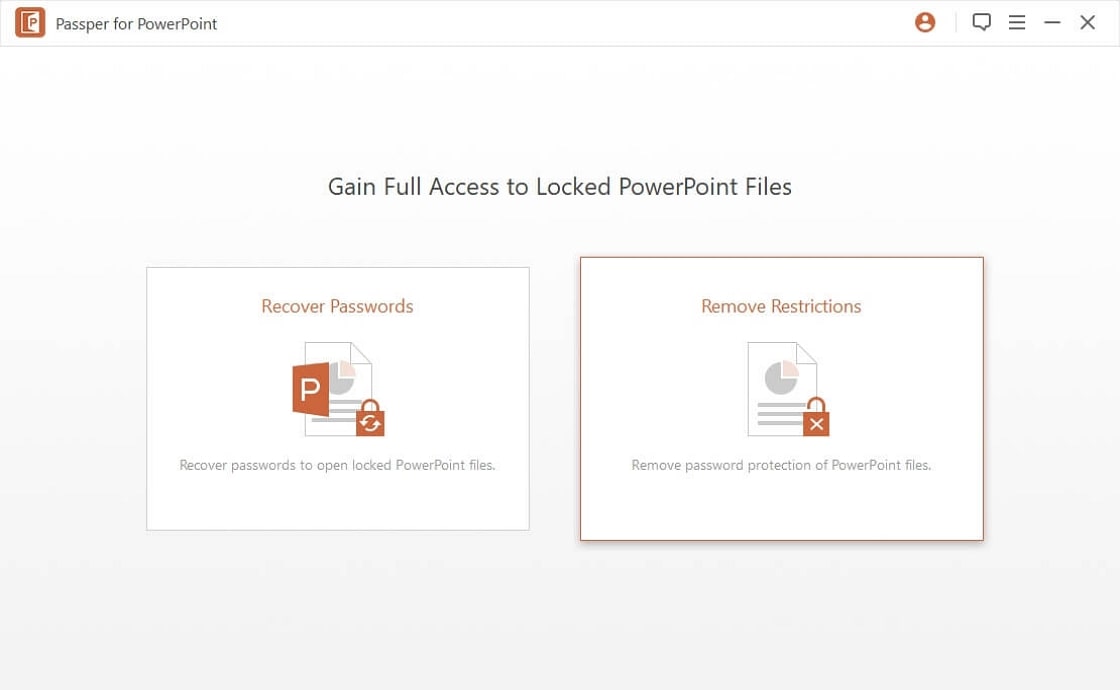 Step 2 Simply upload the encrypted file and click to remove.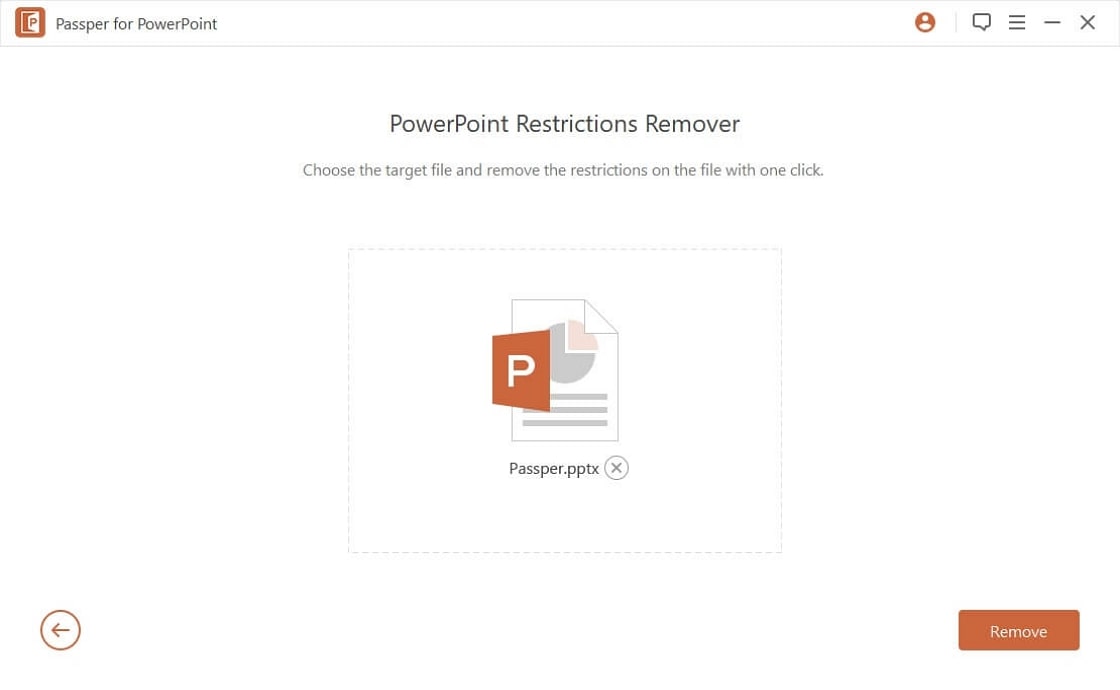 Step 3 Now stay patient for a while. Restrictions will be removed in seconds and you'll gain full access (including but not limited to editing, copying and printing) to your file without much effort.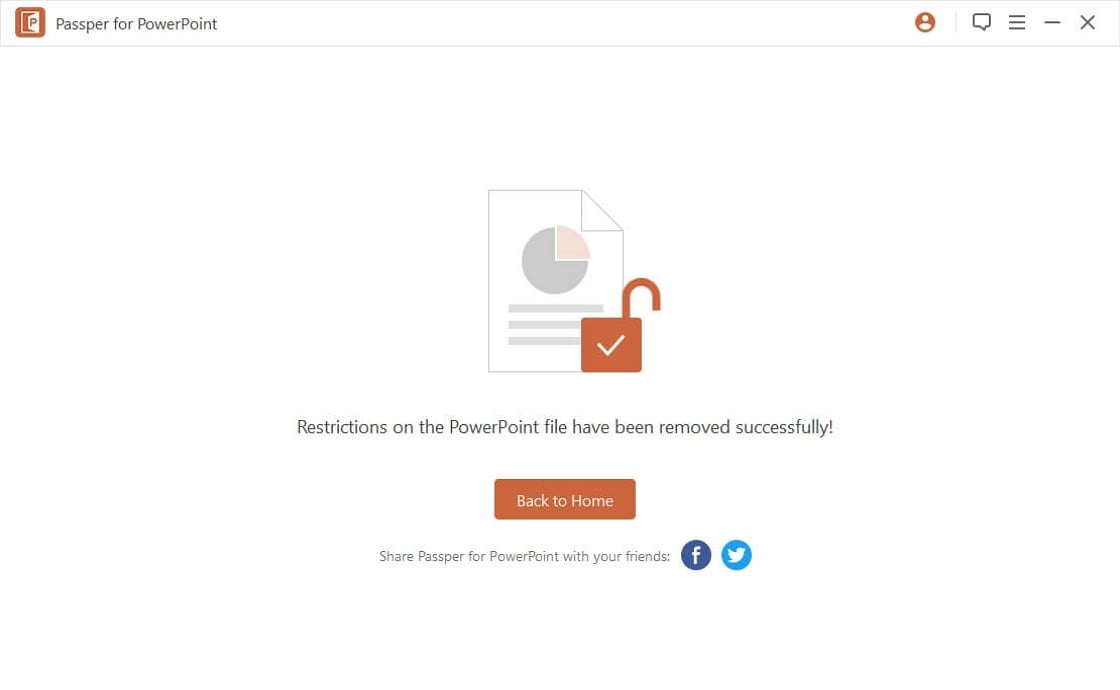 Method 2. Use Passcape PowerPoint Password Recovery
Passcape offers you another option for the recovery of your PowerPoint password. It offers more than 10 different types of password recovery, some of which are unique to this program only. And it is useful for nearly all versions of PPT starting from PowerPoint 2000.
A general operation procedure looks like this:
Step 1. First create a project.
Step 2. Add the password-protected PowerPoint file(s) into the project and edit the document list such as deleting, adding and selecting protected documents.
Step 3. Choose attack mode and start the recovery process.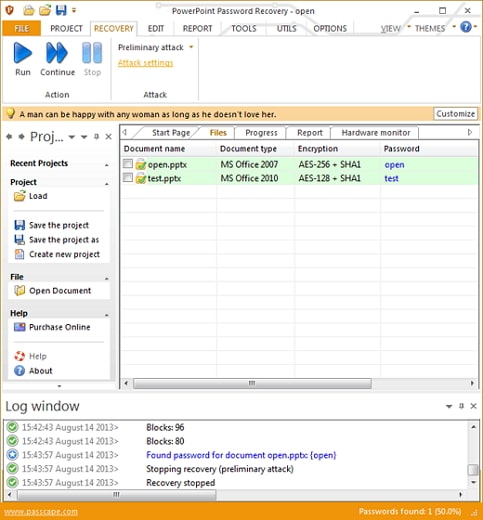 Cons
The workflow of this tool is rather complicated. For instance, as the classification of cracking methods in this tool is too mazy, it is often difficult for us to decide which one to choose. Besides, the interface is not exactly friendly to everyone, especially novice users.
Method 3. Use LostMyPass MS PowerPoint Recovery
Some people might wonder how to crack PowerPoint password without any software, and for this we'll introduce an online password recovery tool - LostMyPass. In order to break PowerPoint password with it, you need to upload your document to the official site and start the process. The max file size to be uploaded is 100 MB.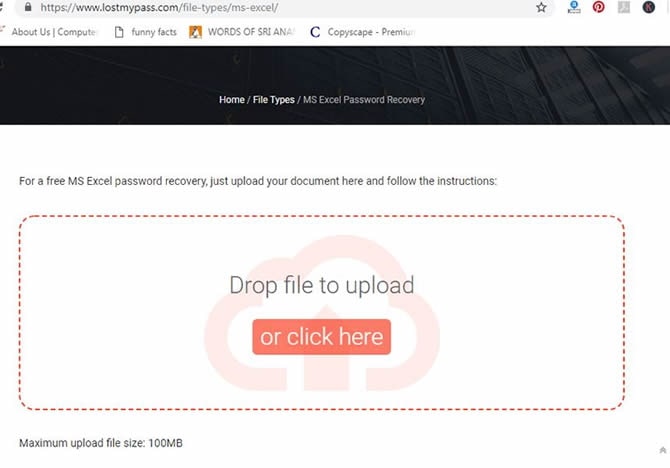 Cons
Services of LostMyPass are paid and chances of recovery are 61% according to statistics. Another drawback is that the versions of PowerPoint before 2003 can be quickly processed while the versions after 2003 might take a long long time. What's more, there is a possibility of information leakage since it is not secure to upload the file.
Comparison of the Above Three Methods
| | | | |
| --- | --- | --- | --- |
| | Passper for PowerPoint | Passcape | LostMyPass |
| Recover Password to Open | | | |
| Remove Password to Modify | | | |
| Recovery Speed | Fastest | Medium | Slow |
| Safe or Not | Very safe | Safe | Not safe |
Those days are gone when there was nearly nothing we can do about locked PowerPoint presentations without passwords. Now there are various methods and tools capable of recovering PowerPoint passwords. With the help of this comparison table, we can easily come to the conclusion that Passper for PowerPoint is indeed the perfect choice. Give it a try and enjoy the pleasure of success!