The PDF or Portable Document Format is one of the most popular file formats that is used for documents to share it through email or other ways. One of the main reasons why this format is preferred is that users can set restrictions by using it. A user who creates a PDF file can prevent others from editing it or copying content from it with a password. A user can even protect the file with a password so no one can open it without his permission. It is even possible to restrict printing so one can only view the file and not print it.
A common problem is when you have a restricted file where printing is disabled. You may have to print the file as it has important content. If you have to print such a file and were wondering how to do it, we will tell you in this guide on how to print protected PDF files.
Part 1: How to Enable Print Option in PDF without Knowing Password
There are different ways by which you can enable the print option in a PDF file without the password. Let's look at how to enable print option in PDF using two different ways through utilities.
1.1 Using Online Tool to Enable Print Option in PDF
It is possible to enable print in PDF by using a utility that is available online. One of these utilities is iLovePDF. This free online utility helps you carry out various operations on PDF files. You can convert PDF files to other formats, merge files, split them, and unlock PDF files. Let us see how to enable print option in PDF by unlocking the file using iLovePDF.
The following steps explain how to print protected PDF using this utility:
Step 1: The first thing to do is to visit the official website of iLovePDF.
Step 2: Scroll down the home page and search for the option Unlock PDF. You can use this option to unlock the PDF file thus allowing you to enable printing.
Step 3: You will see a button asking you to Select PDF Files. You can click the button to upload PDF files from your computer or you can directly drop your PDF files. You can upload PDF files from Google Drive or Dropbox.

Step 4: After uploading, click the red button Unlock PDF to start the process.Select the file and click OK.
Step 5: After finishing, the unlocked PDF file will be downloaded automatically or you can download it manually.
As you can see, the method is simple. However, it has some disadvantages:
This is an online utility. If you do not have Internet connection, you cannot use it.

The file is saved on this utility's website. The site claims not to store files but there is an element of risk involved, particularly if you are trying to unlock confidential documents.

There is always the possibility of hacking when your data is on a website.
1.2 Using Third-Party Software to Enable Print Option in PDF
A unique and innovative solution to deal with problematic PDF files is Passper for PDF. This software allows you to easily and effectively unlock PDF files. You can remove all restrictions placed on the file, including print restrictions. Removing restrictions on PDF files is easy and super fast, it takes hardly 3 seconds to get it done.
What we can expect from Passper for PDF:
All restrictions on PDF files including edit, copy, print and comment can be removed by using Passper for PDF.
It is an easy-to-use program. It only takes 3 steps to complete the removal process.
It will only take about 3 seconds to remove restrictions on PDF files.
Additionally, Passper for PDF can be used to recover password with 4 attack modes when you forgot it.
The tool is available in trial version. You can free download it to test whether your PDF files are supportable or not.
We explain how to enable print option in PDF by using Passper for PDF. The following are the steps involved:
Step 1 Once open the software, it gives you two options to: Recover passwords and Remove Restrictions. To enable print in PDF files please choose Remove Restrictions.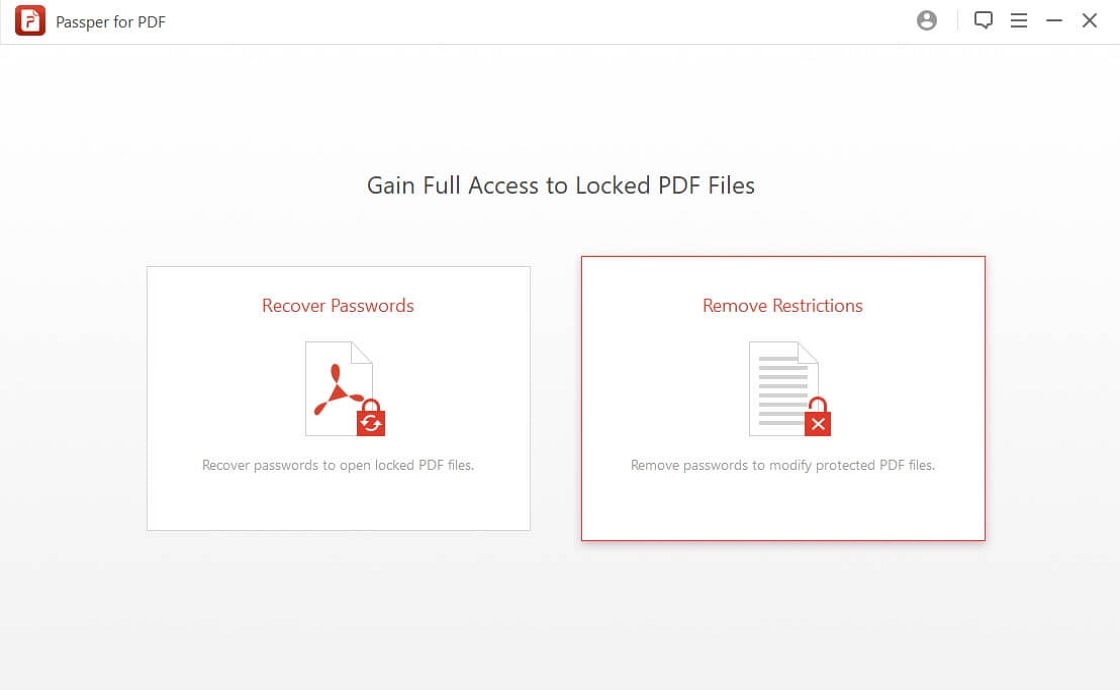 Step 2 You will be asked to choose a PDF file that is protected and for which you want to remove the restrictions. Select the file from your system and click OK. The name of the file selected is displayed. If you made a mistake while selecting, you can use the back button to redo this step.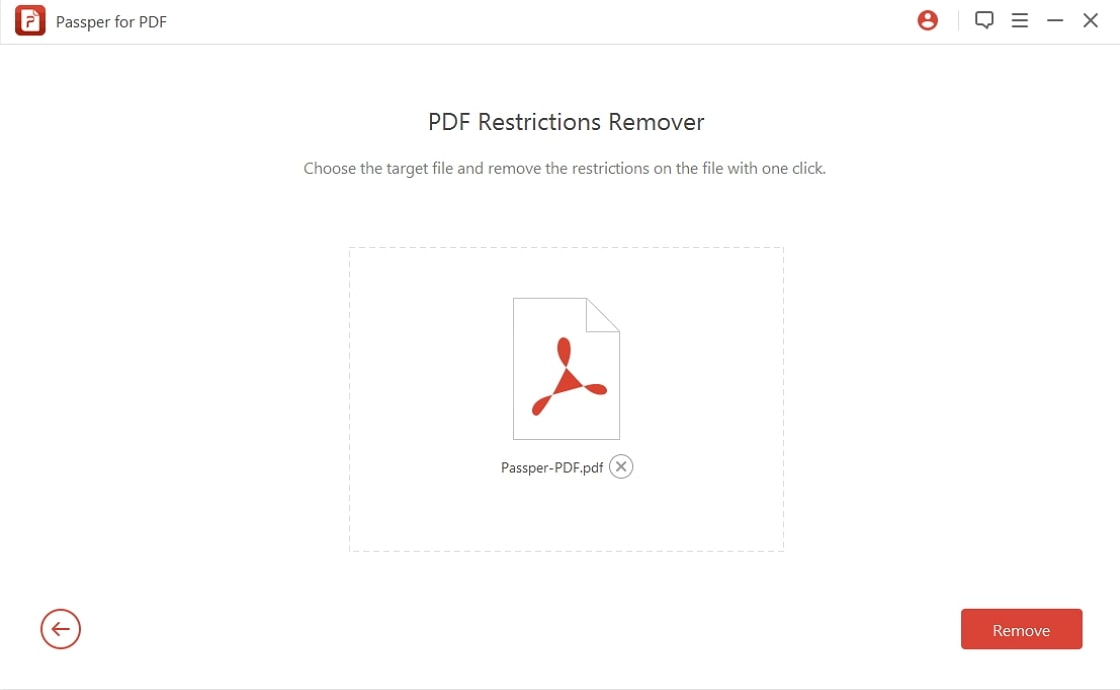 Step 3 Click the Remove button to begin the process. The software is so fast that it can accomplish this job within just 1 to 2 seconds.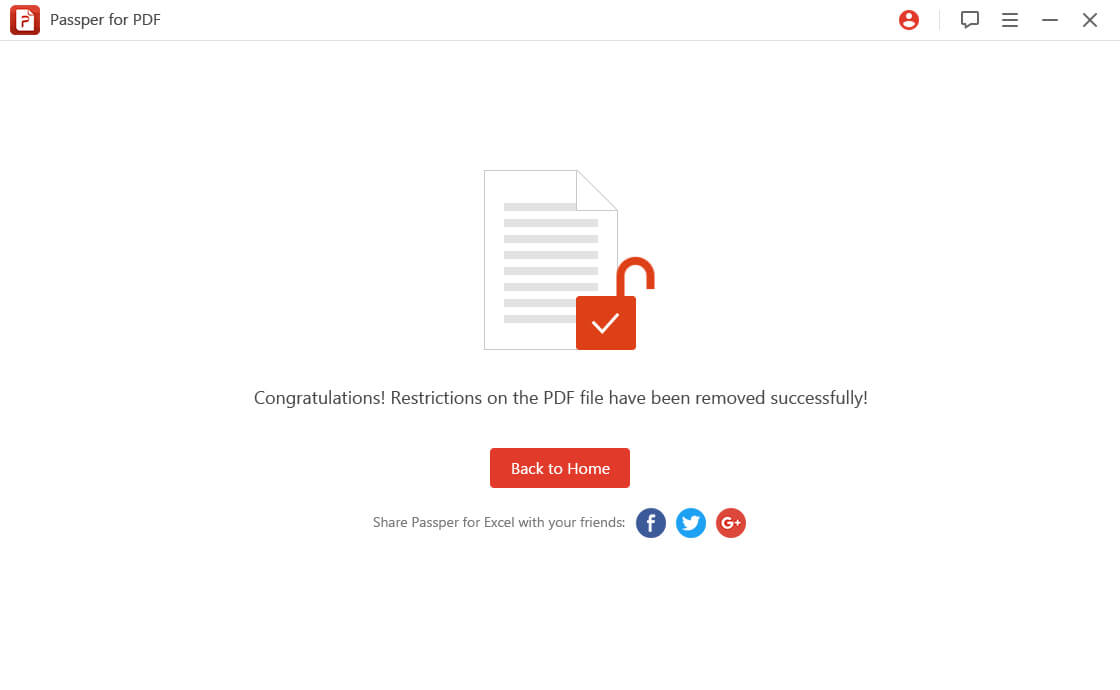 Part 2: How to Enable Print Option in PDF with Knowing Password
If you know the password that used to restricted PDF files, then you can use Adobe Acrobat. But you should make sure that the Adobe Acrobat you use is pro version.
Now, you can follow the steps below to remove the print restriction on your PDF file:
Step 1: Open the restricted PDF file on Adobe Acrobat Pro version.
Step 2: Click on the padlock located in the left panel. Click Permission Details to bring up the Document Properties window.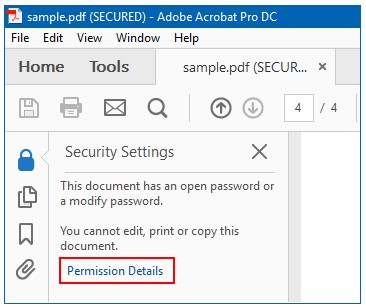 Step 3: Click on the Change Settings button. It will require you to enter a permissions password.
Step 4: Now, you can change the permission settings for your PDF file.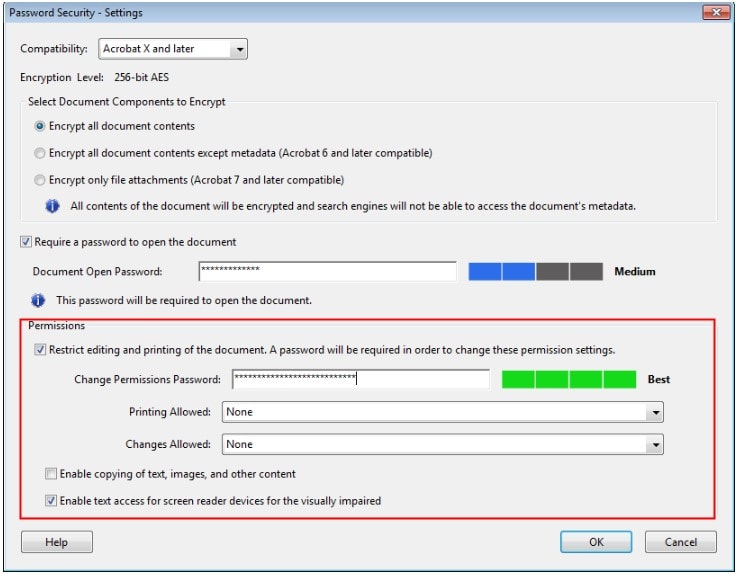 Comparison of the Above 3 Methods
The above three methods explained how to enable print option in PDF. Now that you have seen the three options, it is time to do a comparison to understand the differences between the three methods and which of these three methods are more advantageous.
| | | | |
| --- | --- | --- | --- |
| | iLovePDF | Passper for PDF | Adobe Acrobat |
| Ease to use | simple | simple | medium |
| Internet Needed | | | |
| Safe or Not | not safe | very safe | safe |
| Need Password to Remove Restrictions | | | |
| Crack Password | | | |
From the above, we can see that Passper for PDF has multiple advantages. Apart from removing print restrictions, the software has an option to recover lost passwords. The multiple features make it a preferred tool to use.