VBA stands for Visual Basic for Application. It is a feature within Microsoft Excel that enables you to automate tasks. It also provides you with an option to protect your project in Excel. However, as a result, you might forget the VBA password and it becomes hard for you to access your VBA project. In this case, you will need to remove the password protection from your Excel VBA project. You will then need an Excel VBA password remover. This article introduces you to 6 Excel VBA password removers that you can use to remove VBA restrictions successfully.
What Is the Best Excel VBA Password Remover?
There are many Excel VBA password remover tools that you can found online. Now, the questions you could be asking are, which one should you choose and what makes the best Excel VBA password remover?
Well, a good Excel VBA password remover should possess at most the following features:
High Success Rate: An Excel VBA password remover should have a high success rate of removing passwords from Excel files at all costs. Ensure you check the reviews of the software to know its success rate from those who have used it.
Easy to Use: A good VBA password remover should have a user-friendly interface with a great user experience. It should be a tool that can be used by newbies and pros easily without any guide.
Fast Removal Speed: For a VBA project password remover to be regarded as best, it should be fast when removing passwords from VBA project. It should also be fast when uploading files if it is an online Excel VBA password remover.
Broad Compatibility: As for compatibility, the Excel VBA password remover tool should support different file formats. Also, it should be compatible with different operating systems.
Top 6 Excel VBA Password Removers
With those features in mind, let us now look at the best six Excel VBA password remover. We will look at the features, pros, and cons of each software. You can choose anyone as per your requirements.
1. Passper for Excel
Passper for Excel is one of the best Excel VBA password remover in the market. It can remove any kind of restrictions on Excel files with a 100% success rate, including VBA project password, workbook password, worksheet password and etc. The process of eliminating VBA restrictions is straightforward. Besides removing password restrictions on Excel files, Passper for Excel is popularly known for recovering Excel opening password.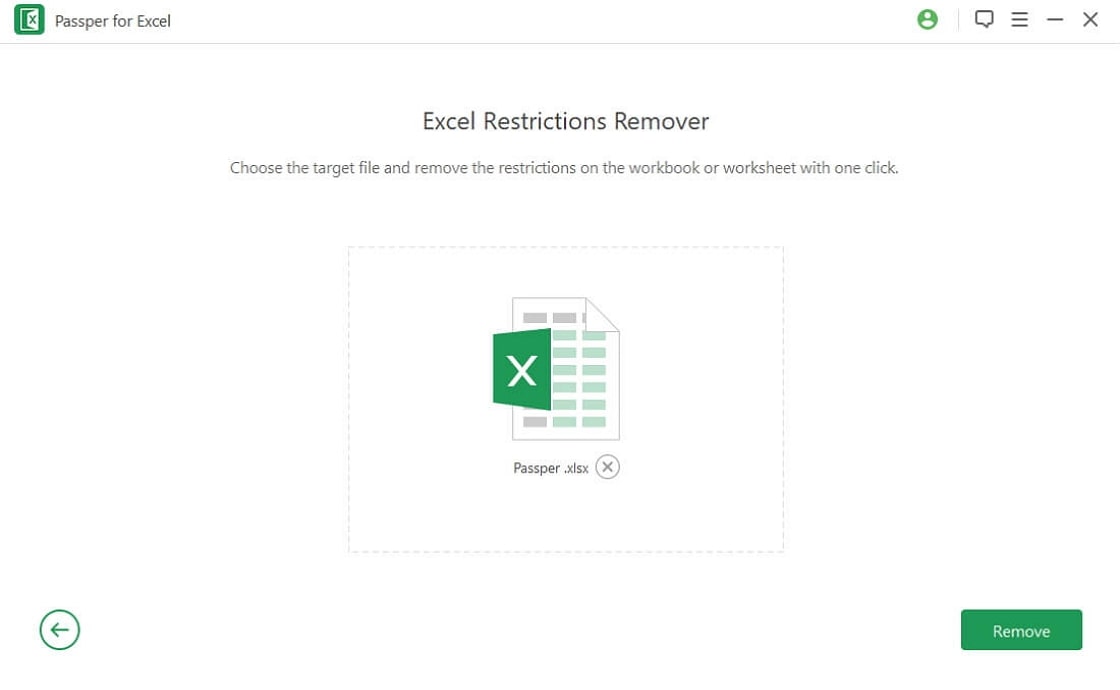 Other features of this software are highlighted below:
Instantly remove Excel VBA project password, worksheet password and workbook password.

Your Excel VBA project password can be removed within 3 steps.

Your data won't be damaged or leaked out by using Passper for Excel.

The program is compatible with all Windows operating systems.

All Excel file types are supported by the program, including .xlsm, .xlsb, .xltx, .xltm and etc.
2. SysTools VBA Password Unlocker
SysTools VBA Password unlocker also enables you to remove VBA restrictions instantly. With this software on your computer, you can remove passwords from a single VBA document or multilingual documents. Moreover, it supports recovery of VBA passwords from Excel 2000, 2002, 2003 and 2007 documents.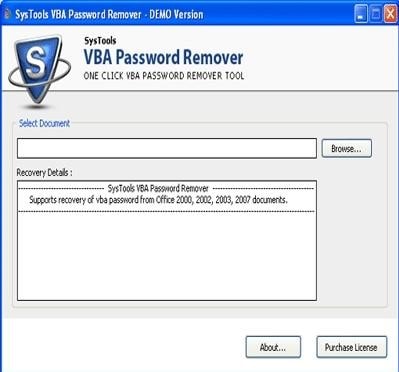 Pros:
Has the ability to unlock and reset a multilingual Excel VBA Project password.

Enables you to remove the older password and create a new VBA Project password.

It has a demo version which can display the first 2 characters of your password.
Cons:
It only supports the following Excek file types: .xls, .xla.

It doesn't support MS Excel 2010-2019.
3. Straxx VBA Password Reset
Straxx VBA Password Reset is an add-in that you need to install on your Excel program. You can install it on MS office 2007, 2010, 2013 and 2016.  It will reset your Excel VBA project password to "a". Then you can use the new password to access your VBA project. Its website appears outdated, but the product is worth installing if you want a simple way to unlock your VBA project in Excel.

Pros:
It is a small add-in so that you do not need to install any software on your computer.

It is very easy to use.

It works with both Mac and Windows operating systems.
Cons:
It does not work on Windows XP or Vista.

It only support .xlsm and .xlam file types.

It offers different versions and it's hard to distinct which one to use.
4. Proxoft Reset VBA Password
You can also use Proxoft Reset VBA password to remove VBA password from your Excel files. When removing the passwords, you are guaranteed the safety of your files. It can also change the VBA password if you do not want to remove it.  Moreover, this software can recover any type of passwords, including multilingual passwords. The beauty of this software is that you can view the Excel protection status within a click. The status of the file includes file type, format, name, path, and size, among other properties.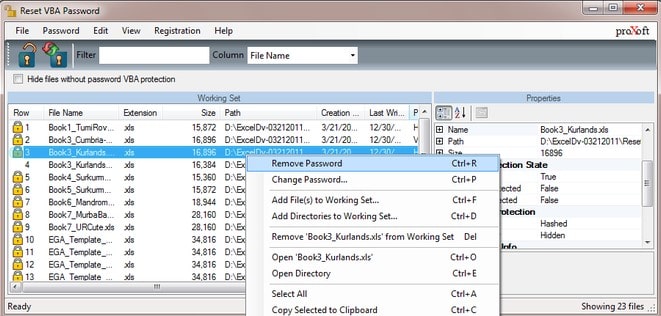 Pros:
It is built with Undo and Redo functionality.

The command line support enables you to perform a batch process.

Supports automatic backup of files; hence you can easily restore your files.
Cons:
The tool is not compatible with Windows 10 yet.

Files created by MS Excel 2007-2013 are supported.

The process of purchasing software is not direct. Clicking on the "Purchase" button takes you to a commerce site.
5. VBA Password Recovery Lastic
VBA Password Recovery Lastic is another great Excel VBA password remover that you can also install on your computer. All Excel VBA project passwords can be recovered and then removed instantly. This software also enables you to process multiple Excel VBA projects at the same time.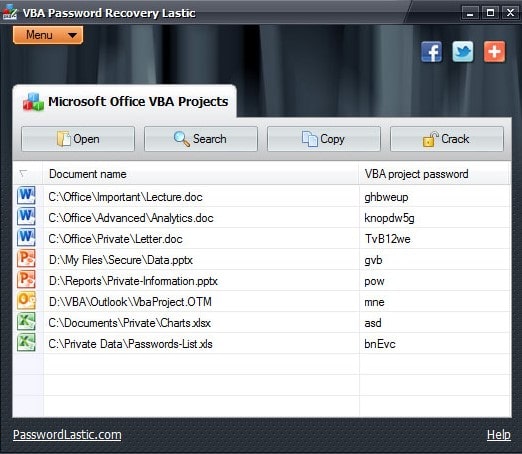 Pros:
It can automatically search for VBA password protected Excel files on your computer.

For each password that is recovered, it is copied on the clipboard so that you can paste it elsewhere.

Supports most versions of MS Office, starting from MS office 97 to MS office 2013.

Has a straightforward and user-friendly interface with multilingual support.
Cons:
It is not compatible with MS Excel 2016 and higher.

The unregistered version can only recover Excel VBA password within 3 lower case letters.
6. Office VBA Password Remover
Lastly, we cannot forget to mention the Office VBA Password Remover. It is a free online remover that is compatible with all MS Excel files. With this tool, you need to upload your document online to remove the VBA password protection. This platform also enables you to view the source code if you wish, unlike other online password removers.

Pros:
It offers a clear guide for every user.

This online tool is totally free to use.
Cons:
It's not secure for your presonal data if your Excel VBA project contains sensitive information.

After downloading your Excel file, you need to manually remove the password protection and it's too complicated.
Conclusion
Excel VBA password removal should not be a difficult task by now. With all the 6 Excel VBA password removers mentioned above, you are now set to install the preferred software and remove the password restrictions on your files. However, looking at the characteristic of what entails a good Excel VBA password remover, we recommend Passper for Excel. It not only has fast removal speed but also has a 100% percent success rate. Download the Passper for Excel software now and enjoy it!