Passper for Word is a popular program to help you unlock Word document without password. But as it has risen in popularity over the years, there have been very many websites promising to give users the crack version of the program. This crack version is very attractive to most people for the simple reason that it is free. But did you know that Passper for Word crack can have serious problems.
In this article, we shall be looking at these crack versions of the Passper for Word software and why you should avoid them.
Part 1. What Can Passper for Word Do for You
Before we get to the various problems that can arise from using the crack version of Passper for Word, we thought it would be prudent to share with you some of the benefits you can get from purchasing the licensed version. These include the following;
Passper for Word is the ideal solution for the recovery of passwords for Word document and removing all editing restrictions from the document.

It allows for easy access of Word documents under various circumstances including a document that can't be opened, a document whose content can't be copied, a document it locked or a document that can't be printed among others.

Passper for Word utilizes the most advanced technology to ensure that the recovery process has a 95% success rate (more than any other similar product) and that the recovery process is very fast.

It is also a very simple to use program, allowing you to recover the password in a few simple steps and remove restrictions in a single click.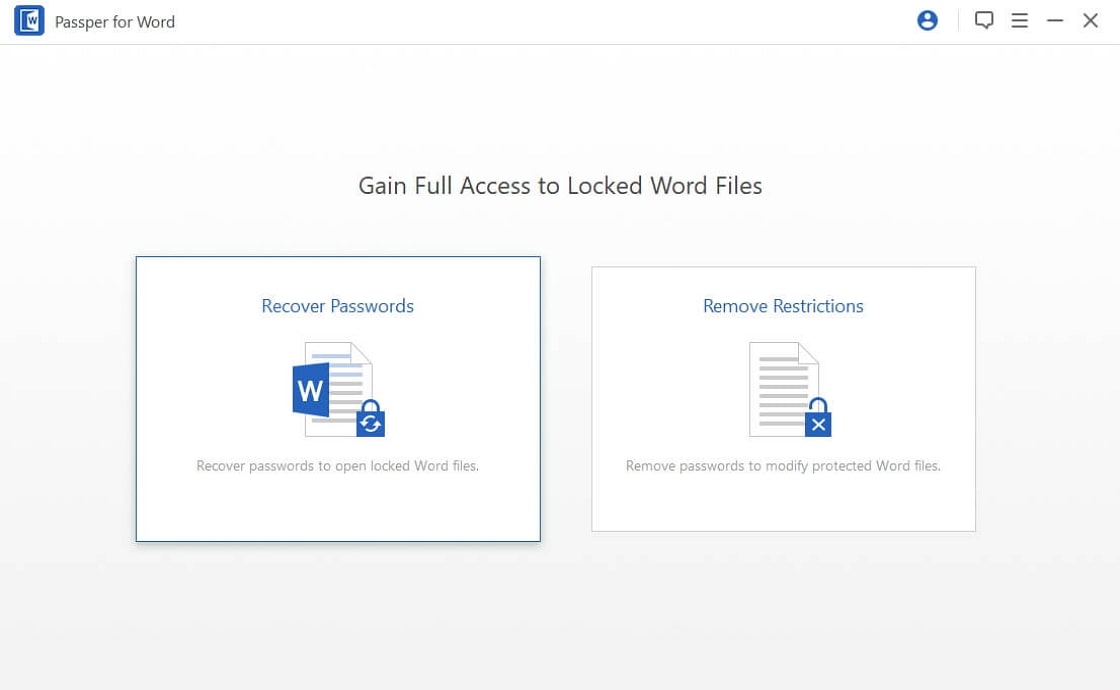 Part 2. Why You Shouldn't Use Cracked Version of Passper for Word
The cracked version of Passper for Word has a lot of disadvantages. Some of the most prominent include the following;
Using the cracked version of Passper for Word is illegal and punishable by jail terms and even hefty fines. Because you don't have permission to use the program, you are essentially committing copyright infringement which is illegal in almost all jurisdictions around the world.
Even though the product is free, it could end up being far more costly than the licensed version. For example, when you use the cracked version of Passper for Word on your business, you may face the risk of losing client who are far more valuable to you than the cost of the program.

There is no security guarantee when using cracked programs. The risk of viruses infecting your system is too great and so is the risk of data loss.

Cracked versions often lack some of the features you will find with the licensed version, making them less effective.

They also don't have any kind of technical support, meaning that you are essentially on your own should you run into a problem when using the program.
Part 3. Benefits of Using Official Passper for Word
On the flipside, the following are some of the benefits you can enjoy when you purchase the licensed version of the Passper for Word;
The program comes with a fully enforceable 30-day money back guarantee. You are free to ask for your money back if you are not satisfied with any aspect of the program.

Passper for Word users also get free updates for the lifetime of the product. This means a constant update of the features and therefore the functionality of the program.

The official version of Passper for Word is free of all viruses and malware. You are also 100% safe when purchasing the product.

Customer support is available to every Passper for Word user 24/7/365. You can get help with the general use of the program or installation issues.
Free Downloadfor Win 10/8/7/XP/Vista
Part 4. Special Gift for Passper for Word Users
To show our appreciation for choosing to purchase Passper for Word, we are offering you a 25% off coupon as discount on your next purchase. Follow these simple steps to apply this coupon to your purchase;
25% OFF Coupon Code: PP-EXL-25D
Step 1: Visit https://passper.imyfone.com/buy/unlock-word-document/ and select the license that you would like to purchase.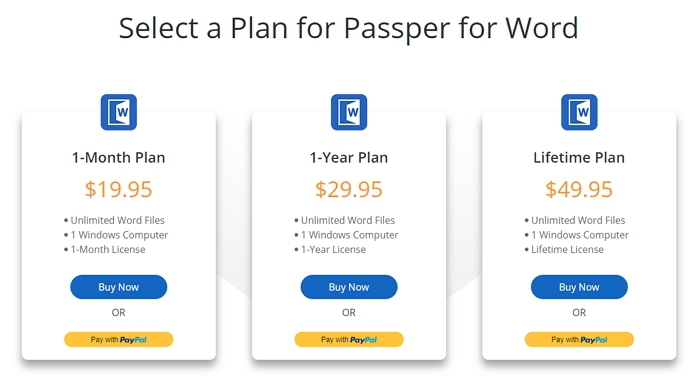 Step 2: Click "Buy Now" and in the next page, click on "Redeem Coupon Code" and enter the coupon code above before clicking "Update".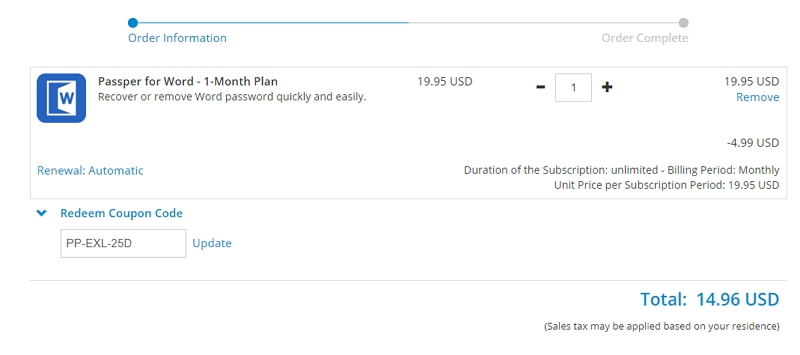 Step 3: Now enter your payment information and other details requested to complete your purchase.
Using the licensed version of Passper for Word is the best way to ensure that you get a program that functions correctly and a program that is safe for your computer and your documents.